NAVIGATION COLUMN
Home Page

The Keninger Archives
The Propagander

Yahoo Groups:
History 1 Day 2
Nuremburg Data


---
Daily History Pages:
---





FAIR USE NOTICE: This site could contain copyrighted material the use of which has not always been specifically authorized by the copyright owner. We are making such material available in our efforts to advance understanding of historical, political, human rights, economic, democracy, scientific, environmental, and social justice issues, etc. We believe this constitutes a 'fair use' of any such copyrighted material as provided for in section 107 of the US Copyright Law. In accordance with Title 17 U.S.C. Section 107, the material on this site is distributed without profit to those who have expressed a prior interest in receiving the included information for research that could include educational purposes. If you wish to use copyrighted material from this site for purposes of your own that go beyond 'fair use', you could most likely need to obtain permission from the copyright owner.


August 16




1513 The Battle of the Spurs: English and German forces under Henry VIII defeat the French at Guinegate. Note: The name of this battle derives from the fact that the French army fled so fast only the spurs of their heels could be seen over the dust.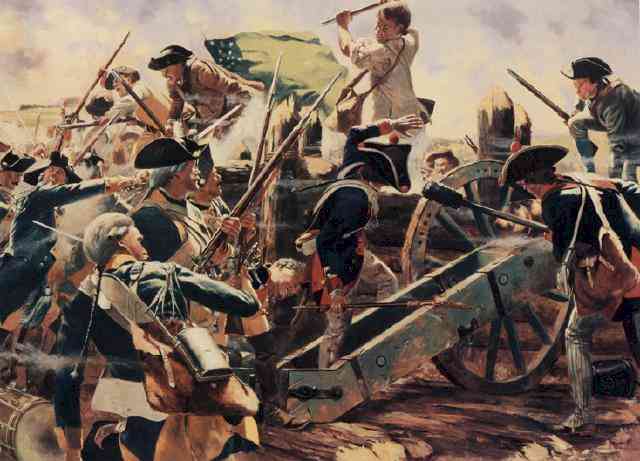 1777 US Revolutionary War: Battle of Bennington: In the spring of 1777 a British Army under General John Burgoyne starts down the Hudson River from Canada. As Burgoyne marches south, patriot militia begin to gather in Vermont and New Hampshire. John Stark, a veteran soldier, is given command of the 1500-man New Hampshire Brigade. Hearing that Burgoyne is planning a raid into Vermont, Stark marches his men to Bennington. There they are joined by militia regiments from Vermont and western Massachusetts. Burgoyne then sends out a mixed force of some 800 Canadians, Loyalists, Indians, British, and Hessian (German) mercenaries on a foraging expedition. This mostly-German force is harassed by small bands of militia, and its Hessian commander send for reinforcements; he stops to await them a few miles from Bennington. With the enemy force position on and around a large hill, General Stark decides to use his 2,000 militiamen to surround them.




"Yonder are the Redcoats," Stark is supposed to have said. "We will defeat them or Molly Stark will sleep a widow tonight." Small bands of militiamen, pretending to be loyal Tories, work their way behind enemy positions. When firing begins, these men turn on the Hessians and Tories around them. Those not killed flee into the woods, pursued by the militiamen. Other Americans surge up the hill to the Hessian breastworks, and for two hours the battle rages. The Hessian commander is mortally wounded when, ammunition exhausted, he and his Dragoons attempt to hack their way off the hill with their swords. When the battle is at its height reinforcements arrived from Burgoyne. Luckily, the Vermont militia comes up at about the same time to reinforce Stark, and again the fighting rages. American victory is assured when the militiamen drive off the Hessian reinforcements. Note: The proud traditions of the militia who fought so well at Bennington are today carried on by units of the New Hampshire and Vermont Army National Guard.



1780 US Revolutionary War: Americans led by General Horatio Gates are defeated by the British, led by General Lord Cornwallis, at Camden, New Jersey.

1812 War of 1812: Foiling plans for a US invasion of Canada, US forces in Detroit surrender to the British.




1819 The Peterloo Massacre: Several deaths and hundreds of injuries are caused when troops are called in to disperse a large, orderly group of 60,000 people meeting at St. Peter's Fields, Manchester, England. Note: The meeting is organised to demand Parliamentary Reform.




1845 Birth: Gabriel Lippman, French physicist, inventor of color photography with no color photos of himself in existence, apparently.

1858 A telegraphed message from Britain's Queen Victoria to US President Buchanan is transmitted over the recently laid trans-Atlantic cable. The Queen's message to Washington commences transmission at 10:50 am on August 16, and is completed at 4:30am the next day, taking 17 hours and 40 minutes. It contains 99 words consisting of 509 letters.

1861 US Civil War: President Lincoln prohibits the Union states from trading with the states of the Confederacy.




1884 Birth: Hugo Gernsback, responsible for science fiction becoming an independent literary form.




1892 Birth: Harold Foster, cartoonist, created Prince Valiant, known for it's fine drawing and historical detail.

1894 Birth: George Meany, labor leader. Died in 1980.

1904 Birth: Wendell Stanley, biochemist, first to crystallize a virus (Nobel 1946).




1906 Earthquakes hit in San Francisco in April and in Valparaiso, Chile, also on the Pacific coast. Valparaiso, no stranger to disaster (the Dutch destroyed it in 1600, the Spanish in 1866, the Chilean civil war in 1891, earthquakes in 1731, 1822, 1839, 1873), is once more devastated by an earthquake. This one strikes after a night of unusually violent thunderstorms. It destroys two-thirds of the city, and the coastline is raised three feet as 1,500 souls perish.

1913 Birth: Menachem Begin, terrorist, Israeli Prime Minister. Begin will become a member of the extremist Irgun Zvai Leumi, and later lead the right-wing Likud. He will be Prime Minister of Israel from 1977-83, during which time he will make peace with Egypt and become the joint winner of the Nobel Peace Prize (1978) with Egyptian President Anwar Sadat. Died in 1992.

1914 WW1: The last fortifications at Liege, pounded into submission by giant howitzers, surrenders. The German First Army under Gen. Alexander von Kluck and the Second, commanded by Gen. Karl von Bulow, pour through the Liege corridor and across the Meuse.

1914 WW1: Adolf Hitler officially enrolls in the 1st Company of the 16th Bavarian Reserve Infantry.




1914 WW1: Austrian troops are driven back by the numerically superior Serbian army, commanded by the Marshal Radomir Putnik; inadequately equipped, but battlewise from their Balkan Wars experience.

1919 The Protocols of the Elders of Zion begin circulating in Germany, Europe and America. (Segel/Levy)

1920 Death: Norman Lockyer, editor of NATURE, discoverer of helium in sun.

1921 August 16-18 The Times of London in a lead article entitled "The End of the Protocols," written by correspondent Philip Graves, debunks The Protocols of the Elders of Zion as a forgery. Graves establishes a connection between the Protocols and what is said to be its major source, a satire of Napoleon III, entitled Dialogue between Machiavelli and Montesquieu in Hell, written by a Frenchman named Maurice Joly (Brussels, 1864). (Cohn, Segel/Levy)

1921 King Peter I of Serbia dies and his son, Alexander, becomes king of the new Kingdom of Serbs, Croats, and Slovenes.

1922 Hitler addresses a mass meeting at Konigsplatz in Munich.

1923 Birth: Shimon Peres.

1924 Former Allies and Germany reach agreement in London on the Dawes Reparation Plan.

1933 The American Jewish Congress sends an open letter to President von Hindenburg urging him to dismiss Hitler as Chancellor.

1934 The first mention of the existence of concentration camps is made in the Golden Age magazine (now Awake!), published internationally by the Jehovah's Witnesses. (Smith)

1938 Death: Robert Johnson. (See Aug 13)

1938 The German Ministry of Justice orders an increase in the Gestapo's power in Austria.

1939 Ribbentrop cables von der Schulenberg, telling him that all Molotov's conditions can be met.

1939 Captain Doenitz arrives at Kiel, the main U-boat base, and begins to implement plans for Fall Weiss (Case White) the projected attack on Poland.

1939 The Twenty-first World Zionist Congress meets in Geneva. It strongly opposes the British White Paper and expresses concern for the fate of Jews in Germany, Poland and the rest of eastern Europe.

1943 Holocaust: A Jewish revolt at Bialystok is crushed by the Germans with tanks and artillery (to August 23). (Atlas)




1945 The USSR and Poland sign a treaty delimiting the Soviet-Polish frontier and agree on Curzon Line. Poland is shifted westward. In the east it loses 69,860 square miles; in the west it gains (subject to final peace-conference approval) 38,986 square miles. Massive population displacements follow as 3.5 million Germans are removed and their homes taken over by 2.2 million Poles returning from German concentration camps and slave labor, and 1.5 million Poles ousted from areas taken by the USSR.

1945 Prince Norukiko Higashi-Kuni forms a new government and Emperor Hirohito orders a cease-fire to all Japanese troops.




1945 Lieutenant General Jonathan Wainwright, (captured by the Japanese on the island of Corregidor, in the Philippines), is freed by Russian forces from a POW camp in Manchuria, China. Note: When Bataan was taken by the Japanese, and the infamous Bataan 'Death March' of captured Allies was underway, Corredigor became the next battle ground. Wainwright and his 13,000 troops held out for a month despite heavy artillery fire. Finally, Wainwright and his brave and embattled soldiers, already exhausted, surrendered on 6 May. Upon Japan's surrender at wars end, Russian forces in Manchuria liberated the POW camp in which Wainwright was being held. The years of captivity took its toll on the general. The man who had been nicknamed 'Skinny' was now emaciated. His hair had turned white, and his skin was cracked and fragile. He was also depressed, believing he would be blamed for the loss of the Philippines to the Japanese. When Wainwright arrived in Yokohama, Japan, to attend the formal surrender ceremony, General MacArthur, his former commander, was stunned at his appearance, literally unable to eat and sleep for a day. Wainwright was given a hero's welcome upon returning to America, promoted to full general, and awarded the Medal of Honor.

1950 Otto Dietrich is released from Landsberg prison for good behavior. Dietrich had established important contacts between the Nazis and a number of industrialists during the 1920s. Reich press chief of the party, 1933-45. Note: In 1949, Dietrich had been sentenced to seven years in prison.




1960 A world record for a successful free fall is set by Joseph Kittinger. What Mr. Kittinger did is really quite amazing: He drops from an altitude of 84,700 feet - more than 16 miles - before opening his parachute over New Mexico.

1960 On the stroke of midnight, Cyprus becomes an independent republic, with Archbishop Makarios as its first president.

1962 Algeria is admitted to the Arab League.

1962 Following talks in London, agreement is reached on proposals for the entry of Aden Colony into the Federation of South Arabia.

1966 The Declaration of Bogota is signed, calling for the economic integration of Latin America and nonintervention in the internal affairs of American states.

1968 Czechoslovak President Dubcek signs a 20-year friendship and mutual aid pact with his Romanian counterpart President Ceaucescu.

1970 Venera 7 is launched by USSR for a soft landing on Venus.

1972 Morocco's King Hassan II escapes unhurt when an airliner carrying him to Rabat is fired on by Moroccan Air Force pilots.




1974 Greek left-wing leader Andreas Papandreou returns home after six years of self-imposed exile.

1978 Xerox is fined $25.6 million for excluding Smith-Corona Manufacturing from the copier market.

1984 John De Lorean is acquitted in Los Angeles of spurious charges that he conspired to import 100 kg of cocaine, and use the proceeds to save his financially troubled Northern Ireland sports car company.

1990 Iraqi President Saddam Hussein warns US President George Bush that thousands of the troops he is sending to the Gulf will return home in coffins.

1990 US naval forces are ordered to prevent ships from reaching or leaving the ports of Iraq and Iraqi-occupied Kuwait.

1995 Voters in Bermuda reject independence from Great Britain.

1996 Leonel Fernandez, a 42-year-old lawyer who grew up in New York City, becomes the 100th president of the Dominican Republic.

1999 Vladimir Putin is confirmed as Russian prime minister.




2002 FDNY survivor and a 911 volunteer are married in New York City.

2004


2004

^ Top of Page ^
---
---

Click Here to email the Webmaster of this site.

Web Page Design by Nathan
This page was last updated on August 12, 2005