NAVIGATION COLUMN
Home Page

The Keninger Archives
The Propagander

Yahoo Groups:
History 1 Day 2
Nuremburg Data


---
Daily History Pages:
---





FAIR USE NOTICE: This site could contain copyrighted material the use of which has not always been specifically authorized by the copyright owner. We are making such material available in our efforts to advance understanding of historical, political, human rights, economic, democracy, scientific, environmental, and social justice issues, etc. We believe this constitutes a 'fair use' of any such copyrighted material as provided for in section 107 of the US Copyright Law. In accordance with Title 17 U.S.C. Section 107, the material on this site is distributed without profit to those who have expressed a prior interest in receiving the included information for research that could include educational purposes. If you wish to use copyrighted material from this site for purposes of your own that go beyond 'fair use', you could most likely need to obtain permission from the copyright owner.


August 21


1129 The Japanese warrior Yoritomo is made Shogun without equal.

1165 Birth: Philip II Augustus, first great Capetian king of France (1179-1223).

1245 Death: Alexander of Hales, aged 59, the founder of the Franciscan school of theology.

1525 Estavao Gomes returns to Portugal after failing to find a clear waterway to Asia.


1560 Tycho Brahe first becomes interested in astronomy.



1660 Birth: Hubert Gautier, engineer, will write the first book on bridge building, 'Traité des Ponts,' in 1716. It covered bridges in masonry and timber, foundations, piers and centering, the velocity of water, and such reference tools as a dictionary of terms and a list of edicts. He had previously written a treatise of roads, published in 1693. Originally a medical doctor, he became a naval engineer and later on general inspector of the Ponts et Chaussées. He also authored books on fortifications, the antiquities of his native town Nîmes, and a first manual for watercolor practitioners. Watercolor had also some military interest, as it was needed for mapmakers in order to impart the correct hue, and this explains why Gautier choose to write this treatise.

1680 Pueblo Indians take possession of Santa Fe from the Spanish.

1765 Birth: King William IV of Great Britain and Ireland. He will be known as 'the sailor king' after he joins the Royal Navy at 13. William will also be well known for his affairs and have 10 illegitimate children by the actress Dorothea Jordan.


1789 Birth: Augustin-Louis Baron Cauchy, French mathematician.


1794 France surrenders the island of Corsica to the British.

1798 Birth: Jules Michelet, French historian who will write the 24-volume Historie de France.

1808 In the first battle of the Peninsular War, Arthur Wellesley, later Duke of Wellington, and his British troops defeat Napoleon Bonaparte's General Junot at the Battle of Vimiero.

1810 One of Napoleon Bonaparte's generals, Marshall Bernadotte, is elected Crown Prince of Sweden using the name Charles John.

1841 John Hampton of New Orleans, Louisiana, receives a patent for venetian blinds.

1858 Sir Sam Browne, VC, invents the Sam Browne belt to hold his sword and pistol after loosing an arm in action.


1858 The first of a series of Illinois debates begins between Abraham Lincoln and Stephen Douglas. Douglas will go on to win the Senate seat in November, but Lincoln gains national visibility for the first time.


1863 US Civil War: Confederate raiders under William Quantrill strike Lawrence, Kansas, leaving 150 civilians dead.

1864 US Civil War: Confederate General AP Hill attacks Union troops south of Petersburg, Virginia, at the Weldon railroad. His attack is repulsed, resulting in heavy Confederate casualties. With Robert E. Lee's Army of Northern Virginia stubbornly clinging to Petersburg, Ulysses S. Grant decides to cut its vital rail lines.


1872 Birth: Aubrey Vincent Beardsley, English artist and illustrator (Salome).

1874 Popular 19th century preacher Henry Ward Beecher (1813-1887) is accused by Theodore Tilton of committing adultery with his wife. The resulting trial ends in a 9-3 hung jury decision, in Beecher's favor.




1878 The American Bar Association is formed by a group of lawyers in Saratoga Springs, New York.

1888 William Burroughs of St. Louis, Missouri, patents his adding machine. It is an invention that bore the name of Burrough's office machine company for many years.


1901 The Cadillac Motor Company is formed in Detroit, Michigan, USA. It is named after the French explorer, Antoine Cadillac.


1906 Birth: Friz Freleng, animator (Bugs Bunny-Emmy 1982).

1911 Leonardo da Vinci's Mona Lisa is stolen from the Louvre in Paris by an Italian waiter. It is found in 1913.




1914 WW1: The newly landed British Expeditionary Force (BEF) under Field Marshal Sir John French moves into Belgium to support Lanrezac's advance.

1914 WW1: Serbian Marshall Putnik defeats the Austrians at the battle of Sabac (August 21-24).

1918 WW1: The British and French begin the second phase of the Battle of the Amiens. Ludendorff orders a general withdrawal from the Lys and Amiens areas.

1918 WW1: Aug 21-23 Dispatch Runner Lance Corporal Adolf Hitler serves near Monchy-Bapaume with 3 Company, 16 Bavarian Reserve Infantry Regiment. (Masser)


1927 Twenty-thousand Storm Troopers attend the Congress of the National Socialist Party in Nuremberg. From Hitler's speech: "If a nation today proclaims the theory that it will find happiness in lasting peace, and attempts to live according to that theory, it will one day inevitably succumb to this most basic form of cowardice. Pacifism is the clearest form of cowardice, possessing no willingness to fight for anything at all..."

1930 Nazi party convention in Nuremberg. Parade of 20,000 SA-men.

1932 The Third International Congress on Eugenics is held at the Museum of Natural History in New York. The Congress proceedings are dedicated to Averell Harriman's mother, who had paid for the founding of the race-science movement in America (see 1910).




1933 The Eighteenth Zionist Congress opens in Prague where attendants discuss the Nazi takeover of Germany, the growing persecution of German Jews, the assassination of Arlosoroff, the economic situation of the Yishuv and the conflict between the Labor Party and the Revisionists. The Congress will continue until September 4.

1939 The Trade and Credit Agreement is signed between Germany and the Soviet Union. Stalin cables Hitler: "THE SOVIET GOVERNMENT HAVE INSTRUCTED ME TO INFORM YOU THAT THEY AGREE TO HERR VON RIBBENTROP'S ARRIVING IN MOSCOW ON AUGUST 23. -- J. STALIN."

1939 Neville Chamberlain arrives in London, having traveled overnight from Scotland. British Intelligence suggests that Field Marshal Hermann Goering should come to London for discussions.


1939 Soviet Marshal Voroshilov (knowing of Ribbentrop's impending arrival) indefinitely postpones any continuation of Anglo-French-Soviet talks.


1940 Death: Leon Trotsky, from wounds received on Aug 20 after being axed in the back of the head by an agent of Stalin's secret police. Note: Facts about the assassination are kept secret in the Soviet Union until January 1989.

1941 WW2: Antonescu promotes himself to Marshal.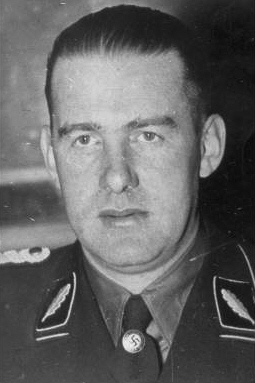 1942 Holocaust: Himmler again visits with Odilo Globocnik in Lublin. (Architect)




1942 Holocaust: Photos of Jews being beaten and killed on a transport bound for Treblinka are taken by a young Austrian soldier, Hubert Pfoch, at Siedlce in Poland, while on his way to the Russian Front. (Apparatus)




1944 WW2: More than 300 Poles are killed in last German effort to break out of Falaise Gap. During the Falaise battles, 50,000 Germans are taken prisoner and 10,000 killed.

1944 Allied representatives meet at Dumbarton Oaks in Washington to discuss plans for postwar security. American, British, Soviet, and Chinese representatives lay the basis for future discussions leading to the foundation of the United Nations. Meetings will continue until October. Edward Stettinius, Jr., leads the American delegation.

1945 Cold War: President Truman orders an immediate end to the Lend-Lease Program that had shipped about $50 billion in aid to America's Allies during World War II. Stalin is enraged.

1950 The UN moves into its new permanent facilities in New York City, on land donated by the Rockefeller family.

1951 The United States orders construction of the world's first atomic submarine, the Nautilus.




1959 The modern United States receives its crowning star when President Dwight D. Eisenhower signs a proclamation admitting Hawaii into the Union as the 50th state. The president also issues an order for an American flag featuring 50 stars arranged in staggered rows: five six-star rows and four five-star rows. The new flag will become official on 4 July 1960. Note: The first known settlers of the Hawaiian Islands were Polynesian voyagers who arrived sometime in the eighth century. In the early 18th century, American traders came to Hawaii to exploit the islands' sandalwood, which was much valued in China at the time. In the 1830s, the sugar industry was introduced to Hawaii and by the mid 19th century had become well established. American missionaries and planters brought about great changes in Hawaiian political, cultural, economic, and religious life. In 1840, a constitutional monarchy was established, stripping the Hawaiian monarch of much of his authority. In 1894 the Republic of Hawaii was established as a US protectorate with Hawaiian-born Sanford B. Dole as president. Many in Congress opposed the formal annexation of Hawaii, and it was not until 1898, following the use of the naval base at Pearl Harbor during the Spanish-American War, that Hawaii's strategic importance became evident and formal annexation was approved. Two years later, Hawaii was organized into a formal US territory. During WW2, Hawaii became firmly ensconced in the American national identity following the surprise Japanese attack on Pearl Harbor in December 1941. In March 1959, the US government approved statehood for Hawaii, and in June the Hawaiian people voted by a wide majority to accept admittance into the United States. Two months later, Hawaii officially becomes the 50th state.

1959 The Baghdad Pact is formally renamed the Central Treaty Organization (CENTO) after Iraq's withdrawal earlier in the year.




1960 Jomo Kenyatta, Kenya's nationalist leader of the Mau Mau, is released after nine years detention.

1961 The US and El Salvador sign the first Food for Peace agreement.

1963 In South Vietnam, martial law is declared. Army troops and police begin to crackdown on the Buddhist antigovernment protesters.

1965 The US spacecraft Gemini 5 is launched from Cape Kennedy, with Gordon Cooper and Charles Conrad on board.




1968 Radio Prague (Czech) at 12.50am, announces a soviet led invasion. Forces from the Soviet Union and four other Warsaw Pact states march towards Prague because of the country's experiments with a more liberal government.

1968 After 5 years, Russia once again starts jamming Voice of America radio.

1972 The US orbiting astronomy observatory Copernicus is launched.

1982 Following Israel's June 6th invasion of Lebanon, the evacuation of thousands of Palestinians from the country begins under the supervision of a multinational force.




1983 Filipino opposition leader Benigno S. Aquino Jr., is shot and killed at the Manila airport by military forces. The killing precipitates fierce demonstrations against President Ferdinand E. Marcos and eventually leads to the collapse of his government. In 1986 Corazon C. Aquino, widow of the slain leader, becomes president.

1986 Gas belching from a volcanic lake in the remote mountains of Cameroon kills more than 1,700 people and injures 500.

1987 A US Marine is convicted of spying for the first time in the history of the Corps. Sergeant Clayton Lonetree was giving secrets to the KGB while working as a guard at the US Embassy in Moscow. He will serve eight years in a military prison.

1988 A cease fire between Iran and Iraq takes effect, after 8 years of war.




1989 Voyager 2 begins a flyby of the planet Neptune.

1990 British conservationist George Adamson, whose work featured in the film Born Free, is murdered by bandits in Kenya.

1990 The Indian parliament approves presidential rule in Jammu and Kashmir and gives the armed forces special powers in the riot-torn state.




1990 The first pictures from Venus by the space probe Magellan showed features similar to volcanoes and valleys on Earth.

1991 Russian Revolution, Slight Return: The hard-line coup against Soviet President Mikhail Gorbachev ends. The uprising that led to the collapse is led by Russian federation President Boris Yeltsin. Latvia takes this opportunity to declare its independence as Gorbachev returns from house arrest in the Crimea.

1992 Fugitive neo-Nazi leader Randall Weaver opens fire on US marshals from his home in Idaho. Weaver surrenders 11 days later ending the standoff. During the standoff a deputy marshal, Weaver's wife and his son are killed.




1993 Contact is lost with the Mars Observer spacecraft only three days before it is to begin orbiting the Red Planet.

1994 The House of Representatives passes, 225-210, a revised version of President Clinton's crime bill.

1994 Ernesto Zedillo Ponce de Leon is elected president of Mexico.

1994 The last French troops pull out of Rwanda, ending their controversial humanitarian mission.

1995 The Philip Morris and R. J. Reynolds tobacco companies agree to drop libel suits against ABC News after the network apologizes for reporting a year earlier that cigarette makers added nicotine in order to addict smokers.

1996 President Clinton signs a law that lets Americans carry health insurance from one job to the next, and limits denial of coverage due to preexisting conditions.

1997 Afghanistan suspends its embassy operations in United States as the newly appointed prime minister of Afghanistan, Abdur Rahim Gaffurzai, is killed along with 13 others in a plane crash.

1997 A plastic artificial leg is fitted to a pink flamingo in Lincoln Park Zoo, Illinois. The flamingo, known only as B9720, is believed to be the world's first with an artificial leg.

1998 Samuel Bowers, a 73-year-old former Ku Klux Klan leader, is convicted in Hattiesburg, MS, of ordering a firebombing that killed civil rights activist Vernon Dahmer in 1966.




2002 Post 911: WTC steel beam is studied by the National Institute.




2002 Post 911: Donald Rumsfeld and President Bush plot the next move in Iraq.
2002




2017 The next total solar eclipse will be visible from North America.

---
^ Top of Page ^
---

Click Here to email the Webmaster of this site.

Web Page Design by Nathan
This page was last updated on August 19, 2005