NAVIGATION COLUMN
Home Page

The Keninger Archives
The Propagander

Yahoo Groups:
History 1 Day 2
Nuremburg Data


---
Daily History Pages:
---





FAIR USE NOTICE: This site could contain copyrighted material the use of which has not always been specifically authorized by the copyright owner. We are making such material available in our efforts to advance understanding of historical, political, human rights, economic, democracy, scientific, environmental, and social justice issues, etc. We believe this constitutes a 'fair use' of any such copyrighted material as provided for in section 107 of the US Copyright Law. In accordance with Title 17 U.S.C. Section 107, the material on this site is distributed without profit to those who have expressed a prior interest in receiving the included information for research that could include educational purposes. If you wish to use copyrighted material from this site for purposes of your own that go beyond 'fair use', you could most likely need to obtain permission from the copyright owner.


August 25




1346 Edward III of England defeats Philip VI's army at the Battle of Crecy in France.




1530 Birth: Czar Ivan IV, Ivan the Terrible of Russia, first tsar of Russia (1533-84). He is crowned first Tsar of Russia in 1547 and expands the Russian State with campaigns against the Tartars.

1560 Protestantism is formally adopted at the First General Assembly of the Church of Scotland. The Scottish Parliament had earlier voted to accept a Calvinist confession of faith, declaring that the pope no longer had jurisdiction over Scotland.

1580 Spanish forces under the Duke of Alva defeat the Portuguese at the Battle of Alcantara, securing Portugal as a Spanish realm.




1609 Galileo demonstrates his first telescope to Venetian lawmakers.

1689 Montreal is taken by the Iroquois.




1718 The city of New Orleans, Louisiana, is founded and named in honor of the Duke of Orleans of France.

1758 The Prussian army defeats the invading Russians at the Battle of Zorndorf.




1765 In protest over the stamp tax, American colonists sack and burn the home of Massachusetts governor Thomas Hutchinson.




1789 Death: Mary Ball Washington, mother of George.




1814 War of 1812: British forces destroy the US Library of Congress and the 3,000 books contained therein.

1819 Birth: Allan Pinkerton, first private detective. Died in 1884.




1822 Death: William Herschel, discovered Uranus, aged 85.




1825 A group of Uruguayan revolutionaries (known as the "Thirty-Three"), led by Juan Antonio Lavalleja, declare the independence of Uruguay from Brazil. A war between Brazil and Uruguay ensues, but British diplomats, protecting their economic interests, mediate a settlement that leads to the creation of an independent Uruguay in 1828.

1830 A revolt breaks out in the French-speaking provinces of the Netherlands against union into Belgium.

1830 The Tom Thumb steam locomotive runs its famous race with a horse-drawn car. The horse wins because the engine, which had been ahead, broke down.




1835 Death: Ann Rutledge, said to be Lincoln's true love, in Illinois aged 22.




1835 The New York Sun publishes the first part of its Moon hoax story about John Herschel.




1845 Birth: Ludwig II, mad king of Bavaria (1864-86).

1862 US Civil War: Union and Confederate troops skirmish at Waterloo Bridge, Virginia, during the Second Bull Run Campaign.

1862 US Civil War: The US Secretary of War authorizes General Rufus Saxton to arm 5,000 slaves.

1864 Combination rail and ferry services become available from San Francisco to Alameda.

1864 US Civil War: Confederate General A. P. Hill pushes back Union General Winfield Scott Hancock from Reams Station where his army has spent several days destroying railroad tracks.

1883 Under the terms of the Treaty of Hue, France assumes the protectorate over Annam and Tonkin in what is now Vietnam.

1900 Birth: Sir Hans Adolf Krebs, Nobel Prize-winning biochemist [1953]. Died in 1981.

1900 Death: Friedrich Nietzsche, philosopher, in Weimar, Germany.




1901 Death: Clara Maass, army nurse who sacrificed her life at 25 to prove that the mosquito carries yellow fever.

1902 The first Arabic daily newspaper in the US, Al-Hoda, begins publication in New York City.

1912 Birth: Erich Honecker, Germany, East German political leader.




1913 Birth: Walt Kelly, cartoonist, created the comic strip Pogo. Died in 1973.

1915 WW1: Brest-Litovsk falls and the entire Russian front is in complete collapse.

1916 Birth: Frederick Robbins, Nobel Prize-winning microbiologist (1954).

1916 The US National Park Service is created.




1918 WW1: Lance Corporal Adolf Hitler is awarded the Service Decoration, 3rd Class. (Maser)

1918 Volkishness: A large investiture of novices to the Germanenorden takes place at the Four Seasons Hotel. Pohl gives a lecture on the "Sun Castles" of Bad Abling, which he believes possess esoteric national significance.

1919 Birth: George Wallace, Governor of Alabama; candidate for US President. Died in 1998.

1919 The world's first scheduled flight begins, between London and Paris.

1920 Ethelda Bleibtrey wins the 100-metre freestyle swimming competition at Antwerp, Belgium, becoming the first woman to win an event for the United States in Olympic competition.

1920 The 19th Amendment, guaranteeing women the right to vote, is formally adopted into the US Constitution.

1921 The United States, which never ratified the Versailles Treaty ending WW1, signs a peace treaty with Germany.

1925 A. Phillip Randolph organizes the Sleeping Car Porters' Union, in Harlem, New York.




1929 The Graf Zeppelin passes over San Francisco for Los Angeles after a transpacific voyage.

1933 Romanian military authorities in Czernowitz suspend the Yiddish daily, Der Tog, for criticizing the government.

1936 Grigory Zinoviev is executed after being arrested and falsely charged with having organized a "terrorist counterrevolutionary group allied with the Gestapo."

1939 -07: Goering's friend, Swiss businessman Birger Dahlerus, lands in Croyden, England, in Goering's private plane. Dahlerus personally gives copies of Hitler's proposals for a peaceful settlement of the Danzig problem to Lord Halifax.

1939 -07: Colonel Walery Slawek, a Polish opponent of the anti-German policies of Marshal Smigly-Rydz and President Moscicki, and a strong proponent of Marshal Pilsudski's pro-German policy, is murdered and his death ruled a suicide, even though two bullets are found in his body. (Sturdza)

1939 -07: Hitler confers with British Ambassador Henderson, telling him that "Poland's provocation's have become intolerable." Hitler then makes several new proposals to Britain, whose friendship, Hitler says, he has "always sought." In conclusion, Hitler strongly urges Henderson to leave for London that same day with these new proposals.

1939 -07: Italian Ambassador Attolico tells Hitler that Italy will not support Germany without German help with arms and supplies. On hearing of this, Hitler cancels his invasion of Poland scheduled for 4:30 AM the following morning.

1939 -07: The number of incidents along the Polish-German border increase. In Makeszowa, near Katowice, German soldiers take over the court house and railway station. Poles break into and wreck the offices of a German newspaper. More Polish reservists are called up and cars and horses are requisitioned.

1939 -07: President Roosevelt once again appeals for peace.

1940 WW2: The Luftwaffe begins mounting almost daily attacks on British ports, airfields, and industrial centers in southern England. Strict orders from Hitler forbid attacking civilian targets, especially London. (Duffy) (Note: The Germans have a total force of 900 fighters, mostly Messerschmitt BF-109s, and 1,300 bombers. The RAF has much smaller forces, about 650 Hurricanes and Spitfires, but newly developed radar enables it to concentrate its defenses.) (Grolier)

1940 The first parachute wedding ceremony is performed by Reverend Homer Tomlinson at the New York City World's Fair for Arno Rudolphi and Ann Hayward. The minister, bride and groom, best man, maid of honor and four musicians Are all suspended from parachutes.

1941 Diary of Leon Gladun: The head of the commission for Polish mobilization arrived. Then that afternoon General Anders and General Bohusz-Szyszko arrived and gave speeches. The recruiting work began from that day with the commission conducting registrations, medical exams etc. We're to leave on September 2 according to the agreement. The areas for our organization are in the regions of Saratov and Orenburg.




1941 WW2: Both Britain and the USSR invade and occupy Iran. Its ruler, Reza Shah Pahlavi, is pro-German. Within four days the Soviet Union and England are in complete control.

1942 Diary of Leon Gladun: We set off for Persia by boat. For a few hours we could still see the skyline of Krasnovodsk, and then the last traces disappear over the horizon--and nothing but the sea, The next day we can already make out the shores of Persia. Sure enough toward evening we arrive at the port of Pahlevi. The impression is overwhelming. A beautiful port, green grass, villas--a completely different world. Rain greets us, which we haven't seen for several months.

1943 WW2: Lord Louis Mountbatten Is appointed Supreme Allied Commander in Southeast Asia.

1943 WW2: The Allies again bomb the German rocket laboratory on Peenemunde, setting back production by two months. Eduard Schulte passes along damage reports to Allen Dulles in Switzerland. (Silence)

1943 WW2: US forces overrun New Georgia in the Solomons.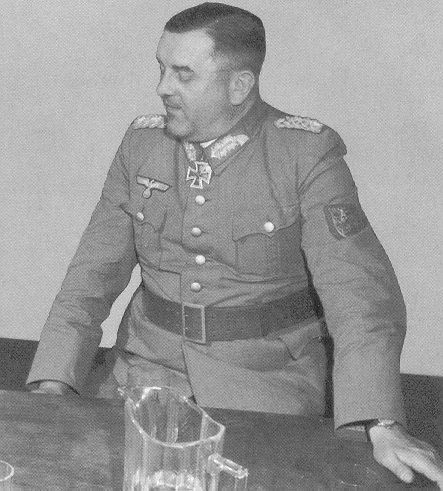 1944 WW2: Paris falls to the Allies. Destruction is minimal, due primarily to the efforts of the German commandant, General Dietrich von Choltitz (above), who disobeys Hitler's orders to "fight to the last man" and "raze the city."

1944 Diary of Leon Gladun: We set off for Rome in the morning: Banasiewicz, Blicharski and myself. The road is splendid, mostly asphalt. We're crossing the Italian peninsula from one side to the other. Near the city of Terni we pass by the beautiful falls called La Cascata delle Marmore. A wonderful sight. The falls are 40 meters high over which a great deal of water cascades with a roar--exploding into white foam and producing a mist for tens of meters around. Nearby the falls are factories: an electrical works, largely destroyed, some chemical works and finally the Fiat enterprises. The trip lasted from 05:30 hours to 16:00 hours and was about 230 miles. Finally we arrived in Rome. After a lengthy search we installed ourselves in the Hotel Imperial. For 3 days we toured many historical sights of which there are so many that 3 months much less 3 days is not enough to became acquainted with everything. Rome makes a much greater impression on me than accursed Naples. I visited the Colosseum, the Forum, Romanum, Capitol, Panteon, the Catacombs, St. Peters and St. Pauls which is impressive. But my favorite is the Church of St. Andrew--the original round shape and the attention to detail. Here are kept the remains of St. Stanislas Kostka. Many beautiful women--this is the first impression that strikes one on the street, and the huge amount of soldiers mostly Americans. I hadn't written for a while as there just wasn't time. So much to write about but so little time. We returned from Rome on the 30th and changed positions several times again.

1944 WW2: The Romanian government declares war on Germany.




1945 Jewish immigrants are permitted to leave Mauritius for Palestine.

1949 RCA announces its invention of a system for broadcasting color television.

1950 US President Truman orders the seizure of US railroads to avert a strike.




1961 Must Be A Tough Job: Brazilian President Janio Quadros resigns after only six months, claiming 'terrible forces came forward to fight me'. He goes into exile in Australia.




1967 Death: George Lincoln Rockwell, American nazi party leader, assassinated by a sniper in Arlington, Virginia.

1970 Electric Ladyland.

1981 Voyager 2's makes its closest approach to Saturn (63,000 miles/100,000 km).

1983 The US and USSR sign a $10 billion grain pact.

1985 Samantha Smith is killed with her father in an airplane crash in Maine. Smith was the schoolgirl whose letter to Yuri V. Andropov resulted in her famous peace tour of the Soviet Union.

1987 Saudi Arabia denounces the "group of terrorists" that ran the Iranian government.

1988 Iran and Iraq begin talks in Geneva after ending their eight years of war.




1989 After a 12-year, four-billion-mile (six-billion-km) journey through space, Voyager 2 flies over the cloudtops of the giant planet Neptune and its moon Triton, sending back photographs of swampy areas, frozen lakes and craters. Voyager 2 is the first spacecraft to photograph Neptune, its final planetary target before leaving the solar system. Voyager 2 also sends back pictures of two moons previously unknown to scientists.

1990 The UN Security Council votes 13-0 to authorize 'minimal' military action against ships caught breaking the trade embargo that has been placed on Iraq after it's invasion of Kuwait.

1991 Byelorussia (Belarus) declares independence from the Soviet Union.

1992 Right-wing extremists, egged on by Berlin residents, set fire to a hostel for Vietnamese asylum seekers during a third night of violence against foreigners.

1993 Sheik Omar Abdel Rahman is indicted by a federal grand jury for terrorist activities, one of which was the World Trade Center car bombing.

1994 The US Senate follows the House's lead and passes President Clinton's crime bill.

1995 Harry Wu, human rights activist, returns to the United States saying that the spying case against him in China is "all lies."

1995 Senator Bob Packwood, R-Oregon, reverses his position and calls for public hearings in the sexual harassment allegations against him.

1997 Egon Krenz, East Germany's last hard-line Communist leader, is sentenced to six-and-a-half years in jail for the deaths of citizens killed as they tried to flee to the West over the Berlin Wall. He lodges an appeal the next day.

1998 A High Court judge sentences 16 civilians to be hanged for their role in a coup in Sierra Leone in May of 1998. The restored government had treason cases against 40 more civilians and 38 soldiers.

1998 Seven Cuban-Americans are indicted by federal grand jury in Puerto Rico on charges of conspiracy to murder Cuban President Fidel Castro.

1999 After previously denying it used any such incendiary devices, the FBI admits it fired pyrotechnic tear-gas canisters at the Branch Davidian compound near Waco, Texas, on the day in 1993 that the standoff came to a fiery end. Note: The admitted purgers further claimed that the canisters bounced harmlessly off the compound's outer walls.

2001


2003


2004

---
^ Top of Page ^
---

Click Here to email the Webmaster of this site.

Web Page Design by Nathan
This page was last updated on August 19, 2005