December 3





1137 Death: Lotharius III, of Supplinburg, Roman-German emperor (1133-37) at 67. (Bradley)




1170 Archbishop of Canterbury Thomas Becket, at 52, returns to England after six years of exile in France. Note: Becket will be martyred on 29 December of this year, killed by soldiers sent by his former friend, English King Henry II. (Bradley)

1347 Pope Clemens VI declares the Roman tribunal Coke di Rienzo as heretics.

1368 Birth: Charles VI (the Well-Beloved), king of France (1380-1422).

1463 Death: Louis Chalon, prince of Orange.

1468 Lorenzo the Magnificent and his brother Giuliano succeed their father, Piero de Medici, as rulers of Florence, Italy. (Bradley)

1469 Death: Piero de' Medici, ruler of Florence, at about 53.

1483 Birth: Nicolaus von Amsdorf, German reformation theologist.

1491 Death: Thomas Basin, French historian, bishop of Lisieux.

1533 Death: Vasili III, great prince of Moscow (1505-33) at 54.

1557 The first Covenant of Scottish Protestants forms.

1586 Sir Thomas Herriot introduces potatoes to England, from Colombia. (Bradley)

1621 Galileo perfects his telescope.




1660 Death: Jacques Sarazin, French sculptor, painter, at about 70.

1676 Battle at Lund: Sweden defeats Denen.




1676 Death: Daniel Stalpaert, Amsterdams master builder.

1678 Edmund Halley receives a Master of Arts degree from Queen's College, Oxford. (Bradley)

1684 Birth: Ludvig Baron Holberg, a founder of Danish and Norwegian literature.

1685 Charles II bars Jews from settling in Stockholm, Sweden. (Bradley)

1694 The English parliamentary election is set for every 3 years.

1699 Baron Jacob Hop is appointed treasurer-General of the Hague.

1753 Birth: Samuel Crompton, English inventor; will invent the mule-jenny spinning machine.




1755 Birth: Gilbert Stuart, artist, US portrait painter.

1775 The first official US flag raising is enacted, aboard naval vessel Alfred.




1789 Death: Claude-Joseph Vernet, French seascape painter.




1795 Birth: Sir Rowland Hill, in Kidderminster, England, his father is a teacher, and in 1807 he will become a student-teacher at his father's school in Birmingham. In 1819 Rowland will establish the Hazlewood school in Edgbaston, complete with a science laboratory, swimming pool, stage, library, gas-powered lights and central heating, at a time when other schools were like poor houses. Will introduce the first adhesive postage stamp, the printers of which will be Perkins, Bacon & Co. Printing will start on 11 April 1840 and they'll go on sale on 1 May 1840, though they won't become valid for postage until the sixth. In all, over the life of the issue 68 million will be printed. The Penny Black paid postage for a letter up to a half ounce. Doubleweight letters carry the Twopenny Blue, and these will go on sale 8 May 1840. Hill will serve at the Post Office from 1840-1842, will be made Secretary to the Postmaster General in 1846, and will become Secretary to the Post Office for ten years starting in 1854. He will also serve as chairman of a railway company and bring about the development of the telegraph in the UK. Queen Victoria will knight Hill as Knight Commander of the Bath for his service to the Empire in 1860, and he will be made a Fellow of the Royal Society and receive an honorary degree from Oxford. Hill the reformer will retire in 1864 in poor health, and pass away at his home in Hampstead in 1879. He will be buried in Westminster Abbey. (Bradley)

1800 War of the Second Coalition: 60,000 French under Moreau defeat 70,000 Austrians under Archduke John at the Battle of Hohenlinden in upper Bavaria. (Bradley)

1806 Birth: Henry Alexander Wise, Brigadier-General (Confederate Army).

1809 Birth: Thomas Alfred Davies, Bvt Major General (Union volunteers).

1810 Britain seizes the islands of Reunion and Mauritius from French control.




1818 Illinois becomes the 21st state of the United States.

1822 Birth: Charles Adam Heckman, Brigadier-General (Union volunteers).

1826 Birth: George Brinton McClellan, Major General; Union general who will defeat Robert E. Lee at Antietam and run against Abraham Lincoln for president.




1828 Andrew Jackson is elected 7th President of US, John C. Calhoun is elected Vice-President. "More nearly than any of his predecessors, Andrew Jackson was elected by popular vote; as President he sought to act as the direct representative of the common man. Born in a backwoods settlement in the Carolinas in 1767, he received sporadic education. But in his late teens he read law for about two years, and he became an outstanding young lawyer in Tennessee. Fiercely jealous of his honor, he engaged in brawls, and in a duel killed a man who cast an unjustified slur on his wife Rachel. Jackson prospered sufficiently to buy slaves and to build a mansion, the Hermitage, near Nashville. He was the first man elected from Tennessee to the House of Representatives, and he served briefly in the Senate.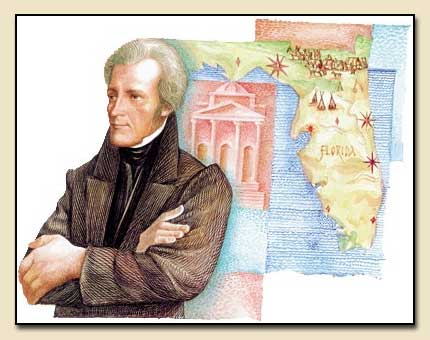 A major general in the War of 1812, Jackson became a national hero when he defeated the British at New Orleans. In 1824 some state political factions rallied around Jackson; by 1828 enough had joined "Old Hickory" to win numerous state elections and control of the Federal administration in Washington. In his first Annual Message to Congress, Jackson recommended eliminating the Electoral College. He also tried to democratize Federal officeholding. Already state machines were being built on patronage, and a New York Senator openly proclaimed "that to the victors belong the spoils. . . . " Jackson took a milder view. Decrying officeholders who seemed to enjoy life tenure, he believed Government duties could be "so plain and simple" that offices should rotate among deserving applicants. As national politics polarized around Jackson and his opposition, two parties grew out of the old Republican Party--the Democratic Republicans, or Democrats, adhering to Jackson; and the National Republicans, or Whigs, opposing him. Henry Clay, Daniel Webster, and other Whig leaders proclaimed themselves defenders of popular liberties against the usurpation of Jackson. Hostile cartoonists portrayed him as King Andrew I. Behind their accusations lay the fact that Jackson, unlike previous Presidents, did not defer to Congress in policy-making but used his power of the veto and his party leadership to assume command. The greatest party battle centered around..."

1829 Birth: Green Berry Raum, Brigadier-General (Union volunteers).

1833 Birth: Carlos Juan Finlay, Cuban epidemiologist.

1834 The first US dental society is organized, in New York.

1835 The first US mutual fire insurance company issues its first policy (Rhode Island).

1838 Birth: Cleveland Abbe, US meteorologist, (Father of the Weather Bureau).

1838 Birth: Octavia Hill, British reformer, leader of open-space movement.

1842 Birth: Ellen Henrietta Richards, US chemist; the American Home Economics Association's first president.

1847 Frederick Douglass and Martin R. Delaney establish the North Star, an antislavery paper.




1857 Birth: British novelist Joseph Conrad, in Poland; Lord Jim, Heart of Darkness, Nostromo.




1857 Death: Christian D. Rauch, German sculptor, at 80.

1862 US Civil War: Confederate raiders attack a Federal forage train on the Hardin Pike near Nashville, Tennessee.

1863 US Civil War: Confederate General James Longstreet abandons his siege at Knoxville, Tennessee, and moves his army east and north toward Greeneville. This withdrawal marks the end of the Fall Campaign in Tennessee.

1864 Birth: Herman Heijermans Jr., Dutch writer; Kamertjeszonde, Diamond City.

1864 US Civil War: Major General William Tecumseh Sherman meets with slight resistance from Confederate troops at Thomas Station on his march to the sea.

1868 Reconstruction: The trial of Jefferson Davis starts; with the first blacks on a US trial jury.

1875 Birth: Bernhard Lichtenberg, German clergyman, antifascist.

1878 Settlers arrive at Petach Tikvah, Israel.




1880 Birth: Fedor von Bock, General Field Marshal with monarchist sympathies. Bock will win the prestigious Pour le Merite in WW1 and rise rapidly through the ranks. He will serve Hitler in Austria, Poland, Holland, Belgium, and France. Commanding Army Group Center during Barbarossa, he will be relieved of command for his failure to take Moscow. He will have the same bad luck in 1942 when he again will fail to capture one of his Fuehrer's pet objectives, Stalingrad. Permanently retired by a disgusted Hitler, he will be killed in an Allied bombing raid on May 4, 1945.

1883 The 48th US Congress (1883-85) convenes.




1883 Oberlin College in Ohio starts classes as the first coed institution of higher learning in the United States, with a total of 44 students enrolled: 29 men and 15 women.

1886 Birth: Karl Manne Georg Siegbahn, Swedish physicist (röntgen spectroscope, Nobel 1924).

1893 Ndebeles destroys Rhodesia.

1893 Death: Allan Wilson, British-Rhodesian major, in battle.

1894 Death: Robert Louis Stevenson, English writer (Dr Jekyll & Mr Hyde), from a cerebral hemorrhage at 45.

1895 Birth: Anna Freud, Austrian-English psychoanalyst, daughter of Sigmund Freud.

1896 Birth: John Urzidil, Austria-US writer; Die erbeuteten Frauen.

1897 Birth: Kate O'Brien, Irish writer (Without My Cloak).

1900 Birth: Lester Matthews, in Nottingham, England, author; Sir Dennis-Adventures of Fu Manchu.

1900 Birth: Richard Kuhn, in Austria, biochemist; will work with vitamins (Nobel 1938).




1902 Birth: Mitsuo Fuchida, the pilot who will fly the lead plane in Japan's air attack on Pearl Harbor (7 December 1941). Through representatives of the Pocket Testament League, Fuchida will be converted to Christianity in 1950. (Bradley)

1906 The US Supreme Court orders Industrial Workers of the World (IWW) leaders extradited to Idaho for trial in the Steunenberg murder case.

1908 Birth: Nigel M. Balchin [Mark Spade], English author (Business for Pleasure).

1910 The neon lamp, developed by French physicist Georges Claude, is displayed for the first time at the Paris Motor Show.

1910 Death: Mary Baker Eddy, founder of the Christian Science Monitor.

1912 First Balkan War: An armistice is signed by Turkey, Bulgaria, Greece, Serbia and Montenegro, temporarily ending the conflict.

1914 WW1: Marshal Putnik's Serbian troops counterattack after receiving much needed ammunition from France.

1915 The United States expels German attaches on spy charges.

1916 WW1: French commander Joseph Joffre is dismissed after his failure at the Somme. General Robert Nivelle becomes the new French commander in chief.

1916 WW1: After convalescing at the Red Cross hospital in Beelitz since October 9, Lance Corporal Adolf Hitler is transferred to 4 Company, 1st Replacement Battalion, 16 Bavarian Infantry Regiment in Munich. (Maser)




1917 WW1: General Haig orders a partial withdrawal from the Cambrai salient. Nonetheless, Cambrai marks a turning point in tactics on the Western Front on two counts: (1) successful assault without preliminary bombardment and (2) the mass use of tanks.

1917 WW1: A truce is signed between the new Russian Bolshevik government and Germany, ending hostilities on the Eastern Front, and permanently erasing Russia from the Allied ranks.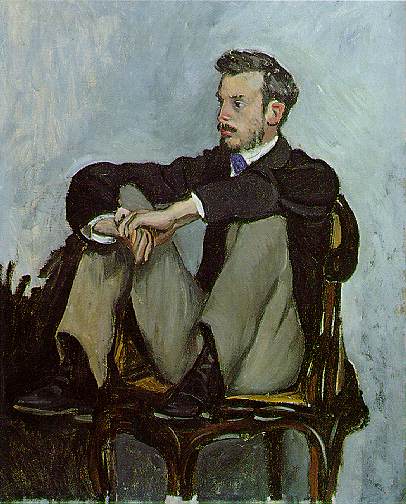 1919 Death: Pierre Auguste Renoir, French impressionist painter. His painting of sunlight through leaves and a series of pictures portraying bathers are amongst his best-known works.




1921 Birth: Hans G. Kresse, Dutch cartoonist; Eric the Viking.

1923 The first Congressional open session to be broadcast via radio, is made from Washington DC.

1924 Birth: John Backus, inventor; FORTRAN computer language.




1925 The League of Nations orders Greece to pay an indemnity for its October invasion of Bulgaria.

1926 Weimar: British reports claim that German soldiers are being trained in the Soviet Union, contrary to the terms of the Treaty of Versailles.

1926 Agatha Christie disappears this day and is found 11 days later in Yorkshire, with no idea as to how she got there.

1929 US President Hoover in his annual address to Congress declares that confidence in America's business has been reestablished. The events of the following decade will do nothing to justify this statement. (Schlesinger I)

1930 Air-borne chemicals combine with fog to kill 60 in Meuse Valley, Belgium.

1930 Otto Ender forms an Austrian government.

1931 The Statute of Westminster is passed, under which British dominions gain complete legislative independence.

1933 Birth: Paul Crutzen, Dutch chemist.

1934 Italian colonial Tripoli and Cyrenaica are annexed to Libya.

1934 France and Germany sign a one-year agreement prohibiting discrimination against any resident of the Saar region for racial, linguistic or religious reasons.

1936 The British Royal Family cancels all engagements as news breaks of Edward VIII's determination to marry Wallis Simpson.




1936 All Jewish charitable organizations in Germany lose their tax exempt status.

1938 Holocaust: A new decree orders that all Jewish enterprises and shops are now subject to compulsory "Aryanization," the forced disposal of all Jewish stores, businesses, and financial holdings. (Goebbels)

1938 Holocaust: German Jews are forced to give up their driver's licenses and vehicle registration papers. They are also forced to sell their securities and jewelry. (Persecution)

1940 WW2: Italian defense lines crumble in Albania.




1941 WW2: Stalin tells Sikorski that missing Polish officers (secretly murdered on his orders) may have "escaped to Manchuria."




1941 WW2: Hitler views Poltava, Ukraine.

1943 WW2: Units from X Corps reach the top of Monte Camino, and II Corps captures Monte Maggiore. The Battle of Monte Cassino, Italy begins.

1943 WW2: In Warsaw, the SS and Gestapo publicly execute a hundred tramway workers for an act of sabotage.




1943 WW2: Roosevelt and Churchill hold a second Cairo Conference with the President of Turkey. (Freedman)




1943 WW2: The Luftwaffe bombs Allied merchant ships in the harbor at Bari, Italy. It is the worst Allied naval disaster of the war except for Pearl Harbor, and seriously delays Allied efforts to overrun Italy. During the attack, almost 100 tons of American poison gas accidentally escapes from the American merchant ship John Harvey, subjecting the entire population of Bari to the poison. The deaths of hundreds of Italian civilians becomes one of the best kept secrets of WW2. (Secrets)

1944 WW2: The US 5th Armour division occupies Brandenburg, Hürtgenwald.

1944 WW2: A civil war breaks out in Athens, Greece, between the government backed by Britain and the National Liberation Front (EAM). The British order EAM to disarm.

1946 The US government asks the UN to order dictator Franco out of Spain.




1948 The Pumpkin Papers come to light.

1948 The Chinese refugee ship Kiangya explodes in the E. China Sea, killing 1,100.

1950 Korea: The Chinese close in on Pyongyang as UN forces withdraw southward.

1952 Britian's first air-sea rescue helicopter picks up four Danish sailors off Yarmouth.

1952 The first TV broadcast in Hawaii is made.

1952 Marcos Perez Jiménez is elected President of Venezuela.

1953 President Eisenhower criticizes Senator McCarthy for declaring that communists are in the Republican party.

1956 England and France pull their troops out of Egypt.

1957 Death: Frank E. Gannett, newspaper publisher, at 81.

1958 The Indonesian parliament accepts the nationalization of Dutch businesses.

1959 The State of emergency on Cyprus ends.

1962 Today sees the start of the four-day smog cloud which brings London to a standstill.

1964 Death: Ernst Ginsberg, writer.

1964 Police arrest 800 sit-in students at University of California at Berkeley.

1965 The USSR launches Luna 8.

1965 The Nam: The National Council of Churches asks the United States to halt the massive bombings in North Vietnam.

1967 Ex-President Sukarno is put under house arrest in Indonesia.

1967 Death: Annette Kolb, writer, at 92.

1971 President Richard Nixon commutes Jimmy Hoffa's jail term.

1971 The Pakistani air force attacks Indian airfields and Indian Prime Minister Indira Gandhi declares a state of emergency. (Bradley)

1973 Pioneer 10 passes Jupiter, the first flyby of an outer planet.

1976 Dr. Patrick J. Hillery is elected President of Iraq.

1976 A giant 40 ft inflatable pig is seen floating above London after breaking free from it's moorings while been photographed for Pink Floyd's Animals album cover. The CAA issues a warning to all pilots that a flying pig is on the run. (Bradley)

1977 The US State Department proposes the admission of 10,000 more Vietnamese refugees to the United States.

1979 Iran adopts a new constitution.

1980 A New York Federal jury finds Representatives Thompson D-New Jersey and Murphy, D-New York, guilty.

1984 The oldest groom ever, Harry Stevens age 103, weds Thelma Lucas, age 83, in Wisconsin.




1984 A gas leak at the Union Carbide pesticide plant near Bhopal, India, kills at least 3,000 people and disables thousands.

1984 Died: Virginia Lacy Jones, US librarian, presidential advisor, at 72.




1989 Presidents George Bush and Mikhail Gorbachev announce the official end to the Cold War at a meeting in Malta, and hail their first summit as the start of a new era in US-Soviet relations. (Bradley)

1989 The leader of East Germany's orthodox Communist Party, Egon Krenz, and the entire party hierarchy vote themselves out of office. (Bradley)




1991 Death: Alex Graham, British cartoonstrip artist (Fred Basset).




1991 Muslim Shiites release US hostage Alan Steen.

1991 White House Chief of Staff John Sununu resigns.

1992 The UN Security Council votes unanimously for a US led force to enter Somalia.

1993 Angola's government and its rebel foes agree to a cease-fire in their 18-year war.

1994 Death: Giorgi Chanturia, President of Georgia, assassinated.

1995 Former South Korean President Chun Doo Hwan is arrested over charges of military rebellion stemming from a 1979 coup and a later army massacre.

1996 Death: Former Afghan Communist leader Babrak Karmal of liver cancer in Moscow. Karmal personified the Kremlin's ill-fated nine-year intervention in Afghanistan.

1996 Death: George Duby, historian, at 77.


1997 Death: Marian Kratochwil, artist, at 91.




2001 Palestinian leaders accuse Israel of "declaring war" after Israeli gunships and F-16 fighter bombers destroy Yasser Arafat's helicopters in Gaza and a police station on the West Bank.

2001 In a rare live televised address Israeli PM Sharon declares, "Those who rise up to kill us are responsible for their own destruction." Sharon describes PLO Chairman Yasser Arafat as "the biggest obstacle to peace in the Middle East."

2001 US White House spokesman Ari Fleischer opines, "Obviously Israel has the right to defend herself."

2001 Arafat declares a state of emergency, and rounds up 150 militants connected to Hamas and Islamic Jihad.




2001 US Homeland Security Director Tom Ridge tells Americans to brace for fresh terrorist attacks, and puts the nation on a high state of alert. Ridge says, "We are a nation at war. There are shadowy soldiers. This is a shadowy enemy." This is the third warning issued by the US government. The FBI issued previous high alert warnings on October 11th and 29th.




2001 US B-52 bombers strike targets around Kandahar and Osama bin Laden's suspected hideout near Jalalabad.

2001 Rival Afghan leaders edge toward a UN-brokered deal to form a post-Taliban government. After seven days of talks in Bonn, the group is down to selecting the 29 names for a transitional cabinet.

2001


2002


2002


2003


2004


2004


2004









Visit:
Visit:

Click Here to email the History: One Day At a Time webmaster.