December 6


1185 Death: Afonso I, the Conqueror, king of Portugal (1143-85), at 76.

1196 Saint-Nicolaas Flood: The Northern Dutch coast is flooded.




1240 Mongols under Batu Khan occupy and destroy Kiev.

1285 Birth: Ferdinand V, king of Castile & León.

1421 Birth: King Henry VI, (1422-61, 1470-71). He will inherit the throne at the age of nine months.

1424 Don Alfonso V of Aragon grants Barcelona the right to exclude Jews.

1491 King Charles VIII of France weds Anna of Bretagne.

1492 Christopher Columbus discovers the island of Hispaniola, now divided between Haiti and the Dominican Republic.

1534 Quito, Ecuador, is founded by the Spanish.

1538 German Reformer Martin Luther this day declares: 'With all our thoughts we can't get beyond the visible and physical. No man's heart comprehends eternity.'




1550 Death: Pieter Coecke van Aelst, Flemish painter, at 48.




1562 Death: Jan van Scorel, Dutch painter, architect.




1631 The first predicted transit of Venus (Kepler) is observed.

1640 Death: Matthijs Elsevier, Flemish-Dutch book publisher, merchant, at 75.

1641 Don Francisco de Mello is appointed land guardian of South Netherlands.

1658 Death: Gracian, writer.

1731 Birth: S. von Laroche, writer.




1745 Bonnie Prince Charlie's army retreats to Scotland.

1756 British troops under Robert Clive occupy Fulta, India.

1768 The first edition of the Encyclopaedia Britannica is published in Scotland.

1774 Johann von Felbiger's Educational Statute goes into effect in Austria, starting the world's first state education system.

1778 Birth: Joseph Gay-Lussac, French chemist.




1779 Death: Jean-Baptiste Siméon Chardin, French still life painter, at 80.

1790 The United States Congress moves from New York to Philadelphia, a new temporary US capitol.

1792 French Revolution: The Girondists decide to put King Louis XVI on trial.

1792 Birth: Abraham J. van de Aa, lexicographer (Biographic Dictionary).

1793 Death: Marie Jeanne Becu comtesse du Barry, beheaded; mistress of Louis XV.

1799 Death: Joseph Black, Scottish chemist, physicist, at 71.

1808 Birth: Johan M. Dautzenberg, Flemish author; Future.

1809 Birth: Stephen Thomas, Brigadier-General (Union volunteers).

1811 The most violent earthquake in US history occurs near New Madrid, Missouri.

1812 The remnants of Napoleon's Grand Armeé stagger into Vilna, Lithuania, ending the failed Russian campaign.

1816 Montgomery County, Alabama is founded.

1816 Birth: Henry Eustace McCulloch, Brigadier-General (Confederate Army).

1820 US President James Monroe is reelected, Daniel D. Tompkins is elected as Vice-President. "...James Monroe served two terms as President -- his popularity at the end of his first term was so high that he ran unopposed in 1820. He was a chief executive who usually chose the middle path, the path of compromise. He was reluctant to increase the power of the federal government and rarely decisive in crises. His conduct in office resulted in the growth of legislative power at the expense of the executive branch..."

1822 Birth: John Eberhard; will build the first large-scale pencil factory in the US.

1831 Birth: Joshua Woodrow Sill, Brigadier-General (Union volunteers).

1833 The HMS Beagle with Charles Darwin aboard, gets underway from Rio de la Plata.

1833 Birth: John Singleton Mosby, lawyer, Confederate Army Colonel.

1842 The French Navy launches the world's first propellor-driven ship, the Napoleon.




1843 Birth: Albert de Vriendt, Flemish historical painter, etcher.

1849 Harriet Tubman escapes from slavery in Maryland.

1857 Battle of Cawnpore: In India, Sir Colin Campbell's British troops defeat the Sepoy mutineers.

1861 US Civil War: In Britian, Lord Palmerston writes to Russell that war will be a "probable result."

1861 US Civil War: Union General George G. Meade leads a foraging expedition to Gunnell's farm near Dranesville, Virginia.

1862 US Civil War: President Abraham Lincoln orders the hanging of 39 of the 303 convicted Indians who had participated in the Sioux Uprising in Minnesota. They are to be hanged on 26 December.




1863 US Civil War: The monitor Weehawken sinks in Charleston Harbor.

1864 US Civil War: The Battle of Deveaux's Neck, South Carolina.

1865 The 13th Amendment to the US Constitution formally abolishes slavery.

1866 The Chicago water supply tunnel, at a distance of 3,227 metres, into Lake Michigan is completed.

1869 Death: Jan de Liefde II, Dutch vicar, author; People's Welfare, at 54.

1870 Joseph H. Rainey becomes the first black in the House of Representatives (South Carolina).

1875 The 44th US Congress (1875-77) convenes.

1876 The first crematorium in the US begins operation, in Washington, Pennsylvania.

1876 Jack McCall is convicted for the murder of Wild Bill Hickok and sentenced to hang.




1876 The US Electoral College picks Representative Hayes. "...Safe liberalism, party loyalty, and a good war record made Hayes an acceptable Republican candidate in 1876. He opposed Governor Samuel J. Tilden of New York. Although a galaxy of famous Republican speakers, and even Mark Twain, stumped for Hayes, he expected the Democrats to win. When the first returns seemed to confirm this, Hayes went to bed, believing he had lost. But in New York, Republican National Chairman Zachariah Chandler, aware of a loophole, wired leaders to stand firm: "Hayes has 185 votes and is elected." The popular vote apparently was 4,300,000 for Tilden to 4,036,000 for Hayes. Hayes's election depended upon contested electoral votes in Louisiana, South Carolina, and Florida. If all the disputed electoral votes went to Hayes, he would win; a single one would elect Tilden. Months of uncertainty followed. In January 1877 Congress established an Electoral Commission to decide the dispute. The commission, made up of eight Republicans and seven Democrats, determined all the contests in favor of Hayes by eight to seven. The final electoral vote: 185 to 184. Northern Republicans had been promising southern Democrats at least one Cabinet post, Federal patronage, subsidies for internal improvements, and withdrawal of troops from Louisiana and South Carolina. Hayes insisted that his appointments must be made on merit, not political considerations..."

1882 The atmosphere of Venus is detected during transit.

1884 The aluminum capstone is set atop the Washington Monument, in Washington DC.

1885 Birth: Albrecht Schaeffer, German writer; The General.

1889 Death: Jefferson Davis, President of Confederate States of America (1861-5), at 81.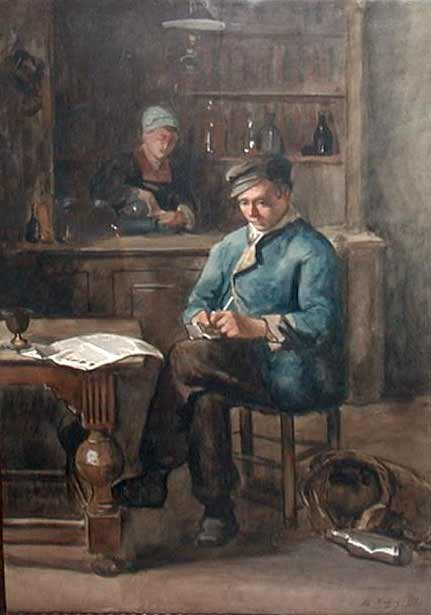 1889 Death: Joseph H. 'Jozef' Neuhuys, painter, at 48.

1892 Birth: F. Osbert S. Sitwell, in London, poet, writer; Out of the Flame.

1896 D.T. Suzuki founds the awakening at Engakuji temple, in Kamakura.

1897 Birth: O.W. Cisek, writer.




1898 Birth: Alfred Eisenstaedt, photojournalist.

1898 Birth: Gunnar Myrdal, Swedish economist and sociologist (Nobel 1974).




1902 Martha Washington becomes the first US woman on a US stamp.

1904 Theodore Roosevelt declares the Roosevelt Corollary to the Monroe-doctrine.




1906 Lieutenant Thomas E. Selfridge flies a powered, man-carrying kite 68 feet in the air for seven minutes at Baddeck, Nova Scotia.




1907 The worst mining disaster in American history takes place in West Virginia's Marion County as an explosion in a network of mines owned by the Fairmont Coal Company in Monongah kills 361 coal miners. In 1883, the creation of the Norfolk and Western Railway opened a gateway to the untapped coal fields of southwestern West Virginia. New towns sprung up in the region virtually overnight as European immigrants and African Americans from the south poured into southern West Virginia in pursuit of a livelihood from the new industry. By the late 19th century, West Virginia, now a national leader in the production of coal, fell far behind other major coal-producing states in regulating mining conditions. In addition to poor economic conditions, West Virginia had a higher mine death rate than any other state. Nationwide, a total of 3,242 Americans were killed in mine accidents in 1907. In ensuing decades, the United Mine Workers of America labor union and sympathetic legislators forced safety regulations that will bring a steady decline in death rates in West Virginia and elsewhere. Note: China, quickly catching up to the developed nations, today has a coal industry at about this pre-reform level of development. (Bradley)

1909 Birth: Kenneth Watkins, woodland conservationist.

1912 China votes for universal human rights.

1914 WW1: The Polish town of Lodz falls to German troops.

1915 WW1: Two armies, one Austrian and one German, drive south across the Serbian Sava-Danube border.




1915 Volkishness: Töpfer, Rüttinger's successor in the Nuremberg Germanenorden province, writes Julius Rüttinger complaining that the brothers are now weary of the ritual, ceremony and banquets, which Pohl seems to regard as the main purpose of the Order. (Roots)

1916 WW1: The German army under General Mackensen enters and occupies the Romanian capital of Bucharest.




1917 WW1: A Belgian relief ship and a French munitions vessel, Mont Blanc, collide in the harbor at Halifax, Nova Scotia killing 1,654 people and injuring 9000.




1917 Russian Revolution: The Bolsheviks imprison Czar Nicholas II and his family in Tobolsk.




1917 Finland takes advantage of the chaos in Russia and declares its independence. Now a National Day.

1918 Birth: Harold Horace Hopkins, inventor of the Endoscope.

1918 Birth: Peter A. Juten, office clerk, resistance fighter.

1918 Birth: Willem Oosterheers, resistance fighter.




1921 Anglo-Irish Treaty: After more than 500 years of British rule, the 26 counties of Ireland declare their independence, marking the birth of the Irish Free State. The treaty comes after a series of rapid political changes which began with the 1918 general election, when a majority of Irish seats in the British parliament was won by the Irish nationalistic Sinn Fein party. In 1919, the Sinn Fein MPs (Members of Parliament), led by Eamon de Valera, had set up an independent Irish parliament, the Dail Eireann, in Dublin. In the treaty signed this day, the British government makes a major concession by setting up the Irish Free State. The 26 Roman Catholic-dominated counties in the south comprise a self-governing country with dominion status, while the six mainly Protestant counties of Ulster will remain under British rule. (Bradley)

1922 Benito Mussolini threatens Italian newspapers with censorship if they keep reporting 'false' information.

1922 The first commercial electric power line carrier in US, at Utica, NY, starts operating.

1923 The first presidential address to be carried on radio is broadcast from Washington, DC as President Calvin Coolidge addresses a joint session of the US Congress.

1925 Italy, Britain and Egypt sign the Jaghbub accord in Italy.




1926 Death: Claude Monet, French impressionist painter, at 86.

1926 Mussolini introduces a tax on bachelors.

1928 Birth: Bert Geoffrey Achong; will invent the electron microscope.

1929 Turkey introduces female suffrage.

1933 The ban on James Joyce's Ulysses in the US, is lifted.

1933 More than 20,000 Nazi sympathizers celebrate "German Day" in New York's Madison Square Garden.

1934 American Ambassador Davis declares that Japan is a grave security threat in the Pacific.

1936 Holocaust: A new Nazi press campaign aimed at totally eliminating Jews from German economic life begins.

1937 The Dutch People's Party, a new anti-Semitic political party, is established in Holland.




1938 Ribbentrop-Bonnet Pact: A new declaration of nonaggression and friendship is signed between Germany and France, providing a mutual guarantee of their common borders. Hitler disavows any interest in Alsace-Lorraine, and during the coming months, will cite this as proof of his peaceful intentions.

1938 117 Spanish knights under Captain Piet Laros return to the Netherlands.

1939 WW2: Britain agrees to send arms to Finland, which is fighting off a Soviet invasion.




1940 WW2: The Gestapo arrests German resistance fighter and poster artist Helen Ernst.

1940 Pietro Badoglio resigns as viceroy of Ethiopia.

1941 FDR sends a message to Japanese Emperor Hirohito expressing hope that gathering war clouds will be dispelled.

1941 Dutch and British pilots spot a Japanese invasion fleet at Singapore.




1941 Barbarossa: General Georgy Zhukov launches a huge Soviet counteroffensive, pushing back the freezing Germans from Moscow. Constant pressure during the winter will force the Germans back to 40 miles from Moscow.

1942 Holocaust: The SS locks 23 Poles--men, women, children--into a cottage and barn, and burns them alive on suspicion of sheltering Jews.




1943 Death: Firmin Baes, Flemish painter, aged 69.

1943 WW2: The British 56th Division captures Monte Camino.




1944 WW2: The US 95th Infantry division reaches Westwall.

1945 The United States extends a $3 billion loan to Great Britain to help compensate for the termination of the Lend-Lease agreement.

1947 Florida's Everglades National Park is established.

1952 The Czechoslovakian government tells the Israeli ambassador that he is 'persona non grata.'

1957 Indonesia begins nationalizing Dutch possessions.




1957 The first US attempt to launch a satellite fails when the Vanguard rocket blows up on the pad.

1962 The US abandons the Skybolt ballistic missile program.




1971 Death: Jan Altink, Dutch painter, at 86.

1971 India recognizes the Democratic Republic of Bangladesh, formerly East Pakistan; Pakistan responds by breaking off diplomatic relations.

1973 Death: Robert A. Watson-Watt, England, physicist (radar), at 81.




1973 Gerald Ford is sworn in as the first unelected US vice president, following Spiro Agnew's resignation.

1973 Bahrain's constitution comes into effect.

1982 11 soldiers and 6 civilians die when a bomb planted by the Irish National Liberation Army explodes in a pub in Ballykelly, Northern Ireland.

1983 A bomb planted on a bus in Jerusalem explodes killing 6 Israelis.

1985 Britian joins the US 'Star Wars' project.

1986 Iran-Contra: President Reagan admits that 'mistakes were made' in executing US policy involving clandestine arms sales to Iran.

1986 France performs a nuclear test at Muruora Island.

1988 Arafat meets with prominent American Jews in Stockholm, Sweden.

1988 Carlos Andrés Pérez is reelected President of Venezuela.

1990 Desert Shield: President Saddam Hussein orders all international hostages held in Iraq and Kuwait to be freed in a major concession to head off the threat of an international attack on the Arab nation.

1992 In a referendum, Swiss voters reject their government's plan to join a new 19-nation European free trade zone.

1992 Hindu extremists destroy a historic mosque at Ayodhya, India. The resulting sectarian violence will kill over 400.

1993 Death: Professor Wolfgang Paul, German physicist (Nobel 1989), at 80.

1994 Orange County, California, one of the wealthiest counties in the United States, files for bankruptcy protection after investment losses of about $2 billion.

1994 US Treasury Secretary Lloyd Bentsen announces his resignation, effective 22 December 1994.

1995 Death: Dmitri Antonovitch Volkogonov, soldier, historian, at 67.

1995 Gilbert Terrero, a 19-year-old baggage handler at New York's Kennedy Airport, is charged with theft and is released on $75,000 bail for lifting $500,000 worth of jewels belonging to HRH Sarah, the Duchess of York. Police arrest him after finding a damaged 12-diamond necklace in his Queens home and a diamond bracelet in a locker at the airport. The jewels had disappeared two days earlier from a suitcase belonging to the Duchess's assistant. Terrero's family claims he found the jewels laying loose in the airport. The FBI hint that Terrero, who knew he had checked the Duchess's bags, bragged to fellow employees about stealing the gems. (Bradley)




1997 The sparsely populated Kamchatka Peninsula in Russia's Far East is hit by one of the largest earthquakes ever recorded, measuring 8.5 to 9 in magnitude.

1998 Following a series of intricate maneuvers and the skillful use of a robot arm on this day, astronauts aboard the space shuttle Endeavor join the first two of many segments that will form the International Space Station some 240 miles above the earth.


2001 Senior US officials say they are providing air support for Alliance troops fighting the al-Qaeda forces near cave complexes in Tora Bora, south of Jalalabad.




2001 Interim Afghan leader Hamid Karzai announces the surrender of Taliban forces in the southern stronghold of Kandahar. In return for surrendering and giving up weapons the Taliban are offered amnesty, although Karzai says that some 650 al-Qaeda fighters "would be brought to justice."




2001 US Secretary of Defense Donald Rumsfeld quickly speaks out against amnesty for Taliban Supreme Leader Mullah Mohammed Omar, saying, "Would an arrangement with Omar ... be consistent with what I've said? The answer is no." If amnesty is granted to Omar, Rumsfeld declares "cooperation and assistance" with opposition forces "would clearly take a turn south."

2001 Rumsfeld orders an investigation into the friendly fire death of three American Green Beret soldiers who died near Kandahar on December 5th after a B-52 bomber dropped a 900-kilogram bomb near front line US troops.

2001 Secretary of State Colin Powell meets with NATO allies in Brussels to discuss the makeup of a peacekeeping force in Afghanistan.




2001 US Attorney General John Ashcroft appears before the Senate Judiciary Committee to defend the US administration plans to implement antiterrorism measures for "war criminals."

2001


2001


2002


2002


2003


2003


2004


2004


2004


2004


2004









Visit:
Visit:

Click Here to email the History: One Day At a Time webmaster.