December 13





1250 Death: Frederick II, Holy Roman Emperor and King of Germany and Sicily. He is succeeded by Conrad IV.




1466 Death: Donatello, Italian sculptor.

1545 The Council of Trent, summoned by Pope Paul III in May 1542, finally meets to discuss doctrinal matters, especially the rise of Protestantism. (Bradley)




1577 Francis Drake begins a voyage from Plymouth, England, in the Golden Hind that is to take him around the world.




1642 New Zealand is discovered by the Dutch navigator Abel Tasman. Several of his men are killed in attempting to land when Maoris interprets an exchange of trumpet fanfares as a prelude to battle. (Bradley)

1784 Death: Samuel Johnson, English lexicographer who wrote the Dictionary of the English Language.

1809 The first abdominal surgical procedure is performed; in Danville, Kentucky. The patient is Jane Todd Crawford and the operation is performed without the aid of an anesthetic.

1816 John Adamson, of Boston, Massachusetts, receives a patent for a dry dock.

1816 America's first savings bank, the Provident Institution for Savings, opens in Boston, Massachusetts.




1818 Birth: Mary Todd Lincoln, US First Lady. "...Mary Ann Todd was born in Lexington, Kentucky on December 13, 1818, of a prominent and influential family whose ancestors had a distinguished record in the American Revolution. When she was about eight years old, Mary entered the Academy of Dr. John Ward, an Episcopal minister who was ahead of his time in running a coeducational school. Mary received more education than most women did at that time and, perhaps as a result, she sometimes expressed her opinions more freely than some of her contemporaries considered proper. Considering her wealthy and aristocratic family background, her attitude toward marriage was surprisingly free of snobbery. She said "I would rather marry a poor man - a man of mind - with a hope and bright prospects ahead for position, fame and power than to marry all the houses [of] gold." On November 4, 1842, Mary and Abraham were married. Because Lincoln came from a humble background, some members of Mary's family did not approve of her choice of a husband. In the course of their marriage, Mary sometimes lived under circumstances less luxurious than she was accustomed to, but she eventually became First Lady of the United States..."

1862 US Civil War: General Robert E. Lee with 80,000 Confederates repulses General Burnside with his 150,000 Federals at the Battle of Fredericksburg, Virginia. After hard fighting along the Massaponax River, Burnside loses almost 14,000 troops. (Bradley)

1884 The first coin-operated weighing machine is patented by Percy Everitt.




1887 Birth: Sergeant Alvin York. "...in a two-room dogtrot log cabin in Pall Mall, Tennessee, and raised in a rural backwater in the northern section of Fentress County, York was a semi-skilled laborer when drafted in 1917. Quite literally having never traveled more than fifty miles from his home, York's war experience served as an epiphany awakening him to a more complex world. The third oldest of a family of eleven children, the York family eked out a hardscrabble existence of subsistence farming supplemented by hunting, and York became a competent marksman at an early age. Living in a region that saw little need for education, York had a grand total of nine-months schooling at a subscription school he attended in his youth. York's father, William York (who died in 1911), also acted as a part time blacksmith to provide some extra income for the family. Prior to the advent of the World War, York was employed as a day laborer on the railroad near Harriman. As a result, York had little experience with managing money and later suffered from chronic fiscal problems. (York spent money when he had it, gave it away to other people who he believed needed it, and invested poorly). As York came of age he earned a reputation as a deadly accurate shot and a hell raiser. Drinking and gambling in borderline bars known as "Blind Tigers," York was generally considered a nuisance and someone who "would never amount to anything." That reputation underwent a serious overhaul when York experienced a religious conversion in 1914. In that year two significant events occurred: his best friend, Everett Delk, was killed in a bar fight in Static, Kentucky; and he attended a revival conducted by H.H. Russell of the Church of Christ in Christian Union. Delk's senseless death convinced York that he needed to change his ways or suffer a fate similar to his fallen comrade, which prompted him to attend the prayer meeting. A strict fundamentalist sect with a following limited to three states--Ohio, Kentucky, and Tennessee--the Church of Christ in Christian Union espoused a strict moral code which forbade drinking, dancing, movies, swimming, swearing, popular literature, and moral injunctions against violence and war. Though raised Methodist, York joined the Church of Christ in Christian Union and in the process convinced one of his best friends, Rosier Pile, to join as well. Blessed with a melodious singing voice, York became the song leader and a Sunday School teacher at the local church. Rosier Pile went on to become the church's pastor. The church also brought York in contact with the girl who would become his wife, Gracie Williams. By most accounts, York's conversion was sincere and complete. He quit drinking, gambling, and fighting. When the United States declared war on Germany on April 6, 1917, York's new found faith would be tested. York received his draft notice from his friend, the postmaster and pastor, Rosier Pile, on June 5, 1917, just six months prior to his thirtieth birthday. Because of the Church of Christ in Christian Union's proscriptions against war, Pile encouraged York to seek conscientious objector status. York wrote on his draft card: "Dont [sic] want to fight." When his case came up for review it was denied at both the local and the state level because the Church of Christ in Christian Union was not recognized as a legitimate Christian sect. Though a would-be conscientious objector, drafted at age thirty, York in many ways typified..."

1903 Ice cream cones are patented by Italo Marcione of New York.

1916 WW1: General Maude begins a movement up both banks of the Tigris River with 166,000 men, two-thirds of them Indian.

1920 Birth: George Shultz, former Secretary of State.

1921 The United States, Britain, Japan, and France sign the Four Power Treaty, pledging to consult one another if any of their Pacific Island possessions is threatened.




1922 Weimar: The NSDAP holds ten mass demonstrations in Munich. (Maser)

1931 Volkishness: In the third edition of his textbook (with E. Baur and E. Fischer), professor Fritz Lenz writes: "We must of course deplore the one-sided anti-Semitism of National Socialism. Unfortunately, it seems that the masses need such 'anti' feelings... we cannot doubt that National Socialism is honestly striving for a healthier race. The question of the quality of our hereditary endowment is a hundred times more important than the dispute over capitalism or socialism, and a thousand times more important than that over the black-white-red or black-red-gold banners." Note: This latter is in reference to the banner of the Weimar Republic, which had replaced that of Imperial Germany, black-white-red. (Science)

1935 Holocaust: Germany publishes additional restrictions for German Jews in the legal and medical professions.

1935 Czechoslovakian President Thomas Masaryk resigns and is succeeded by Eduard Benes.

1936 Birth: Prince Karim, the Aga Khan.

1937 Japanese forces take the Chinese city of Nanking (Nanjing). Over the following six weeks, they kill an estimated 200,000 Chinese in what will become known as the 'Rape of Nanking'. (Bradley)

1938 Holocaust: Neuengamme concentration camp is established as part of Sachsenhausen. It will eventually become independent with many sub-camps of its own.

1938 Holocaust: Jewish property is pillaged and synagogues burned in Slovakia during a renewed anti-Jewish campaign.




1939 WW2: The battle of the River Plate takes place off the coast of South America between the British cruisers Exeter (above, after the battle), Ajax and Achilles and the German battleship Graf Spee.

1940 WW2: Hitler issues Directive #20 ordering additional planning and preparation for Operation Marita, the invasion of Greece.

1940 WW2: A small British force already in Libya cuts the road to Bardia, an important Italian position.

1941 WW2: British forces retreat to Hong Kong island as the invading Japanese army takes Kowloon and the New Territories.




1944 Birth: Wassily Kandinsky, Russian artist.




1945 Nuremberg War Crimes Trials: The prosecution introduces grizzly evidence from Buechenwald concentration camp. (Maser II)




1961 Death: Grandma Moses (Anna Mary Robertson Moses) at 101. The self-taught artist took up painting in her sixties; having her first showing in New York City at the ripe, young age of eighty. Her style was nostalgic and primitive - mostly rural scenes: The Old Oaken Bucket, Christmas at Home, The Quilting Bee. (Bradley)

1967 King Constantine of Greece and his family flee the country after a countercoup fails to topple the military-backed government.

1969 The American Supreme Court orders 4 Southern states to end all segregation by February 1970.




1974 Former Beatle George Harrison is greeted at the White House. President Gerald R. Ford invites Harrison to lunch. The two exchange buttons - Ford giving George a WIN (Whip Inflation Now) pin and Harrison giving the President an OM (Hindu mantra word expressing creation) button. (Bradley)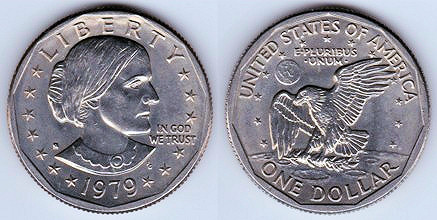 1978 Minting a dollar coin in honor of Susan B. Anthony certainly sounded like a great idea at the time. Not only would it pay tribute to a key figure in the woman suffrage movement, but the coin also promised to be a cost-efficient improvement over its paper counterpart: while more expensive to mint, the coin theoretically had a much longer shelf-life than the paper version of the dollar. Based on this seemingly sound logic, the United States mint starts production of the Susan B. Anthony dollar on this day in 1978; 850 million coins hit the streets by the summer of 1979. Alas, while well-intentioned, the Susan B. Anthony dollar is a flop: people confuse it with the quarter and the Susan B. Anthony coin falls quickly out of favor (an understandable mistake considering that the Susan B. dollar is silver and not much bigger than a quarter).




However, in 1998 the US Mint will be at it again, unveiling plans to release a dollar coin in honor of a famous woman (Native American guide Sacajewea), though they seems to have learned their lesson: the new coin would be golden-hewed to help prevent any currency confusion. (Bradley)

1979 In Canada, Prime Minister Joe Clark's 7-month-old Progressive Conservative government is defeated in a vote of no confidence in parliament.




1981 Poland's Solidarity erects a memorial to victims of Katyn with the correct date of 1940. The Polish communist government promptly removes the memorial as General Jaruszelski imposes martial law and takes strong steps to stifle Solidarity's unprecedented challenge against Communist rule.

1982 An earthquake in Yemen kills 3,000 people and injures 2,000; the earthquake devastates Dhamar province 60 miles (100 km) southeast of Sanaa.

1982 The Sentry armored car company in New York discovers the overnight theft of $11 million from its headquarters; the biggest cash theft in US history.

1983 Civilian Turgut Ozal becomes prime minister of Turkey after three years of military rule.

1990 The last of the US hostages being held by Iraq, five diplomats in Kuwait, fly to freedom.

1990 Troops are rushed to Soviet Georgia and a state of emergency is imposed after interethnic violence had killed three people.

1991 The leaders of the Central American countries hold a summit meeting and agree to pledge $4.5 billion to fight poverty.

1991 North and South Korea sign a nonaggression accord aimed at improving their often rocky ties.

1993 In Canada, Kim Campbell resigns as leader of the Progressive Conservative Party.

1993 The European Community ratifies a treaty creating the world's largest trade bloc, the European Economic Area, to come into effect on 1 January 1994.

1995 Chinese dissident Wei Jingsheng, a 1995 Nobel Peace Prize nominee, is imprisoned for 14 years for subversive acts.

1998 Holocaust: The Toronto Sun prints "Ukraine's Unknown Holocaust" by Eric Margolis: "While the world is fully aware of the destruction of Europe's Jews by the Nazis, the story of the numerically larger holocaust in Ukraine has been suppressed, or ignored. Ukraine's genocide occurred 8-9 years before Hitler began the Jewish Holocaust, and was committed, unlike Nazi crimes, before the world's gaze. But Stalin's murder of millions was simply denied, or concealed by a left-wing conspiracy of silence that continues to this day (sic). In the strange moral geometry of mass murder, only Nazis are guilty. Western historians skirt the sordid fact that Britain, the US and Canada were fully aware of the Ukrainian genocide and Stalin's other monstrous crimes. Yet they eagerly welcomed him as an ally during WW2. Stalin, who Roosevelt called Uncle Joe, murdered four times more people than Hitler."

1998 In a non-binding plebiscite giving Puerto Ricans the opportunity to express a preference as to the future of political status of the island, the 'none of the above' option is supported by 50 percent of voters, indicating that most wish to retain Puerto Rico's current status as a US commonwealth. (Bradley)

2001 India is put on a full state of alert after gunmen storm India's parliament in a 30-minute shootout that leaves twelve dead.




2001 Israeli forces attack positions in Gaza and the West Bank and say Arafat is "irrelevant."




2001 Calling it a Cold War relic, President George W. Bush (with Powell and Myers, above) announces the US is pulling out of the 1972 Antiballistic Missile Treaty, starting a six-month timetable for withdrawal and opening the way for the Defense Department to test and deploy a missile defense system without restraints. From the White House Bush declares, "I have concluded the ABM treaty hinders our government's ability to develop ways to protect our people from future terrorist or rogue state missile attacks."




2001 Russian President Putin goes on national TV and calls Bush's Antiballistic Missile Treaty decision "a mistake."




2001 As the extensive manhunt continues for Osama bin Laden, the US government releases a tape, found in Jalalabad in November, of the suspected mastermind of the 9/11 terrorist attacks. The tape shows Osama bin Laden's full knowledge of the details as he speaks of the attacks and voices pleasure and surprise that so many of the 'enemy' had died. (Osama bin Laden videotape released by the Pentagon.)

2001 US warplanes continue to pound the caves near Tora Bora amid reports of massive explosions in the mountains. US officials say that the al-Qaeda leaders in the Tora Bora caves are surrounded, and putting up strong opposition, indicating the possibility Osama bin Laden is among them.

2002


2003


2004


2004


2004


2004


2004


2004


2004


2004









Visit:
Visit:

Click Here to email the History: One Day At a Time webmaster.