December 18





1398 Delhi is conquered by Timur Lenk; the Turkish warrior better known as Tamurlane.




1565 Death: Benedetto Varchi, Italian humanist and historian; L'Ercolano.

1603 Admiral Steven van der Haghen's fleet departs to the East-Indies.

1610 Birth: Charles Du Fresne Du Cange, French scholar, philologist.

1621 The English parliament unanimously accepts Protestation.




1633 Birth: Willem van de Velde the Young, Dutch seascape painter.




1633 Death: Theodoor Galle, Flemish engraver, at 62.

1635 Birth: Antonius Matthaeus, Dutch lawyer/historian.

1638 Death: Le Père Joseph, French mystic.

1707 Birth: Charles Wesley, cofounder of the Methodist movement.




1719 Thomas Fleet publishes Mother Goose's Melodies For Children.

1737 Death: Antonio Stradivari, renowned Italian violinmaker, in Cremona, Italy at 93. Noted for their astonishing sound quality, his surviving violins are still unsurpassed. (Bradley)

1774 All Jews are expelled from Prague, Bohemia and Moravia by the Empress Maria Theresa.

1777 US Revolutionary War: This day marks the first national Thanksgiving Day, commemorating Burgoyne's surrender.

1779 Birth: Joseph Grimaldi, in England, pantomimist, clown, singer, dancer, acrobat: the 'greatest clown in history.' Will create the white faced clown known as Joey. (Bradley)




1779 Death: Jan Punt, engraver, illustrator, at 68.

1783 The English king George III fires the government of Portland.




1787 New Jersey becomes the third state in the United States as it ratifies the US Constitution.




1799 George Washington's body is interred at Mount Vernon.

1803 Birth: William Allen, House of Representative, Governor of Ohio.

1803 Death: Johann G. von Herder, German philosopher, theologist, poet, at 59.

1813 War of 1812: The British take Fort Niagara.

1829 Death: Jean-Baptiste de Lamarck, French naturalist, at about 85.

1832 Charles Darwin visits Vurland.

1839 The first celestial photograph, of the moon, is made in the US by John Draper, of New York City.

1844 Birth: Lujo (Ludwig J von) Brentano, German economist.




1856 Birth: Joseph John Thomson, in England, physicist; will identify the electron (Nobel 1906).

1862 The Hospital for the Ruptured and Crippled, the first orthopedic hospital, is organized in New York City.




1862 Death: Johnson Kelly Duncan, architect, Confederate Brigadier-General, at 35.

1865 The first US cattle importation law is passed.

1865 US Civil War: Slavery is abolished throughout the United States with the ratification of the 13th amendment.




1867 Birth: Antoon van Welie, Dutch painter.

1870 Birth: D. T. Suzuki, in Kanazawa, Japan, Zen Buddhist scholar.

1878 The French SS Byzantine sinks after a collision in Dardanellen, 210 are killed.




1879 Birth: Paul Klee, in Switzerland, abstract painter.

1888 Birth: Robert Moses, power broker; will build Long Island and New York City parks and roads.

1890 Lugards expedition to Mengo/Kampala, Uganda begins.




1890 Birth: Edwin Howard Armstrong, in New York City, radio pioneer, inventor of the FM radio band.

1892 Peter Ilyich Tchaikovsky's The Nutcracker premieres at the Marinski Theatre in St. Petersburg to horrible reviews. Popular wisdom proclaims that the ballet will have a very short run.

1892 Death: Richard Owen, English zoologist (Dinosaurus), at 88.

1897 Birth: Fernand J. Collin, Belgian economist and banker.

1898 Birth: Jacob Kruijt, Dutch sociologist.

1899 Boer War: Fieldmarshal Lord Roberts is appointed British supreme commander in South Africa.

1903 The US-Panama treaty places the Canal Zone under US control for an annual rent.

1904 15 year old Indian mystic Sundar Singh is converted to Christianity through a vision. Baptized into the Church of England in 1905, Singh will don the robe of a Sadhu (holy man) in an endeavor to present Christianity in a Hindu form. He will disappear without a trace in April 1929, while undertaking a strenuous work in Tibet. (Bradley)




1912 Charles Dawson claims to have discovered fossils that will come to be known as the Piltdown Man, on Piltdown Common in East Sussex, England. Thought for years to be the fabled 'missing link,' it will later be proven to be a hoax.

1913 Birth: Willy Brandt (Herbert Frahm), German chancellor (1969-74, Nobel Peace Prize 1971.

1913 Birth: Alfred Bester, US science fiction author; Deceivers, Starlight.

1915 Death: Èdouard Vaillant, French socialist politician, communard, at 75.

1915 President Woodrow Wilson, widowed the year before, weds Edith Bolling Galt.

1916 WW1: The French front almost reaches the lines held prior to February, bringing the Verdun campaign to an end. The 10-month ends after huge loss of life: 543,000 French and 434,000 German.

1916 WW1: President Wilson asks the warring powers to state their conditions for peace negotiations.

1917 The US Congress passes the 18th Amendment to the Constitution, prohibiting alcohol. It will be ratified in 1919 and repealed in 1933.

1917 Russian Revolution: The Soviet regime approves Finland's proclaimed independence.


1918 Weimar: Hitler is ordered to Traunstein for guard duty at prisoner of war camp.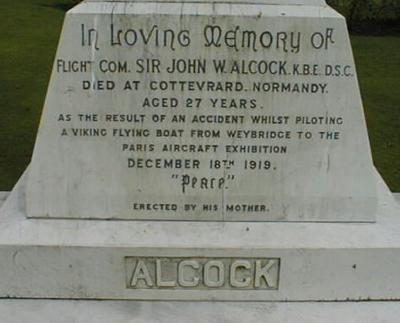 1919 Death: Pioneering British aviator John Alcock, in a plane crash at 27. Earlier this year he and fellow Briton Arthur Brown had made the first nonstop transatlantic flight.

1920 The first US postage stamps printed without the words United States or US are issued. Note: I suspect that the stamp in question is a commemorative, but an extensive search failed to yield an example.




1920 Volkishness: Rudolf Gorsleben delivers a speech entitled "The Aryan Man" to the Thule Society. In his diary, Johnnnes Hering writes of Gorsleben's occult tendencies and describes his doctrine of "Aryan" mysticism. (Roots)

1923 The international zone of Tangier is set up in Morocco.




1923 Birth: Lotti 'Charlotte' van der Gaag, Dutch sculptor, painter.

1927 Birth: Ramsey 'William' Clark, US Attorney General (1967-69).

1927 Birth: Sterling Lanier, US writer; Hiero's Journey.

1929 Weimar: The Nazi Party obtains rights to Gottfried zur Beek's translation of The Protocols of the Elders of Zion. (Segel/Levy)

1929 Jews and Arabs clash at Jerusalem's Wailing Wall. In Hebron, Arabs kill 67 Jews and begin driving Jewish families out of the city and surrounding areas.

1930 Weimar: Theodor Eicke joins the SS as member No. 2921.




1931 Death: John T. 'Legs' Diamond. US gangster, gunned down at 35.

1932 Death: Eduard 'Ede' Bernstein, German Marxist, revisionist, at 82.

1933 Holocaust: A Nazi decree bars Jews from the field of journalism and associated professions.




1933 More than 50,000 Jews demonstrate against the Nazis in London's Hyde Park, calling for war against Germany. (1933, History Year by Year, History Channel)




1935 A $1 silver certificate is issued; the first currency to depict the front and back sides of the Great Seal of the United States.




1935 Eduard Benes is elected second president of Czechoslovakia after the resignation of Tomas Masaryk.

1935 Death: Juan V. Gómez, general, dictator of Venezuela (1908-35).

1936 Holocaust: The Nazis proclaim an anti-Jewish boycott limited to Breslau.




1939 WW2: Lavrenti Beria, head of the NKVD, orders the start of large-scale deportation of Poles to the USSR.

1939 WW2: The Finnish army recaptures Agläjärvi.

1939 Birth: Michael J Moorcock, in England, sci-fi author; Alien Heat, Bull & Spear.




1940 WW2: Hitler issues Directive #21 for the invasion of the Soviet Union, code-named Operation Barbarossa. Hitler orders that everything must be concluded no later than May 15, 1941.

1941 WW2: Japanese troops invade Hong Kong.

1944 WW2: The British destroyers Hull, Spence and Monaghan sink during a typhoon, off the Philippines.




1944 WW2: The Nazi occupiers of Amsterdam destroy the cities electric plants.

1945 Uruguay joins the UN.

1945 Nuremberg War Crimes Trials: The prosecution begins introducing evidence to prove the criminality of seven German organizations: the Nazi party leadership, the German High Command, the SS, the SA, the SD, the Reich Cabinet, and the Gestapo. (Maser II)

1946 British Labour MPs triumphantly sing the socialist anthem The Red Flag after the House of Commons votes to nationalize the railways, road haulage and ports. (Bradley)

1946 Birth: Stephen 'Steve' Biko, South African antiapartheid activist.




1956 Japan is admitted to the UN.

1956 The Israeli flag is hoisted on Mount Sinai.

1957 Shippingport Atomic Power Station becomes the first nuclear plant to generate electricity.

1958 Niger gains autonomy within the French Community. Now a National Day.

1958 The first test project of the Signal Communications by Orbiting Relay Equipment occurs: A recorded Christmas message by President Eisenhower.

1959 Death: Dorothy L. Sayers, writer, at 66.

1960 A General Meeting of the UN condemns apartheid.

1961 Birth: Thomas Strittmatter, writer.




1965 Borman and Lovell splash down in the Atlantic ending a two week Gemini VII mission.

1972 The Nam: The US begins its heaviest bombing of North Vietnam.

1973 Soyuz 13 is launched into Earth orbit for 8 days.

1975 Environmentalists had complained about the Concorde's noise for years; on this day the US House of Representatives votes (199-198) to ban the Concorde from US airports for six months.

1976 Soviet dissident Viktor Bukovski is exchanged for Chile's Communist Party leader Corvalan.

1980 Death: Alexei Kosygin, of heart failure at 76. He was Soviet Prime Minister from 1964 until 1980.

1981 Death: Mehmet Shehu, Prime Minister Albania (1954-81) and US-Russian spy, of suicide.

1985 The UN Security Council unanimously condemns 'acts of hostage-taking.'

1987 The hammer finally comes down on Ivan Boesky, as Federal Judge Morris E. Lasker sentences the once mighty arbitrageur to a three-year prison term. Boesky, who had been one of the wealthiest and most powerful players on Wall Street, is found guilty of insider trading, as well as a series of sizable but shady transactions, crimes that constitute what The Wall Street Journal deems the 'largest scandal in Wall Street's history.' While Lasker chides Boesky for committing offenses 'of the highest seriousness', the arbitrageur cushions his fall by agreeing to implicate other firms and figures suspected of securities crimes. The result is a relatively lenient ruling that raises a number of eyebrows. A share of the criticism is directed at Rudolph Giuliani, the US District Attorney for Southern New York, who is accused of using the insider trading scandals as a vehicle to forward his political ambitions. The high-profile Wall Street convictions certainly won't hurt Giuliani's career, as the D.A will ride his newfound status as a hard-driving crime fighter to become mayor of New York City. As for Boesky, the fallen arbitrageur will end up serving two years of his prison term and hand over $100 million in fines. (Bradley)

1989 The Soviet Union and the European Community sign a trade and economic cooperation pact which they hail as opening the way to closer pan-European integration.

1992 Death: Mother Clare Hale, cared for New York City AIDS babies, founder of Hale House, at 87.

1992 Death: Richard H. Ichord, US leader of House Un-American Activities Committee.

1994 The Bulgarian Socialist Party wins an absolute majority in parliament for the second time since it changed its name from Communist and gave up 45 years of absolute rule.

1995 The US airlifts its first combat troops to Bosnia to join NATO's biggest military mission.




1995 Death: Konrad Zuse, a German engineer who built one of the world's first computers and lost it in the wartime Allied bombing of Berlin.

1998 The US House of Representatives begins debating the impeachment of President Bill Clinton.

2001 Afghan refugees stream past the Pakistani border to return to their homes in war-torn Afghanistan.

2001 Afghan tribal warriors prepare to attack the last remnants of the Taliban in the areas around Kandahar.




2001 FBI agents arrive in Afghanistan to interrogate al-Qaeda prisoners on the movements and whereabouts of Osama bin Laden.

2001 Twelve people are killed when Yemeni forces storm a village to capture al-Qaeda members operating in Yemen.




2001 Speaking from NATO headquarters in Brussels, US Defense Secretary Donald Rumsfeld tells the NATO alliance, "We need to face the reality that the attacks of September 11, horrific as they were, may in fact be a dim preview of what is to come if we do not prepare today to defend our people from adversaries with weapons of increasing power and range."

2001 Interim Afghan leader Hamid Karzai meets with Afghanistan's exiled king in Rome, and asks the former king to return home.

2001 US President George W. Bush signs legislation designating September 11 as Patriot Day in honor of those killed in the September 11 attacks.

2001 A flag from the wreckage of the WTC, and signed by firemen, police, NYC officials, and victim's families, is raised over the Kandahar airport.

2001


2002


2002


2003


2003


2004


2004


2004


2004


2004


2004









Visit:
Visit:

Click Here to email the History: One Day At a Time webmaster.