December 22





0640 The Saracens under Amrou conquer Alexandria, having invaded Egypt two years earlier. (Bradley)

1135 Norman nobles recognise Stefanus van Blois as English king.

1216 Pope Honorius III officially approves the Order of Preachers (Dominicans), founded by St. Dominic. During the Middle Ages, many leaders of European thought will be Dominicans; and a good number followed Portuguese and Spanish explorers to the Americas as missionaries. (Bradley)




1337 Death: Daito Kokushi, leader of O-To-Kan Rinzai school in Japan, at 54.




1400 Birth: Luca della Robbia, in Italy, sculptor.




1440 Death: Bluebeard, pirate, executed.

1643 Birth: Rene-Robert Cavelier, in La Salle, France, French explorer (Louisiana).

1668 Death: Stephen Day, first British colonial printer.




1696 Birth: James Oglethorpe, in England, colonist, author; will found Georgia and the city of Savannah. "...When he was a boy, James Edward Oglethorpe's oldest brother and father went off to fight in Queen Anne's War (War of Spanish Succession, 1702-1714), never to return. James, seventh of nine children in a large, wealthy family, began to prepare for a military career at an early age. This was a turbulent time in the history of England and, in fact, the entire continent of Europe. The lessons learned by young Oglethorpe and the people he met would play an active roll in shaping the man and the colony of Georgia. Enrolled at Oxford, he received a commission as ensign at the age of 16. After serving a short time as aid-de-camp for the English ambassador to Sicily and other Italian States, he returned to England in 1716 and was appointed Lt. Captain of the Queen's Guard on the recommendation of Lords Argyle and Marlborough. These two men also brought him to the attention of Prince Eugene of Savoy. It was Oglethorpe's employment under Prince Eugene, where he advanced from an obscure secretary to an aid-de-camp, that brought him into the public spotlight. In contact with the prince almost daily and participating in almost all battles on the Hungarian frontier (where Eugene defeated an Ottoman army that was twice the size of his), Oglethorpe rose to prominence among his peers. His return to England was not glamorous. He ended up killing a man in a brawl and served five months in prison. Upon leaving the prison he became a member Parliament from Haslemere (1722), where his father and two brothers had served. He would be reelected to successive terms for 32 years. During his service in this august body, Oglethorpe was a staunch defender of the rights of colonists and strongly against any kind of slavery. Although copies of his speeches given in Parliament are still available, they are not verbatim. Reporters (at the time, people who would record speeches) were not allowed on the floor. Oglethorpe was noted as a philanthropist and for his benevolence, including helping children and defending seamen against impressment (being forced into service against one's will). It was his work on the Prison Discipline Committee that brought him in contact with the idea of creating a colony of debtors in the New World. Proposed by a number of writers and in at least one book, the concept gained some acceptance before Oglethorpe became a driving force in the group in 1728. A friend of Oglethorpe's died in Fleet Debtor's Prison after contracting smallpox. This event would change Oglethorpe's life. Oglethorpe, along with other famous military men on the Prison Discipline Committee, like Admiral Edward Vernon and Field Marshal George Wade, had witnessed firsthand the atrocities of both the Fleet and Marshalsea Debtors Prisons.




A group of 21 men, including Oglethorpe and Lord Percival, created a charter for the new colony named Georgia (in honor of King George II). The grant included all land between the Altamaha and Savannah Rivers and from the headwaters of these rivers to the "south seas." The charter specifically prohibited any trustee from making money on the venture. Oglethorpe used his connections to move the Charter for the colony of Georgia quickly to the king, who signed it on June 9, 1732. When time came to choose the men and women who would establish the new colony none were from debtors prison because enough non-debtor colonists were found..."




1702 Birth: Jean E. Liotard (Turk), Swiss painter; Madame d'Epinay.

1715 James Stuart, the Old Pretender and claimant to the British throne, lands at Peterhead from exile in France to start a rebellion.

1721 Death: Nathaniel Hawes, tortured and executed in England for robbery.




1727 Birth: William Ellery, signer of the Declaration of Independence. "His father, of the same name, was graduated at Harvard in 1722, became a successful merchant in Newport, served successively as judge, senator, and lieutenant governor of the colony. The younger William received his early education mostly from his father, and was graduated at Harvard in 1747. He married in 1750, engaged in business in Newport, and was for some time naval officer of Rhode Island. He began the practice of law in Newport in 1770, having served for two years previous as clerk of one of the courts. He was an active patriot, and in May, 1776, was chosen the colleague of Stephen Hopkins, as delegate to the Continental congress, and took his seat on the 14th of that month. He became an influential member of that body, serving on the committee to consider the ways and means of establishing expresses between the continental posts, on those on the treasury and on marine affairs, and on the special committee for purchasing clothing for the army. During this session he signed the Declaration of Independence, and he was accustomed in later years to relate with great vivacity the incidents connected with that event. "I was determined," he said, "to see how they all looked as they signed what might be their death warrant. I placed myself beside the secretary, Charles Thomson, and eyed each closely as he affixed his name to the document. Undaunted resolution was displayed in every countenance." Mr. Ellery continued a member of the congress till 1786, with the exception of the years 1780 and 1782, and, overcoming his natural diffidence, became a ready debater. He was a member of important committees, but did especially good service on the board of admiralty, where he had much influence, and probably originated the plan of fitting out fire ships at Newport. During the British occupation of Rhode Island, Mr. Ellery's house was burned and much of his other property injured. In 1779 he was a member of a committee to arrange some diplomatic difficulties among the American commissioners to Europe, and was chairman of a committee to consider means of relieving the distress brought upon the Rhode Islanders by the British occupation. In 1782 he presented to congress a plan for organizing a department of foreign affairs. In 1785 he actively supported Rufus King in his effort to abolish slavery throughout the country, seconding King's resolution to that effect. He was appointed commissioner of the continental loan office for Rhode Island in 1786, was for a short period chief justice of the Rhode Island superior court, and from 1790 till his death was collector of Newport, being" retained in the office in spite of frequent and frank avowals of political differences with several administrations. Mr. Ellery was of moderate stature, with a large head and impressive features. He was fond of study and literature, and was highly esteemed for his social qualities, being intimate with all the distinguished men of his time. He retained the full use of his faculties to the close of his long life, and died holding in his hand a copy of Cicero's " De Ofliciis," which he had been reading."

1735 Birth: Ulrich Bräker, writer.




1744 Birth: Abigail Adams. "Wife of the second President of the United States, Abigail Adams is an example of one kind of life lived by women in colonial, Revolutionary and early post-Revolutionary America. While she's perhaps best known simply as an early First Lady (before the term was used) and mother of another President, and perhaps known for the stance she took for women's rights in letters to her husband, Abigail Adams should also be known as a competent farm manager and financial manager. Educated at home, Abigail Adams learned quickly and read widely. Her marriage to John Adams was warm and loving and also intellectually lively, to judge from their letters. They had four children before John became involved in the Continental Congress. During his long absences, Abigail managed the family and the farm and corresponded not only with her husband but with many family members and friends. During the war, she also served as the primary educator of the children, including the future sixth U.S. president, John Quincy Adams. When John served in Europe as a diplomatic representative of the new nation, Abigail Adams joined him. John Adams served as Vice President of the United States from 1789-1797 and then as President 1797-1801. Abigail spent some of her time at home, managing the family financial affairs, and part of her time in the federal capital, in Philadelphia most of those years and, very briefly, in the new White House in Washington, D.C. (November 1800 - March 1801). After John retired from public life at the end of his presidency, the couple lived quietly in Massachusetts. It is mostly through her letters that we know much about the life and personality of this intelligent and perceptive woman of colonial America and the Revolutionary and post-Revolutionary period. Abigail Adams died in 1818, seven years before her son, John Quincy Adams, became the sixth president of the U.S."

1753 Birth: Dugald Stewart, in Edinburgh, Scotland, philosopher.

1764 Birth: Barbara Juliane, in Krudener, Latvia; mystic visionary who will renounce nobility.




1768 Birth: John Crome (Old Crome), English landscape painter, etcher.

1770 Birth: Father Demetrius Gallitzin, a Dutch Catholic priest known as the Apostle to the Alleghenies. Arriving in America in 1792, he will spend his remaining years as a frontier missionary, building up the Catholic church in parts of Pennsylvania, Maryland, Virginia and West Virginia. (Bradley)

1783 George Washington resigns his military commission as US Army's commander-in-chief. (Bradley)

1807 The US Embargo Act takes effect, banning trade with Britain, France and the rest of the world. Passed by US Congress, it is aimed at forcing Britain and France to stop harassing American trade, but only brings on America's first serious economic depression, marring Jefferson's second term.

1810 The British frigate Minotaur sinks killing 480.




1828 Death: Rachel Jackson, wife of 7th US President Andrew Jackson. "Wearing the white dress she had purchased for her husband's inaugural ceremonies in March 1829, Rachel Donelson Jackson was buried in the garden at The Hermitage, her home near Nashville, Tennessee, on Christmas Eve in 1828. Lines from her epitaph--"A being so gentle and so virtuous slander might wound, but could not dishonor"--reflected his bitterness at campaign slurs that seemed to precipitate her death. Rachel Donelson was a child of the frontier. Born in Virginia, she journeyed to the Tennessee wilderness with her parents when only 12. At 17, while living in Kentucky, she married Lewis Robards, of a prominent Mercer County family. His unreasoning jealousy made it impossible for her to live with him; in 1790 they separated, and she heard that he was filing a petition for divorce. Andrew Jackson married her in 1791; and after two happy years they learned to their dismay that Robards had not obtained a divorce, only permission to file for one. Now he brought suit on grounds of adultery. After the divorce was granted, the Jacksons quietly remarried in 1794. They had made an honest mistake, as friends well understood, but whispers of adultery and bigamy followed Rachel as Jackson's career advanced in both politics and war. He was quick to take offense at, and ready to avenge, any slight to her. Scandal aside, Rachel's unpretentious kindness won the respect of all who knew her--including innumerable visitors who found a comfortable welcome at The Hermitage. Although the Jacksons never had children of their own, they gladly opened their home to the children of Rachel's many relatives. In 1809 they adopted a nephew and named him Andrew Jackson, Jr. They also reared other nephews; one, Andrew Jackson Donelson, eventually married his cousin Emily, one of Rachel's favorite nieces. When Jackson was elected President, he planned to have young Donelson for private secretary, with Emily as company for Rachel. After losing his beloved wife he asked Emily to serve as his hostess. Though only 21 when she entered the White House, she skillfully cared for her uncle, her husband, four children (three born at the mansion), many visiting relatives, and official guests. Praised by contemporaries for her wonderful tact, she had the courage to differ with the President on issues of principle. Frail throughout her lifetime, Emily died of tuberculosis in 1836. During the last months of the administration, Sarah Yorke Jackson, wife of Andrew Jackson, Jr., presided at the mansion in her stead."

1830 Birth: Justin M'Carthy, in Ireland, Irish politician, novelist; Miss Misanthrope.

1831 Birth: Mark Rutherford, writer.

1847 Birth: Heihatjiro Tojo, in Japan, admiral in the Russo-Japanese war.

1849 Birth: Fritz Mauthner, in Bohemia, German author, philosopher, skeptic.




1863 Birth: Ch'i Pai-shih, in China, traditional Chinese painter.

1863 Birth: Jean-Baptiste Marchand, in Thoissey, France, soldier, explorer of the Sudan.

1867 Birth: Karl Eduard Wilhelm Groener, in Germany, General.




1867 Birth: Joseph [Maria] Olbrich, in Silesia, German architect; Wiener Sezession.

1867 Death: Jean-Victor Poncelet, French mathematician; kinematics.




1868 Birth: John Nance Garner. "Cactus Jack" was Vice President during the dark days of the Great depression, and Franklin Roosevelt's New Deal. He was born near Detroit Texas in 1868, the son of a former Confederate soldier. It has been recorded that his birth took place in a log cabin, and as his career advanced the cabin has become more and more primitive. But some historians say we should consider the fact that his mother's father owned the local bank and was a direct descendent of English Aristocracy when imagining Garner's birthplace. As a youth he hoped to be a professional baseball player, but ill health following a bought with tuberculosis forced him to consider less physical pursuits. Because of an insufficient pre-college education he was refused admittance to the University of Texas. Later, after some vigorous preparation he was admitted to Vanderbilt University in Nashville Tennessee, but he had to quit during his first semester due to severe respiratory stress that interfered with his studies. When he returned home to Texas he worked at a Clarksville law firm and studied law in his spare time. In 1890 he passed the Texas state bar exam, and made Uvalde Texas his home. Garner's first attempt at elected office failed when he ran for City Attorney, but he must have caught the eye of the local political machine because in 1893 he was appointed to fill a vacancy as a district Judge. When he ran as the incumbent his opponent was Mariette (Ettie) Rheiner, whom he married in 1895. In 1898 he was elected to the Texas state legislature. When the 1900 census determined that Texas would have an additional congressional district he managed to get a prominent spot on the committee to establish its boundaries. In 1903 John Nance Garner became the first person to represent Texas's new congressional district in the House of Representatives. He would remain in that office for the next thirty years..."

1869 Birth: Andre Gide, in Paris, France, writer, Nobel 1947.




1870 Jules Janssen utilizes a balloon in order to study a solar eclipse.

1874 Birth: Herman Harrell Horne, in Clayton, North Carolina, philosopher of idealism.

1876 Birth: Filippo Tommaso Marinetti, Italian writer; Futurism e Futurista.

1882 Eison unveils the first string of electric Christmas tree lights.

1890 Birth: Charles de Gaulle, in Lille, France, premier of France.




1890 Birth: Mark Tobey, US abstract painter.

1891 Birth: Edward L. Bernays, in Vienna, Austria, first public relations agent.




1894 Alfred Dreyfus, French artillery officer, is convicted of selling secrets to Germany and sentenced to imprisonment on Devils Island. A victim of rampant anti-Semitism, the innocent Dreyfus will not be completely exonerated until 1906.

1899 Birth: Wiley Post, in Texas, aviation pioneer.

1902 Birth: Jacques-Philippe Leclerc, in France, WW2 hero; Liberator of Paris.

1903 Birth: H. Keffer Hartline, US biophysicist; Nobel 1967.

1908 Death: Marie Jungius, Dutch teacher, author.




1908 Birth: Giacomo Manzú, in Italy, sculptor; St Peter, Laurenskerk, Lenin Prize.




1908 Birth: Marius F. Duintjer, Dutch architect.




1910 US Postal savings stamps are issued for the first time. They will be discontinued in 1914.

1911 Birth: Grote Reber, US astronomer; 1st parabolic radio telescope.




1912 Birth: Claudia Alta "Lady Bird" Taylor Johnson, 1st lady, wife of 36th US President Lyndon Baines Johnson.

1917 WW1: The Council of Flanders, under Pieter L. Tack (b. 1870 - d. 1943), believing that the German occupiers will encourage secession, proclaim their independence. It will be terminated by German occupation authorities on 25 July 1918. (Bradley)

1917 WW1: Peace negotiations begin between the new Russian government and Germany at Brest-Litovsk.

1917 Birth: Andrew Fielding Huxley, in London, England, physiologist; Nobel 1963.

1922 Birth: James C. Wright Jr, Representative-D-Texas, Speaker of the House (1987-89).

1922 Birth: Calder Willingham, novelist, scriptwriter.

1929 A dispute between the Soviet Union and China over the Eastern Railway ends when both sides agree to withdraw troops.




1934 An international group of observers arrives in the Saar to oversee the upcoming plebiscite (referendum) to determine whether the region will become part of Germany, or France.

1937 New York's Lincoln Tunnel opens to traffic.

1938 All Jews are forced to retire from Italain military service.

1939 WW2: A bold Finnish counteroffensive surprises the Soviets at Petsamo.

1940 New York Mayor Fiorello LaGuardia announces that in the preceding six months 238 arrests have been made in N.Y. for inflammatory and antisemitic street speeches as well as other disturbances.

1940 Death: Nathanael West (Weinstein), at 37, US writer; Cool Million.




1941 WW2: The Japanese launch a major attack with 80-100,000 troops in the Philippines at Luzon, in the Gulf of Lingayen.




1941 WW2: Roosevelt and Churchill meet in Washington for the Arcadia Conference, the first Anglo-American conference after US entry into the war. It is agreed to give first priority to the European theater of war; to forge a constricting ring around Germany using air attacks and blockade; to stage an eventual invasion of the European continent; and to land their forces in North Africa, though some American planners are theoreticly opposed to this operation because, in their opinion, it detracts from the primary objective of establishing a Second Front as soon as possible. The two powers also decide to form a Combined Chiefs of Staff, paving the way for one of the closest military collaborations in history.

1941 WW2: Tito establishes the first Proletarian Brigade in Yugoslavia.

1942 Church and Reich: Tittmann reports to the State Department that Papal Secretary of State Maglione has informed him that the Holy See, in line with its policy of neutrality, could not protest particular atrocities and had to limit itself to condemning immoral actions in general. He assured Tittmann that everything possible was being done behind the scenes to help the Jews. (U.S.D.P. 1942; Lewy)




1943 WW2: The 2nd Canadian Brigade fights a house to house battle against the German 1st Paratroop Division in Ortona, Italy.

1944 Battle of the Bulge: The Germans demand the surrender of American troops at Bastogne, Belgium.

1944 WW2: The submarine Swordfish departs Pearl Harbor for Japan.

1945 Death: Otto Neurath, Austrian/British philosopher, at 63.

1947 An Italian constituent assembly adopts a new constitution.

1951 Birth: Charles de Lint, in the Netherlands, author; Moonhear, Mulengro, Yarrow.

1956 The first gorilla born in captivity, Colo, is born at the Colombus Zoo, in Ohio. The little bundle of joy weighs in at three-and-a-quarter pounds.

1958 Death: Lion Feuchtwanger, at 74, German/US philosopher; Jüdische Krieg.




1960 Birth: Jean-Michel Basquiat, Haiti/US graffiti artist, painter; Gray, SAMO.

1961 The Nam: James Davis becomes the first US soldier to be killed in Vietnam.

1963 The official 30-day mourning period for President John F. Kennedy ends.




1964 A Lockheed SR-71 spyplane reaches 2,206 mph (3,530 kph).

1965 A 70mph speed limit is posted on British roads.




1968 The 82-man crew of the US intelligence ship Pueblo is released after being seized by North Korea.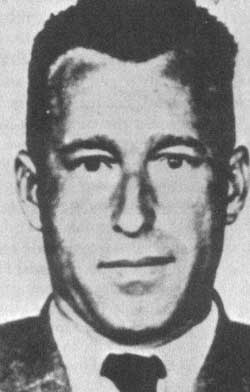 1970 Holocaust: Former SS Commander Franz Stangl, of Treblinka, is sentenced to life imprisonment.

1978 Thailand adopts a constitution.

1980 President-elect Ronald Reagan appoints Jean Kirkpatrick as US Ambassador to the UN, and James Watt as Secretary of the Interior.

1981 In Argentina, General Leopoldo Galtieri is sworn in as president after the Junta had dismissed President Viola.

1983 Egyptian President Mubarak meets with PLO leader Yasser Arafat.

1988 Two robbers wearing police uniforms attack an armored truck and take off with $3 million in New Jersey.

1989 Death: Samuel Beckett, Irish-French writer; Waiting for Godot, Molloy, Nobel 1969.

1989 Romanian communist dictator Nicolae Ceausescu is overthrown in a whirlwind revolution after 24 years of hard-line rule. He escapes by helicopter but is recaptured and later executed.

1990 Desert Shield: Iraq announces that it will never give up Kuwait.

1990 An Israeli ferry capsizes killing 21 US servicemen.

1990 Lech Walesa is sworn in as Poland's first popularly elected president.

1993 The United States grants political asylum to Alina Fernandez Revuelta, one of Cuban leader Fidel Castro's children.

1993 Residents of a small Spanish coastal town dance in the streets after learning they have won at least 32 billion pesetas ($230 million) in the world's biggest lottery: El Gordo, The Fat One. Many of Campello's 11,000 people had bought pieces of the winning ticket. (Bradley)

1994 Italy's prime minister Silvio Berlusconi resigns after his government is toppled by a mutiny by the Northern League coalition party. (Bradley)

1997 Death: John Pinkerton, computer scientist, at 78.




1997 The Merck baldness pill for men is approved by the US Food and Drug Administration.

1998 A unit of RJR Nabisco pleads guilty of attempting to smuggle cigarettes into Canada.

2001 After a six-hour pursuit of a North Korean fishing boat suspected of spying, a Japanese Coast Guard patrol boat sinks the fleeing vessel after a fierce gun battle ensued between the two crews.

2001 Indian and Pakistani troops exchange gun fire along their border in the disputed state of Jammu and Kashmir.




2001 A passenger on American Airlines Flight 63 bound from Paris to Miami tries to ignite an "improvised explosive" in his shoes, but flight attendants and passengers subdue him. The AA plane is diverted to Boston's Logan airport under the escort of US fighter jets.

2001 Following reports of an armada of at least 20 ships linked to Osama bin Laden, British antiterrorist police escort a suspicious Indian cargo ship to the Isle of Wight for inspection.

2001 The Pentagon says it has sent a team to investigate whether US warplanes mistakenly killed a convoy of Afghan tribal leaders who were thought to be fleeing Taliban and al-Qaeda leaders.

2001 An Afghan diplomat says the existing photographs of Mullah Mohammed Omar are not correct.




2001 Hamid Karzai takes the oath of office as Afghanistan's interim prime minister in a ceremony in the Afghan capital of Kabul. Karzai pledges to "fulfill my mission to bring peace to Afghanistan.

2002


2003


2004


2004


2004


2004


2004






Answers









Visit:
Visit:

Click Here to email the History: One Day At a Time webmaster.