December 24


3BC Birth: Servius Sulpicius Galba, 6th Roman emperor (68-69).

1069 Death: Godfried II with the Beard, duke of Neder-Lutherans.

1167 Birth: John, I, king of England (1199-1216).

1476 400 Burgundy soldiers freeze to death during the siege of Nancy.

1515 Thomas Wolsey is appointed English Lord Chancellor.

1524 Death: Vasco da Gama, Portuguese explorer, viceroy of Cochin India, at about 55.


1564 Birth: Abraham C. Bloemaert, painter, cartoonist, engraver.

1565 The Compromise of the Nobles closes against inquisition.

1651 John van Riebeeck gets underway for the Cape of Good Hope.

1660 Death: Mary I Henriette Stuart, queen of England, at 29.




1689 Birth: French van Mieris "the Young", Dutch painter, historian.




1707 Death: Noel Coypel, French painter, at 78.

1715 Swedish troops occupy Norway.




1724 Benjamin Franklin arrives in London. "...In 1723, Franklin left Boston and made his way to Philadelphia. He worked at his trade and made numerous friends, including Sir William Keith who was the Governor of Pennsylvania. Keith persuaded Franklin to go to London to complete his training as a printer and to purchase the equipment needed to start his own printing establishment in Philadelphia.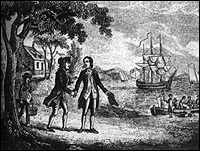 Franklin took this advice and arrived in London in December 1724. Franklin soon found himself without resources in a strange city because the letters of introduction and credit promised by Keith never arrived. As a result, Franklin had to find employment. He went to work for two of the foremost printing houses in London. His accomplishments soon won him the recognition of a number of the most distinguished figures in the literary and publishing world. In October 1726, Franklin returned to Philadelphia and resumed his trade..."




1737 Birth: Silas Deane, American diplomat. "...He was born in Groton, Connecticut, graduated from Yale in 1758 and in 1761 was admitted to the bar, but instead of practicing became a merchant at Wethersfield. He took an active part in the movements in Connecticut preceding the War of Independence, and from 1774 to 1776 was a delegate from Connecticut to the Continental Congress. Early in 1776 he was sent to France by Congress, in a semi-official capacity, as a secret agent to induce the French government to lend its financial aid to the colonies. Subsequently he became, with Benjamin Franklin and Arthur Lee, one of the regularly accredited commissioners to France from Congress. On arriving in Paris, Deane at once opened negotiations with Vergennes and Beaumarchais, securing through the latter the shipment of many vessel loads of arms and munitions of war to America..."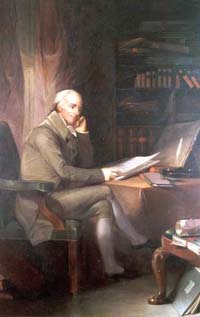 1745 Birth: Benjamin Rush, in Byberry, Pennsylvania; signer of the Declaration of Independence, physician, chemist, Continental Army general, father of psychiatry. "...He was elected to Congress on July 20, 1776, after the declaration had been adopted, but there was probably no one who signed the document with greater satisfaction. While he was devoted to his patients' welfare, Dr. Rush would accept any duty that might lead to independence for the colonies. He was resolute in his prediction that "Britain and America will hereafter be distinct empires. America is the only vivid principle of the whole world." After some months in Congress, he became in April 1777, surgeon general of the armies of the Middle Department but resigned after less than a year during a controversy over the administration of military hospitals. Rush, who was a very impatient man, a problem noticeable to all including John Adams, was led into indiscreet remarks about General Washington, which clouded his fame to some extent over time. His own correspondence remained unpublished for the most part until the middle of the twentieth century – chiefly because his family did not want to advertise old indiscretions and revive old controversies. He was impulsive and indiscreet, but his zeal for the public good was limitless. He taught at the College of Philadelphia and the University of Pennsylvania. He was a believer in "blood-letting" for many illnesses and was criticized strongly for this belief.




He attacked slavery and strong drink, classical education and tobacco, carrying on a 'one-man crusade' and undoubtedly spending himself in too many causes. In 1793, Dr. Rush was credited with curing the epidemic of yellow fever in Philadelphia. The King of Prussia, the Queen of Etruria, and the Emperor of Russia honored him for his replies to their questions on yellow fever. Rush never convinced his scientific friend Thomas Jefferson that the doctors of their time did more good than ill..."

1798 Russia and England ratify a Second anti-French Coalition.

1799 Jakobijns plot to assassinate Napoleon is uncovered.




1809 Birth: Christopher 'Kit' Carson, in Kentucky; Union Brigadier-General, Indian fighter, frontiersman, fur trapper, guide, American Indian agent.




1814 War of 1812: The conflict between America and Britain ends with the signing of the Treaty of Ghent. "His Britannic Majesty and the United States of America desirous of terminating the war which has unhappily subsisted between the two Countries, and of restoring upon principles of perfect reciprocity, Peace, Friendship, and good Understanding between them, have for that purpose appointed their respective Plenipotentiaries, that is to say, His Britannic Majesty on His part has appointed the Right Honourable James Lord Gambier, late Admiral of the White now Admiral of the Red Squadron of His Majesty's Fleet; Henry Goulburn Esquire, a Member of the Imperial Parliament and Under Secretary of State; and William Adams Esquire, Doctor of Civil Laws: And the President of the United States, by and with the advice and consent of the Senate thereof, has appointed John Quincy Adams, James A. Bayard, Henry Clay, Jonathan Russell, and Albert Gallatin, Citizens of the United States; who, after a reciprocal communication of their respective Full Powers, have agreed upon the following Articles..."

1818 Birth: James Prescott Joule, physicist, inventor. Joule will conceptualize the SI unit of work or energy: Joule's Law, also called the newton-meter.




1818 In St. Nicholas Church at Oberndorf, Austria, church organist Franz Gruber, 31, composes a melody on guitar for the poem, Stille Nacht, written earlier by pastor Joseph Mohr, 26. This evening the world hears Silent Night sung for the very first time. Note: There is a prevalent myth that Franz Xavier Gruber wrote the carol Silent Night for guitar and choir after a mouse had put the church organ out of order. (Bradley)

1822 Birth: Matthew Arnold, in England, poet, critic, essayist; Culture and Anarchy, Dover Beach.

1832 HMS Beagle anchores in Wigwam Bay at Cape Receiver.

1822 Birth: Charles Hermite, French mathematician; E is Transcendent.

1837 Birth: Sissi, Emperor of Austria.

1851 Fire destroys two-thirds of the 55,000 volumes in the US Library of Congress in Washington. Part of the Capitol building in Washington DC, is also destroyed by the fire. (Bradley)

1863 Death: William Makepeace Thackeray, writer, at 52.

1864 US Civil War: The Battle of Gordonsville, Virginia takes place.

1865 The Ku Klux Klan, a secret society of white supremacists, is formed by several Confederate veterans in Pulaski, Tennessee.

1867 Birth: Manuel de Oliveira, in Lima, Brazilian historian/diplomat.




1869 Death: Edwin M. Stanton, US Secretary of War (1861-65), at 55. "...After the 1860 presidential election, Stanton gave up a lucrative law practice to become Attorney General in the lame-duck presidential administration of James Buchanan. He advised Buchanan to act forcefully against the South, but when the president did not, Stanton clandestinely keep the Republicans, particularly William Henry Seward, informed about White House policy decisions. In 1862, President Lincoln decided to remove the corrupt and ineffective Secretary of War, Simon Cameron, by appointing him Minister to Russia. Seward and Salmon Chase successfully lobbied the President to name Stanton as his new Secretary of War. He once again gave up a prosperous law practice to enter public service. He proved to be a strong and effective cabinet officer, instituting practices to rid the War Department of waste and corruption. When Supreme Court Chief Justice Roger Taney died in October 1864, Stanton wanted to be named as his replacement. Lincoln believed, though, that he was more important to the Union cause as Secretary of War, so the President appointed Chase, instead. Upon the assassination of Lincoln, Stanton uttered the memorable line, "Now he belongs to the ages." It was Stanton who was at the center of the battle to impeach and remove President Andrew Johnson from office. After Lincoln's assassination, Stanton had continued to serve as Johnson's Secretary of War. However, he became vehemently opposed to Johnson's lenient Reconstruction policies, and consequently worked with Republican Congressmen to implement Radical Reconstruction in the South. After first suspending Stanton in August 1867, Johnson fired the Secretary in February 1868. Stanton refused to leave office, claiming job protection under the Tenure of Office Act. He locked himself in the War Department until the Senate voted against the President's removal. Stanton resigned in May 1868 and returned to his private practice. His wish to sit on the Supreme Court appeared to be fulfilled when President Grant appointed him and the Senate confirmed him on the same day, 20 December 1868. He died, however, four days later in Washington, D.C."

1884 Austria-Hungary recognizes King Leopold II's Congo Free State.

1885 Death: Louis-Prosper Gachard, Belgian historian, at 85.

1889 Daniel Stover and William Hance, of Freeport, Illinois, patents the back pedal brake. It will later be known as the safety brake and become a standard feature on most brands of bicycle. (Bradley)




1893 Henry Ford finishes his first useful gasoline motor.

1904 German SW Africa abolishes slavery of young children.

1904 Birth: Herbert D. Riley, US vice-admiral in WW2; Guadalcanal, Okinawa.




1904 Death: Juliaan Dillens, Flemish sculptor, artist, at 55.

1905 Birth: Anna van Dike 'Ans the Young,' Jewish nazi collaborator.

1905 Birth: Howard Hughes, aviator, industrialist, eccentric.

1907 Following the death of his mother, Hitler's relatives ask him to spend Christmas at their home, but he chooses to spend all evening alone as he will every Christmas Eve for the rest of his life. (Waite)

1907 Birth: I. F. 'Izzy' Stone, US journalist.

1910 Birth: Fritz (Reuter) Leiber Jr., US author; Bazaar of the Bizarre.

1911 Birth: Malcolm MacEwen, writer.

1914 WW1: The first air raid on Britain transpires when a German monoplane drops a single bomb on Dover.

1918 Birth: Anwar El Sadat, in Egypt, President of Egypt (1970-81).




1921 Weimar: German Jewish politician Walter Rathenau writes in the Wiener Freie Presse (Vienna Free Press), "Three hundred men, all of whom are known to one another, guide the economic destinies of the Continent and seek their successors among their followers." Many antisemites, including General Ludendorff, promptly conclude that since Rathenau is a Jew, he must be one of the three hundred and that these are in fact the mysterious "Elders of Zion." Note: Nowhere in Rathenau's original article are Jews mentioned in any context. (Morais)




1930 Death: Eduard David, German minister; Constitution of Weimar.




1933 Henry Ford denies being an antisemite and states that he never gave financial aid to Hitler or the Nazis.

1935 Congress passes the United States Neutrality Act.

1937 The Dutch government recognises Italian king Emanuel III as emperor of Abyssinia.

1938 Twenty-one American republics sign the Declaration of Lima pledging themselves to oppose foreign intervention and to protect themselves by collective action against aggression.

1941 WW2: The British Eighth Army recaptures Benghazi, Libya, from the Germans.




1941 WW2: The first ships of Admiral Nagumo's Pearl Harbor-fleet return to Japan.

1941 Romani Holocaust: Gypsies are the first targeted population to be forbidden to serve in the army. Eight hundred Roma are murdered in one action on this night in the Crimea.

1942 Church and Reich: Pope Pius XII makes another of his many calls for the more humane conduct of hostilities during a lengthy Christmas message over Vatican Radio. Humanity, he said, owed the resolution of a better world to "the hundreds of thousands who, without personal guilt, sometimes for no other reason than their nationality or descent, were doomed to death or exposed to a progressive deterioration of their condition." (DA Eichstätt; Lewy)




1942 Stalingrad: The Soviet counter-offensive broadens. In the south the Stalingrad Front breaks through the Fourth Roumanian Army and strikes for the lower Don. Von Manstein, now threatened both from the north and from south, is forced to pull back Group Hoth.

1942 WW2: The Red army occupies German airports at Tasjinskaja and Morozowsk.

1942 WW2: The Germans execute 300 Poles for partisan activity in the village of Bialowieza.




1942 WW2: The German research station at Peenemunde successfully tests a new surface-to-surface weapon system. Called the FZG76, it will later become better known as the V1 Flying Bomb, or Buzz Bomb.

1942 Death: Francois Darlan, French admiral, administrator of North Africa and a leading figure in the WW2 Vichy government, is killed by an anti-Vichy assassin.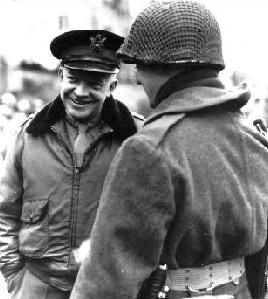 1943 WW2: Washington and London announce that General Eisenhower will be the Supreme Allied Commander for the invasion of Europe, with British Air Marshal Tedder as his deputy.




1943 Holocaust: German theologian and Nazi martyr Dietrich Bonhoeffer writes from prison: 'Gratitude changes the pangs of memory into a tranquil joy.'

1943 WW2: Secret negotiations begin in Stockholm between Marshal Antonescu's Romanian emissaries and the Soviet Embassy.


1944 Battle of the Bulge: The German offensive in the Ardennes is brought to a halt at the end of the day.

1944 Church and Reich: Now that the defeat of Nazi Germany is almost certain, Pope Pius XII in his Christmas message declares "that a democratic form of government is considered by many today to be a natural postulate of reason itself." (Moody; Lewy)

1946 The 4th French republic is established.

1946 US General MacNarney grants 800,000 'minor nazi's' an amnesty.




1951 With the help of the UN, Libya declares its independence from Italy and proclaims a monarchy under King Idriss I.

1952 Death: Henry A. 'Hans' Kramers, Dutch theoretical physicist, at 58.

1953 René Coty is elected President of France.

1956 Ferdinand de Lessep's statue is blown up in Port Said, Egypt.

1963 Greeks and Turks riot in Cyprus.




1966 Luna 13 land on the Moon at 18:01:00 UT, Latitude 18.87 N, 297.95 E, in the Oceanus Procellarum, or Sea of Storms.

1967 China's People's Republic performs a nuclear test at Lop Nor.




1968 Apollo 8: James A. Lovell, William Anders and Frank Borman, some 250,000 miles from home, read verses from their bible and transmit a message to all mankind calling for 'peace on earth'.

1968 The crew of the US Navy ship, Pueblo, walk across the Bridge of No Return between North and South Korea, following their release by North Korea. The Captain of the Pueblo, Commander Lloyd M. Bucher, and 82 of his crew have been held for 11 months after their ship was seized by North Korea because of spying by the Americans. (Bradley)

1969 Charles Manson and other members of his commune are arrested today for the Beverley Hills murders of Sharon Tate and four others on August 9. (Bradley)

1970 Nine Jewish Zionist's are convicted in Leningrad of hijacking a plane.

1972 Death: Ernst Kreuder, writer, at 69.

1976 Takeo Fukuda becomes Japanese prime minister.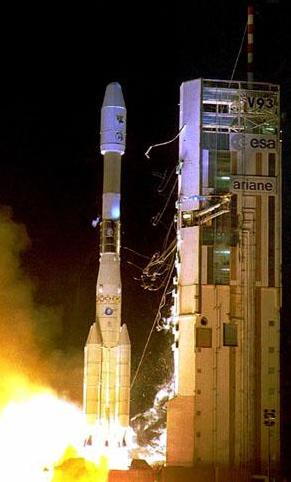 1979 The first Ariane rocket is launched.




1980 Death: Karl Doenitz, Grand Admiral and Commander in Chief of the German Navy after January 1943, Hitler's successor. Doenitz served in U-boats during World War I and remained in the German Navy, although the Versailles Treaty had stripped Germany of all its submarines. When Germany began to rearm, Doenitz was chosen to organize the new submarine service, and became Chief of U-boat Forces. When war broke out, in 1939, he was promoted to Rear Admiral, but had far fewer submarines than were required by the war plans (which did not anticipate a war before 1942). In spite of this, Doenitz' U-boats were highly successful, scoring one coup after another, while the warships of the German surface navy, like the Bismark or Graf Spee, seemed to make headlines only by being hunted down and sunk. Hitler was highly impressed with Doenitz' character and ability, and in his last political testament, named Doenitz to succeed him as Fuehrer, though he held the position for only eight days. After the surrender, Doenitz was tried for war crimes at Nuremburg, but was able to convince the tribunal that he had been kept ignorant of the murder of millions in the death camps of "the final solution." He was sentenced to ten years imprisonment for "Planning Agressive War." Note: Doenitz said there had been an organized program of deception designed to convince anyone who could not simply be silenced that the concentration camps were just big prisons and any rumors one heard about mass murder were only "Allied lies." Doenitz' claimed to have been taken in by this operation.

1985 Fidel Castro gives up smoking.

1986 Aurel Cornea, a French television soundman, is released in Beirut by the clandestine pro-Iranian group which had held him for 291 days.

1986 Iran-Iraq War: Iran made an offensive against the Iraqi islands of Shatt al-Arab.

1986 Death: Gardner F. Fox, author, at 75.

1989 Charles Taylor enters Liberia to unseat President Samuel K. Doe.




1989 Deposed Panamanian strongman General Manuel Antonio Noriega, takes refuge at the Vatican Embassy in Panama City and asks for political asylum.

1990 Desert Shield: Iraqi leader Saddam Hussein reportedly threatens to attack Tel Aviv, Israel, if the allies try to retake Kuwait.

1991 Mikhail Gorbachev resigns as head of the Soviet Union.




1992 Death: Pierre Culliford (Peyo), Belgian cartoonist.

1992 President George HW Bush issues Christmas Eve pardons to former US Defense Secretary Weinberger and five others snared in the Reagan administration's Iran-Contra scandal.




1993 Death: Norman Vincent Peale, author; The Power of Positive Thinking, at 95.

1994 Fundamentalist Muslim guerrillas hijack an Air France Airbus. The hijacking will end two days later when the plane is stormed by French paramilitary commandos in Marseille, who kill the four Islamic militants, as well as two passengers.

1994 Death: Rossano Brazzi, Italian resistance fighter, at 78.




1995 Thousands of Palestinians gather at Bethlehem's Manger Square to celebrate the city's first Christmas in 28 years free from Israeli occupation.

1995 Serb and Muslim armies swap more than 200 prisoners of war in a Christmas Eve gesture symbolising a new era of Bosnian peace under NATO's biggest military operation.

1995 The first general election victory by an Islamic party in Turkey's 72-year secular history takes place when the Welfare Party receives 21.32 percent of the vote.

1997 A French court convicts the international terrorist known as Carlos the Jackal of the 1975 murders of three men in Paris and sentences him to life in prison.

1997 Japanese broadcasters agree to establish guidelines for the production of animated programs to prevent a repeat of the recent incident in which more than 700 children were sent to hospitals following convulsions, seizures, and other symptoms while watching the cartoon series Pocket Monsters, the Tokyo newspaper Nikkei Industrial Daily reports. The guidelines are expected to be published by the end of March 1998. (Bradley)

1997 Today is the first time a Chanukah candle is officially lit in the Vatican City.

2001 Yasser Arafat is denied access to Christmas Eve celebrations in Bethlehem. Arafat's trademark black-and-white keffiya headdress is symbolicly draped on an empty chair in St. Catherine's church in Bethlehem.




2001 A senior Afghan official says that Osama bin Laden was seen in a remote village in Pakistan near the Afghanistan border.

2001 Afghan soldiers continue to comb the Tora Bora caves in search of the top al-Qaeda leaders.




2001 Flight 63 shoe bomb suspect Richard Reid makes his first court appearance, in Boston. The FBI says that preliminary lab tests shows he was carrying two workable bombs hidden in his shoes.

2001


2002


2002


2003


2004


2004


2004


2004


2004









Visit:
Visit:

Click Here to email the History: One Day At a Time webmaster.