NAVIGATION COLUMN
Home Page

The Keninger Archives
The Propagander

Yahoo Groups:
History 1 Day 2
Nuremburg Data


---
Daily History Pages:
---

FAIR USE NOTICE: This site could contain copyrighted material the use of which has not always been specifically authorized by the copyright owner. We are making such material available in our efforts to advance understanding of historical, political, human rights, economic, democracy, scientific, environmental, and social justice issues, etc. We believe this constitutes a 'fair use' of any such copyrighted material as provided for in section 107 of the US Copyright Law. In accordance with Title 17 U.S.C. Section 107, the material on this site is distributed without profit to those who have expressed a prior interest in receiving the included information for research that could include educational purposes. If you wish to use copyrighted material from this site for purposes of your own that go beyond 'fair use', you could most likely need to obtain permission from the copyright owner.




July 3


1608 The city of Quebec is founded by Samuel de Champlain.

1754 French And Indian War: Colonel George Washington surrenders to the French at Fort Necessity.

1775 Revolutionary War: General George 'He'll Sleep Anywhere' Washington takes command of the Continental Army at Cambridge, MA.

1778 Revolutionary War: British forces massacre 360 men, women and children in Wyoming, Pennsylvania.

1790 In Paris, the marquis of Condorcet proposes granting civil rights to women.

1814 War Of 1812: Americans captured Fort Erie, in Canada. "The British finally cleared all American forces from the Niagara peninsula by December, 1813, and reoccupied Fort Erie. The fort was partially rebuilt and strengthen with earthworks and held until 3 July 1814. The Americans staged a further offensive with 4,500 soldiers under General Jacob Brown. Fort Erie was their first objective..."

1819 The first bank in the US opened in New York City. The first day of business brings deposits totalling $2,807.

1844 Kicking Open Doors: Ambassador Caleb Cushing successfully negotiates a commercial treaty with China that opens five Chinese ports to U.S. merchants and 'protects the rights' of American citizens in China.

1848 The slaves are freed in the Danish West Indies. They are now US Virgin Islands.

1863 US Civil War: The Battle of Gettysburg, PA, ends after three days. It is a major victory for the North as Confederate troops retreat. Though both sides losses were essentially equal, the South could ill afford the setback.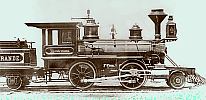 1871 NA Heritage: The Denver and Rio Grande Western Railroad Company introduce the first narrow-gauge locomotive. It is called the "Montezuma."

1878 John Wise flies the first dirigible in Lancaster, PA.

1880 "Science" begins publication with principle funding provided by Thomas Edison.

1890 Who are they trying to fool: Idaho becomes the 43rd united state. Note: I once drove across that entire state without seeing one potato.

1898 Manifesting Destiny: Spanish American War: A fleet of Spanish ships in Cuba's Santiago Harbor attempt to run a blockade of U.S. naval forces. Nearly all of the Spanish ships are destroyed in the battle that follows.


1901 The Wild Bunch, led by Butch Cassidy, commits its last American robbery near Wagner, MT. They take $65,000 from a Great Northern train.

1903 The first cable across the Pacific Ocean is spliced between Honolulu, Midway, Guam and Manila.


1904 Death: Theodor Herzl, the Hungarian credited with founding modern political Zionism, at Edlach, Austria.

1915 US military forces occupy Haiti, and remain there until 1934.

1916 WW1: David Lloyd George succeeds Lord Horatio Kitchener as British Secretary of War.

1916 WW1: A reconstituted Serbian army of about 118,000 men arrives by ship in the Balkans, and with additional reinforcements rises to more than 250,000.

1916 Volkishness: The Germanenorden's newsletter begins featuring a swastika superimposed on a cross on its cover. All future issues will carry this same symbol. Note: In late 19th and early 20th century Germany and Austria there were many flourishing esoteric orders which sought to establish a reborn Germanic identity and to reconnect the volk with its repressed archetypes. One of the most significant of these Orders was founded in Germany in 1912; the Germanenorden, or German Order. From this sprang the Thule Gesellschaft, or Thule Society, whose driving force was Rudolf von Serbottendorff. Much more in the days to come. Question: Does anyone have a PIC of the symbol under discussion? Or perhaps a PIC of one of the newsletters? Could not find an example anywhere.

1916 WW1: Allied forces begin active operations in Albania.

1917 Russian Revolution: By the summer of 1917 a social upheaval of vast proportions is sweeping over Russia. All over Russia, peasants are expropriating land from the gentry. Peasant-soldiers flee the trenches so as not to be left out, and the government can not stem the tide. New shortages consequently appear in the cities, causing scores of factories to close. Angry workers form their own factory committees, sequestering plants to keep them running and to gain new material benefits.


1926 July 3-4 The Second Party Rally of the NSDAP is held in Weimar as the Hitler Youth is founded and the Blutfahne flag is presented by Hitler to the SA. 'The Blutfahne (Blood Banner or Blood Flag) was the flag of the 5th SA Sturme that was covered in blood from the nazi marchers (mainly of Andreas Bauriedl who fell on top of the flag) of the failed Munich Putsch of 9 Nov 1923. Heinrich Trambauer (who carried the flag during the Putsch) took the flag to a friend at Theatinerstrasse 30 where he took the flag from the staff and left with it hidden inside his windjacket. Later Karl Eggers asked Trambauer where the flag was and was given it by Trambauer. Eggers then gave the flag to a man named Gräf for safe keeping. Eggers later took the flag back and possibly left it with a Viktoria Edrich living at Türkenstrasse 23. After Hitler was released from Landsberg Prison, Eggers gave the flag to him. It was then fitted to a new staff and finial and just below the finial was a silver dedication sleeve which bore the names of three martyrs from the Putsch who had been members of the 6th company: Bauriedl, Heckenberger and von Stransky. Hitler used the Blutfahne to consecrated new party colors by touching them with one hand while holding the Blutfahne with the other.'

1930 The U.S. Congress, so good at creating veterans, creates the U.S. Veterans Administration.


1934 Pyramid Schemes: The U.S. Federal Deposit Insurance Corporation (FDIC) makes its first payment to Lydia Losiger, and I certainly hope she appreciates all the trouble she started.

1933 Church and Reich: Papen cables German foreign minister Konstantin von Neurath, "In the discussions which I had with Pacelli, Archbishop Groeber, and Kaas this evening, it developed that with the conclusion of the Concordat, the dissolution of the Center Party is regarded here as certain and is approved."

1933 Roosevelt rejects the World Monetary and Economic Conference's stabilization plan.

1933 Holocaust: Statutory religious organizations throughout Germany are forbidden to employ Jews. (Edelheit)

1934 Reichrubberstampstag: The Reichstag justifies Hitler's actions against the SA.

1934 Church and Reich: An order is issued forbidding the publication of the pastoral letter of June 7 by the press and even the diocesan gazettes on the grounds that the letter is likely to jeopardize public order and deprecate the authority of state and movement. The Gestapo confiscates all unsold copies, making the rest instant collectors items. (Lewy)




Heinkel
1939 Ernst Heinkel demonstrates an 800-kph rocket plane to Hitler. Later in the year, the Heinkel 100 will capture the world speed record of 463.919 miles per hour.

1940 WW2: A British task force under Admiral Somerville makes an attack on a large part of the French fleet at Oran, Algeria, to ensure that it will not fall into Axis hands. Unlike other French fleets, it had refused to submit to seizure by the British after the fall of France. More than 1,000 French sailors are killed and the battleship Befragne is sunk. Many French saw this as a perfidious act that killed more French sailors in a single day than the Germans had killed since the war began; quite a comment on French fighting. (Note: This, combined with the fact that the Germans had discovered records from the Allied Supreme War Command in Paris indicating that the British air staff intended to use its newly developed long-range bombers to destroy the Ruhr industrial complex, home to 60% of German industry, finally convinced Hitler that Britain intended to stay in the war, no matter what.) (Duffy)

1940 Horia Sima agrees to participate in a new Romanian Government.

1941 Holocaust: Latvian auxiliary police organized by Einsatzkommandos 1a and 2 plunder Jewish homes, and two other Latvian groups carry out pogroms, killing 400 Jews and destroying synagogues. (Architect)

1941 Barbarossa: Smokin' Joe Stalin calls for a scorched earth policy in a radio broadcast. (Clark II)


Hassel


1944 The Secret Diary of Anti-Hitler Conspirator Ulrich von Hassel: [By Wolf Ulrich von Hassel] On July 3, 1944, my father wrote his last words in his diary. Munich was cut off from train connections by the air raids of those days. In spite of that, my father wanted to go to Berlin, one way or another, for an "action" was again pending. He succeeded in going north by taking detours." Note: Most of these diary entries will be much more interesting than this one. This was written by Hassel's son, just to fill in the record. We've come into the story at an odd time. More to come.


1944 WW2: The U.S. First Army opens a general offensive to break out of the hedgerow area of Normandy, France.

1944 WW2: Soviet forces recapture Minsk.


1944 Diary of Leon Gladun: Montefano, Italy. An excellent position. We fired the most on July 5-6. We've been here for a week. From the 7th we didn't fire as it's not needed. There's plans for an assault but for now we sit and play cards. Our stay is extended to July 12. For several days we played kunkien and didn't fire a single shot. I toured Loretto, the famous basilica and pilgrimage resort. It was well worth seeing." Note: Leon Gladun was a Polish artillery officer drafted the first day of WW2 and saw his first action against the German invader. Captured by the Soviets, he was among the very few who somehow managed not to become forest fertilizer at Katyn. He was subsequently trained by the British and went on to become a highly decorated warrior, with Monte Casino being among the battles he fought with distinction. His diary makes fascinating reading and will be a regular feature here. If some of the entrees seem pretty boring, that is a reflection of the nature of the combat experience; long stretches of boredom punctuated by periods of utter chaos. I think you'll find his story compelling.

Question: I'd like to include the diaries of a German soldier, but have been unable to find a good on-line source, which is necessary since I'm now far too busy to do any more transcribing. Anyone?

1945 WW2: U.S. troops land at Balikpapan and take Sepinggan airfield on Borneo in the Pacific.

1945 Fix Or Repair Daily: The first civilian passenger car built since February 1942 is driven off the assembly line at the Ford Motor Company plant in Detroit, MI. Production had been diverted due to World War II.

1950 Korea: U.S. carrier-based planes attacked airfields in the Pyongyang-Chinnampo area of North Korea in the first air-strike of the Korean War.

1954 Food rationing ends in Great Britain almost nine years after the end of World War II.

1962 Death Of An Empire: The Algerian Revolution against the French ends. Algeria eventually gains independence after 132 years of French rule.

1976 Take Notes JEC: 103 hostages are rescued (three die) by an Israeli commando unit during the bold raid on Entebbe airport in Uganda. The hostages had been taken from an Air France jetliner.

1979 Thirty-four years after the end of World War II, the West German government votes to continue prosecution of Nazi war criminals by removing the statute of limitations on murder.

1981 The Associated Press runs its first story about two rare illnesses afflicting homosexual men. One of the diseases is later named AIDS. I'll bet no one remembers the other one.

1986 Where was he when it disappeared: U.S. President Ronald 'Where's The Switch' Reagan presides over a ceremony in New York Harbor that sees the re-lighting of the renovated Statue of Liberty.




1988 The USS Vincennes, a Ticonderoga-class cruiser, shoots down an Iran Air jetliner over the Persian Gulf, killing all 290 people aboard. "...'Possible Astro!' Anderson sang out, at a moment of near chaos in the CIC. It was 9:51. Having swung full circle, Rogers was now bringing his reloaded forward gun to bear on the Iranian launches. The gun fired off 11 rounds - and jammed. The skipper again ordered the rudder hard over. The stern swung around, and in the CIC, papers and books toppled of consoles as the ship heeled over. At his station to Rogers's left, Lustig looked at his screen. The incoming plane was 32 miles away. "What do we do," he asked..."

1991 U.S. President George 'Read My Lips' Bush formally inaugurates the Mount Rushmore National Memorial in South Dakota.

1997 U.S. President Bill 'Read My Drips' Clinton makes his first formal response to the charges of sexual harassment by Paula Jones. He denies all the charges and asks that the judge dismiss the case.




2002 Post 911: Villagers inspect a bomb blast caused by U.S. bombs that kill dozens in the Afghanistan village of Deh Rawud. An investigation is called for by U.S. and Afghan officials.

2004

---
^ Top of Page ^
---

Click Here to email the Webmaster of this site.

Web Page Design by Nathan
This page was last updated on August 26, 2005