NAVIGATION COLUMN
Home Page

The Keninger Archives
The Propagander

Yahoo Groups:
History 1 Day 2
Nuremburg Data


---
Daily History Pages:
---

FAIR USE NOTICE: This site could contain copyrighted material the use of which has not always been specifically authorized by the copyright owner. We are making such material available in our efforts to advance understanding of historical, political, human rights, economic, democracy, scientific, environmental, and social justice issues, etc. We believe this constitutes a 'fair use' of any such copyrighted material as provided for in section 107 of the US Copyright Law. In accordance with Title 17 U.S.C. Section 107, the material on this site is distributed without profit to those who have expressed a prior interest in receiving the included information for research that could include educational purposes. If you wish to use copyrighted material from this site for purposes of your own that go beyond 'fair use', you could most likely need to obtain permission from the copyright owner.


July 4


1653 Oliver Cromwell's second attempt at a maleable Parliament met this day. It came to be known as 'The barebones Parliament' after its first member, Praise-God Barebones.

1712 Twelve slaves are executed for starting a slave uprising in New York that kills nine whites.


Bennington Flag
1776 US Revolutionary War: The amended Declaration of Independence, prepared by Thomas Jefferson, is approved. The actual signing doesn't take place until a month later. Most of the delegates sign the Declaration on 2 August 1776, the first signature being that of John Hancock. Several signatures are obtained later ... George Wythe (Virginia) on 27 August; Richard Henry Lee (Virginia), Elbridge Gerry (Massachusetts), Oliver Wolcott (Connecticut) signed in September; Matthew Thornton (New Hampshire) in November. Thomas McKean, representing Delaware, was serving in the army and was unavailable to add his 'John Hancock' until 1781. The state of New York abstained from signing.




Who was the famous propagandist that designed this flag?


1802 The US Military Academy officially opens at West Point, NY.

1803 Manifesting Destiny: The Louisiana Purchase is announced in newspapers. The property is purchased, by the U.S. from France, for $15 million (or 3 cents an acre). The "Corps of Discovery," led by Meriwether Lewis and William Clark, begins the exploration of the territory on May 14, 1804.


Garibaldi
1807 Birth: Giuseppe Garibaldi, Italian military leader and unifier of modern Italy.

1817 Construction begins on the Erie Canal, to connect Lake Erie and the Hudson River.


1826 Death: Thomas Jefferson, American founding father and third president, in Monticello (Charlottesville), Virginia and is buried there.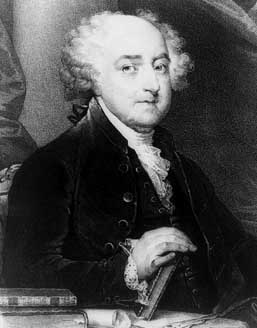 Adams
1826 Death: John Adams, American founding father and second president. His last words were, 'Jefferson survives,' but he was mistaken. Jefferson had preceeded him in passing away only a few hours earlier. Note: The correspondence between these two giants is compelling reading, and highly recommended.

1827 Slavery is abolished in New York.


Monroe
1831 Death: James Monroe, 5th president of the United States, in New York at the age of 73. He is buried in Hollywood Cemetery, Virginia.

1832 The song, America, is sung in public for the first time, at the Park Street Church in Boston, Massachusetts. Dr. Samuel Francis Smith wrote the words, borrowing the tune from a German songbook. Unknown to Dr. Smith at the time, the melody is the same as the British national anthem.

1845 The Cost Of Living: American writer Henry David Thoreau begins his two-year experiment at Walden Pond, near Concord, MA.




Fremont
1846 Manifesting Destiny: Captain John C. Fremont marches to Sonoma near Yerba Buena (modern San Francisco). There he proclaims the independence of California and names himself governor. Note: John Charles Fremont (1813-1890), widely known as "the Pathfinder," was a soldier and explorer. He explored the Pacific Northwest, Nevada, and California during 1843-1844. During the Mexican War he commanded a small force that captured Sacramento and Los Angeles. He served as a Senator in California during 1850-1851 and was chosen as the Republican Party's first Presidential candidate in 1856, but lost this election. Later, Fremont served in the Civil War and became the Territorial Governor of Arizona.

1848 NOT Yankee Doodles: The Communist Manifesto s published by Karl Marx and Friedrich Engels.

1855 The first edition of "Leaves of Grass," by Walt Whitman, is published in Brooklyn, NY.


35 Star Civil War Flag
1863 US Civil War: The Confederate town of Vicksburg, MS, surrenders to General Ulysses S. Grant.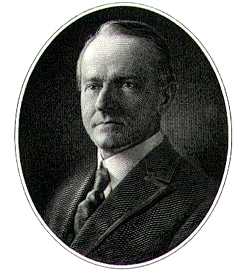 Coolidge
1872 Birth: Calvin John Coolidge , 30th US President [1923-1927]. Born in Plymouth, Vermont. Died in 1933. Married Grace Anna Goodhue on 4 October 1905 in Burlington, Chittenden County, Vermont. A man of few words, he was known as 'Silent Cal.' But when he did say something, it was usually hilarious as his anecdotes are arguably the best of all the presidents. His wife was once too sick to attend Sunday services. When Cal returned home, she attempted to get her husband to inform her as to what she had missed. Eventually, she was able to extricate from him the salient fact that the sermon was about 'Sin.' "Well, what did he have to say about it?' she asked. His reply: " He's against it" A very interesting and overlooked American President.

1878 Birth: George M. Cohan, entertainer, (Give my regards to Broadway).

1881 The outlaw William H. Bonney [Billy the Kid], is shot dead by 'lawman' Pat Garrett.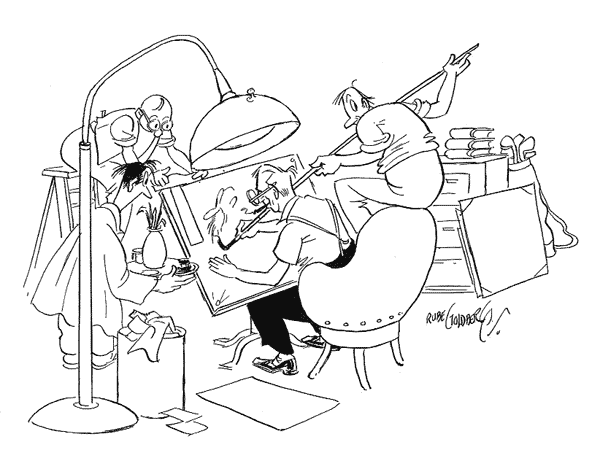 1883 Birth: Rube Goldberg, inventor, Pulitzer Prize-winning cartoonist .


1884 The overdressed Statue of Liberty is presented to the US in Paris.

1894 Manifesting Destiny: After seizing power, Judge Stanford Ballard Dole declares Hawaii a republic.

1895 America The Beautiful: The song America the Beautiful comes about as the result of a collaboration between a Massachusetts born woman, Katherine Lee Bates, a Wellesley College professor, who wrote the lyrics, and a church organist from Newark, New Jersey, named Sam Ward. The two never met. Bates wrote the poem at the age of 33 on a journey to Colorado's Pikes Peak; it was published in a Boston Church publication, the Congregationalist, two years later, on 4 July 1895. While many people proposed melodies to make it into a hymn, Sam Ward's composition was selected and it took nearly 15 years for the song to be heard nationwide.

1898 Manifesting Destiny: Spanish-American War: The US flag is hoisted over Wake Island, where it remains. Question: How many stars were on this flag?

1901 William H. Taft becomes the American governor of the Philippines.

1902 Birth: Meyer Lansky, possibly the US's most successful mobster. He never spent a day in jail.

1910 Race riots break out all over the United States after African-American Jack Johnson knocks out Jim Jeffries in a heavyweight boxing match.

1916 Birth: Tokyo Rose, World War II propogandist. Note: She never called herself by that name, but it stuck nonetheless.

1917 Colonel Charles E. Stanton, speaking at the tomb of Lafayette, the French hero of the American War of Independence, proudly states, " Lafayette, we are here."

1933 The Bavarian People's Party dissolves itself.

1933 But I Know It When I See It: The Pact of Definition of Aggression is signed in London, between Soviet Russia, her neighbors, and several other nations.

1933 Zionist leaders decide that the proceedings of the Eighteenth Zionist Congress to be held in Prague are conducted in Hebrew instead of German. (Edelheit)

1934 Holocaust: Himmler appoints Theodor Eicke as inspector of of the concentration camp and head of the SS-Totenkopfverbaende (Death's Head units). (Edelheit)

1939 Holocaust: The tenth ordinance of the Reich Citizenship Act creates the Reich Association of Jews in Germany (Reichsvereinigung der Juden in Deutschland), replacing all other Jewish organizations. All German Jews are forced to become members of the new association. (Persecution)

1940 A new Romanian Cabinet is formed with Gigurtu as prime minister and Manoilescu as foreign minister.

1942 The Irving Berlin musical, "This is the Army", opens at New York's Broadway Theatre.

1942 WW2: The Germans secure Sevastopol, completing their conquest of the Crimea.

1942 Church and Reich: In a secret conversation recorded by Bormann, Hitler declares, "Once the war is over we will put a swift end to the Concordat. The financial subsidies will be eliminated at once and all old accounts settled. Until then all provocative steps have to be avoided."

1942 WW2: The first American bombing mission over enemy-occupied Europe.




1943 July 4-10 The Battle of Kursk: German armies are in steady retreat after this defeat. "The battle of Kursk was monumental for numerous reasons but will almost always be remembered for being the largest clash of armor..."

1944 Holocaust: More than 2,800 Jews from the Papa region of Hungary are deported to Auschwitz. (Atlas)

1946 Nuremberg War Crimes Trials: Defense summations begin in the Major War Criminals Trial. (Maser II)

1946 The Philippines achieve full independence for the first time in over four hundred years.

1946 Birth: Ron Kovic, disabled vietnam vet. The film Born on 4th of July was based on his life.


1959 The 49-star U.S. flag is debuted. The first changing of the flag in 47 years brought about many suggestions and caused much discussion, which finally was resolved with the issuance on 3 January 1959 of Presidential Executive Order 10798, setting forth the design of the new flag as consisting of 49 stars arranged in seven rows, each row to be staggered. The new flag will be in use only one year, since next 4 July a 50-star flag will have been adopted to signify the admission of Hawaii as a State. Admission of Alaska brought to public attention the fact that, although Congress set forth the basic requirement for the original flag of the United States, and its modification upon admission of a new state, it did not specify details of design; nor did it specify just which governmental department or individual is responsible for modifying the design of the flag. It did specify, however, that the new flag shall come into use on the Independence Day of the year next succeeding the admission of the new state. Hence Hawaii's 50th star will not be added until 1960.




1960 The modern 50-star U.S. flag makes its debut in Philadelphia, PA.

1966 U.S. President Lyndon 'Credibility Gap' Johnson signs the US Freedom of Information Act.

1967 The US Freedom of Information Act comes into effect. Note: You had to figure that it would take at least a year to destroy all the really good stuff.

1976 Do The Math: The U.S. celebrates its Bicentennial.


Barbie
1987 Holocaust: Klaus Barbie, the former Gestapo chief known as the "Butcher of Lyon," is convicted by a French court of crimes against humanity and sentenced to life in prison.

1997 They Should Have Called It The Fremont: The Mars Pathfinder, an unmanned spacecraft, lands on Mars. A rover named Sojourner is deployed to gather data about the surface of the planet.

1997 Thousands of UFO enthusiasts descend on Roswell, New Mexico, to celebrate the 50th anniversary of the alleged UFO crash.


Smith
1999 White supremacist, and member of the World Church of the Creator, Benjamin Nathaniel Smith, shoots himself to death as police close in on him in southern Illinois, hours after he shot and killed a Korean man outside a church in Bloomington, Indiana. Smith had been on a three-day rampage targeting minorities. World Church of the Creator Supreme Leader Matt Hale, in a study in the convoluted reasoning of denial, comments: "I've always encouraged our members to be legal. I've certainly never encouraged violence. People have their own free will. They do what they please. Blaming the Smith shootings on the church is the same as people accusing the Pope of being behind all those abortion clinic bombings." And don't miss reading this enlightening transcript of the 'Supreme Leaders' appearance on the highly intellectual Jerry Springer Show: "My fiancé wants me to be a racist!"


2002 Post 911: An Egyptian American opens fire at Israel's El Al counter at Los Angeles International Airport killing two.

2004

---
^ Top of Page ^
---

Click Here to email the Webmaster of this site.

Web Page Design by Nathan
This page was last updated on August 26, 2005