NAVIGATION COLUMN
Home Page

The Keninger Archives
The Propagander

Yahoo Groups:
History 1 Day 2
Nuremburg Data


---
Daily History Pages:
---

FAIR USE NOTICE: This site could contain copyrighted material the use of which has not always been specifically authorized by the copyright owner. We are making such material available in our efforts to advance understanding of historical, political, human rights, economic, democracy, scientific, environmental, and social justice issues, etc. We believe this constitutes a 'fair use' of any such copyrighted material as provided for in section 107 of the US Copyright Law. In accordance with Title 17 U.S.C. Section 107, the material on this site is distributed without profit to those who have expressed a prior interest in receiving the included information for research that could include educational purposes. If you wish to use copyrighted material from this site for purposes of your own that go beyond 'fair use', you could most likely need to obtain permission from the copyright owner.


July 6


1415 The Martyrdom of Jan Hus, a Czech reformer. He is condemned for heresy and burned at the stake at Constance, Germany, because of his outspoken appeals for church reform and for political and religious rights for the common people.

1483 King Richard III of England is crowned.

1535 Sir Thomas More is executed in England for treason.


1699 The Downfall Of Captain William Kidd: As far as pirates go, Kidd was not the most successful of the breed. While out at sea in the Adventure Galley, Captain Kidd and his crew went a very long time without any prize money. At the same time, they had to continue to pay for supplies for the ship. Finally, the ship's gunner, William Moore, challenged Captain Kidd's leadership. In the heat of the argument, Captain Kidd smashed a bucket on Moore's head, and a day later Moore died of a fractured skull. When Kidd returned to New York City, he was arrested and sent to England to stand trial for piracy and the murder of William Moore. He was found guilty on all charges. (See May 23)


1747 Birth: John Paul Jones.


1777 American Revolution: British General 'Gentleman Johnny' Burgoyne captures Fort Ticonderoga.

1854 In Jackson, MI, the Republican Party holds its first convention.

1885 Louis Pasteur successfully tests his anti-rabies vaccine. The child used in the test later becomes the director of the Pasteur Institute.

1785 The Root: The US Congress creates the US currency named the dollar, and adopts decimal coinage.

1788 10,000 troops are called out in Paris as unrest mounts in the poorer districts over poverty and lack of food.

1798 Alien and Sedition Act: This US law makes aliens "liable to be apprehended, restrained, and removed as alien enemies." It also makes it illegal to criticize the government. It is John Adams' biggest mistake and something the current administration would love to emulate.

1835 Death: John Marshall, the third chief justice of the US Supreme Court, at the age of 79. (See July 8)

1854 An anti-Catholic mob in Bath, Maine, demolishes the Old South Church.

1869 Big Surprise: A black candidate for lieutenant governor of Virginia, Dr. J. H. Harris, is defeated.

1905 John Walker's fingerprints are the first ones to be exchanged by police officials in Europe and America. Law enforcement units in London and St. Louis, Missouri complete the exchange.

1908 Robert Peary's expedition sails from New York City for the north pole.

1915 Erich Muenter commits suicide while in police custody. (See July 3)

1919 Brockhusen writes Bernhard Koerner pleading for a constitutional reform of the loyalist Germanenorden. (Bundesarchiv; Roots)

1919 A British Dirigible, the R34, lands in New York at Roosevelt Field, completing the first crossing of the Atlantic Ocean by an Airship in 108hrs.

1921 Birth: Anne Robbins-Davis. Question: Can anyone tell me who this is?

1923 Sparta Reborn: The Union of Soviet Socialist Republics is established.

1933 Holocaust: Jewish lawyers in Germany are warned to stay away from courts, presumably for their own protection.

1933 Holocaust: Jewish students attending German universities are limited to 1.5 percent of the total student body.

1933 Holocaust: A Nazi order dissolves the 42-year-old German Non-Jewish Association for Combatting Antisemitism. (Edelheit)

1937 Holocaust: A German decree forbids Jews from studying medicine.

1938 Holocaust: The Law for the Alteration of Regulations of Industrial Enterprises prohibits numerous Jewish business activities in Germany. Jews can no longer operate real estate, information, loan, private security, marriage, brokerage, or administrative offices. They are even prohibited from serving as tour guides and are ordered to declare their assets and "sell" their businesses.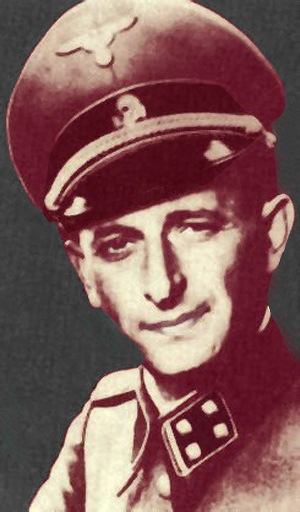 1939 Holocaust: Adolf Eichmann arrives in Prague to take charge of Jewish emigration.

1940 Holocaust: The first successful escape from Auschwitz is followed by a punitive 20-hour roll-call. (Atlas)







1942 Holocaust: Diarist Anne Frank and her family take refuge from the Nazis in Amsterdam.

1945 U.S. President 'Give Em Hell' Harry Truman signs an order creating the Medal of Freedom. No matter what you felt about his politics, you just had to admire his style.

1945 Nicaragua becomes the first nation to formally accept the United Nations Charter.

1945 WW2: B-29 Superfortress bombers attack Honshu, Japan, using new fire-bombing techniques.

1945 Cold War: Operation Overcast begins in Europe, moving Austrian and German scientists and their equipment to the United States. It is later given a different inane name: Operation Paperclip.

1946 Holocaust: 42 Jews are killed in Kielce, Poland, in a pogrom staged by the Soviets to pressure Jews to leave Poland and to discredit Polish opposition to Soviet takeover. In the immediate postwar period, Soviet terror and chaos will claim 300,000 lives including 1,500 Jews.

1946 Birth: George W. Bush.

1959 The Saar becomes a part of the German Federal Republic.

1967 The Biafran War erupts as Nigerian forces invade. The war will last 2 years and claim some 600,000 lives.

1982 Sitting Ducks: President Ronald 'Practicaly God' Reagan agrees to contribute US troops to the peacekeeping unit in Beruit.

1987 The first of 3 massacres by Sikh extremists takes place in India.


1989 Cold War: The U.S. Army destroys its last Pershing 1-A missiles at an ammunition plant in Karnack, TX. The dismantling is under the terms of the 1987 Intermediate-range Nuclear Forces Treaty. It marks the first time an entire class of nuclear weapons has been eliminated.




2002 Post 911: President Bush condemns the July 1, 2001 U.S. bombing that kills over 40 civilians in Deh Rawud, a village in Central Afghanistan.


2002 Post 911: U.S. General Dan McNeill and Afghanistan's Foreign Minister Abdullah meet to discuss the U.S. Bombing of the Afghan Village of Deh Rawud.


2002 Post 911: Afghanistan Vice President Haji Abdul Qadir and his driver are assassinated in a Kabul Street during a daring daytime attack.

2004

---
^ Top of Page ^
---

Click Here to email the Webmaster of this site.

Web Page Design by Nathan
This page was last updated on August 26, 2005