July 12


100 BC Birth: (Gaius) Julius Caesar. Note: He is not delivered by Caesarean section as is often claimed, though his name does come from the Latin 'to cut'.


1096 The Crusades: Crusaders under Peter the Hermit reach Sofia in Hungary.

1191 The Crusades: The armies of the Third Crusade (1189-92), led by England's King Richard 'The Lionhearted, capture the Syrian seaport of Acre.

1290 All Jews are expelled from England by order of King Edward I.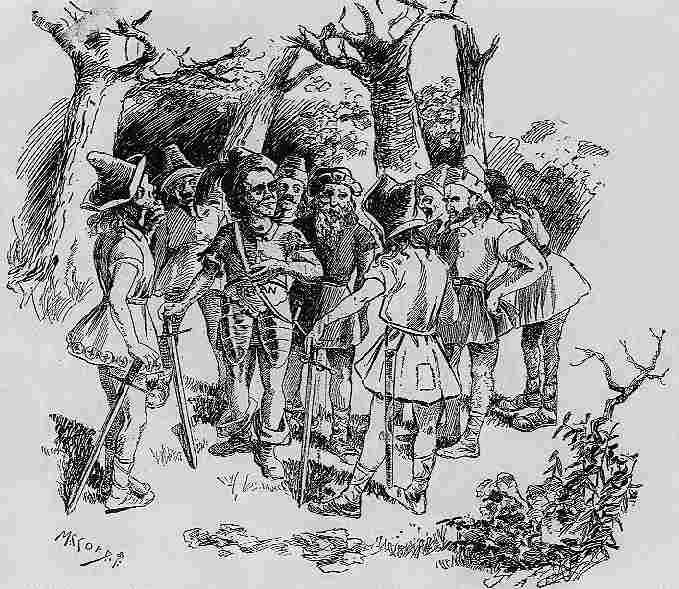 1450 Death: Jack Cade, slain in a revolt against British King Henry VI.


Parr
1543 England's King Henry VIII marries his sixth and last wife, Catherine Parr. She will outlive him and marry again after his death.

1690 Protestant forces led by William of Orange defeat the Roman Catholic army of James II.

1691 William III defeats the allied Irish and French armies at the Battle of Aughrim, Ireland.

1774 The Citizens of Carlisle, Pennsylvania pass a declaration of independence.

1790 The French Assembly approves a Civil Constitution providing for the election of priests and bishops.

1794 British Admiral Lord Nelson looses his right eye at the siege of Calvi, in Corsica.


1806 The Confederation of the Rhine is established in Germany.


Confederation of the Rhine



1812 War of 1812: US forces, led by General William 'The Reluctant' Hull, enter Canada seeking battle against the British. He captures the town of Sandwich, now known as Windsor, and issues his Proclamation to the Canadians. This is the highpoint of a career that will soon turn ugly.

1817 Birth: Henry David Thoreau, essayist, naturalist, poet, philosopher, writer, (Walden). Born in Concord, Massachusetts. Died in 1862. "Rather than love, than money, than fame, give me truth."


1817 The German Baron Karl Drais von Sauerbronn demonstrates his newly invented 'Laufmaschine' (Running Machine), one of the predecessors of the modern bicycle. Made entirely of wood and without the use of pedals, the Laufmaschine is propelled by pushing one's feet against the ground.

1843 Mormon church founder Joseph Smith announces that a divine revelation had been given him sanctioning polygamy among his newly-organised religious followers.


1862 US Civil War: President Abraham Lincoln signs into law a measure calling for the awarding of a US Army Medal of Honor, in the name of Congress, "to such noncommissioned officers and privates as shall most distinguish themselves by their gallantry in action, and other soldier-like qualities during the present insurrection." The previous December, Lincoln had approved a provision creating a US Navy Medal of Valor, which is the basis of the Army Medal of Honor. The first US Army soldiers to receive what would become the nation's highest military honor are six members of a Union raiding party who in 1862 penetrated deep into Confederate territory to destroy bridges and railroad tracks between Chattanooga, Tennessee, and Atlanta, Georgia. In 1863, the Medal of Honor is made a permanent military decoration available to all members, including commissioned officers, of the US military. It is conferred upon those who have distinguished themselves in actual combat at risk of life beyond the call of duty. Since its creation, during the Civil War, almost 3,400 men and one woman have received the Medal of Honor for heroic actions in US military conflicts.


1864 US Civil War: US President Abraham Lincoln becomes the first standing president to witness a battle as Union forces repel Jubal Early's army on the outskirts of Washington, DC.

1865 Birth: George Washington Carver, botanist, chemurgist, studied the peanut. (Awarded three patents - US 1,522,176 Cosmetics and Producing the Same. 6 January 1925. US 1,541,478 Paint and Stain and Producing the Same 9 June 1925. US 1,632,365 Producing Paints and Stains. 14 June 1927. George W. Carver. Tuskegee, Alabama.) Carver died of anemia at Tuskegee Institute on 5 January 1943. (Date of birth is uncertain, but believed to be sometime in Spring 1865). For more info see here.

1882 The first ocean pier in the US is completed, in Washington, DC.


Modigliani Self Portrait
1884 Birth: Amadeo Modigliani, Italian painter and sculptor. (Reclining Nude).

1895 Birth: R. Buckminster Fuller, architect and engineer, invented geodesic dome.


Curly Joe
1909 Birth: Curly [Joe] DeRita, comedian. 'The Last Stooge,' Joe died in 1993.

1910 Death: Charles Rolls, pioneering pilot and cofounder of Rolls-Royce, is killed when he crashes his biplane in a flying competition.


Wyeth painting
1917 Birth: Andrew Wyeth, artist (Christina's World).

1920 US President Woodrow Wilson officially opens the Panama Canal.

1920 Lithuania and the USSR sign a peace treaty, Lithuania becomes an independent republic.

1927 Birth: Bob Crane (Robert Edward Crane) (aka Colonel Robert E. Hogan), in Waterbury, Connecticut. (See 29 June)

1933 Holocaust: Germany blocks the bank accounts of all German-Jewish relief agencies.

1933 The New Deal: A minimum wage of 40 cents an hour is established in the U.S.

1934 Belgium outlaws all uniformed political parties.

1934 The US Disciplinary Barracks on Alcatraz Island is abandoned.

1935 Alfred Dreyfus dies in France.

1936 Holocaust: Sachsenhausen concentration camp is opened.

1939 Neville 'Hitler Can Be Trusted' Chamberlain tells the House of Commons that: "The present status of Danzig could not be considered as illegal or unjust... We hope that the Free City will prove once more that different nationalities can collaborate when their interests demand it."

1941 WW2: The Soviet-British Mutual Assistance Pact is signed.

1941 WW2: Moscow is bombed for the first time.


1942 WW2: General Andrey Andreyevich Vlasov, who had been awarded the Order of the Red Banner for his successful defense of Moscow against von Bock's Army Group Center and was one of Stalin's favorite generals, is captured by the Germans. Vlasov soon begins to raise an army from among the Russian POWs to fight alongside the Germans against Stalin. Formed in spite of Hitler's opposition, it is named the Russian Army of Liberation. (Duffy)


1943 WW2: At Kursk, the Soviets, favored by a seemingly endless supply of troops and tanks, move in fresh tank divisions and the advantage swings to the Russians. Manstein, having lost 70,000 men, half his tanks, and 1,000 aircraft, is forced to withdraw.

1943 WW2: German police and Army units kill all 200 villagers of Michniow, including babies and expectant mothers, in an attempt to stamp out Polish patriotic feeling.

1944 Polish Resistance: In light of Soviet betrayals and attacks on AK, 'Bor' tells his troops: "We must cooperate with the Soviets only in the fight against the Germans." In the first six months of 1944, the AK will kill 584 German gendarmes compared to 361 in all of 1943. Note: Bor was the codename for Count Komorowski who was in command of resistance in south Poland in 1942. On 30 March 1943 Bor replaced General Rowecki as leader of the Polish Home Army and on 1 August 1944 led the Warsaw Uprising against the Germans. After fierce fighting he surrendered to the Germans on 2 October and was interned as a POW. During his imprisonment he was made Commander in Chief of Polish Forces.

1944 Diary of Leon Gladun: "We move out for our next position at Le Caselle di Passatempo. We sat here for several days hardly shooting."


1948 Six RAF de Havilland Vampires become the first jets to fly across the Atlantic.

1950 WW2+: The International Lawn Tennis Federation readmits Germany and Japan into the Davis Cup, as Poland and Hungary withdraw.

1951 A mob tries to keep a black family from moving into all-white Cicero, in Illinois.

1954 Autobahn's and Interstate's: US President Dwight 'Better Late Than Never' Eisenhower proposes a highway modernization program, with costs to be shared by federal and state governments.

1957 The US surgeon general, Leroy E. Burney, reports that there is a direct link between smoking and lung cancer.

1957 Prince Karim leaves Harvard University in Cambridge, Massachusetts to become the leader ( the Aga Khan) of 20 million Ismaili Moslems. Prince Karim is 20 years old at the time of his calling.

1957 Dwight D. Eisenhower becomes the first US president to fly in a helicopter.

1960 Congo, Chad and Central African Republic declare independence.


1960 Cold War: Soviet leader Nikita Kruschev vows to back Cuba in the expulsion of the US from its Guantanamo naval base, as the USSR's Sputnik 5 is launched with 2 dogs on board. Note: Guantanamo is still in the hands of the US, being it's first imperial accusation. It is now used by the Pentagon to house prisoners beyond the reach of the Supreme Court or the Constitution, and is a continuing symbol of an American militarism and Empire.

1967 Long Hot Summer: Blacks in Newark, New Jersey, riot, 26 are killed, 1500 are injured and over 1000 are arrested.

1970 Thor Heyerdahl and his crew cross the Atlantic by papyrus boat in 57 days.

1972 Senator George McGovern, D-South Dakota, is nominated as the Democratic candidate for president against Republican incumbent Richard Nixon.

1974 Watergate: John Ehrlichman, a former aide to U.S. President Nixon, G. Gordon Liddy, and two others are convicted of conspiring to violate the civil rights of Daniel Ellsberg's former psychiatrist.

1977 The first free flight test of the space shuttle Enterprise is completed. Note: The Enterprise will never see space.


Ferraro
1984 Democratic presidential candidate Walter F. Mondale names US Rep. Geraldine A. Ferraro of New York to be his running mate. Ferraro is the first, and only, woman to run for vice president on a major party ticket.

1985 Doctors discover what turns out to be a cancerous growth in President Ronald Reagan's large intestine, prompting surgery the following day.

1990 Russian republic president Boris N. Yeltsin announces his resignation from the Soviet Communist Party.

1990 Tim Lennox, a radio talk show host in Birmingham, Alabama, is suspended indefinitely for barring black listeners from speaking on the show when they phone in. Lennox claimed he was upset because a black man was seen breaking into a station employee's car to steal her purse. He had told his listeners about the theft the previous day, and then prohibited blacks from speaking on the air by cutting them off. Station WERC-AM apologized for Lennox's actions.

1991 Members of the Senate Foreign Relations Committee accuse the former ambassador to Iraq, April Glaspie, of misleading them about prewar meetings with Saddam Hussein.

1991 Hitoshi Igarashi, the Japanese translator of Salman Rushdie's Satanic Verses, is found stabbed to death in Tokyo.


1994 President Bill 'JFK's My Hero' Clinton addresses a large crowd at the Brandenburg Gate in Berlin.

1994 Palestine Liberation Organization (PLO) chief Yasser Arafat and his wife take up permanent residence in the Gaza Strip.

1995 President Bill Clinton spells out school-prayer guidelines, asserting that the First Amendment already guarantees adequate freedom of religion.

1996 Iraqi president, Saddam Hussein, is reported to have foiled a coup attempt by 50 military officers.


2000 Russia launches the Zvezda after two years of delays. The module is to be the living quarters for the International Space Station (ISS.)

2000 The United States and Vietnam reach a trade agreement that will allow unfettered commerce between the two nations for the first time since the end of the Vietnam War.

2001 The West Wing of the White House is evacuated because of a suspiciously parked car outside.


2002 Britain and France agree to the closure of the controversial Sangatte refugee camp near the Channel Tunnel.

2003



2004









Visit:
Visit:

Click Here to email the History: One Day At a Time webmaster.