July 31




1485 Morte D'Arthur by Sir Thomas Malory, is first published.

Malory wrote this classic tale of knightly love and chivalry while in prison for armed assault and rape.




1498 During the third voyage of Christopher Columbus, the Italian navigator lands on an island that he names 'La Trinidad' (The Trinity), today a part of Trinidad and Tobago. The island is inhabited by two tribes, the Arawaks, who are peaceful fishermen and farmers, and the more belligerent Caribs. Both tribes are soon decimated, and Africans are brought in as slaves to replace them.

1556 Death: St. Ignatius of Loyola, founder of the Society of Jesus, the Jesuit order of Catholic priests and brothers, died in Rome.




1588 The English fleet attacks the Spanish armada.

1703 English novelist Daniel Defoe is made to stand in the pillory as punishment for offending the government and church with his satire The Shortest Way With Dissenters.

1760 Ferdinand, Duke of Brunswick, drives the French army back to the Rhine River.

1776 US Revolutionary War: Francis Salvador, a plantation owner from South Carolina, becomes the first Jewish patriot to die for American independence, when he is killed in a skirmish with the British.




1777 US Revolutionary War: The Marquis de Lafayette, a 19-year-old French nobleman, was made a major-general in the American Continental Army.

1790 The US Patent Office opens as the first US patent is issued to Samuel Hopkins of Vermont. Mr. Hopkins did not get Patent No.1 as thousands of patents are issued before someone came up with the bright idea to number them. The inventor patented a process for making potash and pearl ashes.




1792 Construction starts with the laying of the cornerstone in the first building to be used solely as a US Government building: The US Mint in Philadelphia. Director David Rittenhouse lays the cornerstone.




1803 Birth: John Ericsson, naval engineer and inventor, developed the screw propeller, built USS Monitor.

1809 The first practical US railroad track, wooden, for horse-drawn cars, is laid at Philadelphia.

1813 War Of 1812: The British invade Plattsburgh, New York.




1816 Birth: George Henry Thomas, Union general during the American Civil War.




1837 Birth: William Clarke Quantrill, Confederate Army guerrilla leader during the American Civil War. His wartime raid on Lawrence, Kansas, will leave some 150 people dead.

1845 The Joy Of Sax: The French Army introduces the saxophone to its military band. The musical instrument is the invention of Adolphe Sax of Belgium.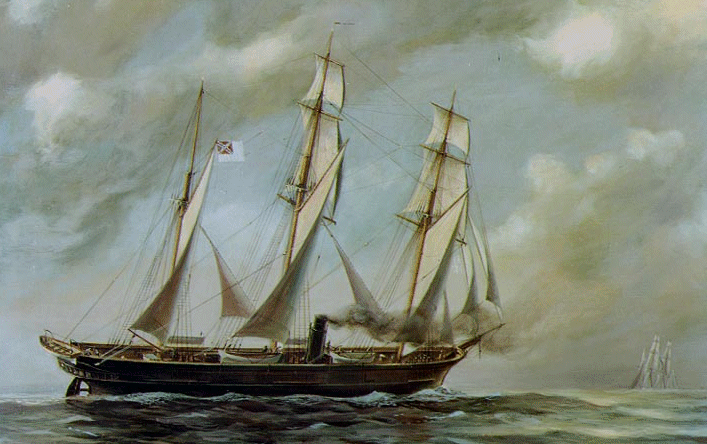 1862 The Alabama: Orders are given to detain the ship, but it has already sailed on the 29th. As soon the vessel is outside the three-mile limit, it hoists the Confederate flag and takes the name CSS Alabama. Over the next two years, it will inflict heavy damage to Northern shipping. Later, the U.S. accuses Britain of intentionally allowing the Alabama to escape and demands compensation for all damage incurred.




1875 Death: Andrew Johnson, the 17th president of the United States, died at the age of 66 in Carter Station, Tennessee.

1891 Great Britain declares territories in Southern Africa up to the Congo, to be within their sphere of influence.

1893 Volkishness: Adolf Josef Lanz, age 19, becomes a novice at the Cistercian monastery in Heiligenkreuz on the present Austrian-Hungarian border. Lanz was born in Vienna on July 19, 1874, but later claimed to have been born at Messina, Sicily, on May 1, 1872. To mislead astrologers, he said.




1901 Birth: Jean Dubuffet, French sculptor and painter, (Landscape with 2 Personages).

1912 Birth: Milton Friedman, in Brooklyn, New York. Born in New York's largest borough, Friedman picked up a string of degrees from schools including Rutgers University and Columbia University, before taking up a post in the University of Chicago's mighty economics department. An ardent proponent of laissez-faire economics, Friedman readily articulated his faith in a fiscal system that depended less on policy than 'natural' forces. Along the way, Friedman became the leading light of the 'monetarist' school, which, in the laissez-faire tradition, dismissed the government's role as the supposed engine of business. Rather, Friedman and his fellow monetarists believed in stable interest rates and robust money supplies. Friedman used a number of his publications, including Capitalism and Freedom, (written with his wife, Rose) to further stump against 'big Government'. While Friedman's beliefs aroused considerable criticism from liberals, leftists and even a few government-centric voices on the right, he was honoured with the Nobel Prize for Economics in 1976. The lofty award hardly slowed Friedman, who continued his battle against the perceived inanity of the Federal government's fiscal policy.

1914 WW1: The London Stock Exchange, at this time the most influential in the world, announces its closing due to war. The U.S. follows suit and for several weeks all other important exchanges will also close. (Schlesinger I)

1917 WW1: The bloody Third Battle of Ypres begins when the British attack the Germans from the northeast. The low ground, sodden with rain, has been turned into a quagmire by a preliminary 3-day bombardment, and the British advance quickly bogs down. More than 250,000 British troops will be killed capturing the small village of Passchendaele.




1919 Birth: Primo Levi, Italian writer and scientist, (Survival in Auschwitz).




1921 Rudolf Gorsleben becomes Gauleiter of the South Bavarian section of the radical antisemitic Deutschvölkischer Schutz und Trutzbund, an early competitor of the Nazi Party for support in Southern Germany. (Roots)

1925 The French complete the evacuation of the Ruhr.




1932 Reichstag elections in Germany: Nazi party, 13,722,413 votes (37%), 229 seats; Socialists, 7,949,883 votes, 132 seats; Communists, 5,276,887 votes, 88 seats.

1935 Holocaust: The Berlin city council bars provincial Jews from entering the city.




1938 In a period of 19 months prior to this date, William Dudley Pelley mails 3.5 tons of antisemitic propaganda from his headquarters in America. Note: William Dudley Pelley was born in Lynn, Massachusetts on March 12, 1890, the son of a New England Methodist minister. His early family years were difficult and his father's pride in the family's "uncontaminated English stock," created a lasting impression on the young Pelley. A bright student, Pelley learned to write well and in 1917 he left for Hollywood to be a screen writer. He remained there until 1929. He contributed to films such as The Light in the Dark and The Shock, which both starred Lon Chaney. In 1928 he had a metaphysical experience which he wrote about in an article "Seven Minutes in Eternity," for American Magazine. This account of his out-of-body experiences brought him national attention and fed a life-long fascination with metaphysics. In 1932 Pelly came to Asheville where he attempted to establish a college he called Galahad College. The college was located in a building once occupied by the Asheville Women's Club at the corner of Sunset Parkway and Charlotte Street and was largely a correspondence arrangement. The focus of the school was on "Christian Economics." Pelley also ran a publishing enterprise in the old Oteen/Biltmore bank building located in Biltmore village that he called Galahad Press. Among his publications was a weekly magazine, Liberation, in which he espoused his anti-Semitic views. When Hitler rose to power in Germany, Pelley mobilized like-minded followers into a legion he called the Silver Shirts and which others referred to as the "Christian American Patriots". The name "Silver Shirts" was taken from the uniform of the members of the organization and Hitler and the Nazi movement only fed his Aryan notions. In 1936 Pelley ran for President under a self-formed party called the "Christian Party." As part of his platform he vowed to "make it impossible for a Jew to own property in the United States," and to "defranchise [sic] the Jew by Constitutional Amendment," and other anti-Semitic propositions. He was finally reigned in 1942 when he was jailed for sedition. He remained in jail for seven of his fifteen year sentence. Following his release he continued his anti-Semitic, anti-UN, and segregation activities and he battled additional charges of securities fraud that were brought against him while he lived in Asheville. Pelley died in Noblesville, Indiana, June 30, 1965.

1941 Holocaust: Letter from Goering to Heydrich: To the Chief of the Security Police and the SD, SS Gruppenfuehrer Heydrich-Berlin-"In completion of the task which was entrusted to you in the Edict dated January 24, 1939, of solving the Jewish question by means of emigration or evacuation in the most convenient way possible, given the present conditions, I herewith charge you with making all necessary preparations with regard to organizational, practical and financial aspects for an overall solution (Gesamtloesung) of the Jewish question in the German sphere of influence in Europe. Insofar as the competencies of other central organizations are affected, these are to be involved. I further charge you with submitting to me promptly an overall plan of the preliminary organizational, practical and financial measures for the execution of the intended final solution (Endloesung) of the Jewish question." Goering (Hilberg)

1942 Holocaust: By the end of the month, 6,000 Dutch Jews have been transported to Auschwitz, where the majority are soon gassed. (Atlas)


Paulus
1942 Barbarossa: Paulus' 6th Army crosses the Don River and races for Stalingrad. Russian General Chuikov reinforces as fast as his railways allow. (Clark II)





1944 WW2: General Patton's Third Army storms through the gap in the German lines and captures Avranches.

1944 Holocaust: 1,300 Jews are deported from Drancy to Auschwitz. Among them are more than 300 Jewish orphans seized in Paris between July 20 and 24. (Atlas)




1945 Those Vichy French: Pierre Laval surrenders to U.S. forces in Austria and is handed over to the French authorities.

1948 U.S. President Harry Truman helps dedicate New York International Airport (later John F. Kennedy International Airport) at Idlewild Field.

1953 Death: Robert Taft, (Sen-R-Ohio), (Mr Republican), died in New York aged 63.




1960 Elijah Muhammad, leader of Nation of Islam, calls for a black state in the US.




1962 The Federation of Malaysia is formed.

1964 The American space probe Ranger 7 transmits 4,316 pictures of the moon's surface before crashing on the same.

1969 The Moscow police chief reports that thousands of Moscow telephone booths have been made inoperable by thieves who have stolen phone parts in order to convert their acoustic guitars to electric.




1971 The first men to ride in a vehicle on the moon do so in the LRV (lunar rover vehicle). This example of a lunar dune buggy carries Apollo 15 astronauts David R. Scott and James B. Irwin for five miles on the lunar surface. Their first stop at the rim of Elbow Crater is televised back to Earth to millions of viewers. The moon ride lasts two hours.

1972 Senator Thomas Eagleton, D-Missouri, withdraws as the Democratic vice-presidential nominee, six days after disclosing previous hospitalisation and psychiatric treatment.




1974 Watergate: John Ehrlichman, Nixon's left-hand man 'in charge of domestic policy' at the White House, is sentenced to 20 months in prison for his role in the break-in of the office of Daniel Ellsberg's psychiatrist. Note: Ellsburg was the Pentagon consultant who leaked the 'Pentagon Papers', embarassing US government documents about the war in Vietnam.

1976 Cold War: Six Eastern European athletes, one from the USSR and five from Romania, defect to Canada during the Olympic games in Montreal.

1989 A pro-Iranian group in Lebanon releases a videotape reportedly showing the hanged body of American hostage William R. Higgins.

1991 U.S. President Bush and Soviet President Mikhail Gorbachev sign the Strategic Arms Reduction Treaty.

1991 The Senate overturns a 43-year-old law and votes to allow women to fly military warplanes in combat.

1997 The US Congress gives final approval to legislation that would have balanced the federal budget by 2002.

1997 In New York City, NY, police seize five bombs believed to be bound for terrorist attacks on city subways.

2000 As of this date, there is exactly $539,890,223,079 in US currency in worldwide circulation.

2001




2002 Post 911: President Bush and Rumsfeld, at a Washington Cabinet Meeting, discuss options to end the regime of Iraq's Sadam Hussein.




2002 Post 911: General Franks and Sectretary Of Defense Rumsfeld give testimony at a Senate Armed Services Committee hearing.




2002 Hamas Blast at Jerusalem's Hebrew University kills Seven and injures hundreds.

2003


2004









Visit:
Visit:

Click Here to email the History: One Day At a Time webmaster.