November 1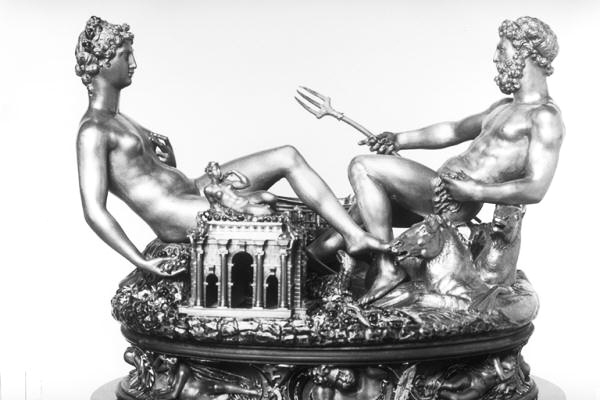 1500 Birth: Benvunuto Cellini, Italian goldsmith and sculptor, writer (Perseus).




1512 Italian Renaissance artist Michelangelo, aged 37, unveils his 5,808 square foot masterpiece, the ceiling of the Sistine Chapel in the Vatican. He had been commissioned in 1508 by Pope Julius II to do a work depicting the whole story of the Bible. Michelangelo painted the frescoes, considered some of the finest pictorial images of all time, while lying on his back on a scaffolding high above the chapel floor. (Bradley)

1582 Maurice of Nassau, the son of William of Orange, becomes the governor of Holland, Zeeland and Utrecht.


1620 The Mayflower hits heavy seas: "One of the passengers, a servant called John Howland, is swept overboard by a mountainous wave and then miraculously rescued. As Pilgrim William Bradford records, ''in a mighty storme, a lustie yonge man (called John Howland) coming upon some occasion above the grattings, was, with a seele of the shipe throwne in the sea; but it pleased God that he caught hould of the top-saile halliards, which hunge over board, and rane out at length; yet he held his hould (though he was sundrie fathomes under water) till he was hald up by the same rope to the brime of the water, and then with a boat hooke and other means got into the shipe againe, and his life saved; and though he was something ill with it, yet he lived many years after, and became a profitable member both in church and commone wealthe'' John Howland went on to be the thirteenth signatory of the Mayflower Compact and was present at the first Thanksgiving. He sired 10 children and had 82 grandchildren. Had he lost his hold and drowned on that fateful day, the two Presidents Bush, President Roosevelt and Humphrey Bogart would not have existed as they are all descendants of John Howland and Elizabeth Tilley."

1623 A fire at Plymouth, Massachusetts destroys several buildings.

1636 Birth: Nicholas Boileaus, French poet and historian.

1700 Death: Charles II of Spain. He is succeeded by Philip V, marking the start of the War of Spanish Succession.




1755 An earthquake felt across the European continent reduces two-thirds of Lisbon to rubble. The earthquake causes the destruction of property, fires, and a tsunami. Over 60,000 die, most of whom drown in the enormous tidal wave. (Bradley)

1762 Seven Years War: French troops capitulate at Cassel and evacuate the right bank of the Rhine.

1762 Birth: Spencer Perceval, Conservative British Prime Minister (1809-12), will be the only British prime minister ever to be assassinated.




1765 The Stamp Act goes into effect, prompting stiff resistance from American colonists.

1776 The mission San Juan Capistrano is founded in California.

1784 The State of Maryland grants citizenship to Lafayette and his descendants.




1800 John Adams becomes the first President to live in the white house.




1818 Birth: Jems Renwick, architect.

1828 Birth: Balfour Steward, Scottish physicist and meteorologist.

1856 Following a Persian invasion of Afghanistan to occupy Herat, Britain declares war on Persia (Iran).

1861 US Civil War: Lieutenant General Winfield Scott, 50 year-veteran and leader of the US Army at the onset of the Civil War, retires. General George McClellan is appointed general-in-chief of the Union armies.




1861 US Civil War: Lord Palmerston learns an American warship, the James Adger, is at South Hampton and intends to intercept the Southern representatives, John Slidell and James Murray Mason, who are bound for England on the British passenger ship Trent.

1863 US Civil War: Fortifications are built on Angel Island (San Francisco Bay) by troops.




1866 Wild woman of the West Myra Maybelle Shirley weds James C. Reed in Collins County, Texas.

1869 Red River Rebellion: Louis Riel seizes Fort Garry, Winnipeg.

1870 The US Weather Bureau makes its first weather observations. Up to this time, the observations had been the responsibility of the Signal Corps of the US War Department. Operations begin at 24 locations.




1871 Birth: Stephen Crane, novelist, poet. (The Red Badge of Courage).

1889 Birth: Philip John Noel-Baker, statesman, disarmament advocate (Nobel '59).

1894 A vaccine for diphtheria is announced by Dr Roux of Paris.

1902 Birth: Nordahl Brun Greig, Norwegian writer, poet, dramatist, novelist (The Defeat) and WW2 hero.

1911 Italian planes perform the first aerial bombing on Tanguira oasis in Libya.




1914 WW1: Hindenburg is appointed Commander-in-Chief of the Austrian-German Eastern Front. Ludendorff remains his chief of staff.

1914 WW1: Adolf Hitler is promoted to the equivalent of Lance Corporal. (Maser)




1914 WW1: Admiral Graf von Spee's China Squadron, two heavy and three light cruisers, sinks two British heavy cruisers without losing a single ship in the Battle of Coronel, off the coast of Chile. Some time later the British battle cruisers Invincible and Inflexible, under Vice Admiral Sir Frederick Sturdee, seek out Spee, who had taken his squadron around Cape Horn into the South Atlantic. Spee had planned to raid the British wireless and coaling station at Port Stanley in the Falkland Islands, but discovered Sturdee's squadron there, refueling. The surprised Germans fled and were pursued and destroyed; approximately 1,800 Germans--including Admiral Spee--perished on the sunken ships.

1918 WW1: The US First Army advances, smashing through the last German positions northeast and west of Buzancy, thus enabling the French Fourth Army to cross the Aisne.

1918 WW1: Cobbe's British cavalry reaches Mosul in Mesopotamia. Despite provisions of the October 30 armistice, Cobbe is ordered to take the city. After some initial squabbling, the Turkish garrison of Halil Pasha marches out and the British remain.

1919 President Wilson is again in control of most of his faculties, although he never fully recovers. Note: There is no provision in the law at this time for declaring a president unable "to discharge the powers and duties of the said office."

1923 Goodyear Tire and Rubber Company purchases the rights to manufacture Zeppelin dirigibles.

1924 Volkishness: Karl Maria Wiligut (Weisthor) is involuntarily committed to a Salzburg mental asylum and will not be released until early 1927.




1924 Legendary Oklahoma marshal Bill Tilghman, 71, is gunned down by a drunk in Cromwell, Oklahoma.

1926 The Supreme SA leadership is constituted as Goebbels embarks on his 'conquest of Red Berlin.' (Maser)




1927 For the first time since the Model T was introduced in 1908, the Ford Motor Company begins production on a significantly redesigned automobile; the Model A. The hugely successful Model T had revolutionized the automobile industry, and over fifteen million copies of the "Tin Lizzy" had been sold in its nineteen years of production. By 1927, the popularity of the outdated Model T is rapidly waning. Improved, but basically unchanged for its two-decade reign, it is losing ground to the more stylish and powerful motor cars offered by Ford's competitors. In May of 1927, Ford plants across the country closed, and the company began an intensive development of the more refined and modern Model A. The vastly improved Model A has elegant Lincoln-like styling on a smaller scale, and uses a capable 200.5 cubic-inch (approx 3.2 Litre) four-cylinder engine that produces forty horsepower. With prices starting at $460, nearly five million Model A's, in several body styles and a variety of colors (the Model T was available only in black), roll onto to America's highways before production ends in early 1932. (Bradley)




1928 The Graf Zeppelin sets an airship distance record of 6384 km.




1929 Lundy, part of the British Isles, issues their own stamps.

1932 Wernher von Braun is named head of the German liquid-fuel rocket program.

1933 Zionism: The Conference for Relief of German Jewry closes in London. It has adopted resolutions calling for Palestine to be the primary location for resettling Jewish refugees and the establishment of a central allocation committee and a central bureau to coordinate the work of the various groups dealing with German-Jewish problems.

1933 The United States officially recognizes the Soviet Union.

1935 Holocaust: The German citizenship of Jews is officially revoked. The Nazi government announces that the Nuremberg Laws apply to all Jews, German or foreign, without exception.




1937 The Swiss Court of Criminal Appeal quashes the judgment of the lower court's verdict on the authenticity of The Protocols of the Elders of Zion in its entirety. (See May 14, 1935)

1939 The first animal conceived by artificial insemination is displayed to the world.

1939 WW2: The first jet plane, a Heinkel He 178, is demonstrated to the German Air Ministry.

1939 Diary of Leon Gladun: We departed for Kozielsk.

1940 The first US air raid shelter is built at Fleetwood, Pennsylvania.




1940 Fantastic prehistoric paintings are discovered in a cave at Lascaux in the Dordogne, in southwest France.

1941 Those Vichy French: Vichy France opens a punishment and isolation camp at Hadjerat-M'Guil in Algeria. It contains 170 prisoners nine of whom are tortured and murdered in conditions of the worst brutality. Two of the murdered were Jews, one of whom had earlier been released from a concentration camp in Germany in 1939 and fled to France. (Atlas)

1941 Holocaust: Nov 1-15 The Jews of Bukovina, like those of Bessarabia, are uprooted from their homes in more than 100 communities, then marched away and interned. Within a year, more than 120,000 of them will have died. (Atlas)

1942 Holocaust: Professor Fischer retires. His successor as Director of the KWI of Anthropology, Human Heredity, and Eugenics is Professor von Verschuer. (Science)

1943 WW2: A dim-out ban is lifted in San Francisco Bay area.

1943 WW2: American troops invade Bougainville in the Solomon Islands.

1947 UN trusteeship for Nauru is granted to Australia, New Zealand and United Kingdom.

1949 Nuremberg Tribunal: The widow of General Ludendorff, on trial at Nuremberg, explains why her husband broke with Hiter, stating, "...as early as the summer of 1929 James P. Warburg had undertaken an assignment from financial circles in America, which desired to exercise solitary influence on Germany in the unleashing of a national revolution. Warburg's task," she said, "was to find the suitable man in Germany, and he entered into contract with Adolph Hitler who subsequently received sums of money amounting to 27 million dollars up to January 30, 1932, and still another seven million thereafter, enabling him to finance his movement." (Williams Intelligence Summary, Feb. 1950)




1950 Two Puerto Rican nationalists try to force their way into Blair House in Washington DC, to assassinate President Harry Truman. The attempt fails, and one of the pair is killed. Note: Truman is residing in Blair House while the White House is being renovated.

1951 Algerian Conflict: The Algerian National Liberation Front begins guerrilla warfare against the French.

1951 The first atomic explosion witnessed by troops, is set off in New Mexico.

1954 India takes over the administration of four French Indian settlements.

1956 The Nagy government of Hungary withdraws from the Warsaw Pact.

1962 Greece enters the European Common Market.

1962 The USSR launches Mars 1, but radio contact is lost before arrival at Mars.

1965 The US Patent Office receives the patent application for the Frisbee.

1973 Watergate: In the wake of the Saturday Night Massacre, Acting Attorney General Robert H. Bork appoints Leon Jaworski to be the new Watergate special prosecutor, succeeding Archibald Cox.

1976 A bloodless coup in Burundi ousts President Micombero, who is replaced by Colonel J. B. Bagaza. 1976 - Gilbert Island (Kiribati) obtained internal self-government from Britain.


1979 The Burmah Agate collides with the freighter Mimosa southeast of Galveston Entrance in the Gulf of Mexico. An estimated 2.6 million gallons of oil is released into the environment; another 7.8 million gallons is consumed by the fire onboard. This spill is currently #55 on the all-time list of largest oil spills.

1979 The US Federal government makes a $1.5 billion loan to Chrysler.

1981 The Islands of Antigua and Barbuda become a single independent state, ending 30 years of British rule.

1984 Rajiv Gandhi is sworn in as Indian prime minister amid anti-Sikh riots following the assassination of Indira Gandhi.

1987 Veteran revolutionaries leave the center-stage of Chinese politics, including Deng Xiaoping, who was one of more than 90 members to step down from the party's guiding Central Committee.

1989 Nicaraguan President Ortega ends a 19-month cease-fire with the Contra rebels because of continued US support for them.

1991 Clarence Thomas takes his place as the newest justice on the US Supreme Court.

1993 The Maastricht Treaty goes into effect, creating a new 'European Union.'

1992 Germany sells Romani asylum seekers back to Romania for $21 million, and begins shipping them in handcuffs on this day. Some Roma commit suicide rather than go. The German press agency asks western journalists not to use the word "deportation" in their coverage of this, because that word has "uncomfortable historical associations."

1995 South Africans vote in their first all-race local government elections, completing the destruction of the apartheid system.




1998 DNA tests on the descendants of Thomas Jefferson's family and of Jefferson's young slave, Sally Hemings, offer mixed evidence that America's third President fathered at least one of her children, according to an article in the scientific journal Nature and as reported by The New York Times this day. "The technique relies on the fact that the human Y-chromosome is handed down directly from father to son and that all paternally related males will have the same Y-chromosome. Although Thomas Jefferson did not have any sons who survived to produce children, his father's brother, Field Jefferson, did have sons and it has been possible to locate 5 descendants of Field Jefferson who are in a direct male-line of descent. Thus, these individuals (descendants of Field Jefferson) should have the same Y-chromosome DNA as the Y-chromosome DNA of Thomas Jefferson and any male-line descendant of his. The male-line descendants of two of Sally Hemmings sons were located and their Y-chromosome DNA was examined for comparison to the Y-chromosome DNA of Field Jefferson's descendants. The DNA from the five male-line descendants of Thomas Woodson, oldest son of Sally Hemings, did not match the Jefferson DNA. In fact, one of Woodson's descendants did not match well with the other four. However, the DNA from the one descendant of Eston Hemings, youngest son of Sally Hemings, did match the Jefferson DNA. This lends credence to the supposition that Thomas Jefferson may have been the father of Eston Hemings.




However, historian Williard S. Randall, notes, "There were 25 men within 20 miles of Monticello who were all Jeffersons and had the same Y chromosome. And 23 of them were younger than Jefferson, who was 65 years old when Eston was conceived." Randall wrote a 1993 biography of Jefferson, titled, Thomas Jefferson: A Life. More detailed information is available. Finally, the The Jefferson-Hemings Scholars Commission concluded that Randolph Jefferson, Thomas' brother, was more likely to have fathered Eston Hemings. Other Sites of Interest: Web resources on the Hemings Controversy (Monticello), The Jefferson/Hemings DNA Story (Jefferson Family Historian), The Jefferson-Hemings Scholars Commission (April 12, 2001)

2001 The FBI announces it has alerted law enforcement agencies in eight Western US states that it has unconfirmed information terrorists may be targeting suspension bridges on the West Coast.




2001 Pakistani press sources say the Taliban have arrested 25 followers of tribal leader Hamid Karzai, and plan to execute them.

T
2001 American warplanes attack Kabul for the first time in four days, striking targets in the northern edge of the capital.





2001 In a letter sent to Al-Jazeera V, Osama bin Laden urges fellow Muslims to rise up against the "Christian Crusade."




2001 The fear of anthrax spreads to the Midwest with a finding of contamination at a Kansas City postal facility.

2002


2004


2004


2004


2004


2004


2004


2004


2004









Visit:
Visit:

Click Here to email the History: One Day At a Time webmaster.