November 3





1492 The Treaty of Etaples is signed between Charles VIII of France and Henry VII of England. Under the pact England renounces its claims to French territory in return for an indemnity. (Bradley)




1493 Christopher Columbus discovers the island of Dominica.




1507 Leonardo Da Vinci is commissioned to paint the portrait that will become known as the Mona Lisa. (Bradley)

1534 England's Parliament meets and passes an Act of Supremacy which makes King Henry VIII head of the English church, a role formerly held by the Pope. (Bradley)

1591 The Lord of Leitrim in Ireland, Sir Brian O'Rourke, is executed for sheltering Spaniards from the defeated Armada.

1760 Seven Years War: Frederick the Great of Prussia with 44,000 men defeats 65,000 Austrian troops at Torgau under Count Daun. More than 13,000 Prussians die in the attack. (Bradley)




1793 Birth: Stephen Austin, founder of Texas. "Born in Virginia and raised in southeastern Missouri, Stephen Fuller Austin is considered the founder of Anglo-American Texas. At the age of eleven years, he attended school in Connecticut and later graduated with distinction from Transylvania University in Kentucky. In 1813, at the age of twenty-one years, he was elected to the territorial Legislature of Missouri, and was reelected to that position each year until 1819, when he moved to Arkansas. Meanwhile, Stephen's father, Moses Austin, received a grant of land in Texas for purposes of colonization. The elder Austin died soon after returning to Missouri from a trip to Texas, but bequeathed his grant to Stephen with instructions to carry it to a successful completion. Accordingly, after many delays and frustrations with the Mexican government, Steven Austin introduced a large number of colonists from the United States. An unassuming man with a kindly presence, he was deeply respected by all, and achieved unparalleled influence over the often unruly settlers in Anglo Texas. Austin is remembered in Texas history for his many efforts on behalf of Texas before, during, and immediately after Texas' Revolution with Mexico. His contributions to Texas included: long and perilous pilgrimages to Mexico on behalf of Texas; his unwillingness to counsel his people to take up arms against the Mexican government as long as any hope for peace remained; his firm and decided voice, speaking words of encouragement and hope during the darkest days of the revolution; and his laborious travels in the United States to obtain needed support for his struggling countrymen. After devoting the best years of his life to the cause of Texas, Austin was overcome by disease and on 27 December 1836 died an untimely death at the age of forty-three years."

1794 Birth: William Cullen Bryant, poet, editor.

1839 The first Opium War between China and Britain begins when two British frigates destroy several Chinese junks. The antecedents of the war involve a trade imbalance favoring China: while western consumers demand tea, silk, spices, and porcelain from China, Chinese desires few western products. To reverse the trade balance, Britain started exporting opium to China, despite prohibitions by the Chinese government. (Bradley)




1843 E.H. Bailey's 17 foot high statue of Lord Nelson is hauled in two sections to the top of his column in Trafalgar Square, in London. It is assembled the next day.




1852 Birth: Emperor Meiji of Japan. Known as Prince Mutsuhito until he accedes to the throne in 1867, he will be responsible for moving the capital from Kyoto to Edo, which he renames Tokyo.




1868 Republican Ulysses S. Grant wins the presidential election over Democrat Horatio Seymour.

1892 The first successful automatic telephone system is introduced in Laporte, Indiana. Almond Strowger, the inventor, came up with the idea because the non-automatic system made it possible for his customers calls to be intercepted by his business competitor. Strowger ran a funeral parlour. (Bradley)




1896 Republican William McKinley defeats Democrat William Jennings Bryan for the presidency.

1900 The first significant car show in the United States begins in New York City. The week-long event, held in Madison Square Garden, is organized by the Automobile Club of America. Fifty-one exhibitors display thirty-one automobiles along with various accessories. Among the fathers of the automobile present at the 'Horseless Carriage Show' is automaker James Ward Packard, who had completed his first car the year before, and brought three of his Packards to exhibit to the public. In addition to Packard, the show introduces a number of other fledgling automobile companies that become significant industry players in the coming decades, although none of the makes present will still be in business by 1980. The event also features automotive demonstrations, such as braking and starting contests, and a specially built ramp to measure the hill climbing ability of the various automobiles. Spectators pay fifty cents each to attend the event. (Bradley)

1901 Birth: King Leopold III of Belgium. He will become king in 1934, lead the army during the German conquest of his country in WW2 and abdicate in favor of his son Baudouin in 1951.




1903 Following a revolt engineered by the United States and triggered by the arrival of the cruiser Nashville in Panamanian waters, Panama declares itself independent of Colombia.




1908 Republican William Howard Taft is elected president, outpolling perennial loser William Jennings Bryan.

1909 Birth: James Reston, journalist, columnist.

1914 WW1: General Moltke is officially replaced as German Chief of Staff.

1916 WW1: Mackensen, commander of the German-reinforced Bulgarian Danube Army, crosses the Danube after driving north through the Dobruja.

1917 WW1: Three American soldiers are killed in action. They are the first official American casualties in World War I. By the end of the war 49,000 will be killed in action and another 230,000 wounded. Disease will take a greater toll than bullets, claiming 57,000 men. (Schlesinger I)

1917 WW1: Nov 3-Mar 25 1918 Dispatch Runner Lance Corporal Adolf endures trench warfare north of Ailette with 3 Company, 16 Bavarian Reserve Infantry Regiment. (Maser)




1918 WW1: The German naval base at Kiel revolts.

1918 WW1: Trieste is seized by an Allied naval expedition in the Gulf of Venice.

1921 Weimar: All capital stock in the "Munchener Beobachter" ("Volkischer Beobachter") is transferred to Adolf Hitler. (Sebottendorf; Roots)

1923 Volkishness: Detlef Schmude, ONT Prior at Hollenberg, writes to Jorg Lanz von Liebenfels attributing the postwar disorder to an ignorance of eugenics amongst the leadership of Germany and appealing for a dictator in the form of a "Starke von Oben" (Stong one from Above) as described by Guido von List. (Roots)

1932 Weimar: Thirty-nine prominent German industrialists and businessmen petition Hindenburg to appoint Hitler as his new Chancellor. Hindenburg refuses.




1933 Holocaust: Himmler and his staff visit Wewelsburg castle near Paderborn in Westphalia. Himmler decides to acquire it for the SS that same evening. (Roots)

1933 Church and Reich: Archbishop Groeber and Bishop Berning report that the government is willing to exempt the directors of Catholic institutions from the duty of applying for the sterilization of patients under their care. (Lewy)

1935 A plebiscite in Greece returns George II, who had been in exile since 1923, to the throne.

1935 Leon Blum, a Jew, forms the French Popular Front government.




1936 President Roosevelt is reelected in a landslide over Republican challenger Alfred M. 'Alf' Landon.

1937 Holocaust: The Danzig Senate isolates Jewish merchants and seizes their bank deposits, charging them with tax evasion.

1939 Holocaust: Hitler suggests using The Protocols of the Elders of Zion abroad to demonstrate that the true instigators of the war are Jews and Freemasons. (Segel/Levy)

1939 Holocaust: The Gestapo executes 96 Polish schoolteachers in their school and a nearby woods near Rypin.




1942 WW2: After standing firm for more than a week, Rommel's German and Italian forces begin a withdrawal from El Alamein and begin heading back for Libya.

1943 Holocaust: At Majdanek, 18,000 prisoners are murdered in a single day of slaughter, called the "harvest festival" by the SS. (Atlas)

1952 Frozen bread, an invention of a local baker who utilizes the quick-freeze technology developed by Clarence Birdseye, is offered for sale for the first time by a supermarket in Chester, New York.




1954 Death: Henri Matisse, French painter.

1954 US Chemist Linus Pauling wins the Nobel Chemistry Prize for research into the nature of the chemical bond. A peace activist, Pauling was investigated by federal authorities for his alleged communist links. His efforts against nuclear war and testing eventually lead to his reception of the Nobel Peace Prize in 1963. (Bradley)




1957 A mongrel dog named Laika becomes the first animal to be launched into space. Laika, projected inside the Soviet spacecraft Sputnik 2, dies after a few days in orbit because the craft is not designed for recovery and the batteries of her life-support system eventually drain. (Bradley)

1961 The General Assembly unanimously elects U Thant acting secretary general of the UN, following the death of Dag Hammarskjoeld.




1964 Lyndon B. Johnson is elected US president by a huge margin over Barry Goldwater.

1964 Robert Kennedy is elected senator by New York voters.

1970 Salvador Allende is sworn in as president of Chile.

1975 The Queen of England opens the North Sea pipeline, bringing 400,000 barrels of oil ashore each day at Grangemouth Refinery on the Firth of Forth.




1978 Dominica becomes independent.

1979 Five radicals are killed when gunfire erupts during an anti-Ku Klux Klan demonstration in Greensboro, North Carolina, after a caravan of Klansmen and Nazis drive into the area.

1982 Up to 1,000 Soviet soldiers and Afghan civilians die in an accident in the Salang tunnel in Afghanistan when a tanker explodes near Soviet military convoys.

1983 South Africans vote by a large majority to allow Indians and "Coloureds" some limited power-sharing in the government, but not blacks.

1986 Iran-Contra: Ash-Shiraa, a pro-Syrian Lebanese magazine, breaks the story of US arms sales to Iran; a revelation that begins a scandal reaching into the highest levels of the Reagan administration.

1986 Joaquim Chissano is chosen to take over as President of Mozambique following the death of Samora Machel in a plane crash in South Africa.

1988 In South Korea, an estimated 20,000 police stop students from carrying out a threat to seize and kill former leader Chun Doo Hwan.

1989 After weeks of demonstrations and the flight to the West of thousands, East German leader Egon Krenz pledges reforms and dismisses five members of his politburo.

1991 Israeli and Palestinian representatives hold their first ever face-to-face talks.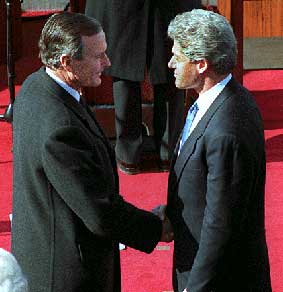 1992 Bill Clinton is elected as the 42nd president of the United States, defeating President Bush The Elder.

1997 US Attorney General Janet Reno declares there is no evidence that President Clinton broke the law with White House coffees and overnight stays for big contributors. She does, however, extend a probe of Vice President Al Gore's telephone fund raising. (Bradley)

1997 The Supreme Court lets stand California's groundbreaking Proposition 209, a ban on race and gender preference in hiring and school admission.

1998 Minnesota elects former pro-wrestler Jesse Ventura as its governor.




2001 Al-Jazeera TV broadcasts another taped message from Osama bin Laden, in which he warns Arab leaders not to back the efforts of the United Nations. Bin Laden says any Muslim who supports UN initiatives will renounce his faith and will become an "infidel." (Read excerpts from the text of Osama bin Laden's November 3rd Al-Jazeera TV broadcast.)




2001 Senior British officials say that coalition forces are about to mount the first significant ground offensive in an attempt to establish a "humanitarian bridgehead" in a corridor from Uzbekistan through enemy positions in northern Afghanistan "in support" of Northern Alliance forces.




2001 US jets continue to blast Taliban strongholds on Afghanistan's two main battle fronts.

2002


2003


2004


2004


2004









Visit:
Visit:

Click Here to email the History: One Day At a Time webmaster.