November 9


1717 The Grand Lodge of London holds the first divine service of Quatuor Coronati since making its existence public on June 24. Note: Maintaining a sense of detached agnosticism, this chronicler is neither a believer nor an opponent of the myriad of conspiracy theories touched upon on this pivotal day. Just the facts as I can sort them out.




1731 Birth: Benjamin Banneker, in Ellicott, Maryland, mathematician, surveyor (Washington DC).




1799 Napoleon (30) joins a plot to overthrew the French government and seize power in France as First Consul of a new Triumverate. He quickly proclaims the end of the French Revolution and soon becomes the virtual ruler of France. Then and now, many believe it is the result of a "Masonic/Illuminati" conspiracy.

1800 Birth: Asa Mahan, American educator and Congregational clergyman. President of Oberlin College in Ohio from 1835 - 1850, Mahan will be instrumental in establishing interracial college enrollment and in the granting of college degrees to women.




1802 Birth: Elijah P. Lovejoy, American newspaper publisher, abolitionist. "...Despite the bitter feeling against him, Lovejoy persisted in arguing the fights of freedom of the press, freedom of speech, and freedom from slavery. After seeing a slave, Francis J. McIntosh, burned at the stake, his editorials became so strident against slavery that he became an object of hatred by both Southerners and slave-holders. His press was wrecked by a mob in July, 1836, and he moved to Alton in the free State of Illinois. In Alton, Lovejoy became the Stated Clerk of the Presbytery in 1837 and the first pastor of the present College Avenue Presbyterian Church. He actively supported the organization of the Ant-slavery Society of Illinois which enraged the Alton citizens. He continued writing and publishing the Alton Observer even after three presses had been destroyed and thrown into the..."

1812 One of the worst winters on record begins. The adverse weather will later be blamed for Napoleon's defeat in Russia. His troops endure icy temperatures for 27 days.

1825 Birth: Ambrose P. Hill, Lieutenant General (Commander 3rd Corps, ANV).

1836 Birth: Christian business traveler Samuel Hill. In 1899 Hill, John Nicholson and WJ Knights will CO-found the Gideons, a Christian organization that ministers through distribution of the Scriptures. To date, the Gideons have placed over 12 million bibles and 100 million New Testaments.

1837 British philanthropist Moses Montefiore, 52, becomes the first Jew to be knighted in England. Montefiore is a banking executive who has devoted his life to the political and civil emancipation of English Jews.

1841 Birth: Edward VII, eldest son of Queen Victoria. He will become King of Great Britain after his mother's death in January 1901.

1848 The first US Post Office in California opens in San Francisco at Clay and Pike streets. At the time there are only about 15,000 European settlers living in the state.

1850 Birth: Lewis Lewin, in Germany, toxicologist, father of psychopharmacology.




1853 Birth: Stanford White, architect whose designs will include Madison Square Garden and Washington Arch.

1886 Quatuor Coronati Lodge No. 2076 celebrates the feast day of Quatuor Coronati for the first time since its founding.

1872 A fire destroys nearly 1,000 buildings in Boston.




1873 Birth: Fritz Thyssen, Germany's leading industrial tycoon and a partner of Averell Harriman who will support Hitler financially for 13 years, beginning in October 1923. Thyssen will have a falling-out with Hitler in 1936 and flee to France in 1939. Thyssen will tell the American OSS in 1940 that he has seen Austrian documents proving that Adolf Hitler is the illegitimate grandson of Baron Rothschild of Vienna, and that these documents are responsible for the assassination of Dollfuss in Austria, who had originally compiled them. Thyssen's story is later confirmed by Hansjurgen Koehler, but is now dismissed by most historians. Thyssen will be extradited to Germany by the Vichy government in 1941, and survive several concentration camps. After the war, he will emigrate to Argentina.




1888 Birth: Jean-Omer-Marie-Gabriel Monnet, the so-called "Father of Europe," in Cognac, France.

1900 Russia completes its occupation of Manchuria.

1903 Birth: Gregory Pincus, inventor (birth control pill).




1904 Birth: Victor Brack, Section chief in the Fuhrer Chancellery responsible for running the "euthanasia" program. Brack an engineer will be closely associated with Phillip Bouhler. Six hospital killing centers within Germany, equipped with gas chambers and crematoria, will be built up by Brack, and constitute a system that will eliminate thousands of people each month during the early years of the war. Will be sentenced to death at the end of the Doctor's Trials in 1947 and hanged at Landsberg prison on 2 June 1948.

1906 President Theodore Roosevelt leaves Washington, DC, for a 17-day trip to Panama and Puerto Rico, becoming the first president to make an official visit outside of the United States.

1911 George Claude of Paris, France applies for a patent on neon advertising signs. His handiwork for advertisers appeared at various times on the Eiffel Tower.

1914 WW1: Dispatch Runner Lance Corporal Adolf Hitler is transferred to Regimental HQ, 16 Bavarian Infantry Regiment. (Maser)




1914 WW1: The German cruiser Emden is sunk in action with the Australian cruiser Sydney in the Cocos Islands.

1915 Birth: Sargent Shriver, Democratic VP candidate (1972), directed Peace Corp.




1917 Russian Revolution: Lenin forms the world's first Communist government and quickly asks Germany for an armistice. (Compton's)




1918 WW1: The Second Reich collapses and Chancellor Prince Max von Baden turns over the German government to Frederich Ebert, who shortly thereafter officially proclaims the new German socialist republic. Kaiser Wilhelm II (above) of Germany abdicates and flees to the Netherlands.




1918 WW1: Upon hearing this news, Lance Corporal Adolf Hitler, recovering in a field hospital from a British gas attack, suffers a relapse and his blindness suddenly returns. He then claims to experience a supernatural vision, and recovers, he says, only after vowing to God that he will dedicate his life to politics. (Toland)


1918 Volkishness: In the evening, Thule Grandmaster Sebottendorff, delivers an oration to the Thule Society in Munich, stating: " Yesterday we experienced the collapse of everything which was familiar, dear and valuable to us. In the place of our princes of Germanic blood rules our deadly enemy: Judah. What will come of this chaos, we do not know yet. But we can guess. A time will come of struggle, the most bitter need, a time of danger... As long as I hold the iron hammer (a reference to his Master's hammer), I am determined to pledge the Thule to this struggle. Our Order is a Germanic Order, loyalty is also Germanic. Our god is Walvater, his rune is the Ar-rune. And the trinity: Wotan, Wili, We is the unity of the trinity. The Ar-rune signifies "Aryan," primal fire, the sun and the eagle. And the eagle is the symbol of the "Aryans." In order to depict the eagle's capacity for self immolation by fire, it is colored red. From today on our new symbol is the red eagle, which warns us that we must die in order to live." Sebottendorff continues by exhorting the Thule members to fight "until the swastika rises victoriously out of the icy darkness" and closes his speech with a racist-theosophical poem by Philipp Stauff. (Roots)

1918 Birth: Spiro Theodore Agnew, 39th vice president (1973-77) - to Richard Nixon. Will resign in disgrace.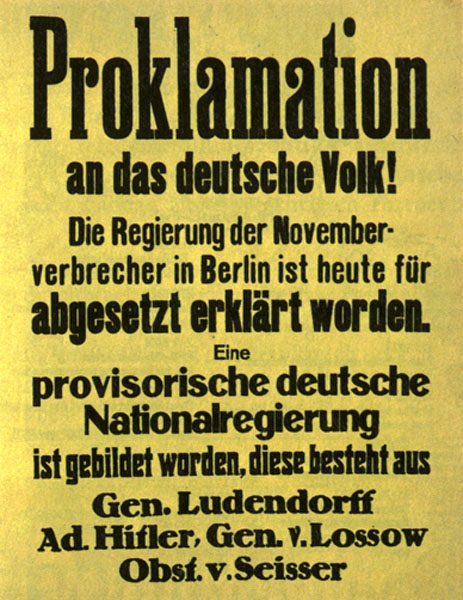 1923 The Munich Putsch: Hitler, with the backing of General Ludendorff, attempts to take over the Bavarian government by force of arms. Hitler claims that his main purpose is to squash a plot by Bavarian separatist to secede from Germany. Around eleven o'clock this morning, approximately three thousand storm troopers follow Hitler and Ludendorff on their way to the center of Munich. They meet up with a group of police who let them pass after having been given an ultimatum by Goering that if they are not allowed to pass, hostages will be shot.

Then the column arrives at the narrow Residenzstrasse. At the other end of the street, a large group of police wait. Hitler is in the front with his left arm linked with the right arm of Scheubner-Richter. Graf shouts to the police to inform them that Ludendorff is present. Then a shot rings out. No one is sure which side fires the first shot. Scheubner-Richter is one of the first to be hit. Mortally wounded and with his arm linked with Hitler, Hitler goes down too. The fall dislocates Hitler's shoulder. The shooting lasts approximately sixty seconds. Ludendorff keeps walking. As everyone else falls to the ground or seeks cover, Ludendorff defiantly marches straight ahead. He and his adjutant, Major Streck, march right through the line of police. He is very angry that no one had followed him and is soon arrested by the police.

Goering had been wounded in the groin. After some initial first aid by two helpful Jewish women, he is spirited off and smuggled into Austria. He will remain in exile for years, fighting a recurring infection from the wounds of this day and beginning the cycle of heroin addiction that would plague his life. Hess also flees to Austria. Roehm surrenders. Hitler, though not really wounded, is one of the first to leave, spirited off by his compatriots. Taken to the home of the Hanfstaengls, he is hysterical and depressed, contemplating suicide. Two days later, Hitler is arrested. According to different reports, between fourteen and sixteen Nazis and three policemen die during the Putsch. Note: This item erroneously appeared in yesterdays post. The item that should have been there instead of this one, an item dealing with the 'Beer Hall' aspect of the Putsch, will be forthcoming. Sorry for the confusion.


1924 Birth: Robert Frank, photographer.

1925 The SS is founded. (Maser)

1929 IG Farben and Standard Oil sign a cartel agreement that has two objectives: (1) The cartel agreement granted Standard Oil one-half of all rights to the hydrogenation process (producing gasoline from coal, developed by Farben) in all countries except Germany. (2) Standard and Farben agreed "never to compete with each other in the fields of chemistry and petroleum products. In the future, if Standard Oil wished to enter the broad field of industrial chemicals or drugs, it would do so only as a partner of Farben. Farben in turn, agreed never to enter the field of petroleum except as a joint venture with Standard." (Griffin)

1930 Weimar: The Gauleiter (NSDAP regional party leader) of the state of Hesse seeks permission to lay wreaths on this date at the graves of German soldiers killed in WWI and buried in Catholic cemeteries. His request is denied by the Church on the ground that political parties whose ultimate outlook on life conflicts with Church doctrine cannot be allowed to hold such ceremonies on Catholic soil. (Lewy)

1932 Leon Nicole, leader of the Bolsheviks in Switzerland, and his assistant, a Russian Jew named Dicker, instigate an uprising that results in the deaths of 13 people. More than a hundred are injured.

1932 Death: Nadezhda Alliluyeva, Stalin's second wife. Officially ruled as peritonitis resulting from a burst appendix; various other theories are that the cause is suicide, or murder on the orders of Stalin, or that she is killed by Stalin himself.




1933 A huge Blutzeuge celebration is held in Munich. At midday, the march from the Bürgerbräukeller over the Ludwig Bridge to the Feldherrnhalle -- which had ended so badly in 1923 -- is reenacted. Hitler and the surviving members of the original march, including the Freikorps fighters (without General Ludendorff) silently trod the same fateful path through the streets of Munich. The Carillon in the city hall played the Horst Wessel Song when the columns reached the Marienplatz. A small bronze memorial honoring the dead of 1923 is unveiled after a moving speech by Hitler, who now plans to make a permanent annual event of this commemoration ceremony. On the evening of every November 9th, SS recruits will gather and, at Hitler's orders, pledge their oath before the memorial to be willing at all times to give their blood and their lives for him. (Domarus)




1934 Hitler, instead of reenacting the march to the Feldherrnhalle, delivers a speech to the newest Party members during their oath ceremony. Most have just recently left the ranks of the Hitler Youth. The speech is held in the same square where eleven years earlier the Munich police had fired upon Hitler and his followers during the 1923 putsch. "And you will have to be fighters! For there are still many, many opponents of our movement in Germany. They do not want Germany to be strong. They do not want our Volk to be united. They do not want our Volk to defend its honor. They do not want our Volk to be free. They may not want it, but we want it, and our will WILL defeat them..."




1934 Birth: Carl Sagan, in New York City, American astronomer, Pulitzer Prize-winning author, professor (Cosmos, Broca's Brain).

1935 Japanese troops invade Shanghai, China.

1938 Hitler authorizes Goering to deal with all Jewish political affairs. Hitler tells Goering that he is interested in sending German Jews to Madagascar and that he will make an initiative to the Western powers. (Architect)

1938 Kristallnacht: Nov 9-10 Ernst vom Rath dies and a massive pogrom, known now as Kristallnacht (the night of glass) is launched against the Jews of Germany. 191 synagogues are set on fire and 76 others are completely destroyed, along with hundreds of Jewish shops and schools. 91 Jews are killed during the night of November 9th alone and 35,000 male Jews are arrested, herded into concentration camps and their property seized. (Atlas)




1939 WW2: On Hitler's instructions, Goebbels cancels the Day of National Solidarity (Blutzeuge) in Munich, saying, "In these times, it is too dangerous." (Goebbels)




1940 Death: Neville Chamberlain, after a sudden illness.




1940 WW2: According to Goebbel's diary, Hitler's annual speech on the Day of National Solidarity (Blutzeuge) is "directed exclusively on the domestic population and finds little support." (Goebbels)




1942 WW2: Allen Dulles arrives in Bern, Switzerland, on the last train from Vichy France, only hours before the Germans occupy southern France and cut the rail link. Ostensibly taking up a post as assistant to the American minister in Bern, Dulles's real job is to organize the Office of Strategic Services (OSS) Mission in Switzerland. He soon begins setting up a professional intelligence outpost on Germany's southern border. Dulles had already met Eduard Schulte 15 years earlier at Sullivan and Cromwell, Dulles law firm, which sometimes represented Giesche's partner Anaconda Copper. (Silence)

1942 WW2: Hitler attends Blutzeuge (Day of National Memory) ceremonies in Munich.

1943 WW2: The 20th anniversary of the Munich Putsch. Hitler gives a speech at the Lowenbraukeller in Munich, which is recorded for a later radio broadcast. During the speech Hitler announces that the German people have inflicted such suffering and destruction on the peoples of Europe that they can expect no mercy in case of defeat. If Germany is defeated, he, Adolf Hitler, will not shed a single tear, even if all the cities of Germany are laid waste, and every German man, woman and child put to the sword. The German people will only have themselves to blame. The censors delete this outburst, but a Turkish press official is there, who later passes it on to British intelligence. (Architect)

1949 The East German Parliament in Berlin unanimously passes a law restoring full citizenship rights to ex-Nazis and army officers. From now on any Russian Zone Nazi - unless he has been convicted of war crimes - can vote, hold public office, and pursue almost any profession. East German Deputy Premier Walter Ulbricht explaining the civil rights law for Nazis and militarists, says that "antifascist forces were sufficiently consolidated," and besides, "many have repented." (International Herald Tribune, Nov. 10, 1949, Nov. 10 1999.)

1952 Death: Chaim Weizmann, former head of the international Zionist movement and the first president of the newly formed state of Israel dies in Rehovot, Israel. (See Blutzeuge)

1953 Death: Welsh poet Dylan Thomas, in New York aged 39, after falling into an alcoholic coma after drinking 18 whiskies.

1962 The Republic of China Army test-fires its homemade T-2 rocket.

1962 The United States completes an emergency airlift of arms and ammunition to India during India's border war with Communist China.




1965 The "Great Northeast Power Outage" blacks-out New York City, several states in the Northeast, and parts of Canada after a series of mysterious power failures that last up to 13 1/2 hours. The blackouts strike just before dusk. Losses are estimated at nearly $100 million US. Note: Several Nazi groups in Germany later claim responsibility and say that their disruption of electricity to New York had been a symbolic demonstration of their power. "We wanted to show the Jews of New York just how quickly we could put them back in the Dark Ages," one elderly Nazi joked in 1992.

1967 NASA launches the unmanned Apollo 4 into orbit with the first successful test of a Saturn V rocket.

1970 Death: General Charles De Gaullem, at age 79. Ge Gaulle for many years had been aware of ODESSA and Neo-Nazi activity within the CIA and had his agents keeping him informed. The coincidence of his death should, according to some, not be overlooked. (See Blutzeuge)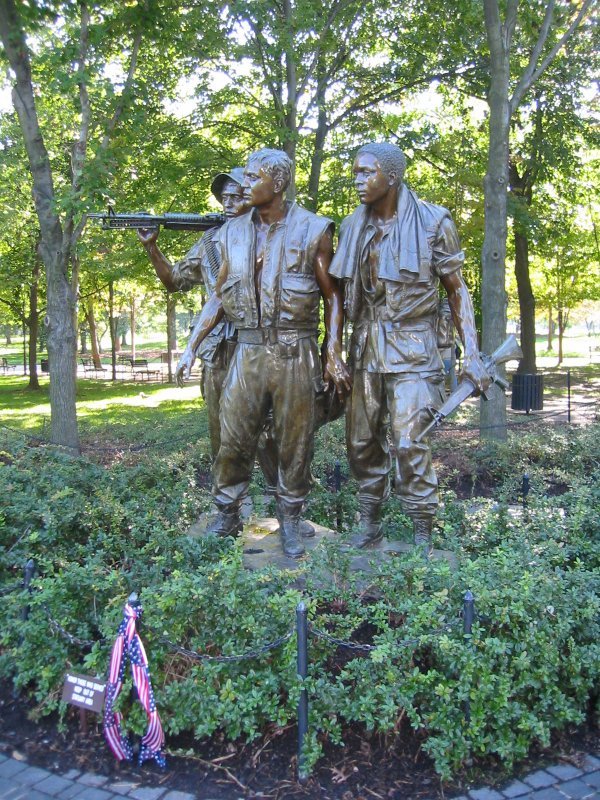 1984 Three Servicemen, a sculpture by Frederick Hart, is unveiled in Washington, DC. It is the final addition to the Vietnam Veterans Memorial. The statue faces the wall of names of more than 58,000 Americans who were either killed or reported missing in action during the Vietnam War.




1989 Without warning, East German border guards open the gates to West Berlin and the Berlin Wall suddenly comes down. The swiftness of its fall stuns the world and many find it suspicious that this remarkable event coincides with the date of Adolf Hitler's most "sacred" Nazi holiday: Gedenktag fuer die Gefallenen der Nazi Bewegung. Note: November 9 was a date connected with the National Socialist movement from its very beginning and with Hitler as far back as World War I. (Blutzeuge)

1989 The fifth plenary meeting of the Chinese Communist Party's 13th Central Committee concludes. Deng Xiaoping resigns from the post of chairman of the party's Central Military Commission. Jiang Zemin succeeds Deng to take up the post.

1999 Four founders of the outlawed "China Democracy Party" are sentenced to five to 11 years in prison by the Hangzhou Intermediate People's Court on charges of "subverting state power."




1999 Tenth anniversary of the fall of the Berlin Wall. In Berlin, more than 100,000 people celebrate at the Brandenburg gate. Neo-Nazis and violent nationalists avoid the celebration. No skinheads or violent reactionaries create any disruptions in Berlin, and the celebration is peaceful and well-organized. There are, however, several desecration's and Neo-Nazi incidents in a number of smaller cities. Many Neo-Nazis, both in Europe and America believe this date marks a day of very special importance (schicksalstag) to their movement.

1999 Reinhard meets briefly with Heinz C. Prechter at the Hotel Adlon in Berlin. Prechter, who introduces himself as Chairman of the Committee to Elect George W. Bush, Jr., is also Chairman and CEO of ASC INCORPORATED of Southgate, MI., as well as a number of other corporations both in Europe and America. Some describe Prechter as being a "major figure" in "German-American cooperation." Earlier in 1999, he was the 1999 recipient of the Ellis Island Medal of Honor.

1999 Death: John (Jack) D. Le Vien, filmmaker and executive producer of the Academy Award (1963) winning documentary "BLACK FOX, the Rise and Fall of Adolf Hitler," at a hospital in London, where he had lived for the past thirty years. He was 81. Much of his work evolved from his friendships with Churchill and the Duke of Windsor. He was born in New York in 1918 and during WW2 was a high ranking press aide to General Eisenhower. Le Vien was chief press officer with the Allied Task Force invading Algeria, and in Tunisia, organized an official press camp. He did the same in Italy, France, and Germany. (New York Times, Nov. 22, 1999))




2001 In the biggest victory of the month long war, anti-Taliban forces capture the northern Afghan city of Mazar-e-Sharif. The northern Alliance said the attack began at 7 a.m., with troops and tanks first taking the airport, and then capturing the city center by 6 p.m. Reports of casualties are 90 to 250 Taliban and 12 Alliance, and 200 - 500 Taliban prisoners.




2001 Taliban officials in Kabul confirm they have lost control of the strategic city.




2001 President Bush meets with Indian PM Vajpayee in Washington.




2001 Anthrax spores are found in four New Jersey postal facilities.

2001


2001


2002


2002


2003


2003


2004


2004


2004


2004









Visit:
Visit:

Click Here to email the History: One Day At a Time webmaster.