November 12


1035 Death: King Cnut (Canute), King of the Danes (1016-1035). This supremely confident king of England and Denmark once commanded the sea to retreat.

1276 Suspicious of the intentions of Llywelyn ap Gruffydd, the Prince of Wales, English King Edward I resolves to invade Wales.

1558 Death: Rabbi Shalom Shakna ben Joseph, founder of first Polish Yeshiva.




1651 Birth: Juana Ines de La Cruz, in Mexico, poet, nun, feminist (Primer Sueno).




1660 A Pilgrim's Progress: English author John Bunyan is arrested for preaching without a license. He refuses to give up preaching and consequently remains in jail for 12 years.

1701 The Carolina Assembly passes a Vestry Act making the Church of England the official religion of the Carolina Colony. Note: Strong opposition by Quakers and other resident Nonconformists will force the colony's proprietors to revoke their legislation two years later.

1775 US Revolutionary War: General Washington instructs recruiting officers not to enlist blacks.




1790 Birth: Letitia Christian Tyler, first wife of President Tyler. "Letitia Tyler had been confined to an invalid's chair for two years when her husband unexpectedly became President. Nobody had thought of that possibility when he took his oath of office as Vice President on March 4, 1841; indeed, he had planned to fill his undemanding duties from his home in Williamsburg where his wife was most comfortable, her Bible, prayer book, and knitting at her side. Born on a Tidewater Virginia plantation in the 18th century, Letitia was spiritually akin to Martha Washington and Martha Jefferson. Formal education was no part of this pattern of life, but Letitia learned all the skills of managing a plantation, rearing a family, and presiding over a home that would be John Tyler's refuge during an active political life. They were married on March 29, 1813--his twenty-third birthday. Thereafter, whether he served in Congress or as Governor of Virginia, she attended to domestic duties. Only once did she join him for the winter social season in Washington. Of the eight children she bore, seven survived; but after 1839 she was a cripple, though "still beautiful now in her declining years." So her admiring new daughter-in-law, Priscilla Cooper Tyler, described her--"the most entirely unselfish person you can imagine...Notwithstanding her very delicate health, mother attends to and regulates all the household affairs and all so quietly that you can't tell when she does it." In a second-floor room at the White House, Letitia Tyler kept her quiet but pivotal role in family activities. She did not attempt to take part in the social affairs of the administration. Her married daughters had their own homes; the others were too young for the full responsibility of official entertaining; Priscilla at age 24 assumed the position of White House hostess, met its demands with spirit and success, and enjoyed it. Daughter of a well-known tragedian, Priscilla Cooper had gone on the stage herself at 17. Playing Desdemona to her father's Othello in Richmond, she won the instant interest of Robert Tyler, whom she married in 1839. Intelligent and beautiful, with dark brown hair, she charmed the President's guests--from visiting celebrities like Charles Dickens to enthusiastic countrymen. Once she noted ruefully: "such hearty shakes as they gave my poor little hand too!" She enjoyed the expert advice of Dolley Madison, and the companionship of her young sister-in-law Elizabeth until she married William N. Waller in 1842. For this wedding Letitia made her only appearance at a White House social function. "Lizzie looked surpassingly lovely," said Priscilla, and "our dear mother" was "far more attractive to me...than any other lady in the room," greeting her guests "in her sweet, gentle, self-possessed manner." The first President's wife to die in the White House, Letitia Tyler ended her days peacefully on September 10, 1842, holding a damask rose in her hand. She was taken to Virginia for burial at the plantation of her birth, deeply mourned by her family. "She had everything about her," said Priscilla, "to awaken love..."

1812 In their retreat from Moscow, the remnants of Napoleon's Grand Armee cross the River Berezina, leaving 10,000 stragglers behind.




1815 Birth: Elizabeth Cady Stanton, in Johnstown, New York, suffragist (80 Years & More), political reformer and founder of the Women's Rights Convention.

1817 Birth: Mirza Hoseyn 'Ali Nuri (Baha' Ullah), founder of the Baha'i faith.




1840 Birth: Auguste Rodin, French sculptor (Kiss, Thinker). Above: Defence of Paris.

1841 Birth: Lord Rayleigh, in England, physicist, chancellor of Cambridge (1908-14).

1847 James Simpson gives the first public demonstration of the use of chloroform as an anesthetic at Edinburgh University.




1859 The first flying-trapeze circus act is performed by Frenchman Jules Leotard at the Circus Napoleon. And, yes, the garment now known as the leotard was his invention.

1863 US Civil War: Confederate General James Longstreet arrives at Loudon, Tennessee, to assist the attack on Union General Ambrose Burnside's troops at Knoxville.

1866 Birth: Sun Yat-Sen, Chinese revolutionary who will found the Nationalist Party.

1893 An agreement is signed between Afghanistan and Britain marking the boundary between Afghan tribal lands and British territories.




1903 Death: Camille Pissarro, French artist.

1903 The Lebaudy brothers of France set an air-travel distance record of 34 miles in a dirigible.




1903 Birth: Lewis Offield, in Sedalia, Missouri.

1912 A search party finds the remains of English explorer, Robert Falcon Scott, and his companions in Antarctica, after the ill-fated South Pole expedition.

1912 Spanish Prime Minister Jose Canalejas is assassinated by anarchist gunman Manuel Pardinas, who then turns the gun on himself.

1915 WW1: Britain annexes Gilbert & Ellice Islands.

1915 Theodore W. Richards, of Harvard University, becomes the first American to be awarded the Nobel Prize in chemistry.

1917 WW1: The arrival of British and French reinforcements in Italy enables Cadorna to stabilize the Italian front at the Piave River. Italy suffers over 40,000 casualties, as well as 275,000 prisoners.




1918 An Allied fleet steams through the Dardanelles, and arrives off Constantinople (Istanbul) the next day, dramatizing the collapse of the Ottoman Empire.

1918 Emperor Karl of Austria-Hungary abdicates as Austria becomes a republic.

1919 The first flight from England to Australia, flown by Ross and Keith Smith, takes off from Hounslow, near London. (See Dec 17)

1921 A Limitation of Armaments conference takes place in Washington, DC.

1927 Trotsky is expelled from the Soviet CP as Stalin becomes the undisputed dictator.




1933 Weimar: Hitler receives 92% of the vote in new German elections.

1936 The opening session of the Peel Commission begins in Palestine.

1938 Mexico agrees to compensate the United States for land seizures.

1938 Holocaust: Goering summons a large number of officials from various agencies to the Air Ministry in Berlin to deal with the economic consequences of Kristallnacht and the ways to remove Jews from the German economy. He expresses a desire to somehow arrange for Madagascar to become a Jewish homeland. (Architect)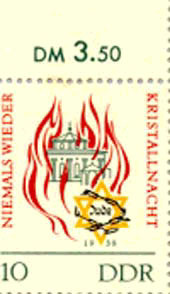 1938 Holocaust: German Jewry is ordered to pay "Atonement Payments" of one billion Reichsmarks to the German government for the damages caused by German citizens during Kristallnacht, and insurance payments amounting to more than ten million Reichmarks are soon paid to the German government. (Days)

1938 Holocaust: Jews are prohibited from attending theaters, movies, concerts, and exhibits. Jews are no longer allowed to own stores and artisan businesses. (Persecution)




1938 Holocaust: Nov 12-14 Nazis in Danzig burn down two synagogues and badly damage two others.

1939 Church and Reich: A Te Deum is sung in the Cathedral of Munich "in order to thank the divine Providence in the name of the archdiocese for the Fuehrer's fortunate escape from the criminal attempt made upon his life." ("Munchener Katholische Kirchenzeitung," Lewy)

1939 Diary of Leon Gladun: I've been in this camp for two weeks now. There's several thousand of us here. The conditions are much better, the food more plentiful. We have our own cell--only Officer Cadets. From time to time they take us out for work, other than that it's quite livable--sometimes even merry as hell. We play Oko [blackjack] through the night, sleep, eat--we'll manage to work things out. It's quite the life, we even have movies here.

1939 WW2: King George VI of England and President Lebrun of France reply to Queen Wilhemina and King Leopold refusing to negotiate with Hitler.

1940 WW2: Molotov arrives more meetings in Berlin and begins making demands.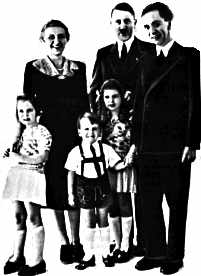 1940 WW2: Joseph Goebbels writes in his diary: "Long talks on vegetarianism and the coming religion with Hitler. The fuehrer is totally consistent in this question and has all the arguments at his disposal." (Goebbels)




1942 WW2: The naval battle of Guadalcanal begins between Japanese and American forces.

1942 WW2: The British Eighth Army under General Bernard Montgomery captures Tobruk, Libya, taking at least
30,000 prisoners.


1944 WW2: US fighters wipe out a Japanese convoy near Leyte, consisting of six destroyers, four transports and 8,000 troops.




1944 WW2: The German battleship Tirpitz, sister ship of the Bismarck and Hitler's last major warship, is sunk at Tromso Fjord in northern Norway. It is the last of Hitler's 'unsinkable battleships,' sunk by Lancaster bombers.

1948 Hikedi Tojo, Japanese prime minister, and seven other WW2 Japanese leaders, are sentenced to hang by an international war crimes tribunal.

1949 Death: Walter Buch, believed to have committed suicide by slashing his wrists and drowning himself in Ammer Lake. Buch had been Chairman of the Supreme Party Court of the NSDAP and father-in-law of Martin Bormann. Was sentenced to five years in a labor camp after the war.

1951 Korea: The US Eighth Army in Korea is ordered to cease offensive operations and begin an active defense.

1956 The largest observed iceberg, measuring 208 by 60 miles, is sighted.

1960 The satellite Discoverer XVII is launched into orbit from California's Vandenberg Air Force Base.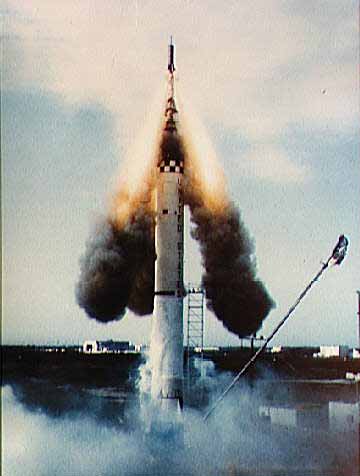 1960 The Mercury-Redstone 1 test launch fails.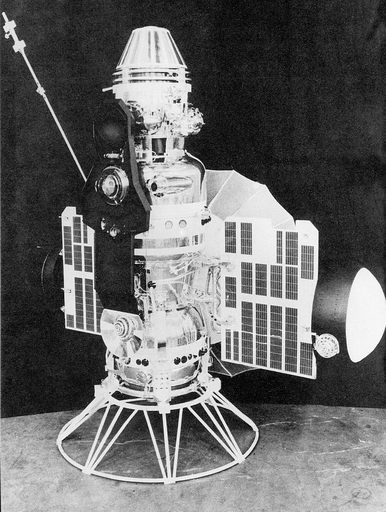 1965 Venera 2 is launched by the Soviet Union toward Venus.

1968 The US Supreme Court declares unconstitutional an Arkansas law banning the teaching of evolution in public schools.

1968 The UN General Assembly votes against admission of Communist China.




1969 Author Alexander Solzhenitsyn is expelled from the Soviet Writers Union for antisocial behavior.




1969 The Nam: The US army announces that it is investigating William Calley for the alleged massacre of civilians at the Vietnamese village of My Lai in March 1968.

1970 In East Pakistan a cyclone and tidal wave hits several districts, causing the deaths of at least 200,000 people.

1971 The Nam: President Richard Nixon announces the withdrawal of about 45,000 US troops from Vietnam by February.

1974 South Africa is suspended from the UN General Assembly over its racial policies.




1977 In West Germany Ingrid Schubert, a founding member of the Baader-Meinhof gang, commits suicide in her prison cell.




1979 Iran Hostage Crisis: President Jimmy Carter announces an immediate halt to all imports of Iranian oil and a freeze on Iranian assets. Note: Islamic students had seized the US Embassy in Tehran on 4 November.

1980 New York City Mayor Ed Koch admits to having tried marijuana.




1980 The US space probe Voyager I, approaches to 77,000 miles (124,000 km) of Saturn.

1981 The second shuttle mission lifts off, marking the first time a spacecraft had been launched twice (Columbia 2).

1982 Polish Solidarity union leader Lech Walesa is freed after 11 months detention in a state-owned hunting lodge.




1982 Yuri V. Andropov succeeds Leonid Brezhnev as Soviet leader. Andropov's reign will be remembered most fondly for it's extremely inexpensive vodka; domestic policy through an opiate of the masses.

1984 Spacewalker Joseph Allen became the first astronaut to rescue a satellite. This is supposed to be the first space salvage.

1987 The Blizzard of 87 closes schools from Washington DC to Maine.

1987 Boris Yeltsin is purged as head of Moscow's Communist Party for criticizing the slow pace of reform.

1989 Brazil holds its first free presidential election in 29 years.

1990 Emperor Akihito is enthroned in Japan.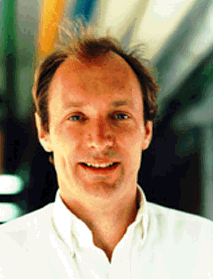 1990 Tim Berners-Lee circulates a draft of a proposal for a hypertext system, which he calls the World Wide Web. Berners-Lee is a British computer scientist on fellowship at CERN, the European Particle Physics Laboratory in Geneva, Switzerland. By 1990, he had created the basic parameters of the World Wide Web. A working version is posted on CERN's internal computers in May 1991. In August 1991, Berners-Lee releases Web files and requests input from other developers, and by the beginning of the next year, the Web is widely discussed. In early 1993, when Marc Andreessen and other graduate students at the University of Illinois will release the Mosaic browser (Netscape's precursor), the Web will rapidly became a popular medium.




1991 Leroy Witucki, a 10-year police veteran in Indiana, pleads guilty to stealing a pair of tickets to a George Thorogood rock concert off the body of a motorist killed in a car crash. He gave the tickets to a family member, who sold them to friends. Relatives of the crash victim were quite surprised when the ticket holders sat next to them at the concert 3 weeks after the fatal accident. Witucki will resign from the police force, and face up to three years in prison and a $10,000 fine.

1997 The UN Security Council imposes new sanctions on Iraq for constraints being placed on UN arms inspectors.




2001 American Airlines Flight 587 flying from NYC's Kennedy Airport to the Dominican Republic crashes into a residential neighborhood in Queens, NY, only minutes after takeoff. All 260 passengers and crew are killed, and six people on the ground are missing. Flight 587 left the airport at 9:14 A.M., over 70 minutes late. The early indications lead NTSB investigators to announce the likely cause was mechanical failure, and not another act of airline terrorism. Eyewitnesses say that the engines and other plane parts appeared to have exploded and then fell off prior to the crash.




The engines are found blocks from the main crash site, and the tail section is retrieved from the waters in Jamaican Bay. President Bush tells the American people, "New York people have suffered mightily, they suffer again, but there is no doubt in my mind that New Yorkers are resilient and strong and courageous people and will help their neighbors overcome this recent incident." When NY Mayor Giuliani heard of the plane crash he said, "Oh, my God. We are just being tested one more time and we are going to pass this test too." Ironically the plane crashes into a neighborhood where many firefighters and policemen lived, and who were involved in the September 11th WTC rescue efforts. The community where Flight 587 crashed had already lost over 70 people in the WTC attack weeks before.

2001 Taliban forces unexpectedly desert the capital of Kabul at dawn, after a series of stunning military victories by opposition forces in the north over the past several days. Residents of Kabul are seen shouting and cheering as the Taliban departed in columns and vehicle convoys heading south. Images of western soldiers are seen with Alliance fighters on the Kabul front lines. The Alliance now claim control of over 50 per cent of Afghanistan. Reports indicate that up to 600 Taliban supporters were executed after the Alliance takeover of Mazar-e-Sharif.

2001 The US and the United Nations speed up the efforts to form a new government in Afghanistan.

2001


2003


2003


2004


2004


2004


2004









Visit:
Visit:

Click Here to email the History: One Day At a Time webmaster.