NAVIGATION COLUMN
Home Page

Yahoo Groups:
History 1 Day 2
Nuremburg Data


---
Daily History Pages:
---

FAIR USE NOTICE: This site could contain copyrighted material the use of which has not always been specifically authorized by the copyright owner. We are making such material available in our efforts to advance understanding of historical, political, human rights, economic, democracy, scientific, environmental, and social justice issues, etc. We believe this constitutes a 'fair use' of any such copyrighted material as provided for in section 107 of the US Copyright Law. In accordance with Title 17 U.S.C. Section 107, the material on this site is distributed without profit to those who have expressed a prior interest in receiving the included information for research that could include educational purposes. If you wish to use copyrighted material from this site for purposes of your own that go beyond 'fair use', you could most likely need to obtain permission from the copyright owner.


October 5




0869 The Fourth Constantinople (8th Ecumenical) Council opens under Pope Adrian II in the West and Emperor Basil I in the East. During its six sessions, the council condemns iconoclasm. It is the last ecumenical council held in the East.

1285 Death: Philip III of France, of the plague. He is succeeded by Philip IV (the Fair).

1450 All Jews are expelled from Lower Bavaria by order of Ludwig IX.

1511 Pope Julius II forms the Holy League between Aragon, Venice and the Papacy. Its stated aim is to defend the unity of the church but it also seeks to drive the French out of Italy.

1582 The Gregorian calendar is introduced in Italy, and other Catholic countries.




1713 Birth: Denis Diderot, in France, encyclopaedist (Dictionnaire Encyclopedique).




1762 The British fleet bombards and captures Spanish-held Manila in the Philippines.

1789 French Revolution: A mob from Paris marches on Versaille and returns the King to Paris. After the king and the Assembly have moved to Paris, the Benton Club occupies a monastery on the Rue Saint Jacques formerly used by Dominican monks. Because of the street name, these monks had been known as Jacobins. The club officially adopts this name.




1795 French Revolution: Napoleon crushes a Royalist attempt to seize power in Paris. Without hesitation he orders the rebels shot down in the streets.




1813 War of 1812: A US victory at the Battle of the Thames, in Ontario, breaks Britain's Indian allies with the death of Shawnee Chief Tecumseh, making the Detroit frontier safe.

1821 Greek rebels capture Tripolitza, the main Turkish fort in the Peloponnese area of Greece.




1829 Birth: Chester A. Arthur, 21st president of the United States (1881-1885), in Fairfield, Vermont.

1840 Birth: John Addington Symonds, British historian, writer (Probs in Greek Ethics).




1863 US Civil War: A submarine is used in an attack for the first time. The USS New Ironsides, the largest ship in the US Fleet, 245 feet long, 4500 tons; is attacked and disabled for over a year.




1864 US Civil War: At the Battle of Allatoona, a small Union post is saved from Lieutenant General John Bell Hood's army.

1864 Most of Calcutta is destroyed by a cyclone with approximately 60,000 people lost.




1877 After marching for more than 1,400 miles and confronting 2,000 US soldiers along the way, Chief Joseph surrenders with the starving remnant of the Nez Perce people. Chief Joseph is best known for his resistance to the US Government's attempts to force his tribe onto reservations. The Nez Perce was a peaceful nation that spread from Idaho to Washington State. In his surrender speech he proclaims, "From where the sun now stands I will fight no more forever."

1880 The first ball-point pen is patented by Alonzo T. Cross.




1882 Birth: Robert Goddard, American rocket scientist, will hold more than 200 rocketry patents.

1882 Outlaw Frank James surrenders in Missouri six months after brother Jesse's assassination.

1887 Birth: Rene Cassin, pacifist (Nobel Peace Prize 1968).




1892 The Dalton Gang comes to and end in a shoot-out in Coffeyville, Kansas during a bank holdup. Emmett, Grat, Bob, Dick Broadwell, and Bill Powers ride into Coffeyville, Kansas, wearing false beards and carrying rifles. As Grat, Broadwell, and Powers walk into the Condon Bank and Bob and Emmett enter the First National Bank, one of town's citizens recognizes the Daltons and calls the town's men to action. As the gang is about to make their getaway, a throng of armed townsfolk surprise them. The five thieves shoot their way to the alley where their horses are waiting and try to defend themselves, but they are greatly outnumbered. In the gunfight that follows, all five men are shot. Dick Broadwell makes it out of the alley on his horse but dies a few miles outside of town. Emmett Dalton, who had been shot 20 times, is the only one that manages to survive. He receives a life sentence for the murder of the men who tried to stop him but will be released a mere 15 years later and live a peaceful and law-abiding life until his death in 1937.

1908 Bulgaria declares its independence from Turkey (Ottoman Empire). Ferdinand I becomes Tsar.

1910 Portugal is declared a republic after a successful revolt against King Manuel II. Throughout the 19th century, there is a constant struggle between those favoring a monarchy and those wanting a republic. Portugal's new democratic phase lasts until 1926, when a military coup ushers in a long period of dictatorship under Antonio de Oliveira Salazar.

1915 WW1: Germany issues an apology and promised for payment for the 128 American passengers killed in the sinking of the British ship Lusitania.

1916 WW1: Lance Corporal Adolf Hitler is wounded in the left thigh during fighting at Le Bargur with 3 Company, 16 Reserve Infantry Regiment. (Maser)

1920 The Soviets ask Poland for an armistice.

1919 The first conversation between a submerged submarine and a ship takes place. The United States submarine H-2, submerged in the Hudson River near New York City, radios the destroyer Blakey.

1921 The present constitution of Liechtenstein goes into effect.




1922 Birth: Bil Keane, cartoonist.




1923 Edwin Hubble identifies Cepheid variable star.

1923 Birth: Philip Berrigan, militant priest (Chicago 7).




1930 The British airship R101 crashes on its first flight at Allonne, near Beauvais, France, killing 48 of its 54 passengers. The British will abandon airship construction as a result.




1931 Clyde Pangborn and Hugh Herndon complete the first heavier than air nonstop flight over the Pacific. Their flight, which had begun 3 October, lasts for 41 hours and 31 minutes and covers 5,000 miles. They pilot their Bellanca CH-400 monoplane from Samushiro, 300 miles north of Tokyo, Japan, to Wenatchee, Washington. The plane is named Miss Veedol.

1933 The British Labor Party endorses the anti-Nazi boycott.

1933 Vandals paint Swastikas and anti-Semitic slogans on New York City's Temple Emmanuel.

1934 A coalition of Communists, Socialists and Syndicalists stage a general strike throughout Spain.

1935 The US places an embargo on all arms shipments to Italy and Abyssinia (Ethiopia).

1935 Columbia Haus concentration camp in Berlin is closed.

1936 Birth: Václav Havel, Czech dissident dramatist who will become the first freely elected president of Czechoslovakia in 55 years.

1937 President Roosevelt, in a major speech in Chicago, warns Americans against continued isolationism, speaking of the need to "quarantine the aggressors." A strong negative response to this call indicates the strength of isolationist sentiment in the US.




1938 Hitler gives a speech at the Sportpalast in Berlin. "When six years ago I took over the leadership of the Reich one of our so-called 'statesmen' of that day said: 'Now this man has taken the decisive step. Up to now he has been popular, because he has been in opposition. Now he must govern and we shall see in six or eight weeks how his popularity will look'! Six years - not six weeks only - have passed and I believe that they have been the most decisive years for German history...."

1938 Eduard Benes resigns as President of Czechoslovakia and flees the country.

1938 Holocaust: German Jews have their passports revoked. (Edelheit)

1939 WW2: Russia signs a mutual-aid pact with Latvia, obtaining naval bases on the Baltic.

1939 WW2: Hitler gives a defiant speech before the Reichstag. "In my speech at Danzig I already declared that Russia was organized on principles which differ from those held in Germany. However, since it became clear that Stalin found nothing in the Russian-Soviet principles which should prevent him from cultivating friendly relations with States of a different political creed, National Socialist Germany sees no reason why she should adopt another criterion. The Soviet Union is the Soviet Union, National Socialist Germany is National Socialist Germany. But one thing is certain: from the moment when the two States mutually agreed to respect each other's distinctive regime and principles, every reason for any mutually hostile attitude had disappeared. Long periods in the history of both nations have shown that the inhabitants of these two largest States in Europe were never happier than when they lived in friendship with each other. The Great War, which once made Germany and Russia enemies, was disastrous for both countries..."




1939 WW2: President Roosevelt and his Cabinet discuss an official message from German Admiral Raeder to the American military attache in Berlin, warning him that the British are planning to sink the Iroquois, an American ship. Harold Ickes writes in his secret diary, "Of course no one in this country believes that the British would do a thing of this sort, but Hitler and his government have not ceased to insist that it was Churchill who personally gave the orders to sink the Athenia (September 3) for the purpose of having it blamed on the German government in the hope of embroiling us with Germany." (Ickes)




1939 WW2: A Victory Parade is held in Warsaw for Hitler. An AK assassination plot fails to materialize.

1939 Diary of Leon Gladun: We crossed the Don River during the night. It seems that we are headed for Rostov (Russia). Today was like a holiday as we received bread, sugar twice, a meal of two courses and 8 buckets of kipiatok [hot water] for the wagon. I stuffed myself so much that I even started to feel sick. We wait for departure, supposedly to Zaporozhye where we'll arrive tomorrow. It's already evening.

1947 The first US president to make use of television to address the nation of America from the White House, Harry Truman, requests in a broadcast that the American people not eat meat on Tuesdays, nor poultry on Thursdays, to save on feed grains to help the starving in Europe.

1947 At a Warsaw conference, the COMINFORM (Communist Information Bureau) is established to coordinate the activities of European communist parties.

1954 Britain, Italy, the US and Yugoslavia agree on the division of Trieste into Yugoslav and Italian zones.




1959 Birth: Maya Lin, American architect who will design the Vietnam Memorial in Washington, DC.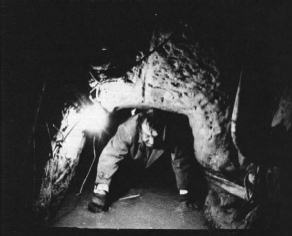 1964 57 East German refugees shelter in West Berlin after tunneling under the Berlin Wall in the largest mass escape since the wall was built.

1965 The Nam: US forces in Saigon receive permission to use tear gas.

1966 A sodium cooling system malfunctions causing a partial core meltdown at the Enrico Fermi demonstration breeder reactor near Detroit.

1970 Anwar Sadat is nominated to succeed Gamal Abdel Nasser as president of Egypt.

1970 Quebec separatists kidnap the British trade commissioner James Cross.

1981 Swedish diplomat Raoul Wallenberg becomes an honorary American.

1983 Solidarity leader Lech Walesa is awarded the Nobel Peace Prize.




1984 The 13th Space Shuttle Mission (41-G), Challenger 6, is launched.

1985 A magnitude 6.6 earthquake located near the North Nahanni River in the Northwest Territories of Canada triggers an immense rock avalanche containing an estimated 5 million to 7 million cubic meters of rock. Half a square kilometer of mountainside becomes detached and trees and automobile-sized blocks of rock slide 1.5 kilometers down a narrow valley. Fortunately the area is uninhabited.

1986 The London Sunday Times reports that Israel is stocking nuclear arms.

1986 American Eugene Hasenfus is captured by Sandinista soldiers after the weapons plane he is flying in is shot down over southern Nicaragua.

1988 A radical new constitution comes into effect in Brazil, replacing one imposed by the military during their 1964-85 rule.

1988 Israel bans Meir Kahane's Kach Party on the grounds of racism.

1989 Ten months after being indicted by a federal grand jury, televangelist Jim Bakker, 50, is found guilty on 24 counts of mail and wire fraud, defrauding his religious followers of $3.7 million. Three weeks later, on 24 October, Bakker is fined $500,000 and sentenced to 45 years in prison.

1989 The 14th Dalai Lama, the exiled spiritual leader of Tibet, is awarded the Nobel Peace Prize for his struggle to liberate Tibet from China.

1990 Death: Meir Kahane, assassinated at 58; founder of Jewish defense league.

1990 After two hours of deliberation, a Cincinnati jury finds the Contemporary Arts Center and its director, Dennis Barrie, not guilty of obscenity charges. The charges stemmed from an art exhibition of nude photographs by Robert Mapplethorpe, held earlier in the spring.

1991 Soviet President Mikhail Gorbachev pledges to match the United States in scrapping tactical nuclear weapons.

1994 Almost 50 members of the Order of the Solar Temple sect die in two suicide fires in Switzerland.

1995 After two months of shuttling around the Balkans, US envoy Richard Holbrooke clinches a cease-fire agreement among the warring factions in Bosnia.

1996 50 countries adopt a declaration calling for the earliest possible agreement on a global ban on antipersonnel land mines.




2001 The US Army dispatches 1,000 soldiers to former Soviet republic of Uzbekistan, which borders Afghanistan.

2001 Colin Powell extends sanctions on bin Laden's al-Qaida group and 24 other foreign organizations considered terrorist.




2001 Armed National Guard patrols begin work at dozens of US airports.

2001 Bob Stevens, a 63-year-old Florida man dies after failing to respond to antibiotics for inhalation anthrax. Stevens is the first anthrax death in the US in 25 years.

2001


2001


2001


2002


2004


2004


2004

---
^ Top of Page ^
---

Click Here to email the Webmaster of this site.

Web Page Design by Nathan
This page was last updated on September 12, 2005