NAVIGATION COLUMN
Home Page

Yahoo Groups:
History 1 Day 2
Nuremburg Data


---
Daily History Pages:
---

FAIR USE NOTICE: This site could contain copyrighted material the use of which has not always been specifically authorized by the copyright owner. We are making such material available in our efforts to advance understanding of historical, political, human rights, economic, democracy, scientific, environmental, and social justice issues, etc. We believe this constitutes a 'fair use' of any such copyrighted material as provided for in section 107 of the US Copyright Law. In accordance with Title 17 U.S.C. Section 107, the material on this site is distributed without profit to those who have expressed a prior interest in receiving the included information for research that could include educational purposes. If you wish to use copyrighted material from this site for purposes of your own that go beyond 'fair use', you could most likely need to obtain permission from the copyright owner.


October 7




1571 In the last great confrontation between oared ships (galleys), the Ottoman (Turkish) navy is defeated at the Battle of Lepanto in southwestern Greece, by a Christian naval coalition (Spanish and Italian) under the overall command of Spain's Don Juan de Austria. 316 ships defeat the Turkish navy under Ali Pasha with 250 galleys. At least 25,000 Turks are killed and 80 ships destroyed. (Bradley)




1728 Birth: Caesar Rodney, in Delaware, patriot; signer of the Declaration of Independence. "Caesar Rodney was born on his father's farm near Dover, Delaware, in October of 1728. He was tutored by his parents and may have attended a local Parson's school, but received no formal education. His father died when Cæsar was seventeen. He was placed in the guardianship of Nicholas Ridgely who was a clerk of the peace in Kent county, and this seems to be the root of Rodney's life in politics. In 1755, under the royal government, Rodney was commissioned High Sheriff of Kent County Delaware. This was quite a distinction for a man twenty-two years of age and he apparently honored the distinction, for in succeeding years his official capacities grew to include registrar of wills, recorder of deeds, clerk of the orphan's court, and justice of the peace. At age thirty he attained his first elected office as a representative in the colonial legislature at Newcastle. He served in that position, reelected each year except 1771, until the legislature was dissolved in 1776-and then resumed the seat as a representative to the Upper House of the State of Delaware until 1784.




Rodney was a leading patriot in his colony, a member of the Stamp Act Congress in 1765, a formative member of the Delaware Committee of Correspondence, a military leader in the colonial militia, and a delegate to the Continental Congress from formation until 1777. The following year he was elected President of the State of Delaware for a three year term, a duty that he assumed even as he served as Major-General of the Delaware Militia. In this office he played a crucial part not only in the defense of his own colony but in support of Washington's Continental Army, for Delaware had a record of meeting or exceeding its quotas for troops and provisions throughout the revolutionary conflict. Rodney's health and strength flagged for a time. He suffered from asthma and from a cancerous growth on his face, for which he never attained proper treatment. He saw his colony through the war at the cost of personal neglect. In 1782 he was again elected to the national Congress, but was forced to decline the office due to failing health. He nonetheless continued to serve as Speaker to the Upper House of the Delaware Assembly. He died in that office, in June of 1784."




1763 George III of Great Britain issues the Proclamation of 1763, closing lands in North America north and west of the Alleghenies to white settlement. Note: The US Revolutionary War starts here. It will not be merely a stamp tax and a tax on tea and a few other various and sundry indignities that will cause the high degree of colonial dissatisfaction leading to the Revolution. Hardly. The 'Intolerable Acts' will be, in fact, intolerable due to the pertinent fact that their purpose will be to raise revenue to enforce this most insidious (in the eyes of the Colonials) Proclamation. Leave that vast land of opportunity to the savages! Unthinkable. A significant number of Founders, including George Washington himself, 'owned' many thousands of acres of land west of the Alleghenies; George had surveyed large tracts of Indians lands as a young teenager, and considered the wilderness the birthright of himself and his peers. So here comes George III proclaiming the rest of the continent off limits! Oh yes, there is definitely trouble ahead.




1765 Stamp Act Congress: Delegates from nine of the American colonies begins sitting in New York to protest against the British Stamp Act which raises a direct tax on the colonies. They discuss the Stamp Act Crisis and the colonial response to it.




1780 US Revolutionary War: Patriot irregulars under Colonel William Campbell defeat Tories under Major Patrick Ferguson at the Battle of King's Mountain in South Carolina. Major Ferguson's Tory force, made up mostly of American Loyalists from South Carolina and elsewhere, is the western wing of General Lord Cornwallis' North Carolina invasion force. One thousand American frontiersmen under Colonel Campbell of Virginia gather in the backcountry to resist Ferguson's advance. Pursued by the Patriots, Ferguson positions his Tory force in defense of a rocky, treeless ridge named King's Mountain. The Patriots charge the hillside multiple times, demonstrating lethal marksmanship against the surrounded Loyalists. Unwilling to surrender to a 'band of banditti,' Ferguson leads a suicidal charge down the mountain and is cut down in a hail of bullets. After his death, some of his men try to surrender, but they are slaughtered in cold blood by the frontiersmen, who are bitter over British excesses in the Carolinas. The Tories suffer 157 killed, 163 wounded, and 698 captured. Colonel Campbell's force suffers just 28 killed and 60 wounded. (Bradley)

1806 Carbon paper is patented in London by inventor Ralph Wedgewood.




1816 The first double decked steamboat, the Washington, arrives in New Orleans.

1826 The Granite Railway, the first chartered railway in the US, begins operating.




1849 Death: Edgar Allan Poe.




1862 US Civil War: William Gladstone in a speech at Newcastle praises the South and declares that Jefferson Davis has "made a nation." Meanwhile, Karl Marx organizes public meetings in England supporting the North.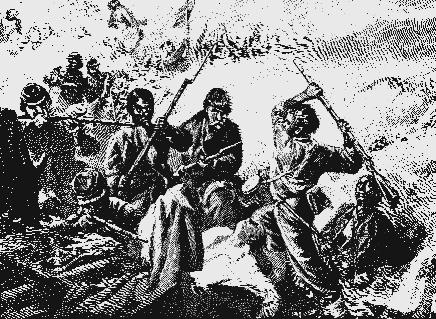 1864 US Civil War: A Confederate attempt to regain ground that had been lost around Richmond is thwarted when Union troops turn back General Robert E. Lee's assault along Darbytown Road. In the summer of 1864, the campaign between Lee and Union General Ulysses S. Grant had ground to a halt at Petersburg, 25 miles south of Richmond. The two great armies had settled into trenches for a siege, and the lines were soon extended all the way back to Richmond. Grant periodically attacks portions of the Rebel defenses but is not successful. On 29 September, Union forces captured part of Richmond's outer defense at the Battle of New Market Heights. Although the capital was still safely in Confederate hands, Lee was concerned about the new position of the Yankee troops. Lee sent two divisions under Generals Charles Field and Robert Hoke to move around the end of the Union line. Lee hoped that the Federal flank could be turned and the Confederates could regain the defensive works lost the week before. On the morning of 7 October, the Confederates move down Darbytown Road and around the Union right flank and attack 1,700 cavalrymen. The assault sends the Yankees into a quick retreat. The Confederates capture eight cannons and drive the Union troopers into the breastworks of General Alfred Terry. Alerted to the advancing Confederates, Terry summons reinforcements to his position. By the time the Confederates work their way through the thick foliage, they face a strong Union force. Lee orders an attack anyway. Brigades advance one at a time, and the Yankee artillery tears the lines apart. By the afternoon, the Confederates withdraw to their original position. They have lost 700 men while the Yankees have lost only 400, and no ground is gained. Lee does not make another attempt to regain the ground and focuses instead on setting up defenses closer to Richmond. (Bradley)




1864 US Civil War: The Union warship Wachusett captures the famed Confederate raider Florida while the Rebel ship is in port at Bahia, Brazil. After the Yankee crew sails the Florida out to sea, the Brazilian government protests the invasion of its neutrality. The Union returns the ship and crew to the Confederate government, but the Florida sinks six weeks later off Hampton Roads, Virginia. (Bradley)

1866 Birth: Martha McChesney Berry, founded Berry School for Children.

1870 French Minister of the Interior Leon Gambetta escapes besieged Paris by balloon, reaching the French provisional government in Tours.

1879 A German-Austrian dual alliance is formed under which they agree to come to each other's aid if either was attacked.

1879 Birth: Leon Trotsky, Russian revolutionary leader, writer (Diary in Exile).




1885 Birth: Nils Bohr, in Denmark, physicist whose model of atomic structure will help establish Quantum theory, (Nobel 1922).

1886 Slavery is abolished in Cuba by Spanish Royal Decree because of economic conditions making it more profitable to free the slaves and then hire them for work by day, thus avoiding the expense of year round support.




1888 Birth: Henry Agard Wallace, 33rd Vice President of the US (FDR), 1948 independent candidate for president.

1899 The British Army is ordered to mobilize for South Africa.




1900 Birth: Heinrich Himmler; will join Hitler in 1922. Police chief in Munich 1933. Commander of SS and chief of German Police in 1934. Reich interior minister, 1943-45. On Jan, 20, 1944 made commander of the replacement army. Relieved of all official functions by Hitler on April 28, 1945. Will commit suicide on May 23, 1945 near Luneberg after being captured by British troops.

1908 Crete revolts against Turkey and aligns itself with Greece.

1915 WW1: Lance Corporal Adolf Hitler is transferred to 3 Company, 16 Reserve Infantry Regiment. (Maser)

1916 WW1: Lance Corporal Adolf Hitler is wounded in combat and is taken to an army hospital at Beelitz.

1919 KLM, the oldest existing airline in the world and the national airline of the Netherlands, is established.

1929 Death: Gheorghe Buzdugan, the most important personality in the Romanian Regency.

1931 The first infrared photograph is taken at Rochester, New York.

1934 Spanish Revolution: Armed revolts in Spain are led by both the Socialist-Anarchists-Communists and the Catalonian Separatists. (Edeleheit)




1938 Slovakia and Transcarpathian Ruthenia are granted autonomy from what is left of Czechoslovakia. Father Josef Tiso, a Catholic priest, becomes leader of Slovakia.

1938 Holocaust: The Fascist Grand Council in Italy bans Jewish ritual slaughter (shechita).

1938 Church and Reich: Hitler Youth attack the Bishop's Palace in Vienna.

1939 WW2: Press Reaction to Hitler's October 7 Speech: "Those who had expected Hitler to make the dramatic gesture yesterday of announcing his resignation to the Reichstag were not successful prophets. He did not announce his resignation. Instead he asked by implication for the resignation of Mr. Chamberlain and M. Daladier...."--New York Times

1939 Holocaust: Himmler issues a new decree giving him a new title: Reich Commissar for the Strengthening of the German People (RFV). (Architect)

1939 Diary of Leon Gladun: Arrived at some station where supposedly we're to end our journey. But there's already one transport here, so it's hard to know. So far we've been waiting 12 hours and it's now the second day without food. Cold and hungry it's hard to keep going. We're supposed to receive a meal here, but it's not certain. After waiting several hours for our turn we're suddenly taken to a mess hall where we get a piece of bread and 2 glasses of tea--that's all for two days. We go to sleep--the night is a bit warmer.




1940 WW2: German troops enter Romania, supposedly to help reorganize its army. Hitler's main aim is to protect its oil fields. (Goebbels)

1940 Holocaust: The Germans order all Jews in occupied France to register immediately with its authorities.

1944 Holocaust: A Jewish revolt breaks out at Auschwitz. Recently arrived Jews from Poland, Hungary and Greece, who are being forced to drag bodies from the gas chambers to the crematoria, having secretly obtain explosives from four Jewish girls working in a nearby munitions factory, blow up one of the four crematoria. All are killed, except for one man, who later starves to death at Ebensee. (Atlas)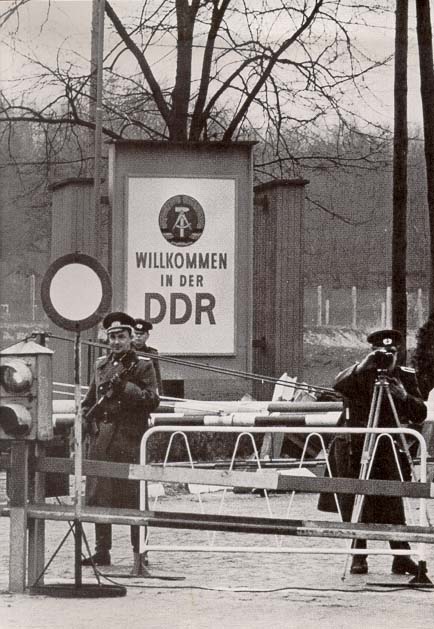 1949 The German Democratic Republic (GDR), or East Germany, is formed from the Russian occupation zone, with Wilhelm Pieck as president and Otto Grotewohl as prime minister. This is less than five months after Great Britain, the United States, and France established the Federal Republic of Germany in West Germany. (Bradley)

1950 The UN General Assembly passes a resolution that approves a US-led UN force to advance north of the 38th parallel into North Korea, ignoring China's threat to enter the war if the parallel is crossed. The 38th parallel divides North from South Korea, a division established in 1945. After a death toll of tens of thousands three years later, the war will end with the re-establishment of the 38th parallel division. (Bradley)

1952 Birth: Vladimir Putin, President of Russia.

1956 A US House subcommittee begins investigations of allegedly rigged TV quiz shows.

1957 A fire in the Windscale plutonium production reactor (later called Sellafield) north of Liverpool, England, spreads radioactive iodine and polonium through the countryside and into the Irish Sea. Livestock in the immediate area are destroyed, along with 500,000 gallons of milk. At least 30, and possibly as many as 1,000, cancer deaths are subsequently linked to the accident. (Bradley)




1958 The US manned space-flight project is renamed Project Mercury.

1958 President Iskander Nirza proclaims martial law in Pakistan.

1963 Bobby Baker resigns as Senate Democratic secretary after being charged in a $300,000 civil suit with using his influence for personal monetary gains.

1963 US President John F. Kennedy signs a nuclear test ban treaty between the United States, Britain and Soviet Union.

1963 Hurricane Flora hits Haiti and Dominican Republic killing 7,190 people.

1977 The Soviet Union adopts a new constitution, replacing the one introduced in 1936.

1981 Hosni Mubarak becomes acting-president of Egypt following the assassination of Anwar Sadat on 6 October.

1982 When the New York Stock Exchange opening bell sounds, traders go on a buying spree, snapping up stocks and bonds at a furious pace. At the end of the day, a record 147 million shares have changed hands on the exchange, while the Dow Jones Industrial Average surges to its highest mark in fifteen months.




1985 Four PLO hijackers board the Italian cruise ship Achille Lauro in Alexandria, Egypt, in order to hijack the luxury liner. They demand the release of 50 Palestinians held by Israel. Of the four hundred people on board, only Leon Klinghoffer, wheelchairbound, is shot to death; an example that the four Palestinian gunmen mean business. They surrender two days later to the Egyptians who promise them free passage out of their country. When Klinghoffer's body is returned to his native New York City, New York Senator Daniel Patrick Moynihan declares that Leon Klinghoffer died "because he was an American, because he was a Jew and because he was a free man." (Bradley)

1985 The 21st Space Shuttle Mission (51-J)-Atlantis 1 lands at Edwards Air Force Base.

1987 Fiji coup leader Sitiveni Rabuka declares himself head of state of the new republic.

1988 An Alaskan hunter spots trapped grey whales beating themselves against the ice trying to break it. They become the focus of an international rescue to save them from certain death. Ironically, many of those who help in the rescue are whalers.

1988 The Latvian flag is raised in Riga for first time since annexation by the USSR.

1989 Hungary's Communist Party renounces Marxism in favor of democratic socialism.

1989 East Germany celebrates its 40th anniversary as a communist state amid pro-reform demonstrations.

1990 Death: Sheikh Rashid bin Said al-Maktoum, at 76 after a long illness; ruler of Dubai and prime minister and vice-president of the United Arab Emirates.

1990 Desert Shield: Israel begins handing out gas masks to its citizens.

1991 Iran frees US telecommunications engineer John Pattis, ending five years of captivity on charges of spying for the CIA.

1991 UN inspectors discover an Iraqi nuclear weapons research center intact.

1991 Slovenia and Croatia formally declare succession from Yugoslavia.

1992 President Bush and the leaders of Mexico and Canada sign the North American Free Trade Agreement. The pact will create the world's largest trading block.

1992 A West Virginia Air National Guard cargo plane crashes into a house in Berkeley Springs, West Virginia. All six crewmembers are killed, but the home's resident escape with minor injuries.

1992 In Peru, a secret military tribunal sentences Abimael Guzman, the leader of the Shining Path guerrilla movement, to life in prison without parole.

1994 US President Clinton dispatches an aircraft carrier to the Persian Gulf when Iraqi troops are spotted moving toward Kuwait. The US Army is also put on alert.

1995 More than 80 people are killed in Indonesia when it is hit by an earthquake with a magnitude of 7.

1996 IRA guerrillas bomb Britain's army headquarters in Northern Ireland, injuring 31 people and shattering an uneasy two-year peace in the province.

1997 Sun files a lawsuit against Microsoft over the software giant's use of Java, accusing Microsoft of attempting to disrupt Java development by distributing a version of Java that is incompatible with that used by the rest of the industry. Sun seeks a court injunction to prevent Microsoft from using a "Java compatible" logo on its new browser.

1997 Another record-breaking day in the mighty Bull Run of the mid-1990s. On this day in 1997, both the Nasdaq industrial composite and the S&P shoot to new heights. Nasdaq climbs to an unprecedented 1,736.10 points, while the S&P 500 zooms past its old record, posting a new mark of 983.12.

1997 Scientists announced they have found one of the most massive stars known, behind a dense dust cloud in the Milky Way that had previously concealed it. The star is 25,000 light-years distant.

1998 The United States government strikes a deal with Network Solutions to open up Internet address registration by the summer of 1999. Network Solutions, a government contractor, had enjoyed exclusive responsibility for the assignment of domain names for six years. The company had registered some two million names at $70 each, raising concerns that the company is unfairly monopolizing a potentially lucrative business. The deal announced on this day will allow Network Solutions to remain in the registration business but to be faced with competition in the retail registration of domain names. (Bradley)

2000 Vojislav Kostunica is sworn in as Yugoslavia's new president.

2001 British journalist Yvonne Ridley is freed by the Taliban.




2001 In the war on terror, the US and Britain begin a series of nightly attacks on Taliban military targets and bin Laden's training camps in Afghanistan, using cruise missiles and long-range bombers in an assault directed at airports, air defenses and communication and command centers.

2001 Speaking from White House, Bush says, "We will not waver, we will not tire, we will not falter, and we will not fail."




2001 Bin Laden, in a videotaped message, praises God for the Sept. 11 attacks and swears 'America will not live in peace' and will never "dream of security" until "the infidels' armies leave the land of Muhammad."

2001 A Taliban spokesman says both bin Laden and the leader of the Taliban ruling council survived the missile attacks. The Afghan opposition also launches an attack.

2001


2003


2004


2004


2004


2004


2004


2004

---
^ Top of Page ^
---

Click Here to email the Webmaster of this site.

Web Page Design by Nathan
This page was last updated on September 12, 2005