NAVIGATION COLUMN
Home Page

Yahoo Groups:
History 1 Day 2
Nuremburg Data


---
Daily History Pages:
---

FAIR USE NOTICE: This site could contain copyrighted material the use of which has not always been specifically authorized by the copyright owner. We are making such material available in our efforts to advance understanding of historical, political, human rights, economic, democracy, scientific, environmental, and social justice issues, etc. We believe this constitutes a 'fair use' of any such copyrighted material as provided for in section 107 of the US Copyright Law. In accordance with Title 17 U.S.C. Section 107, the material on this site is distributed without profit to those who have expressed a prior interest in receiving the included information for research that could include educational purposes. If you wish to use copyrighted material from this site for purposes of your own that go beyond 'fair use', you could most likely need to obtain permission from the copyright owner.


October 9




28BC The Temple of Apollo is dedicated on the Palatine Hill in Rome.




0680 Death: Husain ibn 'Ali, Shi'i religious leader.




1000 Leif Ericson discovers "Vinland" (thought possibly to be New England).




1253 Death: Grosseteste, English scholar, at 78.

1446 The Korean Hangual alphabet is devised.




1470 Henry VI of England is restored to the throne after being deposed in 1461. Six months later he is deposed again and then murdered in the Tower of London.

1562 Death: Gabriel Fallopius, in Modena, Italy, anatomist; identified the Fallopian Tube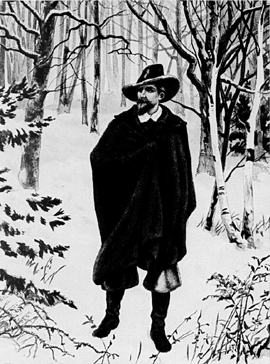 1635 Religious dissident Roger Williams is banished from the Massachusetts Bay Colony by the General Court of Massachusetts. Williams had spoken out against the right of civil authorities to punish religious dissension and to confiscate Indian land. After leaving Massachusetts, Williams, with the assistance of the Narragansett tribe, establishes a settlement at the junction of two rivers near Narragansett Bay, located in present-day Rhode Island. He declares the settlement open to all those seeking freedom of conscience and the removal of the church from civil matters, and many dissatisfied Puritans join. Taking the success of the venture as a sign from God, Williams names the community "Providence." Among those who found a haven in the religious and political refuge of the Rhode Island Colony are Anne Hutchinson, like Williams, she had been exiled from Massachusetts for religious reasons, some of the first Jews to settle in North America, and the Quakers. In Providence, Roger Williams also founds the first Baptist church in America and edits the first dictionary of Native-American languages. (Bradley)

1701 The Collegiate School of Connecticut (Yale University), is chartered in New Haven.




1757 Birth: Charles X, reactionary king of France (1824-30); deposed.

1760 Austrian and Russian troops enter Berlin and begin burning structures and looting.

1776 Spanish missionaries dedicate the first mission chapel on the northern California coast at Yerba Buena. In 1847, the city which grows up around the mission changes its name to San Francisco.




1779 The first Luddite riot breaks out in a lace factory in Manchester when the workers protest against machinery and smash the cotton spinning machines. Note: Shaded counties are those where rioting, basicaly directed toward the Industrial Revolution itself, will take place.


1781 US Revolutionary War: American and French armies under General George Washington commence a bombardment of the Lord Cornwallis's encircled British forces at Yorktown, Virginia. Three days before, Washington had ordered his 8,500-strong allied force to build 2,000-yard-long trenches around the British defenses, cutting off any possible escape routes for the British. With the Marquis de Lafayette's army to the west, Americans to the south and east, and a French naval fleet under Comte de Grasse dominating the Virginia shore, Lord Cornwallis, after enduring eight days of heavy bombardment, will have no choice but to surrender his 9,000 troops. Although skirmishes and limited military actions continue in the colonies for over a year, Washington will have achieved the inconceivable with victory at Yorktown; he will have won American independence from the most powerful nation on Earth. (Bradley)




1799 The British frigate HMS Lutine sinks off the Dutch coast. The ship's bell is salvaged and later mounted in the underwriters' room of Lloyd's of London. The bell is tolled on receipt of important news such as a ship sinking.




1806 Death: Benjamin Banneker, astronomer, mathematician, at 74.




1820 Guayaquil declares its freedom from Ecuador.




1825 The first Norwegian immigrants to America arrive on the sloop Restaurationen.

1831 Death: Count Ioannis Kapodistrias, president of Greece from 1827, is assassinated at Navplion. He played a prominent role in the Greek struggle for independence but made many enemies including Georgios and Konstantinos Mavromikhalis who assassinated him. (Bradley)

1837 Birth: Francis Parker, educator and founder of progressive elementary schools.

1837 The steamboat Home sinks off Okracoke, North Carolina killing 100.

1847 Death: David Brainerd, colonial missionary to the New England Indians, of tuberculosis (brought on by exposure) at 29. Following his death, the publication of "Brainerd's Journal" by Jonathan Edwards will influence hundreds to become missionaries after him.

1855 Joshua C. Stoddard is awarded a patent for the calliope. From Worcester, Massachusetts the inventor originally sold the colourful and somewhat noisy instrument (it produces 135 decibels, compared to the 100 decibels of sound produced by a jet plane at takeoff) to churches. Sales, however, took off when Stoddard sold the instrument to circuses and steamboat operators. This wasn't such a bad idea since the calliope is powered by steam. (Bradley)

1858 A mail service via stagecoach between San Francisco and St. Louis is started. The first run took 23 days, four hours.

1859 Birth: Alfred Dreyfus, French artillery officer who will be falsely accused of giving French military secrets to foreign powers.

1863 US Civil War: Confederate cavalry raiders return to Chattanooga after attacking Union General William Rosecrans' supply and communication lines all around east Tennessee. Overconfident and overextended, the Union Army of the Cumberland advances into the deep woods of northwest Georgia. Waiting Confederates do not intend for them to leave. (Bradley)

1870 Rome, after being conquered by the Italian army, is incorporated into Italy by royal decree.




1872 The first mail order catalogue, one page, is delivered. It is sent out by Mr. Aaron Montgomery Ward of the famous Montgomery Ward catalog and department stores.

1877 The American Humane Association is organised in Cleveland, Ohio.

1879 Birth: Max von Laue, German physicist.

1884 Birth: Martin Elmer Johnson, explorer, photographer.




1888 The Washington Monument, designed by Robert Mills, opens to the public.

1899 Birth: Bruce Catton, US civil war historian and journalist.

1899 Boer War: The South African Republic issues an ultimatum demanding the withdrawal not only of British troops from their borders but of all reinforcements sent to South Africa since 1 June 1899, and the recall of troops then sailing to South Africa. The ultimatum is rejected and, on 12 October, burghers of the allied Republics invade Cape Colony and Natal. (Bradley)




1899 Boer War: Sir Redvers Buller is appointed Commander-in-Chief in South Africa.

1914 WW1: The Belgian fortress of Antwerp falls.

1914 WW1: Germans troops under Hindenburg reach the Vistula River south of Warsaw.

1915 WW1: Austrian and German forces capture Belgrade.

1916 WW1: Oct 9-Dec 1 Battle casualty Lance Corporal Adolf Hitler recovers at a Red Cross hospital in Beelitz. (Maser)

1927 Wiemer: Lantag elections in Brunswick net the NSDAP 4.9%. This gives Hitler's party two out of 160 seats. (Maser)

1933 The Third all-Polish BETAR conference begins in Warsaw. The delegates wear "brown shirts."

1934 In Marseilles, Vlada Chernozamsky, a Croatian terrorist and Macedonian revolutionary associated with Croat terrorists in Hungary, assassinates King Alexander of Yugoslavia and the French Foreign Minister Louis Barthou. The two had been on a tour of European capitals in quest of an alliance against Nazi Germany. The assassinations bring the threat of war between Yugoslavia and Hungary, but confrontation is prevented by the League of Nations. (Bradley)




1938 Birth: Russell Myers, cartoonist.

1938 Hitler gives a speech in Saarbruecken. "First, internal unity of the nation. I am convinced I am Leader of a manly people. I know what probably many in the rest of the world and even isolated ones in Germany do not seem as yet to know - namely, that the people of the year 1938 are not the people of 1918. Only those who were blind concerning National Socialism could overlook the tremendous work of education that the good philosophy of life has accomplished. There has been created today a community of spirit throughout our people of power and strength such as Germany never before has known..."

1939 WW2: Hitler issues Directive No 6, saying that if England and France will not end the war, then then it's no more mister nice guy: he will go over to the offensive

1939 Diary of Leon Gladun: After a Dantesque night we rose tired and aching. Breakfast that was to be for 9 a.m. we finally received at 2 p.m. Water for washing in the morning is barely enough for a spray--in a word paradise! It's so true that we take things for granted and don't know what we have until it's gone. That evening in the hall discussion arose about the conduct of officers and in regards to personal affairs. A project was formed to create a court of peers.

1941 WW2: FDR requests congressional approval for the arming of US merchant ships.

1944 WW2: British Prime Minister Winston Churchill arrives in Russia for talks with Joseph Stalin at the Third Moscow Conference.

1947 The first call between a car telephone and one in an aeroplane is made above Wilmington, Delaware.




1950 Korea: UN forces, led by the First Cavalry Division, cross the 38th parallel in South Korea and begin attacking northward towards the North Korean capital of Pyongyang.

1961 Tanganyika becomes an independent state within the British Commonwealth.

1961 A volcanic eruption occurs on the island of Tristan da Cunha, in the South Atlantic. The whole population us evacuated to Britain.

1963 Uganda becomes an independent republic within the British Commonwealth after nearly 70 years of British rule.

1969 Czechoslovakia's frontiers are closed to tens of thousands of citizens bound for the West on private visits as new government travel restrictions go into effect.

1970 The Khmer Republic (Cambodia) declares independence.




1974 Death: German businessman Oskar Schindler, credited with saving 1,200 Jews from the Holocaust, at the age of 66 in Frankfurt, Germany. A member of the Nazi Party, he ran an enamel-works factory in Krakw during the German occupation of Poland, employing workers from the nearby Jewish ghetto. When the ghetto was liquidated, he persuaded Nazi officials to allow the transfer of his workers to the Plaszow labor camp, thus saving them from deportation to the death camps. In 1944, all Jews at Plaszow were sent to Auschwitz, but Schindler, at great risk to himself, bribed officials into allowing him to keep his workers and set up a factory in a safer location in occupied Czechoslovakia. By the war's end, he was penniless, but he had saved 1,200 Jews. In 1962, he was declared a Righteous Gentile by Yad Vashem, Israel's official agency for remembering the Holocaust. According to his wishes, he was buried in Israel at the Catholic cemetery on Mount Zion. (Bradley)

1975 Emperor Hirohito of Japan visits San Francisco.




1975 Soviet physicist Andrei Sakharov is awarded the Nobel Peace Prize. Regarded as the father of the Soviet hydrogen bomb, he contributed perhaps more than anyone else to the military might of the Soviet Union. Gradually, however, Sakharov became one of the regime's most courageous critics, and a staunch defender of human rights and democracy.

1977 Soyuz 25 is launched to Saluyt 6, but returns after failing to dock.

1983 James Watt, facing Senate condemnation for a racially insensitive remark, resigns as President Reagan's interior secretary.

1983 The president of South Korea, Doo Hwan Chun, with his cabinet and other top officials are scheduled to lay a wreath on a monument in Rangoon, Burma, when a bomb explods. Hwan had not yet arrived so escaped injury, but 17 Koreans, including the deputy prime minister and two other cabinet members, and two Burmese are killed. North Korea is blamed. (Bradley)

1986 The Senate convicts US District Judge Harry E. Claiborne, making him the 5th federal official to be removed from office through impeachment.




1987 Death: Clare Boothe Luce, playwright, editor, diplomat, and politician, at the age of 83.

1988 Death: Felix Wankel, developer of the Wankel rotary engine.




1989 The Soviet news agency Tass, under Mikhail Gorbachev's policy of increasing openness in society, reports a flying saucer visit to the Soviet Union.

1990 President George HW Bush, having vetoed one budget continuing resolution and allowing the government's spending authority to expire, signs a second stop-gap measure preventing a virtual government shutdown.

1990 Hundreds of Chinese queu to buy Big Macs when McDonalds opens its first restaurant in Shenzhen.

1990 Desert Shield: Saddam Hussein threatens to hit Israel with a new missile.

1992 The White House says an American citizen working along the Iraq-Kuwait border has been seized by the Iraqis. Baghdad announces the next day they'd freed the man.




1992 NASA announced that the Pioneer spacecraft is apparently lost after orbiting Venus for 14 years.

1994 The United States, by order of President Clinton, sends troops and warships to the Persian Gulf in response to Saddam Hussein sending thousands of troops and hundreds of tanks toward the Kuwaiti border.

1997 Italian Prime Minister Romano Prodi resigns after Communist members of Parliament withdraw their support for his coalition government.

2000 European Union foreign ministers lift sanctions against Serbia in a gesture of solidarity with the government of Vojislav Kostunica.

2001 FBI agents wearing bio hazard suits swarm over the American Media Inc. building in Boca Raton, Florida. FBI and local law enforcement close the building which houses the offices of several supermarket tabloids. All 300 people who work in the building and anyone who spent more than an hour inside since Aug. 1 are advised to visit health officials.

2001 The Pentagon reports the destruction of seven terrorist training camps in Afghanistan and, claiming control of the skies over Afghanistan, launches heavy air strikes against Taliban garrisons and troop encampments for the third straight day.

2002 The Washington area sniper(s) claim a seventh victim with the slaying of a man at a gas station near Manassas, Virginia.

2002 As stock prices continue to fluctuate wildly, the Dow Jones industrials close at 7,286.27, a five-year low.

2004


2004


2004

2004

---
^ Top of Page ^
---

Click Here to email the Webmaster of this site.

Web Page Design by Nathan
This page was last updated on September 12, 2005