NAVIGATION COLUMN
Home Page

Yahoo Groups:
History 1 Day 2
Nuremburg Data


---
Daily History Pages:
---

FAIR USE NOTICE: This site could contain copyrighted material the use of which has not always been specifically authorized by the copyright owner. We are making such material available in our efforts to advance understanding of historical, political, human rights, economic, democracy, scientific, environmental, and social justice issues, etc. We believe this constitutes a 'fair use' of any such copyrighted material as provided for in section 107 of the US Copyright Law. In accordance with Title 17 U.S.C. Section 107, the material on this site is distributed without profit to those who have expressed a prior interest in receiving the included information for research that could include educational purposes. If you wish to use copyrighted material from this site for purposes of your own that go beyond 'fair use', you could most likely need to obtain permission from the copyright owner.


October 10


0019 Death: Germanicus, the best loved of Roman princes, of poisoning. On his deathbed he accuses Piso, the governor of Syria, of poisoning him. (Bradley)




0732 Charles Martel and a force of Frankish infantry defeat the Muslims at the battle of Tours, following an invasion of France by Abd-el-Rahman and a force of 65,000 Saracens.




1731 Birth: Henry Cavendish, English physicist, chemist; will discover hydrogen and measure the density and mass of the Earth.

1733 France declares war on Austrian Emperor Charles VI after Augustus III is elected in Poland instead of the French preferred candidate Stanislav Leszczynski.




1738 Birth: Benjamin West, painter (Death of General Wolfe). Above: Franklin.

1780 The Great Hurricane of 1780 kills between 20,000 and 30,000 in the Caribbean.




1789 In Versailles, France, Joseph Guillotin declares that the most humane way of carrying out a death sentence is decapitation by a single blow of a blade.

1794 Russian General Alexander Vasilyevich Suvorov crushes the rebel Polish army at Maciejowice, Poland.

1802 The first non-Indian settlement is made in Oklahoma.

1825 Birth: Boer leader Paulus Kruger, President of South African Republic.

1830 Birth: Queen Isabella II, Queen of Spain (1833-68).




1845 The Naval School, now called the US Naval Academy, is founded at Fort Severn, Annapolis, Maryland, with 50 midshipmen in the first class.




1846 Neptune's moon Triton is discovered by William Lassell.

1861 Birth: Fridtjof Nansen, Norwegian Arctic explorer, humanitarian (Nobel 1922).

1865 The billiard ball is patented by John Wesley Hyatt. Mr. Hyatt won $10,000 in a contest, becoming the first person to come up with a substitute for the ivory ball (in use at the time).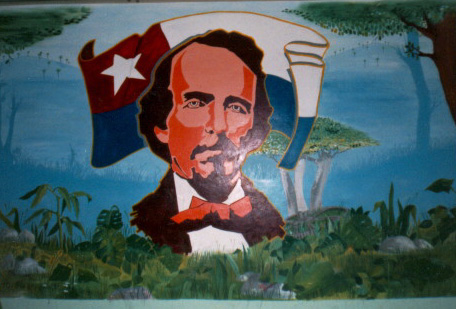 1868 The Ten Years' War: Cuba's First War of Independence begins when plantation owner Carlos Manuel de Cespedes frees and arms his slaves and, accompanied by 37 other planters, proclaims the independence of Cuba. Two days later the group is joined by two free blacks, the brothers Antonio and Jose Maceo, and some Dominican exiles including Maximo Gomez who will help train the rebels. (Bradley)

1874 Fiji becomes a British possession.




1877 Lieutenant Colonel George Armstrong Custer is buried at West Point in New York.




1901 Birth: Alberto Giacometti, sculptor and painter.

1903 Mrs Emmeline Pankhurst forms the Women's Social and Political Union to fight for female emancipation.




1911 Wuchang Uprising: After a bomb explodes in Wuchang, Central China, a massive revolt by soldiers and civilians alike against the Manchu dynasty takes place. Although the Manchu dynasty is officially overthrown several months later, the Wuchang uprising is honored as the Republic of China's National Day. Sun Yat-sen is considered the founding father of the Republic of China. The revolutionary movement will spread rapidly through west and southern China, forcing the abdication of the last Ch'ing emperor, six-year-old Henry Pu-Yi. By 26 October, the Chinese Republic will be proclaimed, and on 4 December, Premier Yuan Shih-K'ai will sign a truce with rebel general Li Yuan-hung. (Bradley)

1913 Atlantic and Pacific waters mix as US President Woodrow Wilson triggers the explosion which blows up the Gamboa Dam in Panama.

1914 WW1: Adolf Hitler and his regiment complete their preliminary training and leave the vicinity of Munich for training in large maneuvers. After marching around in a cold pouring rain from dawn to dusk, Hitler spends his first night on the road, soaking wet in a stable.

1918 WW1: The Leinster, an Irish mail boat, is sunk by a German submarine on its way to Holyhead. At least 480 people are killed.

1919 The Allied Supreme Council, which had imposed a blockade on Soviet Russia, tells neutral countries how to bring economic pressure on "Bolshevik" Russia and to ensure strict observance of such a policy. British and French ships continue "to alter the course" of all ships heading for Soviet ports and citizens of Entente countries are not only forbidden to visit Russia, but even to communicate by letter, telegram or radiogram. (Polyakov)




1928 George V opens the Tyne Bridge, with Britain's largest steel arch.

1930 Three US airlines merge to form Transcontinental and Western Airlines (TWA), later TransWorld Airlines.




1930 Birth: Adlai Stevenson III, (D-Senator-Illinois).

1933 President Roosevelt sends a letter to Mikhail Kalinin proposing the establishment of diplomatic relations between the US and USSR

1933 At Rio de Janeiro, nations of the Western Hemisphere sign a nonaggression and conciliation treaty. President Roosevelt adopts a "good neighbor" policy toward Latin America and will announce a policy of nonintervention in Latin American affairs at the 7 December, International American Conference in Montevideo, Uruguay. (Bradley)

1933 The first proven case of sabotage in the history of commercial aviation occurs in Chesterton, Indiana. A United Air Lines Boeing 247 is destroyed by an explosive device utilizing nitroglycerin. (Bradley)

1935 The monarchy is restored in Greece under King George II.

1938 Germany completes its occupation of the Sudetenland.




1939 WW2: President Daladier of France rejects Hitler's offer to negotiate. (See Oct 9)

1939 WW2: Churchill argues in the British Cabinet for the mining of Norwegian coastal waters to interfere with German iron ore traffic.




1939 WW2: Admiral Raeder mentions to Hitler for the first time the idea of invading Norway. This is not something Hitler has contemplated, but Britain will make the first move and Hitler will ultimately triumph in Norway.

1939 Diary of Leon Gladun: The second day in camp. We sit around and wait for food. Idleness and boredom. Everyone does what he can to kill the time. There's a few books to read which circulate among the men. Some make chess pieces while others boil coffee from acorns. That evening we received a Soviet paper which was read aloud by one of our "editors." In reality we don't know what's happening in the world as the news is one-sided. It's planned that we are to build bunks for sleeping but for the time being we have to exist in these conditions.




1941 Holocaust: Thousands of Slovak Jews are sent to labor camps at Sered, Vyhne, and Novaky, while the remaining Jews living in what had once been Czechoslovakia are ordered out of their homes and sent to specially designated ghetto areas in 14 selected towns. (Atlas)

1941 Holocaust: Reinhard Heydrich, in Prague, tells a conference of his subordinates that Hitler wants all the Jews removed from German space by the end of the year, if possible. All pending questions, he said, had to be resolved, and transportation should not be used as a reason for delay. (Architect)

1941 Holocaust: Heydrich also includes the Gypsies as being subject to "evacuation" (deportation to death camps) during the Prague conference. (Science)

1941 WW2: Soviet troops halt the German advance on Moscow.




1943 Chiang Kai-shek takes the oath of office as president of China.

1942 Church and Reich: The Holy See replies to Taylor's note (September 26) that up to the present it had not been possible to verify the accuracy of the severe measures reportedly taken against the Jews. (U.S.D.P. 1942; Lewy)

1943 Church and Reich: The provincial administrator of the Regensburg area reports that the joint pastoral letter from the bishops on August 19 castigating the killing of innocents has not had any lasting effect. He writes: "The population pays scant attention to such involved pronouncements burdened with stipulations." (Lewy)

1943 WW2: First raid by American B-17's on German military targets in Poland.

1944 Diary of Leon Gladun: Many theories circulate as to our immediate future: some say we're going to a middle sector of the front, others maintain we're off for our winter quarters. Today came the news that those bound for winter quarters are to leave tomorrow. It seems that we will yet go. Hopefully to a somewhat more conducive area where I might be able to converse and practice my Italian because it's difficult to communicate here in the local dialect and besides there's not much to talk about. After all I can't go around constantly repeating "lavoware" and "maneiare" etc. Jurek is off for a course near Naples. He'll be trained as an instructor and won't be coming back.

1954 Ho Chi Minh enters Hanoi after French troops pull out of the city following Armistice terms.

1957 A major radiation leak is detected at the Windscale nuclear plant in Cumbria, England, after an accident three days earlier.

1957 President Dwight D. Eisenhower apologizes to the finance minister of Ghana, Komla Agbeli Gbdemah, after he is refused service in a Dover, Delaware restaurant.

1963 A treaty banning atmospheric nuclear tests is signed by the US, UK and the USSR.




1966 The Nam: US Forces launch Operation Robin, in Hoa Province south of Saigon, to provide road security between villages.

1970 The Quebec Provincial Minister of Labour, Pierre Laporte, is kidnapped by terrorists.




1970 Fiji, a British colony since 1874, becomes an independent member of the Commonwealth.




1972 Watergate: The Washington Post, in articles by reporters Carl Bernstein and Bob Woodward, uncover a massive effort on the part of CREEP, Committee for the Reelection of the President, to disrupt the Democratic campaign. Their activities and findings are later immortalized in the film All The President's Men. Note: Woodward and Bernstein will inspire a generation of 'Investigative Journalists.' (Bradley)




1973 Less than a year before Richard M. Nixon's resignation as president of the United States, Spiro Agnew becomes the first US vice president to resign in disgrace. The same day, he pleads no contest to a charge of federal income tax evasion in exchange for the dropping of charges of political corruption. He is subsequently fined $10,000, sentenced to three years probation, and disbarred by the Maryland court of appeals. Admitted to the bar in 1949, Agnew entered politics as a Republican, and in 1961, was elected chief executive of Baltimore County. In 1967, he became governor of Maryland, an office he held until his nomination as the Republican vice presidential candidate in 1968. During Nixon's successful campaign, Agnew campaigned on a tough law-and-order platform, and after becoming vice president frequently attacked opponents of the Vietnam War and liberals as being disloyal and un-American. Reelected with Nixon in 1972, Agnew is forced to resign on this day, after the US Justice Department uncovers widespread evidence of his political corruption, including shocking allegations that his practice of accepting bribes had continued into his tenure as US vice president. Representative Gerald R. Ford of Michigan is sworn in as Nixon's new vice president on 6 December and will become president of the United States on 9 August 1974, after the escalating Watergate affair will force President Nixon's resignation. (Bradley)

1974 Israel formally signs the Sinai accord with Egypt.


1978 President Carter signs a bill authorizing the Susan B. Anthony dollar. Note: The public will turn its nose up to the coin, which is far to close in weight and size to the quarter.

1979 Panama assumes sovereignty over the Canal Area (ie Canal Zone).

1980 The Very Large Array (VLA) radio telescope network is dedicated.

1981 Anwar Sadat's funeral service is held in Cairo.

1982 Pope John Paul II canonizes the Reverend M. Kolbe, who had volunteered to die in place of another inmate at the Auschwitz concentration camp.

1982 The United States imposes sanctions against Poland after the Polish government bans the Solidarity trade union.

1983 Israel's Knesset votes 60-53 to endorse Yitzhak Shamir as Prime Minister.

1985 US fighter jets force an Egyptian plane carrying hijackers of the Italian liner ship Achille Lauro, to land in Italy. The gunmen are placed in custody.

1986 Israeli Prime Minister Shimon Peres resigns.

1990 The US 67th manned space mission STS 41 (Discovery 11) returns from space.

1991 Ex-postal worker Joseph Harris kills 4 postal workers.

1991 The United States cuts all aid to Haiti, including $90 million funneled through the Agency for International Development.




1993 Greek voters return former Prime Minister Andreas Papandreou and his Pan-Hellenic Socialist Movement to power.

1994 Lieutenant General Raoul Cedras resigns as Haiti's commander-in-chief of the army and pledges to leave the country, making way for the return of exiled President Jean-Bertrand Aristide.

1995 Israel begins its West Bank pullback and frees hundreds of Palestinian prisoners under a deal with the Palestine Liberation Organization; some inmates refuse to go in solidarity with others left behind. They also pull troops out of four towns as the second phase of the peace plan is implemented on the West Bank. (Bradley)

1996 A Scottish fisherman finds a message in a bottle that had been thrown in the North Sea in 1914 as part of an experiment to chart currents.

1997 The major US tobacco companies agree to a settlement in the class-action suit brought against them by 60,000 present and former flight attendants, who claim secondhand smoke in airplanes had caused them to get cancer and other diseases.

1997 It is announced that the 1997 Nobel Peace Prize will be awarded to the International Campaign to Ban Landmines and its coordinator, Jody Williams of Putney, Vermont.

2001 Representatives of 56 Islamic nations, in an emergency meeting on Qatar, condemn the 11 September terrorist attacks on the US.

2001 FBI investigators spend their third day collecting evidence in the newspaper offices of the two men whose exposure to anthrax has prompted heightened fear of bioterrorism across America.




2001 American forces continue to strike military targets in Afghanistan, but the focus for Americans is quickly turning to the anthrax scare.

2001


2004


2004


2004

---
^ Top of Page ^
---

Click Here to email the Webmaster of this site.

Web Page Design by Nathan
This page was last updated on October 1, 2005