NAVIGATION COLUMN
Home Page

Yahoo Groups:
History 1 Day 2
Nuremburg Data


---
Daily History Pages:
---

FAIR USE NOTICE: This site could contain copyrighted material the use of which has not always been specifically authorized by the copyright owner. We are making such material available in our efforts to advance understanding of historical, political, human rights, economic, democracy, scientific, environmental, and social justice issues, etc. We believe this constitutes a 'fair use' of any such copyrighted material as provided for in section 107 of the US Copyright Law. In accordance with Title 17 U.S.C. Section 107, the material on this site is distributed without profit to those who have expressed a prior interest in receiving the included information for research that could include educational purposes. If you wish to use copyrighted material from this site for purposes of your own that go beyond 'fair use', you could most likely need to obtain permission from the copyright owner.


October 11




1216 King John loses his crown and jewels while crossing The Wash.




1521 Pope Leo X confers the title "Fidei Defensor" (Defender of the Faith) upon England's Henry VIII. Three popes and 13 years later, Henry will sever all ties with Rome to establish the Church of England and to marry Anne Boleyn. (Bradley)

1531 The Catholics defeat the Protestants at Kappel during Switzerland's second civil war.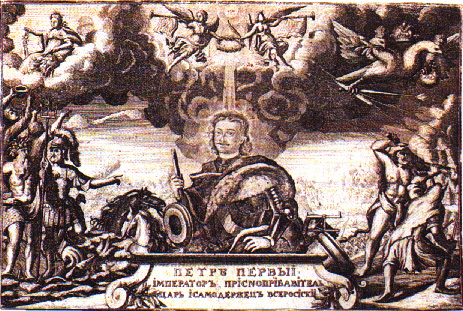 1689 Peter the Great becomes Tsar of Russia.

1727 The coronation of King George II takes place in London.




1759 Birth: Mason Locke Weems, clergyman; will invent the story of George Washington and the cherry tree.




1776 US Revolutionary War: A British fleet under Sir Guy Carleton defeats 15 American gunboats under the command of Brigadier General Benedict Arnold at the Battle of Valcour Island on Lake Champlain, New York. Although nearly all of Arnold's ship are destroyed, it takes more than two days for the British to subdue the Patriot naval force, delaying Carleton's campaign and giving the Patriot ground forces adequate time to prepare a crucial defense of New York. (Bradley)




1779 Death: Polish nobleman General Casimir Pulaski is killed fighting for American independence at the battle of Savannah, Georgia.

1795 In gratitude for putting down a rebellion in the streets of Paris (by firing on the rioter), France's National Convention appoints Napoleon Bonaparte second in command of the Army of the Interior.

1797 British naval forces defeated the Dutch off Camperdown, the Netherlands.




1809 Death: Meriwether Lewis, captain of the Lewis and Clark Expedition, aged 35.

1811 The Juliana, the first steam-powered ferryboat in the world, starts its run between New York City and Hoboken, New Jersey.

1862 US Civil War: The Confederate Congress in Richmond passes a draft law allowing anyone owning 20 or more slaves to be exempt from military service. This law confirms many southerners opinion that they are in a 'rich man's war and a poor man's fight.' (Bradley)

1864 US Civil War: Slavery is abolished in the dismal state of Maryland.




1865 President Johnson paroles CSA vice president Alexander Stephens.

1868 Thomas A. Edison files papers for his first invention, an electrical vote recorder to rapidly tabulate floor votes in Congress; Congress rejects the device. (Bradley)

1871 The Great Fire of Chicago is finally extinguished after three days. At least 300 people are killed, 90,000 left homeless and damage is estimated at over $200 million.

1872 Birth: Harlan Fiske Stone, in New Hampshire, US Supreme Court (1925-41) Chief Justice (41-46).




1877 Outlaw Wild Bill Longley, who killed at least a dozen men, is hanged twice; on the first attempt, the rope slipped and his knees hit the ground. "...William Preston "Bill" Longley was born on October 6, 1851, in Austin County, Texas. Longley was a farm boy and was, no doubt, a product of his environment. Like so many other young men in Texas during that era, he was extremely bitter over the outcome of the Civil War. Some of Bill Longley's experiences were not unlike those of the notorious John Wesley Hardin. Although Hardin acquired more fame than Longley, the latter did his share of killing and terrorizing folks in south central Texas. Although both men were known to have attacked and murdered black men; Longley was also accused of killing a black woman in Bastrop County. Bill Longley loved to brag about his exploits, but most of the time he didn't have actual witnesses to back up his claims. Some historians believe that Longley's criminal career was..."

1881 DH Houston of Cambria, Wisconsin patents roll film for cameras.




1884 Birth: Eleanor Roosevelt; author, wife of FDR.

1890 The Daughters of the American Revolution is founded in Washington, DC.

1897 Birth: General Nathan F. Twining, USAF (Neither Liberty nor Safety).




1899 Boer War: In South African, conflict begins between the British Empire and the Boers of the Transvaal and Orange Free State. The Boers, also known as Afrikaners, are the descendants of the original Dutch settlers of southern Africa. Britain took possession of the Dutch Cape colony in 1806 during the Napoleonic wars, sparking resistance from the independence-minded Boers, who resented the Anglicisation of South Africa and Britain's antislavery policies. In 1833, the Boers began an exodus into African tribal territory, where they founded the republics of the Transvaal and the Orange Free State. The two new republics lived peaceably with their British neighbors until 1867, when the discovery of diamonds and gold in the region made conflict between the Boer states and Britain inevitable. Minor fighting with Britain began in the 1890s, and on this day full-scale war ensues. By mid June 1900, British forces will have captured most major Boer cities and will formally annex their territories, but the Boers will launch a guerrilla war that frustrates the British occupiers. Beginning in 1901, the British will begin a strategy of systematically searching out and destroying these guerrilla units, while herding the families of the Boer soldiers into concentration camps. By 1902, the British will have crushed the Boer resistance, and on May 31 of that year the Peace of Vereeniging will be signed, ending hostilities. The treaty will recognize the British military administration over Transvaal and the Orange Free State and authorize a general amnesty for Boer forces. In 1910, the autonomous Union of South Africa will be established by the British to include Transvaal, the Orange Free State, the Cape of Good Hope, and Natal as provinces. (Bradley)

1906 A San Francisco school board orders the segregation of Oriental schoolchildren, inciting Japanese outrage.

1910 Birth: Joseph Alsop, political newspaper columnist (Men Around the President).

1911 Nationalist Chinese overthrow the Chinese monarchy on mainland China.

1914 WW1: The Cathedral of Notre Dame suffers minor damage during an air raid on Paris.




1915 WW1: Despite international protests, Edith Cavell, an English nurse in Belgium, is executed in Brussels by Germans, for aiding the escape of Allied prisoners.

1915 WW1: Two Bulgarian armies strike west, one on Nis, the other on Skopje.

1922 The first woman FBI special investigator is appointed: Alaska Davidson.




1923 Wiemer: The German mark falls to 10 billion per pound, 4 billion per dollar.




1931 Wiemer: Meeting in Harzburg of the Nazis and Nationalists: The Hugenberg-Hitler alliance. They demand that Bruening resign, as Hitler makes his own independence clear by reading a proclamation of his own to his own Nazi party members. Above: Hugenberg.

1933 The American Federation of Labor (AFL) joins the anti-Nazi boycott.

1932 The first telecast of a political campaign is seen - on about 5 TV sets - live from New York. The show, on CBS, is sponsored by the Democratic Committee.

1933 Latin American nations sign the Rio de Janeiro nonaggression pact.




1933 US Ambassador Christopher Dodd criticizes the Nazi regime during an address to the American Chamber of Commerce in Berlin.

1934 King Alexander's 11-year-old son, Peter II, becomes king of Yugoslavia.

1935 Fifty-one members of the League of Nations vote economic sanctions against Italy.




1939 Diary of Leon Gladun: We're carrying beams of wood for our own fence--in a word za....budiemi [in Russian]. Today they take us to the bania [steam bath]. The bania is one good thing so far; at least everyone was able to steam themselves as much as they wanted. With food it's worse. They give us wasserupka [water-soup] and tea--a person walks around constantly hungry. This night is a nightmare again. People step on each other's head going out for a pee and there's literally not a bit of free space on the floor and air is so stale that you almost choke. I shaved my head today.

1939 Albert Einstein and other US scientists outline to President Roosevelt the possibilities of developing an atomic bomb.

1942 WW2: In the Battle of Cape Esperance, near the Solomon Islands, US cruisers and destroyers decisively defeat a Japanese task force in a night surface encounter.

1943 Holocaust: The last train of deportees to be gassed at Sobibor arrives at the camp. (Apparatus)




1944 WW2: The veteran 1st US Infantry Division of the First Army enters the outskirts of Aachen, Germany. Hitler orders the Aachen's defenders to resist to the last man.

1945 Negotiations between Nationalist leader Chiang Kai-shek and Communist leader Mao Tse-tung break down. Nationalist and Communist troops are soon engaged in a civil war.

1950 The Federal Communications Commission authorizes the Columbia Broadcasting System (CBS) to begin commercial color TV broadcasts.




1961 Death: Leonard Marx, at 74; better known as Chico.

1963 The United Nations, in a 106-1 vote, condemns repression in South Africa.

1963 A newspaper report shows that women outnumber men by almost 4 million in the US.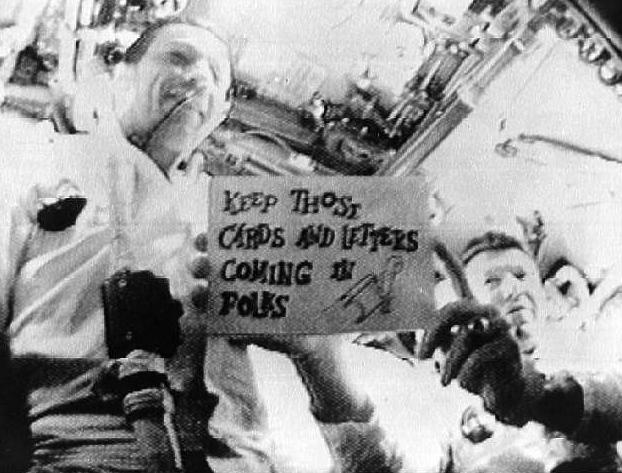 1968 Apollo 7, with Schirra, Eisele and Cunningham aboard, is successfully launched from Cape Kennedy. It makes 163 orbits in 260 hours and is the first manned space mission to transmit live television broadcasts from orbit.

1969 Soyuz 6 is launched. Soyuz 7 and 8 follow in the next 2 days.

1972 The Nam: A French mission in Vietnam is destroyed by a US bombing raid.

1975 William Jefferson Clinton (29) and Hillary Rodham (27) tie the knot in Fayetteville, Arkansas.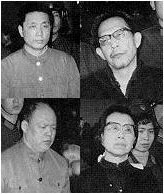 1976 Gang of Four: After the death of Chinese leader Mao Zedong, Mao's widow Jiang Qing and three others are arrested and charged with plotting a coup. The four are put on trial in 1980 on charges of subverting the government and torturing innocent people. Jiang Qing is will be found guilty and sentenced to death - a sentence later commuted to life imprisonment. She dies in 1991 and is thought to have committed suicide. (Bradley)

1977 Soyuz 25 returns to Earth.

1977 North Yemeni president Colonel Ibrahim al-Hamdi together with his brother and brother in law are killed by unknown assassins.

1978 Aristides Royo is elected president of Panama.

1980 USSR cosmonauts Popov and Ryumin return to Earth after setting a space endurance record of 185 days aboard Salyut 6.

1983 The last hand-cranked telephones in the US go out of service, as 440 telephone customers in Bryant Pond, Maine, are switched over to direct-dialling.

1984 Financier Marc Rich agrees to pay the US government nearly $200 million, the biggest tax fraud penalty in US history.




1984 Kathryn D. Sullivan becomes the first US female astronaut to walk in space when she exits the space shuttle Challenger. Attached only by a narrow life-support tether, Sullivan works in space for 3-1/2 hours before returning to Challenger's controlled environment.




1985 President Ronald Reagan bans the importation of South African Krugerrands into the US.

1986 President Reagan and Russian president Mikhail Gorbachev open talks at a summit in Reykjavik, Iceland.

1990 Oil hits a record $40.42 per barrel.

1991 As confirmation hearings for US Supreme Court Justice Clarence Thomas begin, Anita Hill testifies that Thomas had sexually harassed her; an obviously spurious charge, as any objective observer who listens closely to her testimony readily concludes.

1991 Death: Redd Foxx, from (what else?) a heart attack.

1991 The UN Security Council passes a resolution barring Iraq from pursuing any atomic programs.




1992 President Bush, Bill Clinton and Ross Perot square off in St. Louis for the first presidential debate of the 1992 political campaign; the most entertaining debate in recent history.

1993 Armed demonstrators in Port au Prince, Haiti, prevent US and Canadian troops from landing.

1994 The Pentagon reports that Iraqi troops are withdrawing from the Iraq-Kuwait border. Their deployment had triggered the deployment of the US Navy and the Marines to the Persian Gulf less than a week earlier.




1994 The Colorado Supreme Court strikes down a law that barring local governments from enacting laws protecting homosexuals from discrimination in employment and housing.

1996 The Nobel Peace Prize goes to Jose Ramos-Harta and Carlos Ximenes Belo, who had worked for freedom for East Timor, Indonesia, where famine and repression had killed one-third of the entire population.

2000 In the second televised presidential debate, Vice President Al Gore and his Republican challenger, Texas Governor George W. Bush, seem to agree more than they disagree in an event more closely resembling a cordial conversation.




2001 A third person employed by American Media tests positive for anthrax in Florida and officials say the probe into the source of the disease is now a criminal investigation.




2001 President George W. Bush speaks at a memorial service at the Pentagon. Bush vows to destroy terror with 'every weapon' in the US arsenal as he marks one month since the Sept. 11 attacks. (Oct. 11th Ground Zero images)

2001 Air strikes continue in Afghanistan for the fifth day.

2004


2004

---
^ Top of Page ^
---

Click Here to email the Webmaster of this site.

Web Page Design by Nathan
This page was last updated on October 07, 2005