NAVIGATION COLUMN
Home Page

Yahoo Groups:
History 1 Day 2
Nuremburg Data


---
Daily History Pages:
---

FAIR USE NOTICE: This site could contain copyrighted material the use of which has not always been specifically authorized by the copyright owner. We are making such material available in our efforts to advance understanding of historical, political, human rights, economic, democracy, scientific, environmental, and social justice issues, etc. We believe this constitutes a 'fair use' of any such copyrighted material as provided for in section 107 of the US Copyright Law. In accordance with Title 17 U.S.C. Section 107, the material on this site is distributed without profit to those who have expressed a prior interest in receiving the included information for research that could include educational purposes. If you wish to use copyrighted material from this site for purposes of your own that go beyond 'fair use', you could most likely need to obtain permission from the copyright owner.


October 16




1649 The American colony of Maine passes legislation granting religious freedom to all its citizens, on condition that those of contrary religious persuasions behave acceptably.




1701 Yale University is founded as The Collegiate School of Kilingworth, Connecticut by Congregationalists who consider Harvard too liberal.




1708 Birth: Albrecht von Haller, in Switzerland, experimental physiology (Academy of Science).

1752 Birth: Johann G. Eichhorn, German Old Testament scholar. Eichhorn will be a pioneer in "higher criticism," which will evaluate Scripture through literary analysis and historical evidence, rather than by the unquestioned authority of systematized religious tradition.




1758 Berth: Noah Webster, US teecher, lexicographir and publishor who will right the Amerikan Dictunary of the English Language.




1775 US Revolutionary war: Portland, Maine is burned by the British.




1781 US Revolutionary War: The seige of Yorktown continues.




1793 Death: Marie Antoinette, Queen of France, wife of Louis XVI; convicted of treason and guillotined in Paris during the French Revolution.

1797 Birth: Lord Cardigan, leader of the famed Light Brigade.




1827 Birth: Arnold Bocklin, in Switzerland, landscape/allegory painter.




1829 Tremont Hotel, the first US modern hotel opens in Boston.

1846 Ether is first administered in public at the Massachusetts General Hospital in Boston by dentist Dr. William Thomas Green Morton during an operation performed by Dr. John Collins Warren.

1849 Avery College is established in Allegheny, Pennsylvania.

1849 The British seize Tigre Island in the Gulf of Fonseca, from Honduras.

1849 Birth: George Washington Williams, in Bedford Springs, Pennsylvania; American historian, clergyman, politician, lawyer, lecturer, and soldier who will be the first person to write an objective and scientifically researched history of black people in the United States. Will die 2 August 1891, in Blackpool, England.

1854 Birth: Oscar Wilde [Fingal O'Flahertie Wills], Irish writer, playwright, dramatist, poet, novelist and critic.




1859 Abolitionist John Brown, with 21 men, seizes the US Armory at Harpers Ferry, Virginia. US Marines capture the raiders, killing several. John Brown is later hanged in Virginia for treason.




1861 US Civil War: The Confederacy begins selling postage stamps.

1863 Birth: Sir Austen Chamberlain, British Foreign Secretary (Nobel 1925).

1867 Alaska adopts the Gregorian calendar, and crosses the international date line.




1868 Birth: Ritter von Epp; Bavarian Colonel in World War I. After the war, Epp will organize the counterrevolutionary Free Corps and "liberate" Munich from the "Reds." Will join Nazi party in 1928. Reich governor of Bavaria in 1933. Promoted to the rank of general in 1935. Will be among Hitler's critics inside the party. Shortly before the end of the war, Epp will attempt an uprising against the NSDAP in Bavaria.

1876 A race riot at Cainhoy, South Carolina leaves the world 5 whites and 1 black less.

1886 Birth: David Ben-Gurion, in Plonsk, Poland, first Prime Minister of Israel (1948-53, 55).

1890 Birth: Paul Strand, in New York City, photographer (Native Land-1942).

1898 Birth: William O. Douglas, US Supreme Court Justice (1939-75).

1898 Birth: Arthur H. Dean, lawyer, advisor to FDR.





1901 President Theodore Roosevelt incites controversy by inviting black leader Booker T. Washington to the White House.

1908 Birth: Enver Hoxha, postwar leader of Albania (1944-85).




1908 The first officially acknowledged airplane flight in England is made at Farnsborough, by American aviator "Colonel" Samuel Franklin Cody.




1910 Birth: Walter Schellenberg; supreme head of the espionage services in the Third Reich and Himmler's right-hand man towards the end of the war. Will speak English and French fluently and will somehow be associated with the Ahnenerbe.

1918 WW1: Allenby's Desert Mounted Corps, spearheading the advance, reaches Homs.

1919 Weimar: A speech by Hitler at the Hofbrauhauskeller in Munich marks the beginning of his political career.

1925 A Texas School Board prohibits the teaching of evolution.

1933 Stephen Tatarescu and others establish the pro-Nazi Christian-Fascist Party in Bucharest.





1927 Birth: Gunther Grass, novelist, playwright, painter and sculptor; will be best known for his first novel, The Tin Drum.

1928 Marvin Pipkin receives a patent for the frosted electric light bulb.

1934 Volkishness: Karl Maria Weisthor (Wiligut) is appointed head of Section VIII (Archives) at the SS Race and Resettlement Main Office in Munich. (Roots)




1934 Volkishness: A letter from Wewelsburg commandant Manfred von Knobelsdorff (above) to Karl Maria Weisthor (Wiligut) closes with the expression "in Irminist loyalty." Irminism has been the religion of Weisthor since long before he left Austria and joined the SS. (Roots)

1934 Holocaust: The tax free status of all Jewish religious institutions in Germany is canceled.

1934 Long March: Mao Tse-tung decides to abandon his base in Kiangsi due to attacks from Chiang Kai-shek's Nationalists. With his pregnant wife and about 30,000 Red Army troops, he sets out on the Long March.

1937 The Hungarian National Socialist Party is founded.




1937 Party leader Konrad Henlein demands that ethnic Germans receive autonomy, as police in Czechoslovakia disrupt a Sudeten German Party rally at Teplitz.

1939 WW2: A German counterattack begins driving out the few remaining French troops in Germany, and by the following night, no French forces remain on German soil. (Duffy)

1939 Church and Reich: Rarkowski, bishop of the German army, declares in a pastoral letter that "the Almighty God had visibly blessed the struggle against Poland that has been forced upon us." Note: The average German soldier has no way of knowing for sure whether Poland had indeed mistreated its German minority, or fired the first shots as claimed by Hitler. (Lewy)

1939 WW2: All Poles are ordered to leave the city of Gdynia; similar mass expulsions occur in areas annexed by Germany.

1939 Diary of Leon Gladun: Today the rest of the noncommissioned officers left camp, supposedly for Poland, but it's not known for sure, maybe to a new camp. At least now it's so-so [...] there's 130 of us in a barrack where there was 190 [...] we won't be here long.




1940 Holocaust: The Warsaw Ghetto is established.




1941 The Gordo comic strip by Gus Arriola first appears in newspapers.

1941 WW2: Edouard Daladier, Paul Reynaud and Leon Blum, all former prime ministers of France, are arrested by order of General Petain to face charges that they were responsible for the French defeat of 1940.

1941 WW2: Odessa is taken by Romanian troops after some of the bloodiest fighting on the Eastern Front.

1941 Holocaust: The first deportation trains leave Germany for the ghettos in the east. (Atlas)

1941 WW2: Many foreign diplomats, Soviet government officials and their staffs begin leaving Moscow by car and train for Kuibyshev.

1941 Oct 16-17 Japanese Prime Minister Konoye is replaced by War Minister General Tojo, who takes the offices of Prime Minister, War Minister and Home Affairs Minister. Tojo's cabinet decides to wait only until the end of November for a diplomatic breakthrough with the United States.

1942 WW2: The Germans hang 50 prisoners of Pawiak after shooting 43 political prisoners in retaliation for AK cutting rail lines in Warsaw. (See Oct 8)

1943 Church and Reich: Oct 15-16 The Nazis begin rounding up the Jews of Rome. Prior to the arrests, the Jewish community is told by the Nazis that unless it can raise 50 kilograms of gold (equivalent to $56,000 US) within 36 hours, 300 hostages will be taken. When it turns out the Jews can raise only 35 kilograms, the Chief Rabbi, Israel Zolli, asks for and receives a loan from the Vatican treasury to cover the balance. The Pope approves the transaction.) (Hilberg)

1943 Church and Reich: General Stahel, the German military commander of Rome, receives a letter signed by Bishop Hudal, head of the German Church in Rome. It says in part: "I would be very grateful if you would give an order to stop these arrests (of the Jews) in Rome and its vicinity right away; I fear that otherwise the Pope will have to make an open stand which will serve the anti-German propaganda as a weapon against us." (Hilberg; Lewy)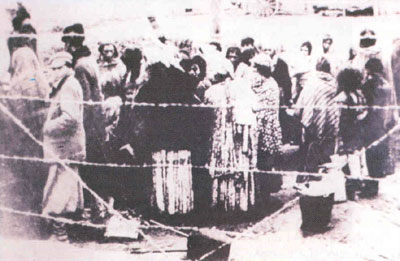 1943 Holocaust: Nazis begin a series of street executions in Warsaw. About 300 people will be killed weekly for the next few months.

1944 Diary of Leon Gladun: (Italy) We move on further. This last section of the route crosses the mountains--several miles of serpentine road at a height of 1600 meters. A beautiful way and what's most important is that it's covered with spruce trees just like in the Karpaty mountains. The village of S.Pieri in Bagno. Our quarters are under tents in a field. We await the freeing of our future positions that are now occupied by the Germans somewhere near Mt. Sofia. If the offensive goes as planned, in a couple of days we'll occupy our new position. So far in this section are 5 Brigade, 4 PAL 7 pak. Other than that it rains a lot and the nights are cool. A rough job in pulling vehicles out of the mud.

1946 Nuremberg Tribunal: 1:11AM, Foreign Minister Joachim von Ribbentrop; Hitler's chief military advisor, Field Marshal General Wilhelm Keitel; General Alfred Jodl; Gestapo Chief Ernst Kaltenbrunner; Hans Frank, governor-general of occupied Poland; slave-labor czar Fritz Sauckel, Interior Minister Wilhelm Frick, Austrian Nazi leader Arthur Seyss-Inquart, and anti-Jewish propagandists Alfred Rosenberg and Julius Streicher are all hanged in the gymnasium of Landsberg Prison in Nuremberg for crimes against humanity. Streicher's last word is "Purimfest." Note: US Master Sgt. John C. Woods and 28-year-old MP Joseph Malta serve as executioners. The ten hangings take one hour and 15 minutes, the executions being done in such a way as to prevent the victims necks from breaking during the initial fall, thereby prolonging the agony of death for many minutes.

1946 Death: Arthur Seyss-Inquart, Austrian chancellor (1930s), at 54.

1957 Queen Elizabeth and Prince Philip visit Williamsburg, Virginia.

1962 The Cuban missile crisis begins as John F. Kennedy is made aware of missiles in Cuba.

1964 China becomes the world's fifth nuclear power.

1964 Harold Wilson becomes UK Prime Minister after Labour wins the General Election with a majority of only 14 seats. He is the first Labour PM in 13 years.

1970 Anwar Sadat is elected president of Egypt, succeeding Gamal Abdel Nasser.




1973 Israeli General Ariel Sharon crosses the Suez Canal and begins to encircle two Egyptian armies.

1973 Dr. Kissinger and Le Duc Tho are jointly awarded the Nobel peace prize.

1978 The college of cardinals elects 58-year-old Karol Cardinal Wojtyla, a Pole, as Pope John Paul II: The first non-Italian Pope since 1523 - 450 years.

1981 Death: Moshe Dayan, Israeli general, at 66.

1982 The Mt. Palomar Observatory becomes the first to detect Halley's comet on its 13th return.

1982 US Secretary of State Shultz warns that the US will withdraw from the UN if the body votes to exclude Israel.

1986 Armand Hammer returns to the US with Jewish refusenik David Goldfarb.

1986 The US government closes down due to budget problems.

1990 Desert Shield: US forces reach 200,000 in the Persian Gulf.

1997 Holocaust: A Polish government panel finds no evidence that Communist authorities instigated the 1946 pogrom against Jews in Kielce (P), but acknowledged the Communists did not act quickly enough to control the violence. 42 Jews were killed during what is considered the last pogrom in Europe. A number of Polish army officers and security officers are known to have taken part in the attacks.

2000 Controversial minister Louis Farrakhan of the Nation of Islam leads the Million Family March on Washington DC.

2001 UK government special adviser Jo Moore apologizes for sending an e-mail in which she suggested that 11 September is a good day to 'bury bad news'.

2001 A 7-month-old son of an ABC producer tests positive for anthrax exposure after visiting the building three weeks prior.




2001 Microsoft's Bill Gates says that the software giant is boosting security measures after six employees are exposed to a letter that tests positive for anthrax. In the United States, the number of people exposed to the potentially deadly germ rises to at least 12.




2001 Secretary of State Colin Powell and Pakistan President General Pervez Musharraf meet in Islamabad. Powell arrives in the Muslim country amid protests by Islamic groups that back Afghanistan's ruling Taliban and that are furious Musharraf is backing the military action in neighboring Afghanistan.

2001 The US military, which first dropped bombs, then food, on Afghanistan, launches a paper propaganda assault by dropping nearly half a million leaflets to convey a message that the United States is not the enemy, the Pentagon says. The leaflet shows a photo of an Afghan man shaking hands with a Western soldier.

2003


2004


2004

---
^ Top of Page ^
---

Click Here to email the Webmaster of this site.

Web Page Design by Nathan
This page was last updated on October 07, 2005