NAVIGATION COLUMN
Home Page

Yahoo Groups:
History 1 Day 2
Nuremburg Data


---
Daily History Pages:
---

FAIR USE NOTICE: This site could contain copyrighted material the use of which has not always been specifically authorized by the copyright owner. We are making such material available in our efforts to advance understanding of historical, political, human rights, economic, democracy, scientific, environmental, and social justice issues, etc. We believe this constitutes a 'fair use' of any such copyrighted material as provided for in section 107 of the US Copyright Law. In accordance with Title 17 U.S.C. Section 107, the material on this site is distributed without profit to those who have expressed a prior interest in receiving the included information for research that could include educational purposes. If you wish to use copyrighted material from this site for purposes of your own that go beyond 'fair use', you could most likely need to obtain permission from the copyright owner.


October 21


2137BC A total eclipse of the sun occurs in China. For the first time, humans record the event.




1096 Seljuk Turks at Chivitot slaughter thousands of invading German crusaders.




1520 Ferdinand Magellan leaves the strait which bears his name and enters the Pacific.




1529 The Pope names Henry VIII of England as Defender of the Faith after Henry had defended the seven sacraments against Luther. A few years later, Henry will be excommunicated.




1532 German reformer Martin Luther declares, 'For some years now I have read through the Bible twice every year. If you picture the Bible to be a mighty tree and every word a little branch, I have shaken every one of these branches because I wanted to know what it was and what it meant.' (Bradley)




1600 Tokugawa Ieyasu defeats his enemies in battle and affirms his position as Japan's most powerful warlord.




1692 William Penn is deposed as Governor of Pennsylvania. His overtures of gratefulness to James II for permitting religious freedom for dissenters of the Church of England lead William and Mary to charge Penn with being a papist.




1760 Birth: Katsushika Hokusai, Japanese printmaker.




1772 Birth: Samuel Taylor Coleridge, in England, poet. (The Rime of the Ancient Mariner, Kubla Khan).




1790 The Tricolor is chosen as the official flag of France.




1790 Birth: Alphonse-Marie Louis de Lamartine, in Macon, France, writer (Ren).




1797 US Navy frigate USS Constitution, 'Old Ironsides', is launched in Boston.




1805 Vice Admiral and Viscount Horatio Nelson wins his greatest victory over a Franco-Spanish fleet, led by Napoleon, in the Battle of Trafalgar, fought off Cape Trafalgar, Spain. Nelson is fatally wounded in the battle, but lives long enough to see victory.




1808 Birth: Samuel Francis Smith, American Baptist clergyman; will be credited with writing over 100 hymns, but will be best remembered as the author of America (My Country, 'Tis of Thee), written at the age of 23, while a student at Andover Seminary.

1824 Portland cement, the modern building material, is first patented by Joseph Aspdin of Wakefield in Yorkshire.




1831 Death: Nat Turner, and 19 associates are hung.




1833 Birth: Alfred Bernhard Nobel, in Stockholm, Sweden, chemist, industrialist; will create dynamite and found of the Nobel Prizes.




1837 Under a flag of truce during peace talks, US troops siege the Indian Seminole Chief Osceola in Florida.




1861 US Civil War: The Battle of Ball's Bluff, Virginia begins. It is a disastrous Union defeat and sparks Congressional investigations.

1867 Many leaders of the Kiowa, Comanche and Kiowa-Apache sign a peace treaty at Medicine Lodge, Kansas. Comanche Chief Quanah Parker refuses to accept the treaty terms.

1868 A severe earthquake happens at 7:53am, centered in Hayward, California.




1879 After 14 months of testing, Thomas A. Edison first demonstrates his electric lamp, hoping to one day compete with gaslight. It can burn for thirteen and a half hours.

1892 Birth: James L. Kelso, American Presbyterian archaeologist; will participate in digs at the biblical sites of Debir, Bethel and Jericho, and author the text Ceramic Vocabulary of the O.T.

1897 Yerkes Observatory of the University of Chicago is dedicated.




1899 Boer War: The Battle of Elandslaagte takes place.

1902 Following a five month walk-off, which requires intervention by an official arbitration committee, the striking members of the United Mine Workers agree to terms with anthracite mine bosses.

1904 Panamanians clash with US Marines in Panama in a brief uprising.




1910 A massive explosion destroys the Los Angeles Times building in the city's downtown area, killing 20 and injuring many more.

1914 WW1: Hitler is assigned to the Western Front and soon becomes a regimental orderly and dispatch runner.

1915 The first transatlantic radiotelephone message is sent from Arlington, Virginia to the Eiffel Tower in Paris, France.




1915 Volkishness: Siegmund von Sebotendorff dies in Wiesbaden. His funeral is attended by Rudolf von Sebottendorff and his wife. (Wiesbaden Zeitung, November 23; Roots)

1917 WW1: The first US troops, members of the First Division of the US Army training in Luneville, France, enter the front lines at Sommervillier under French command. They become the first Americans to see action on the front lines of World War I.

1917 Birth: Dizzy [John Birks] Gillespie, Grammy Award-winning musician, trumpeter, a creator of modern jazz and absolutely the finest musician this humble chronicler has ever been privileged to meet.




1918 WW1: Oct 21-Nov 19 Gas casualty (See October 13) Lance Corporal Adolf Hitler recovers at the Prussian Reserve Hospital in Paswalk. (Maser)

1918 The 'Spanish flu' epidemic starts in Britain, eventually killing approximately twice as many as had died in WW1.

1921 Birth: Sir Malcolm Henry Arnold, in Northampton, England, composer (Bridge over River Kwai).




1923 Weimar: Walther Bauersfeld's Zeiss Planetarium opens at the Deutsche Museum in Munich: .




1923 Weimar: Communists take over the States of Saxony and Thuringia and plan to take over the entire country from these bases.

1925 The US Treasury Department announces that it has fined 29,620 people for alcohol prohibition violations. The fines total $5,000,000.

1925 The first demonstration of a photoelectric cell takes at the Electrical Show in New York City. The light-sensitive cell is used to count objects as they interrupt a light beam.

1931 A UK National Government is formed to deal with the economic crisis as Britain comes off the gold standard.

1933 Hitler's Germany withdraws from the League of Nations.

1934 Chinese Communist forces led by Mao Zedong continue their attempt to break out of encirclement in Jiangxi province by Chiang Kai-shek's Nationalist Army. The 'Long March' to safety through hostile lands to Yanan, 6,000 miles (9,600 km) to the north, will take almost a year. (Bradley)




1936 Holocaust: Julius Streicher initiates a new anti-Jewish campaign with an exhibition entitled "World Enemy Number One: Jewish Bolshevism."

1937 Spanish Civil War: Franco's troops capture Gijon, securing their control of northwest Spain.

1938 After months of bombing, the Japanese take the Chinese city of Canton.

1939 WW2: As war heats up with Germany, the British war cabinet holds its first meeting in the underground war room in London.




1940 Ernest Hemingway's novel For Whom the Bell Tolls is published.

1938 Holocaust: Early in the month, the Polish government announces that all Jews who have lived outside Poland for more than five years will have their passports revoked. This law is to take effect of October 30. (Germany soon announces that there is no place in Germany for these "stateless" Jews.) (See October 26)

1939 Holocaust: Germans deport Poles from Poznan, largest city of western Poland (250,000 people), in establishing "pure and Germanic provinces."

1939 Holocaust: The first "euthanasia" questionnaires are distributed to mental hospitals. They are completed, in their capacity as "experts," by Professors Heyde, Mauz, Nitsche, Panse, Pohlisch, Reisch, C. Schneider, Villinger, and Zucker, all of whom are professors of psychiatry, and thirty-nine other doctors of medicine. Their payment is 5 pfennigs per questionnaire when more than 3,500 are processed per month, and up to 10 pfennigs when there are less than 500. A cross signifies death. There are 283,000 questionnaires to be processed. These experts mark at least 75,000 with a cross. (Science)

1939 Diary of Leon Gladun: So far we finished building our bunks. Supposedly we're to leave here [...] the spring.

1940 Birth: Frances FitzGerald, in New York City, journalist, author (Fire in the Lake).

1941 Barbarossa: Zhukov moves from the successful defense of Leningrad to take command of Moscow's defenses. (Clark II)




1944 WW2: The US First Army captures Aachen, the first major German city to fall to the Allies. Several more days are required to flush the last, steadfast German defenders out of hiding.

1940 WW2: British Prime Minister Winston Churchill taunts Adolf Hitler in a radio broadcast: "We are waiting for the long-promised invasion..... so are the fishes."

1941 WW2: German soldiers go on a rampage, killing thousands of Yugoslavian civilians, including whole classes of schoolboys. Despite attempts to maintain neutrality at the outbreak of the war, Yugoslavia will finally succumb to signing a 'friendship treaty' with Germany in late 1940, finally joining the Tripartite 'Axis' Pact in March 1941. The masses of Yugoslavians protested this alliance, and shortly thereafter the regents who had been trying to hold a fragile confederacy of ethnic groups and regions together since the creation of Yugoslavia at the close of WW1 fall to a coup, and the Serb army places Prince Peter into power. The prince, now the king, rejects the alliance with Germany and the Germans retaliate with the Luftwaffe bombing of Belgrade, killing about 17,000 people. With Yugoslavian resistance collapsing, King Peter removes to London, setting up a government-in-exile. Hitler then begins to carve up Yugoslavia into puppet states, primarily divided along ethnic lines, hoping to win the loyalty of some-such as the Croats, with the promise of a postwar independent state. (In fact, many Croats did fight alongside the Germans in its battle against the Soviet Union.) Hungary, Bulgaria, and Italy all took bites out of Yugoslavia, as Serb resisters are regularly massacred. On this day, in Kragujevac, 2,300 men and boys are murdered; Kraljevo saw 7,000 more killed by German troops, and in the region of Macva, 6,000 men, women, and children are murdered. Serb partisans, fighting under the leadership of the socialist Josef 'Tito' Brozovich, win support from Britain and aid from the USSR in their battle against the occupiers. "The people just do not recognize authority…they follow the Communist bandits blindly," complained one German official reporting back to Berlin.

1942 WW2: Eight American and British officers land from a submarine on an Algerian beach to take the measure of the Vichy French to the Operation Torch landings.

1942 Birth: Judge Judy [Judith Sheindlin Blum], TV judge.

1945 Women in France are allowed to vote for the first time.

1948 The first high-speed radio fax is sent on this day in 1948. To demonstrate the speed of the line, capable of transmitting one million words per minute, Radio Corporation of America transmits all 1,047 pages of the novel Gone with the Wind from a radio station to the Library of Congress. The three-mile transmission takes two minutes and twenty-one seconds. (Bradley)

1949 Birth: Benjamin Netznyahu, former Israeli prime minister.

1950 North Korean Premier Kim Il-Sung establishes a new capital at Sinuiju on the Yalu River opposite the Chinese City of Antung.

1950 Birth: Ronald E. McNair, in Lake City, South Carolina, astronaut (STS 41B, 51L-Challenger disaster).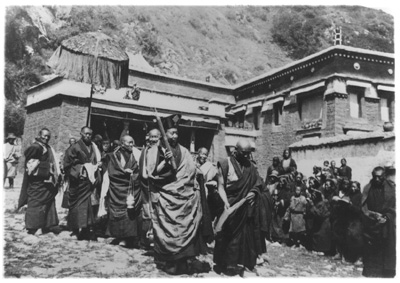 1950 Chinese forces occupy Tibet.

1957 President Eisenhower decides to embark on a speaking tour in an effort to bolster the nation's sagging economic spirit and generate support for his economic and defense policies. Ike calls on Americans to 'cast aside any morbid pessimism' about the nation's fiscal future and to reaffirm their faith in private enterprise.




1959 The Guggenheim Museum, designed by Frank Lloyd Wright, opens in Manhattan, New York.




1959 The brilliant rocket designer Wernher von Braun and his team are transferred from the Army to the newly created National Aeronautics and Space Administration, to be known simply as NASA.

1960 The fourth, and last, debate preceding the presidential election between US Senator John F. Kennedy and US Vice President Richard M. Nixon is televised from New York City.

1960 Britain's first nuclear-powered submarine, Dreadnought, is launched at Barrow-in-Furness, Cumbria, by her majesty the Queen.




1967 Death: Ejnar Hertzsprung, Danish astrophysicist, at 94.

1967 Demonstrators including radicals, liberals, black nationalists, hippies, professors, women's groups, and war veterans march on the Pentagon. The rally in front of the Lincoln Memorial starts peacefully, though Dr. Benjamin Spock, baby specialist, author, and outspoken critic of the war, did call President Johnson 'the enemy.' After the rally, the demonstrators, many waving the red, blue, and gold flag of the Viet Cong, begin marching toward the Pentagon. Violence erupts when the more radical element of the demonstrators clash with soldiers and US Marshals protecting the Pentagon. The protesters surround and besiege the military nerve center until the early hours of 23 October. By the time order is restored, 683 people, including novelist Norman Mailer and two United Press International reporters, have been arrested. This protest is paralleled by demonstrations in Japan and Western Europe, the most violent of which occur outside the US Embassy in London when 3,000 demonstrators attempt to storm the building. (Bradley)




1967 The Egyptian navy sinks the Israeli destroyer Eilat off Sinai.

1969 A bloodless coup takes place in Somalia (Now a National Day).

1969 Willy Brandt is elected Chancellor of West Germany, at the head of a Social Democrat-FDP coalition.




1969 Death: Jack Kerouac, author of the influential counter culture classics On The Road and The Dharma Bums.

1970 777 Unification church couples wed in Korea.

1971 Richard Nixon nominates Lewis F. Powell and William H. Rehnquist to the US Supreme Court, following the resignations of Justices Hugo Black and John Harlan.

1976 American Saul Bellow wins the Nobel Prize for Literature.




1975 Venera 9, which will become the first craft to orbit the planet Venus, is launched.

1979 Israeli Foreign Minister Moshe Dayan resigns over the government's refusal to negotiate with Palestinians.

1982 Hissene Habre is sworn in as president of Chad.

1983 The Pentagon reports that 2,000 Marines are headed to Grenada to protect and evacuate Americans living there.

1985 The British Commonwealth heads of government meeting ends in the Bahamas with agreement to pressure South Africa to dismantle apartheid, but without the all-out sanctions some had asked for. (Bradley)

1986 Pro-Iranian kidnappers in Lebanon claim that they have abducted American writer Edward Tracy. He is not released until August 1991.

1986 The US orders 55 Soviet diplomats to leave. The action is in reaction to the Soviet Union expelling five American diplomats.




1986 President Ronald Reagan signs a bill that promises to trim the debt by $11.7 billion.

1986 Australian Nicholas Feteris is fined $100 for parachuting off the Statue of Liberty. He had omitted to ask permission.

1987 The Senate debate begins rejecting Robert Bork's Supreme Court nomination, by the biggest margin in history, 58-42.

1988 A federal grand jury in New York indicts former Philippine President Ferdinand E. Marcos and his wife, Imelda, on charges of fraud and racketeering.

1991 US hostage Jesse Turner is released from nearly five years in captivity in Beirut. He had been a hostage since January 1987.

1992 Death: Former New Orleans District Attorney Jim Garrison, whose investigation into the assassination of President John F. Kennedy became the subject of the movie JFK, at 71.

1994 Rosario Ames, wife of confessed spy Aldrich Ames, is sentenced to 63 months in prison for her role in collaborating with her husband.




1994 North Korea and the US sign an agreement requiring North Korea to halt its nuclear program and agree to inspections.

2000 British human rights campaigner James Mawdsley arrives back in England after being freed from jail in Burma.

2001 In the midst of the anthrax scare, legislative business goes on as usual in the House and Senate though Senate office buildings remain closed while the investigation continues into discoveries in the office of Senate Majority Leader Tom Daschle and other areas.




2001 US jets mount a new bombardment of Afghanistan, a day after special forces killed Taliban troops and destroyed key targets.




2001 The 21-member APEC countries, meeting in Shanghai China, end their conference and issue a joint statement denouncing terrorism.




2001 Israeli tanks enter several Palestinian cities in the West Bank in response to the assassination of cabinet minister Zeevi. Israel insists that Arafat hand over the killers. Several Palestinians are killed in street battles with Israeli troops.




2001 Mayor Anthony Williams of Washington announces at a press conference that two postal workers at the Brentwood postal facility in Washington DC are confirmed with anthrax and are hospitalized. Tests begin on hundreds of Washington postal workers.

2002


2002


2003


2004


2004


2004


2004

---
^ Top of Page ^
---

Click Here to email the Webmaster of this site.

Web Page Design by Nathan
This page was last updated on October 20, 2005