October 27


0097 To placate the Praetorians of Germany, Nerva of Rome adopts Trajan, the Spanish-born governor of lower Germany.




1449 Death: Ulugh Beg, USSR astronomer, at 56.

1492 Christopher Columbus discovers Cuba and claims the island for Spain.

1505 Death: Ivan III, Tsar of Russia. Known as Ivan the Great, he became tsar in 1462, strengthened the authority of the monarchy and laid the foundations for a centralized state.




1553 Michael Servetus, a Spanish physician who had discovered the pulmonary circulation of the blood, is convicted for promulgating anti-Trinitarianism as well as condemned for heresy and blasphemy. He is burned at the stake this day in Geneva at 42.

1612 A Polish army that had invaded Russia capitulates to Prince Dimitri Pojarski and his Cossacks.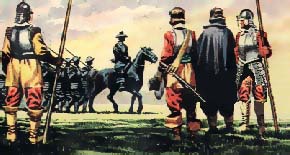 1644 The battle of Newbury takes place when 9,000 Royalists under English King Charles I hold out against the Parliamentary army of 17,500.

1659 William Robinson and Marmaduke Stevenson become the first Quakers to be executed in America.

1662 Charles II of England sells Dunkirk to France for 2.5 million livres.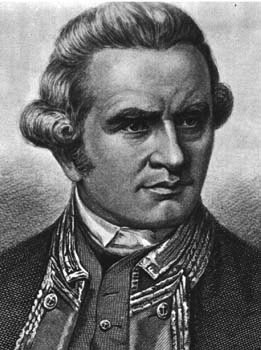 1728 Birth: James Cook, in Marton, Yorkshire, captain, explorer. "He commanded three voyages of discovery for Great Britain, and sailed around the world twice. Captain Cook's voyages lead to the establishment of colonies throughout the Pacific by several European countries. He is considered one of the world's greatest explorers.Cook was an apprentice to a shipping company at age 18, and joined the British Navy at 27 in 1755. In 1768, the Navy appointed him leader of a scientific expedition to Tahiti to observe a solar eclipse by Venus (James Cook and the Transit of Venus). He also had secret orders to seek a southern continent geographers long believed kept the world in balance. He set out on his first voyage round the world..."




1771 Landing at Philadelphia, pioneer bishop Francis Asbury, 26, first arrives in America. He had been sent from England by John Wesley to oversee Methodism in the American colonies, and will stay all of his remaining 45 years, till his death in 1816.

1787 The first of the 85 Federalist Papers is published in a New York City newspaper.

1795 Pinckney's Treaty between Spain and the United States is signed. It establishes the former southern boundary of the United States at the 31st parallel and gives Americans the right to send goods down the Mississippi without paying duty to Spain.




1806 Following his victory at the battle of Jena, Napoleon enters a defeated Berlin.

1807 The Treaty of Fontainebleau is signed by Napoleon and Charles IV of Spain which provides for the division of Portugal into three parts.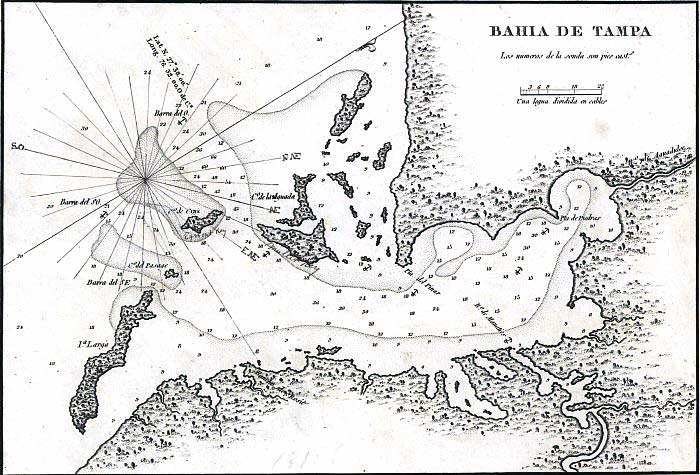 1809 After settlers there had rebelled against Spanish authority, President James Madison orders the annexation of the western part of West Florida.

1844 Birth: Klas Arnoldson, in Sweden, politician, pacifist (Nobel 1908).

1858 Birth: Theodore Roosevelt, 26th president of the USA.




1862 US Civil War: A Confederate force is routed at the Battle of Georgia Landing, near Bayou Lafourche in Louisiana.




1870 The French fortress of Metz surrenders to the Prussian Army.




1871 The diamond fields of Kimberley in South Africa are annexed by Britain.




1871 Boss Tweed (William Macy Tweed), Democratic leader of Tammany Hall, is arrested after a New York Times series exposes his corruption.

1873 Farmer Joseph F. Glidden applies for a patent on barbed wire. Glidden will eventually receive five patents and is generally considered the inventor of barbed wire.




1880 Theodore Roosevelt marries Alice Lee, on his 22nd birthday.

1896 The first Pali Road is completed in Hawaii.

1901 The first known use of a 'getaway car' occurs in Paris when three thieves drive off after holding up a jewelry shop.

1904 The first subway cars are placed in operation, forming the IRT (Interborough Rapid Transit), of the New York City subway system. The cars operate between the Brooklyn Bridge and Broadway; from City Hall to W. 145th Street. This is the first underwater, underground rail system in the world. The subway/bus fare is set at one nickel.




1914 WW1: The British battleship Audacious sinks after striking a German submarine-laid mine off the Irish coast.

1917 WW1: The first American soldier fires a shot in World War I. (Schlesinger I)

1917 20,000 women march in a suffrage parade in New York. As the largest state and the first on the East Coast to do so, New York has an important effect on the movement to grant all women the vote in all elections.

1918 WW1: German Kaiser Wilhelm II accepts the resignation of General Erich Ludendorff after the failure of his offensive on the Western Front.




1920 Allied Ambassadors confirm a decree creating the Free City of Gdansk (Danzig).




1922 In Italy, liberal Luigi Facta's cabinet resigns after threats from Mussolini that 'either the government will be given to us or we will seize it by marching on Rome'. Mussolini calls for a general mobilization of all Fascists. Ethiopian Emperor Haile Selassie, whose country had been invaded by Italy, warns the League of Nations of the dangers of appeasement.




1923 Birth: Roy Lichtenstein, sculptor, pop art painter, painted comic book panels.

1926 Birth: H. R. Haldeman, former White House Chief of Staff-Watergate figure.

1933 The French government cancels orders issued by local municipal authorities to expel German Jewish refugees.

1934 An assassination plot against Mussolini is exposed in Italy.

1935 An anti-Nazi rally in Hyde Park, London, draws 18,000 people.

1937 Jewish access to public bathhouses in Danzig is limited to specified hours, one day a week.

1939 Diary of Leon Gladun: Today we received a real feast--for the first time I'm satiated. Everyone is still talking that we'll be leaving for sure--but it seems never to arrive. Perhaps we're finally going as there's to be a quarantine in Szepetowka.

1940 Holocaust: 290 Jews, old people, cripples and the mentally ill from the Old Peoples Home in Kalisz, Poland, are put in a truck, taken just outside of town to the woods at Winiary, and gassed inside the truck with exhaust fumes. All 290 are buried in the woods. (Atlas)

1941 In a broadcast to the nation on Navy Day, President Franklin D. Roosevelt declares, 'America has been attacked, the shooting has started'. He does not ask for full-scale war, realizing that many Americans are not yet ready for such a step.




1941 The Chicago Daily Tribune editorializes 'there will not be war with Japan.'

1941 Church and Reich: Bishop Berning reports to Cardinal Bertram that the Gestapo has refused their request for permission to allow Jewish Catholics to wear the Star of David while in Church. (Lewy)

1941 Church and Reich: The Bishop of Limberg informs Bishop Wienken, the episcopate's troubleshooter in Berlin, that the transport of Jews from Frankfurt earlier in the month had included Catholic "non-Aryans" to whom no preferred treatment had been granted. Their fate was especially sad, he said, because they were regarded by the other Jews as apostates (turncoats).




1941 Church and Reich: Harold H. Tittmann, assistant to Roosevelt's special emissary to the Vatican, attempts to get the Pope to issue a public protest against the German's mass shooting of hostages. He is told that this could not be done since it would jeopardize the situation of the German Catholics. (U.S.D.P)

1942 WW2: An indecisive two-day air and sea battle around the Solomon Islands ends with severe damage to both US and Japanese fleets.

1944 Church and Reich: Bormann writes back to Rosenberg informing him that Hitler has rejected the idea of using clergymen for forced labor. (Lewy)

1948 Israel recaptures Nizzanim in the Negev.

1961 Outer Mongolia and Mauritania become the 102nd and 103rd members of the UN.




1961 The first Saturn launch vehicle makes an unmanned flight test.




1962 Cuban Missile Crisis: Soviet Premier Nikita Khrushchev sends a second letter to President Kennedy, raising the stakes even further. Rusk and Bobby suggest accepting the milder terms of the previous days letter; to remove Soviet missile bases in Cuba if the US removes its missile bases in Turkey.

1966 The UN General Assembly votes to end South Africa's mandate over South West Africa.

1969 St Vincent and the Grenadines gain associated status with Britain.




1969 Ralph Nader sets up a consumer organization known as Nader's Raiders.

1971 The government of Congo announces that the country would change its name to the Republic of Zaire.

1975 Egyptian President Anwar Sadat, on his first trip to the US, arrives in Washington for talks with President Ford.

1978 President Carter signs the Hawkins-Humphrey full employment bill.

1978 Menachem Begin of Israel and Anwar Sadat of Egypt are named winners of the 1978 Nobel Peace Prize.

1979 St Vincent and the Grenadines become independent of the UK.

1979 The Voluntary Euthanasia Society publishes a how-to-do-it suicide guide.

1981 Andrew Young, a former UN Ambassador, is elected mayor of Atlanta, Georgia.

1982 China announces its population has reached over 1 billion.

1987 South Korean voters overwhelmingly approve a new constitution. The referendum approves constitutional reforms, including direct elections to the presidency.




1987 Death: Jean Helion, artist, author, at 83.

1988 Larry Flynt pays a hitman $1 million to kill Hefner, Guccione and Sinatra.




1991 Turkmenistan's Supreme Soviet passes a law establishing its independence from the Soviet Union.

1993 Police investigating complaints of persistent barking by a dog in Heerlen, Holland, discover the noise coming from a tape recording intended to scare off burglars.

1994 President Clinton ends a visit to Syria, the first by a US leader in 20 years, reporting substantive progress in his efforts to restart Syrian-Israeli peace talks.

1994 The US Justice Department announces that the US prison population has exceeded one million for the first time.




1995 France sets off the third in a series of nuclear tests in the south Pacific at Mururoa atoll.

1995 A court in Milan sentences two former Italian prime ministers, Bettino Craxi and Arnaldo Forlani to jail terms on corruption charges.




2001 Abdul Haq's execution is confirmed. Taliban officials declare that "anyone who assists the US is liable to be killed." Haq attempted to escape after radioing for US military assistance.

2001 Between 5,000 and 10,000 Pakistani warriors join a convoy of trucks and busses heading to the northern Afghanistan frontier. The Pakistani "jihad brigade" vows to fight a holy war against United States.

2001 American warplanes strike Taliban targets with increased ferocity. Civilian deaths in Afghanistan continue to mount, with the errant bombing of a village north of Kabul killing ten.

2001 Israeli troops delay withdrawal from Palestinian areas citing ongoing battles with gunmen.

2001


2002


2003


2004


2004









Visit:
Visit:

Click Here to email the History: One Day At a Time webmaster.