October 29


0539BC Babylon falls to Cyrus the Great of Persia.




1618 Death: Sir Walter Raleigh, once a favorite of Elizabeth I, is beheaded at Whitehall, falsely accused of treason. "The execution was to take place in the Old Palace Yard, Westminster on the same day as the Lord Mayor's Show. Raleigh was housed overnight in the Abbey gatehouse. Bess (his wife) left him after midnight. Charles Thynne of Longleat, from his Sherborne days, came to say good-bye. Fussy Dean Tomson gave him spiritual comfort. Communion was celebrated and he ate a hearty breakfast, took tobacco and prepared for his last journey. He dressed magnificently: a satin doublet, black embroidered waistcoat, taffeta black breaches and coloured silk stockings, hat embroidered night cap and a black velvet cloak. The Old Palace Yard was crowded: amongst the onlookers, the young Johns Eliot, Hampden and Pym, watching the death of the last great Elizabethan. As future Cromwellians, it is interesting to wonder how they would have viewed this abuse of law. Tomson and two sheriffs led Sir Walter up to the scaffold. He then made his final speech and ended, "So I take my leave of you all, making my peace with God." Raleigh took off his gown and doublet and asked the headsman to show him the axe. "This is sharp medicine...that will cure all my diseases." He placed his head on the block, refused a blindfold and gave the signal to strike. The headsman delayed: "Strike man, strike!" The axe fell and fell again. Raleigh's severed head was shown to the crowd. A groan arouse with mutterings of, "We have not such another head to be cut off. "That evening, Bess took the head home in a leather bag. Later, she kept it in a cupboard to..."




1656 Birth: Edmund Halley, in London, sky watcher, namesake of Halley's Comet.




1682 William Penn lands in what would become Pennsylvania. Pennsylvania had been granted to William Penn by King Charles II.

1727 A severe earthquake occurs in New England, USA.

1762 Seven Years War: The Austrians are defeated by the Prussians under Prince Henry at the battle of Freiburg; the only Prussian victory without Frederick II in command.

1811 The first Ohio River steamboat leaves Pittsburgh for New Orleans.




1814 The first steam-powered warship, the USS Fulton, is launched at New York.

1873 Birth: Guillermo Valencia, in Colombia, poet, translator, statesman.




1879 Birth: Franz von Papen; German diplomat and politician, first with the Center Party, later an independent. The Penultimate Reich chancellor of the Weimar Republic (Cabinet of the Barons). Helped Hitler oust Reich Chancellor Schleicher. Scheduled to be eliminated during the Blood Purge, his life will be saved by an appeal to Goering. Under Hitler, Papen will become vice chancellor, then ambassador in Vienna, and afterwards in Ankara. Acquitted during Nuremberg trials. Later sentenced to eight years in labor camp by German authorities, released in 1949. Afterwards, unsuccessfully attempted to justify his role in the Nazi regime.




1885 Death: George B. McClellan, Union army general, at 58.

1888 The Constantinople Convention on Free Navigation of the Suez Canal is signed.

1889 The British South Africa Company, headed by Cecil Rhodes, is granted royal charter by the British government giving it extensive powers and rights in the area which will become Rhodesia.

1894 The first elections take place in the Hawaiian Republic.




1897 Birth: Joseph Goebbels; Germany's chief propagandist and cultural "czar." Will join the NSDAP in 1924. Initially one of Hitler's opponents, he will become an ardent admirer after 1926. Goebbels will become party provincial chief of Berlin-Brandenburg in 1926, Reich propaganda director of the NSDAP in 1929 and Reich propaganda minister in 1933. Goebbels will control the German movie industry, radio, and the ideological orientation of the press. In 1944, he will be appointed general deputy for the "total war" effort and, in effect, Hitler's sub-dictator. Goebbels, together with his wife, will take his own life and those of his six children on May 1, 1945.




1901 Death: Leon Czolgosz, electrocuted for the assassination of President McKinley. Czolgosz, an anarchist, had shot McKinley on September 6 during a public reception at the Temple of Music in Buffalo, New York. Despite early hopes of recovery, McKinley died 14 September in Buffalo.

1904 The first intercity trucking service is inaugurated between Colorado City and Snyder in Texas.

1906 Birth: Fredric Brown, American writer (US Army in Transition).

1910 Birth: Alfred J. Ayer, English neopositivist philosopher, logician.

1911 Death: Joseph Pulitzer, American newspaper publisher.

1914 WW1: Hitler sees action on the Yser with I Company, 16 Bavarian Infantry Regiment. (Masser)

1914 WW1: Hitler's experiences this day, from the Popp Letter: "The thunder of gunfire had grown a bit stronger…At 9 p.m. we pitched camp and ate. I couldn't sleep. Four paces from my bundle of straw lay a dead horse. The animal was already half rotten. Furthermore, a German howitzer battery immediately behind us kept sending two shells flying over our heads into the darkness of the night every quarter of an hour. They came whistling and hissing through the air, and then far in the distance there came two dull thumps. We all listened. None of us had ever heard that sound before. While we were huddled close together, whispering softly and looking up at the stars in the heavens, a terrible racket broke out in the distance. At first it was a long way off and then the crackling came closer and closer, and the sounds of single shells grew to a multitude, finally becoming a continuous roar. All of us felt the blood quickening in our veins. The word was that the English were making one of their night attacks. Anxiously we waited, uncertain what was happening. Then it grew quieter and at last the sound ceased altogether except for our own batteries which sent out their iron greetings to the night every quarter of an hour."

1914 WW1: Turkey, encouraged by the Germans, declares war against the Allies, announcing its entrance into the war with a surprise bombardment of the Russian Black Sea coast.

1918 WW1: Sailors of the German High Seas Fleet mutiny, seize control of their ships to prevent a final desperate suicide battle with the British Grand Fleet.

1918 WW1: Cobbe's cavalry engages the Turks at Sharqat.




1921 Birth: William [Bill] Henry Maudlin, American political cartoonist whose GI 'Willie' and 'Joe' characters will appear in Stars and Stripes newspapers, (Pulitzer-1945, 59).

1923 Turkey is proclaimed a republic under its first nationalist leader Kemal Ataturk. Now a National Day.

1927 Russian archaeologist Peter Kozloff apparently uncovers the tomb of Genghis Khan in the Gobi Desert, a claim still in dispute.

1933 The Conference for Relief of German Jewry opens in London.

1933 The anti-Semitic Gray Shirt movement is established in South Africa.

1934 The Nazi party in Southwest Africa (Gray Shirts) is outlawed by the government.




1938 Birth: Ralph Bakshi, writer, director, animator.




1940 US Secretary of War, Henry L. Stimson, draws the first number, which is 158, in the first peacetime military draft in US history.

1941 WW2: The first of the Soviet reserve divisions from Siberia go into the line west of Moscow.

1942 The Alaska highway is completed.

1945 The first ball-point pen is sold by Gimbell's department store in New York for a price of $12-50. This is 57 years after it was first patented. The pens rack up a tidy profit of $500,000 in the first month.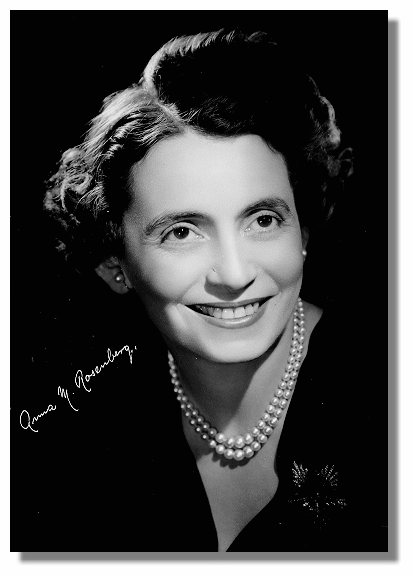 1945 The first US Medal of Freedom awarded to a woman is given to Anna Rosenberg by Robert Porter Patterson, Secretary of War. "...A native of Budapest, Anna came to the U.S. in 1912 and became a naturalized citizen in 1919. From January 1934 until she joined the Social Security Board Anna was an official with the National Recovery Administration, eventually serving as its New York state Director. After leaving the Board Mrs. Rosenburg went on to eminence in other fields. During 1944-1945 she was President Roosevelt's, and then President Truman's, special envoy to Europe to oversee military personnel issues for these Presidents. From 1950-1953 she was an Assistant Secretary of Defense. In 1962 she divorced her first husband and married Paul G. Hoffman who had been the first administrator of the Marshall Plan and a top United Nations official. Mrs. Hoffman died in 1983 at the age of 81."




1947 Death: Frances Cleveland Preston, former 1st lady, in Baltimore at 83.

1952 French forces launch Operation Lorraine against Viet Minh supply bases in Indochina. The Viet Minh succeed in bottling up the French in the Red River Delta.

1952 Silent film director and international star Charlie Chaplin is named an officer of the French Legion of Honour.

1955 American missionary Jim Elliot, aged 28, writes in his journal: 'First time I ever saw an Auca, 1500 feet is a long ways if you're looking out of an airplane.' Ten weeks later, Jim and four other missionaries are speared to death by the same Indians they had come to Ecuador in the hope of evangelizing.




1956 Israel invades the Sinai Peninsula and troops push on towards the Suez canal, just 20 miles away. Israeli paratroopers drop into the Sinai to open the Straits of Tiran.

1956 The International zone of Tangier is returned to Morocco.

1957 A hand grenade explodes in Israel's Knesset (Parliament).

1966 The National Organization of Women (NOW) is founded.

1969 The US Supreme Court orders immediate desegregation, superseding the previous 'with all deliberate speed' ruling.

1972 Palestinian guerrillas kill an airport employee and hijack a plane, carrying 27 passengers, to Cuba. They force West Germany to release 3 terrorists who were involved in the Munich Massacre.




1973 Klaus Altmann, wanted in France for war crimes under the name of Klaus Barbie, is released after nearly eight months in a Bolivian jail.

1977 The Roman Catholic Primate of Poland, Cardinal Stefan Wyszynski, and Communist party leader Edward Gierek meet officially for the first time.

1980 A declaration by Communist party Vice-Chairman Deng Xiaoping that Chairman Mao made serious political mistakes during his rule is made public.

1988 2,000 US antiabortion protesters are arrested for blocking clinics.

1988 The Soviets first scheduled shuttle launch is postponed.

1990 Norway's center-right government collapses after a dispute over how far to link the economy to the European Community.




1993 Tim Burton's animation fantasy, The Nightmare Before Christmas, opens in US theaters. Critics find the stop-motion animation feature about Jack Skellington the Pumpkin King highly imaginative. Burton says that he had been inspired years earlier by the annual Christmas TV airing of the stop-motion classic, Rudolph the Red-Nosed Reindeer.

1996 An auction of 8,000 Austrian Jewish artworks plundered by Adolf Hitler's Nazis in World War II takes place at the Vienna Museum for Applied Arts. Proceeds go to Austrian Jewish and non-Jewish victims of the Holocaust.

1997 The UN Security Council votes to impose air and travel sanctions against Angola's UNITA movement and closes its offices abroad as punishment for flouting peace accords.

1998 The space shuttle Discovery is launched carrying John Glenn back into space at the age of 77, for a rendezvous with the memory of a time when exploits of early astronauts held the world in thrall and for a long-awaited encore, this time as the oldest traveler in outer space. More than 36 years ago, on 20 February 1962, Glenn, then 40, rocketed aloft from here to become the first American to orbit the planet. Alone, squeezed into a tiny Mercury capsule, he made all of three orbits of Earth on a flight that lasted five hours.




2001 US Attorney General John Ashcroft and FBI Director Robert Mueller hold a press conference and tell Americans to be on the alert for a "credible threat" within the next week against the United States.

2001 US aircraft intensify their strikes around the strategic northern Afghanistan city of Mazar-e-Sharif. Taliban Ambassador Abdul Salam Zaeef tells armed Pakistani volunteers "we already have plenty of mujahedeen on the front line."




2001 Traces of anthrax are found in mailrooms of the Supreme Court, the State Department, and the Health Department. Two new cases of anthrax are reported in New Jersey, bringing the number of confirmed cases to 15.

2002


2003


2004


2004


2005









Visit:
Visit:

Click Here to email the History: One Day At a Time webmaster.