October 31


1517 The Protestant Reformation in Germany is inaugurated when Martin Luther nails a list of 95 theses to the door of the church in Wittenberg. These propositions deny the right of the pope to forgive sins by the sale of indulgences, among other challenges, and are widely circulated in Germany to great controversy. (Bradley)




1632 Birth: Jan Vermeer, Dutch painter.

1755 A huge earthquake reduces two-thirds of Lisbon to rubble, killing 60,000 and destroying thousands of early books and important historical documents. (Bradley)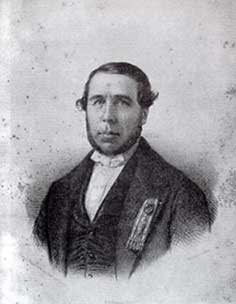 1802 Birth: Benoit Fourneyron; will invent the water turbine.




1803 Louisiana Purchase: "In 1803, Thomas Jefferson and Napoleon (actually, their representatives) negotiated the United States' purchase of Louisiana from France. With two strokes of a pen, a fledgling nation barely a generation old doubled in size overnight and became one of the largest nations in the world. The Louisiana Purchase, approved by treaty in April of 1803, is called the most significant real estate transaction in the history of civilization. The over 800,000 square miles of land—bought at a cost of about four cents per acre—would eventually be cut into all or part of fifteen American states: Louisiana, Arkansas, Missouri, Iowa, North Dakota, Texas, South Dakota, New Mexico, Nebraska, Kansas, Wyoming, Minnesota, Oklahoma, Colorado and Montana." Note: If not for this transaction, Ted Turner would have to find somewhere else to keep his pets.

1815 Sir Humphrey Davy of London patents the miner's safety lamp.




1828 Edinburgh bodysnatchers Burke and Hare claim their last victim - a beggarwoman named Docherty.

1838 A mob of about 200 attack a Mormon camp in Missouri, killing 20 men, women and children.




1864 Nevada becomes the 36th state of the USA.

1870 Birth: Hugh Ross Mackintosh, Scottish theologian; will teach systematics at Edinburgh 1904-35, Mackintosh will have a firm grasp of the German theological writers of his day and will seek to make their teachings known in Britain, for which he is unfairly judged a liberal. (Bradley)

1887 Birth: Chiang Kai-Shek, the first leader of Nationalist China.




1893 Volkishness: "Allerseelen under vorchristliche Totenkult des deutschen Volkes" by Guido von List appears in Karl Wolf's East German Review. (Roots)

1917 WW1: Allenby attacks in the Third Battle of Gaza (Battle of Beersheba). Allenby leaves three divisions demonstrating in front of Gaza and secretly moves against Beersheba. The surprise is complete, and an all-day battle culminates in a mounted charge at dusk by an Australian cavalry brigade over the Turkish wire and trenches into Beersheba itself, capturing the vital water supply.

1918 WW1: Pershing's First Army punches through most of the third and final German line in France.

1918 WW1: Italian reinforcements exploit the ever-widening gap at Sacile and Austrian resistance collapses.




1925 Birth: Charles Moore, influential post-modern architect.




1926 Death: Harry Houdini, US escapologist, skeptic, of a burst appendix, following a challenge he made to some students to punch him in the stomach to show how hard it is.




1931 With the Great Depression in full swing, the US Treasury Department announces that 827 banks had failed during the past two months.

1938 Polish Foreign Minister Beck instructs Ambassador Lipski to negate Ribbentrop's proposals.




1939 WW2: Viacheslav Molotov boasts: "One swift blow to Poland, first by the German Army and then by the Red Army, and nothing was left of this ugly offspring of the Versailles Treaty!"

1939 Church and Reich: Oct-Nov During this period 214 Polish priests are executed, among them the entire cathedral chapter of the bishopric of Peplin. (Broszat; Lewy)




1939 WW2: Oct-April Following Hitler's speedy victory in Poland, a period known as the Phony War, OR 'Sitzkreig,' follows in western Europe. Hitler proposes several peace conferences, all are quickly rejected. The British and French use this 6-month lull for armaments acquisition and strategic planning.




1941 The Mount Rushmore National Memorial, consisting of the sculpted heads of Presidents Washington, Jefferson, Lincoln and Teddy Roosevelt, is completed. (Bradley)

1946 Arthur Weiss, Commander of Jewish War Veterans Atlanta Post No. 112, and 125 Jewish war veterans confront the Columbians at a meeting in Atlanta. Police intervene and violence is avoided.

1952 The United States explodes the first hydrogen bomb at Eniwetok Atoll, part of the Marshall Islands, in the Pacific.

1956 Britain and France invade Suez.

1964 Englands Windmill Theatre, whose wartime slogan was 'We Never Close,' closes.

1968 The Nam: President Johnson announces a halt in the US bombing of North Vietnam.

1971 Saigon begins the release of 1,938 Hanoi POW's.




1978 The dollar had limped its way through the late 1970s, straining under the weight of rising inflation and a declining economy. Things only get worse on this day, when the dollar flirts with setting a record low against foreign exchange markets. The drop is triggered by a few factors. For one, the dollar suffers from fears that oil prices will keep climbing higher and, in the process, further destabilise the American currency. News that the Treasury Department is considering asking the International Monetary Fund for aid only exacerbates the situation. While the government vehemently denies the report, they can't change the fact that the world has lost faith in the dollar. One London analyst concludes, "It will take a lot to change sentiment and a long time to restore confidence" in the dollar. (Bradley)




1985 Salvage divers locate the remains of the booty-laden pirate ship Whydah, which sank 17 February 1717, off Cape Cod, Massachusetts.

1988 Former Philippine first lady Imelda Marcos pleads innocent to charges that she and her husband, deposed President Ferdinand Marcos, embezzled more than $100 million from the Philippine government. (Bradley)

1990 Egypt rebuffs a call by Soviet leader Mikhail Gorbachev for a peaceful settlement to the Gulf crisis, but a key Soviet diplomat says his government has not ruled out military force.

1993 Voters in Peru narrowly approve a new constitution, increasing the power of the presidency.

2000 The Confederation of British Industry begs fuel protesters not to take to the streets again, warning they will do 'immense' damage to the economy, with thousands of jobs lost.

2001 The UK Prime Minister declares that there must be an end to terrorism 'wherever it exists' and indicates a full-scale ground invasion of Afghanistan may take place.




2001 US-led forces resume B-52 bomber air strikes in Afghanistan, hitting Taliban positions in the northern part of the country and targets outside the capital, Kabul; indicating possible preparedness for Northern Alliance troop movements on Taliban positions. The Taliban claim 1,500 people killed in the attacks.

2001 The French newspaper Le Figaro claims that Osama bin Laden stayed for 10 days in a Dubai hospital in July, 2001 for treatment of a serious kidney ailment.

2001 Under heavy security, two armored vehicles transport $200 million in gold from a Bank of Nova Scotia vault located in the ruins of the World Trade Center.




2001 A NY hospital worker dies from inhaled anthrax, becoming the first anthrax death not linked to the postal service or the news media.

2003


2004


2004


2004









Visit:
Visit:

Click Here to email the History: One Day At a Time webmaster.