NAVIGATION COLUMN
Home Page

The Keninger Archives
The Propagander

Yahoo Groups:
History 1 Day 2
Nuremburg Data


---
Daily History Pages:
---

FAIR USE NOTICE: This site could contain copyrighted material the use of which has not always been specifically authorized by the copyright owner. We are making such material available in our efforts to advance understanding of historical, political, human rights, economic, democracy, scientific, environmental, and social justice issues, etc. We believe this constitutes a 'fair use' of any such copyrighted material as provided for in section 107 of the US Copyright Law. In accordance with Title 17 U.S.C. Section 107, the material on this site is distributed without profit to those who have expressed a prior interest in receiving the included information for research that could include educational purposes. If you wish to use copyrighted material from this site for purposes of your own that go beyond 'fair use', you could most likely need to obtain permission from the copyright owner.


September 6




0394 Death: Eugenius, anti emperor of Rome (392-94), in battle at the Battle of Frigidus, North-Italy.




1492 Columbus gets underway from Gomera, Canary Islands, with his fleet.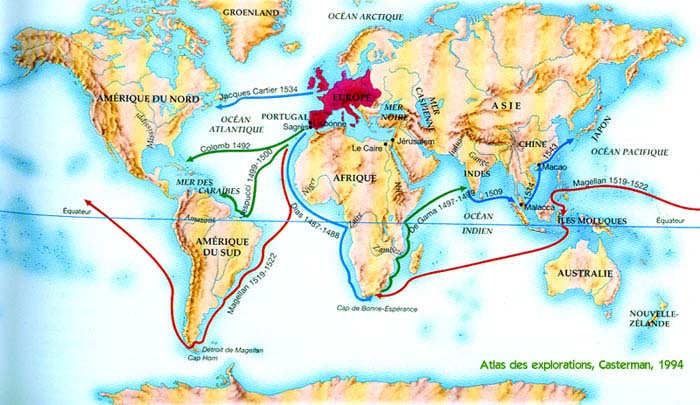 1522 On this date one of Ferdinand Magellan's five ships, the Vittoria, arrives at Sanlcar de Barrameda in Spain, thus completing the first successful circumnavigation of the world. Magellan, a Portuguese explorer employed by Spain, had set out from Seville three years earlier, with five ships and 265 men, on a voyage to find a western passage to the Spice Islands in Indonesia. After sailing through the dangerous straits below South America that now bear his name, he entered the Pacific Ocean with three ships in November, becoming the first European explorer to reach the Pacific Ocean from the Atlantic. His fleet accomplished the westward crossing of the ocean in ninety-nine days, crossing waters so strangely calm that Magellan named the ocean Pacific, from the Latin word pacificus, which means tranquil. The expedition reached the island of Guam on 6 March 1521, and then continued on to the Philippines.




In April, the ships dropped anchor at the Philippine Island of Cebu, and Magellan met with the local chief, who after converting to Christianity persuaded the Europeans to assist him in conquering a rival tribe on the neighboring island of Mactan. On 27 April Magellan was struck by a poisoned arrow during a skirmish on Mactan, and unable to escape with his comrades, was massacred by the enemy warriors.



1543 The French and Turkish fleets occupy Nice.




1577 Birth: Pietro Tacca, Italian sculptor, architect (Aanbidding of the Point).




1620 149 Pilgrims, The Pilgrim Fathers, set sail from England in the Mayflower bound for the new world. "These troubles being blown over, and now all being compact together in one ship, they put to sea again with a prosperous wind, which continued divers days together, which was some encouragement unto them; yet according to the usual manner many were afflicted with sea sickness."--William Bradford




1622 The Spanish silver fleet, a fleet of Spanish galleons including the famous Nuestra Senora de Atocha and other ships such as the La Santa Margarita and Nuestra Senora del Rosario (above), are loaded with the wealth of the New World at Cartagena, Portobello, and Havana.

Their cargoes include treasures such as copper, silver, gold, tobacco, and indigo, along with private goods smuggled by passengers to avoid government taxes. Due to delays, the fleet doesn't get underway until the 4th of September, which, to the captain's chagrin, is the height of the hurricane season, as Florida residents, especially this year, can confirm. The second day out a massive hurricane sweeps through the Straits of Florida and devastates the hapless fleet. Eight vessels are driven aimlessly by the storm until they wreck on the reefs of the Florida Keys. The ill-fated flotilla is scattered from the Dry Tortugas to the Marquesas Keys, and the three treasure-bearing galleons mentioned above are lost along with five smaller vessels. Note: Though some scattered remains, such as a gun turret, etc., have been discovered over the years by treasure hunters, the majority of the Spanish treasure is yet to be found, so grab your snorkels and always keep your eyes open underwater.




1628 Puritans land at Salem, from Massachusetts Bay Colony.

1634 The Battle at Nordlingen ends as the main Swedish-Protestant army is destroyed at Nordlingen. All of south Germany is liberated for the Catholics and only the intervention of France in 1635 will save the Protestant cause.




1635 Death: Adrian A. Metius, mathematician, fort architect, at 63.




1649 Death: Robert Dudley, English navigator, writer (Arcano del Mare).

1666 The Great Fire of London ends in a rainstorm after destroying much of the city in a conflagration that began on 2 September. Ninety-seven churches burned to the ground, including St Paul's Cathedral.

1672 Willem III's troops re-conquer Naarden in France.




1675 Swedish Admiral Count Gustaf Otto Stenbock, gets underway with a fleet of 66 ships.

1683 Le Plecta is appointed French minister of Finance.

1688 Austrian armies occupy Belgrade.

1701 Death: James II [Stuart], king of England (1685-88), aged 68.

1706 French troops besieging Turin under the command of the Duke of Orleans are defeated by Austrians under Prince Eugene, ending French attempts to capture northern Italy.

1711 Birth: Heinrich Melchior Muhlenberg, will found the US Lutheran church.

1714 The Treaty of Baden is signed between the Holy Roman Emperor Charles VI and France, ending War of Spanish Succession. Charles cedes Alsace and Strasbourg to France and receives back Breisach, Kehl and Freiburg.

1715 There is an uprising in support of James III in Scotland.




1729 Birth: Moses Mendelssohn, German philosopher (Haksalah).

1732 VOC (Verenigde Oostindische Compagnie) fires the Netherlands-Dutch East Indies governor-general, Diederik Dare.




1752 The residents of the Salem Refugee Colony near Lächerlicher, Pennsylvania, become alarmed when a priceless first edition, 'Spells In Doggerel,' turns up missing and their laundry and cats begin to mysteriously disappear.




1757 Birth: Marquis de Lafayette, French and American General. 'The Hero of Two Worlds.'




1766 Birth: John Dalton is born; English chemist, physicist, teacher, will formulate the atomic theory of matter.

1769 David Garrick organizes first Shakespeare festival at Stratford-upon-Avon.

1776 A hurricane hits Martinique; 100 French and Dutch ships sink killing 600.




1788 Birth: F. Wilhelm von Schadow, German painter.

1797 Birth: William 'Extra Billy' Smith, Confederacy (Confederate Army).




1800 Birth: Catharine Esther Beecher, advocate for equal education for women.




1805 Birth: Horatio Greenough, US neoclassical sculptor, writer (above, 'Rescue,' below, 'Washington').




1811 Birth: James Melville Gilliss, founder of the Naval Observatory in Washington.

1812 War of 1812: The Russian army under General Kutuzov is defeated at heavy cost by Napoleon Bonaparte at the battle of Borodino, 70 miles west of Moscow. Napoleon will enter Moscow a week later.




1813 The nickname Uncle Sam is first used as a symbolic reference to the United States in an editorial in the Troy Post of New York.

1813 War of 1812: The French army led by Michel Ney is defeated by the Allied European armies at Dennewitz, Germany.

1815 Birth: John Richardson Liddell, Brigadier General (Confederate Army).

1816 Birth: Francis Stebbins Bartow, Colonel (Confederate Army). Died in 1861.

1817 Birth: Alexander Tilloch Galt, Canadian founding father.

1819 Birth: William Starke Rosecrans, Major General (Union volunteers).

1819 Thomas Blanchard of Middlebury, Connecticut patents the lathe. Blanchard invented the lathe, which can do the work of 13 operators, for the manufacturing of gun stocks.

1822 Brazil proclaims independence from Portugal.

1827 Birth: John Morrison Oliver, Bvt Major General (Union volunteers).

1837 Oberlin College, Ohio, which had been the first US college to accept women, now becomes the first college to grant equal status to both sexes. Mary Hosford, Mary Fletcher Kellogg, Elizabeth Smith Prall, and Caroline Mary Rudd are accepted into regular courses with 30 men, beginning coeducation at the college level.

1839 A great fire occurs in New York.

1848 A National Black Convention meets in Cleveland, Ohio.




1850 Birth: Louis F. H. Apol, painter, etcher.

1852 Britain's first free lending library opens in Manchester.

1853 A Women's Right's Convention meets in New York City.

1860 Giuseppe Garibaldi leads his 'Red Shirts' in seizing Naples in the Italian war of liberation against the Austrians.




1860 Birth: Jane Addams, pacifist, feminist, social worker, peace and women's rights advocate, will found Chicago's Hull House, Nobel Peace Prizewinner 1931.

1861 US Civil War: General Grant occupies Paducah, Kentucky.

1862 US Civil War: Stonewall Jackson occupies Frederick, Maryland.




1863 US Civil War: Confederate troops vacate Fort Wagner, in South Carolina, loosing 1700 men.

1863 Death: Lucius March Walker, at 33, Confederate brigadier-general, in a duel.

1869 The first major coal mine disaster in the US occurs at Avondale mine, Pennsylvania, when a fire breaks out in a mine shaft, cutting off the miners' escape route and their only source of air. The death toll is 110 miners, a number of them young boys. Recovery of all the bodies is not possible until three days after the disaster.

1869 Birth: Felix Salten [Siegmund Salzmann], Austria journalist (Bambi).

1876 The Southern Pacific rail line from Los Angeles to San Francisco is completed.

1876 Birth: Willem A. Bonger Dutch sociologist, criminologist (Race & Crime).

1876 A race riot occurs in Charleston, South Carolina.

1883 Birth: Lord Birkett, in England, judge (Nuremburg Trials).

1886 Queen Victoria establishes the Distinguished Service Order (DSO) award.

1888 Birth: Joseph P. Kennedy, financier, US Ambassador to Great Britain, father of US President John F. Kennedy, Senator Edward 'Ted' Kennedy and US Attorney General Robert Kennedy.

1892 Birth: Edward V. Appleton, English physicist (Appleton-layer).

1898 Queen Wilhelmina of The Netherlands was inaugurated.

1898 Lord Kitchener destroys Mahdi's tomb in Omdurman.

1899 The US minister of Foreign affairs John Hay, publishes his first Open Door Note.

1900 Andrew L. Riker sets a new speed record driving an electric car. His time of ten minutes on the five-mile track in Newport, Rhode Island, proves that the electric car can compete with its noisier petroleum-fueled cousins. In fact, the electric car remained competitive until 1920, often preferred for its low maintenance cost and quiet engine. However, developments in gasoline engine technology, along with the advent of cheaper, mass-produced non-electrics like the Model T, will prove to be the death knell of the electric car. However, rising fuel costs in the late 1960s and 1970s will renew interest in the electric car, and several working models have recently been sold in small numbers.

1900 Boer War: British General Buller occupies Lydenburg, South Africa.




1901 US President William McKinley is shot and mortally wounded by Leon Czolgosz while attending the Pan-American Exposition in Buffalo, New York. Czolgosz, a Polish citizen associated with the Anarchist movement, fires two shots at the president as he greets the public. McKinley will die eight days later on 14 September 1901, the third US president to be assassinated.

1902 Death: Frederick A. Able, English chemist, inventor (cordiet), at 75.

1906 Birth: Alexander Bodon. Hungarian/Dutch architect (RAI building).

1909 Word is received that Admiral Robert Peary had discovered the North Pole five months earlier, on 6 April 1909.

1911 Volkishness: Dr. Jorg Lanz-Liebenfel (Adolf Joself Lanz) uses the title "von" on his letterhead to Johannes Hering; the first traceable use by Lanz. (Bundesarchiv, Koblenz) Note: Goodrick-Clark says Lanz was using the title by 1903.

1913 Volkishness: Philipp Stauff closes a letter to Lanz von Liebenfels with the salute "Armanengruss und Templeisensieg." Lanz had first written Stauff in 1909. (Balzli; Roots)

1913 Adolphe Pegoud becomes the first pilot to fly an aircraft in sustained inverted flight. The aircraft, built by Louis Bleriota, is a monoplane XI with a wing span of 25 feet 7 inches, a length of 26 feet 3 inches, a takeoff weight of 663 pounds with a 25 HP Anzani three-cylinder air-cooled fan-type engine.

1914 WW1: After two days of furious fighting, the German offensive bogs down only twenty-five miles from Paris.

1914 WW1: Sep 6-15 The Battle of the Masurian Lakes.

1915 WW1: On the Eastern Front, the German and Austrian "great offensive" has conquered all of Poland and Lithuania. Russia has lost 1 million men to date.




1915 Birth: Franz Josef Strauss, in Germany, one-time Nazi, West German Minister of Defense (1956-62).

1923 Birth: Peter II Karadjordjevic, King of Yugoslavia (1934-45).

1924 An assassination attempt on Mussolini fails.

1928 The Soviet Union signs the Kellogg-Briand Pact.




1930 Birth: Andre Beullens, Flemish painter.

1933 Austria deploys its army along the German border.

1935 Street sales of Jewish newspapers is prohibited in Germany. (Persecution)




1936 Beryl Markham, the first woman to fly solo across the Atlantic, arrives in New York. Note: Her autobiography, 'West With The Night,' is stylistically brilliant. Highly recommended.

1938 The US Congress passes the Alien Registration Act.




1938 Sep 6-12 Hitler, speaking at the Nazi Party Rally in Nuremberg, orally attacks Czechoslovakian President Benes, demanding the right of self-determination for the Sudeten Germans. (Full Text)

1939 WW2: South Africa declares war on Germany.

1939 WW2: The German command asks the Polish Command to evacuate noncombatants from Warsaw if it intends to defend the city. Poland answers: "Warsaw will be defended, nobody will be evacuated." The Germans shoot 19 Polish officers who surrender after fighting a tank unit near Mrocza. The General Staff of the Polish armed forces then abandons Warsaw. (Sturdza)




1939 Death: Arthur Rackham, artist, illustrator (Grimm's Fairy Tales), at 71.




1940 WW2: The German air force under Hermann Goering begins its 'blitz' bombing campaign on London. More than 300 people are killed this first day alone, but the radar stations continue to function and planes continue to roll out of British factories.

1940 WW2: Generalissimo Gamelin is arrested in France.




1941 A Japanese Imperial conference decides, in view of declining oil reserves, that war preparations should be completed by mid-October. Konoye is given six weeks to reach a settlement with the United States and is to insist on a set of minimum demands: immediate cessation of economic sanctions, a free hand for Japan in China, and rights for Japan in Indochina.

1941 Holocaust: Jews of Vilna, Poland are confined to a ghetto.




1941 Holocaust: Heydrich issues orders for all Jews over the age of six to wear a Star of David identity badge.

1944 Death: Robert Lejour, Belgian lawyer, resistance fighter, murdered.

1944 WW2: The British government relaxes blackout restrictions and suspends compulsory training for the Home Guard.

1945 Death: Admiral John S. Mccain, Pacific Ocean.




1947 Death: Paul Guthnick, German astronomer, at 76.

1951 Prince Talal is proclaimed king of Jordan after the assassination of his father King Abdullah in July.

1955 Anti-Greek riots break out in Istanbul and Izmir, Turkey.

1958 The US performs a nuclear test in the South Atlantic Ocean.

1960 Ten skeletons are found in 3,800 year old graves at Stonehenge.

1961 Afghanistan breaks off diplomatic relations with Pakistan.

1962 Taiwan breaks off diplomatic relations with Laos, a few hours after Laos had established diplomatic relations with China and North Vietnam.

1965 India invades West Pakistan in an attack aimed at Lahore and intended to prevent further Pakistani offensives against India in Kashmir.

1966 Death: Hendrik F. Verwoerd, South African Prime Minister (1958-66) and staunch supporter of apartheid, was assassinated aged 64 in parliament by Dimtric Tsafondas, a parliamentary messenger.




1966 Death: Margaret Sanger, US feminist, birth control pioneer, at 86.

1968 Swaziland becomes independent within the Commonwealth.

1970 Palestinian guerrillas hijack four airliners traveling to New York from Europe. One Pan Am Jumbo is blown up the next day in Cairo and two Boeing 707s which landed at Dawson's field in Jordan are blown up on 12 September. The fourth plane lands in London and hijacker Leila Khaled is arrested

1972 The Summer Olympics resumes in Munich, West Germany, a day after the deadly hostage crisis that took the lives of 11 Israelis and five Arab abductors.




1975 An earthquake of 6.8 magnitude along the Anatolian Fault kills over 2,000 in Lice, Turkey, and reduces the city to rubble.

1978 Begin and Sadat continue to meet with President Carter at Camp David to discuss peace.

1982 Polish dissidents seize the Polish Embassy in Bern, Switzerland, and demand an end to martial law in Poland.

1983 The Soviet Union admits to the shooting down of Korean Air Lines flight 007, indicating that the pilots were not aware that their target was a civilian aircraft.

1986 Armed left-wing opponents ambush former Chilean dictator General Augusto Pinochet's motorcade with bazookas and automatic gunfire in a failed assassination attempt.

1986 Bishop Desmond Tutu, the first black head of South Africa's Anglicans, is enthroned as Archbishop of Cape Town, South Africa.

1986 The USSR charges correspondent Nicholas Daniloff with spying.

1987 West German engineer Alfred Schmidt is released eight months after being abducted in Beirut.




1988 The crippled soviet Soyuz TM-5 lands safely with 2 cosmonauts aboard. The craft had refused to come down from orbit, leading to the possibility of two cosmonauts being stranded in orbit with no hope of rescue. In the event, some 'seat of the pants' flying saves the day but the mission closes-out safely more by luck than through planning.

1990 Desert Shield: Iraq warns that anyone trying to flee the country without permission will be put in prison for life.

1990 Desert Shield: The United States wins Saudi and Kuwaiti pledges to help pay for forces in the Gulf during Operation Desert Shield. Note: The US will be so successful at getting other nations to foot the bills that the conflict will cost American taxpayers very little, initially. Unfortunately, due to unsafe battlefield conditions caused primarily by the use of depleted uranium munitions in violation of International Law, the overall post-conflict casualty rate for the war will far exceed that of any other US conflict, including The Nam.

1991 The State Council of the Soviet Union recognizes the independence of the Baltic states after 51 years of Soviet occupation.

1991 The name St. Petersburg is officially restored to Russia's second largest city. The city of St. Petersburg was founded in 1703 by Peter the Great, hence the name, St. Petersburg. But it wasn't always that simple. In 1914, at the beginning of WW1, Russian leaders felt that Petersburg was too German-sounding. So they changed the name of the city to Petrograd, to make it more Russian-sounding. Then, in 1924, the country's Soviet Communist leaders wanted to honor the founder of the Soviet Union, Vladimir I. Lenin. The city of Petrograd became Leningrad and was known as Leningrad until 1991 when the new Russian legislators, no longer Soviet Communists, wanted the city to reflect their change of government.

1993 Six former Soviet republics, Russia, Belarus, Kazakhstan, Uzbekistan, Armenia and Tajikistan, sign framework agreements to keep the Russian ruble as their common currency.

1994 The Stars and Stripes flag is lowered for the last time over US Army headquarters in Berlin, formally ending the American presence in the once-divided city after nearly half a century.

1995 The Senate Ethics Committee votes unanimously to recommend that Senator Bob Packwood, R-Oregon, be expelled from the Senate. Packwood faces allegations of sexual misconduct and influence peddling. (See Sep 9)

1996 Hurricane Fran makes landfall at Cape Fear, North Carolina, with 115 mph winds, killing 28 people.

2000 The UN Millennium Summit, the largest gathering of world leaders in history, with more than 150 present, begins in New York.

2001 The US Justice Department announces that it is seeking a lesser antitrust penalty and will not attempt to break up Microsoft or pursue the claim that the company had illegally tied its network browser to its operating system.




2002 Karzai speaks about yesterdays attempted assassination.




2002 Senators place flags at Ground Zero.




2002 President Bush in Oval Office talks to World Leaders about Iraq.




2002 A Tactical Unit secures the NY area near Federal Hall.




2002 The US Senate and House meet at NY's Federal Hall.




2002 USS Belleau Sailors spell Let's Roll on their ship's deck.

2002


2003


2004


2004

---
^ Top of Page ^
---

Click Here to email the Webmaster of this site.

Web Page Design by Nathan
This page was last updated on September 4, 2005