NAVIGATION COLUMN
Home Page

Yahoo Groups:
History 1 Day 2
Nuremburg Data


---
Daily History Pages:
---

FAIR USE NOTICE: This site could contain copyrighted material the use of which has not always been specifically authorized by the copyright owner. We are making such material available in our efforts to advance understanding of historical, political, human rights, economic, democracy, scientific, environmental, and social justice issues, etc. We believe this constitutes a 'fair use' of any such copyrighted material as provided for in section 107 of the US Copyright Law. In accordance with Title 17 U.S.C. Section 107, the material on this site is distributed without profit to those who have expressed a prior interest in receiving the included information for research that could include educational purposes. If you wish to use copyrighted material from this site for purposes of your own that go beyond 'fair use', you could most likely need to obtain permission from the copyright owner.


September 13




0122 Work begins on Hadrians Wall.

0604 Sabinian begins his reign as Catholic Pope.

1515 At Marignano, northern Italy, King Francis of France defeats the Swiss army under Cardinal Matthias Schiner.




1564 Jean Ribault's French fleet is scattered by a devastating storm just as it about to attack Pedro Menendez's Spanish settlement at San Agostin, Florida. Above: Native Floridian agriculture, drawn by one of Pedro's compatriots.

1598 Death: Philip II, King of Spain (1556-98), at the age of 71. Note: The dates in parenthesis for rulers and politicians are the dates of their rule, not their birth-death dates.

1625 Rabbi Isiah Horowith and 15 other rabbis are arrested in Jerusalem.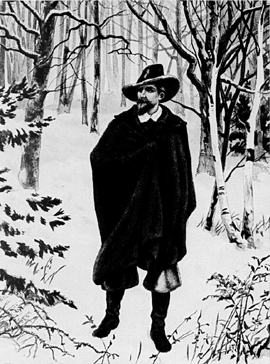 1635 For criticizing the Massachusetts Bay Company charter, and for advocating a separation of church and state, the Massachusetts General Court banishes Separatist preacher Roger Williams, aged 32.




1739 Birth: Grigory Potemkin, army officer, statesman, Catherine II's lover.







1755 Birth: Oliver Evans, will pioneer the high-pressure steam engine.




1752 Alberne Unsinn is unaware that his transport to Lächerlicher has arrived. The incident with the rabid lamb has taken it's toll, but one more trial lays ahead. (See Sep 14)



1759 In the Battle of the Plains of Abraham, outside of Quebec City, Canada, the British under General James Wolfe achieve a dramatic victory when they scale the cliffs over the city of Quebec, defeating Louis Montcalm's French forces.




Both military leaders are mortally wounded in battle, but Wolfe's victory insures British supremacy in Canada.



1774 Tugot, the new controller of finances, urges the king of France to restore the free circulation of grain in the kingdom.




1782 The British fortress at Gibraltar come under attack by French and Spanish forces.




1788 The Constitutional Convention authorizes the first federal election, resolving that electors in all the states will be appointed on 7 January 1789. In addition, New York City is named the temporary national capital.

1789 The United States Government negotiates its first loan, from the Bank of North America, at 6% interest.

1789 Guardsmen in Orleans, France, open fire on rioters trying to loot bakeries, 90 are killed.

1803 Death: John Barry, first American commodore.




1846 Mexican-American War: General Winfield Scott takes the hill Chapultepec, removing the last obstacle to US troops moving on Mexico City. Note: The Mexican War will give future civil war generals, on both sides, their first taste of combat.

1851 Birth: Walter Reed, US Army doctor, will prove that mosquitoes transmit yellow fever and discover a cure.




1860 Birth: John J. Pershing [Black Jack], US commander who will lead the campaign against Pancho Villa in Mexico and Command the American Expeditionary Force in France during WW1.

1862 US Civil War: Union troops in Frederick, Maryland, discover General Robert E. Lee's attack plans for the invasion of Maryland wrapped around a pack of cigars. They give the plans to General George B. McClellan who does nothing with them for the next 14 hours.




1863 Birth: Franz von Hipper, German naval commander at the Battle of Jutland in WW1.

1863 US Civil War: The Loudoun County Rangers route a company of Confederate cavalry at Catoctin Mountain in Virginia.




1863 Birth: Arthur Henderson, in Britain, socialist, disarmament worker (Nobel 1934).

1866 Birth: Adolf Meyer, US psychiatrist, neurologist, pioneered mental hygiene.

1882 Egyptian Rebellion: British forces under Wolseley route the Egyptians at Tel-el-Kebir.

1898 The Reverend Hannibal Williston Goodwin of Newark, New Jersey patents celluloid photographic film, making Edison's movie projector patented 7 years previous a viable product.

1899 Henry M. Bliss becomes the first known automobile fatality. As Mr. Bliss steps off a streetcar at Central Park West and 74th Street, he is hit by a car driven by Arthur Smith. Bliss is rushed to the hospital but dies a short time later. Smith is arrested, but not held.

1900 Boer War: General Roberts calls on the Boers to surrender.

1902 Harry Jackson becomes the first person to be convicted on fingerprint evidence in the UK.

1905 US warships head to Nicaragua on behalf of American William Albers, who is accused of evading tobacco taxes.

1915 The process for making corn flakes is patented by Frank Martin.




1918 WW1: US and French forces take St. Mihiel, France in America's first action as a standing army.

1922 The world's highest recorded atmospheric temperature, 136.4 degrees Fahrenheit, occurred on this day at El Azizia, Libya.




1928 Birth: Robert Indiana, artist.

1934 Poland denounces the Minorities Agreement, which had been set up at Versailles and guaranteed by the Covenant of the League of Nations. Hitler chooses not to protest Poland's denunciation even though German interests are directly involved.

1936 Press Reaction to Hitler's September 12 Speech: "There was no expression of a wish to acquire these resources (Russian) and there was distinctly no threat. Yet when the cheers that greeted this passage had died away one was conscious that a thought had been cast into the pool of German mentality and that the ripples created by it might spread far indeed...To the shop stewards and factory leaders there assembled Hitler spoke extemporaneously and at length, quite simply; his voice rising at times to passionate earnestness."--New York Times




1937 An Anti-Jewish month is proclaimed by Polish anti-Semitic groups.




1938 Sudeten Crisis: Czechoslovakian President Benes declares martial law in the Sudetenland.

1939 President Roosevelt calls on Congress to revise Neutrality Law.

1940 WW2: Mussolini moves an army of Italians and North African troops across the Libyan border, establishing themselves about 60 miles inside Egypt.




1940 Holocaust: Himmler meets in Berlin with Viktor Brack (above), section chief in Hitler's Chancellery responsible for running the "euthanasia" program. After the war, Brack will tell American interrogators that the physical destruction of the Jews is already an "open secret" in high party circles, as early as 1940, although he had "in no case heard anything officially." (Architect)

1940 WW2: Italian troops from Ethiopia penetrate about 20 miles inside Kenya.




1941 Barbarossa: Russian General Zhukov is sent to oversee defense of Leningrad. He puts the citizens to work creating multiple defensive lines around the city. (Clark II)

1943 WW2: General Chiang Kai-shek is elected President of the Chinese Republic by the Central Executive committee and also confirmed as Commander-in-Chief of the Chinese army. (Freedman)




1944 WW2: American B-24s attacking the I.G. Farben plant at Monowitz accidentally drop several bombs inside the main camp at Auschwitz, destroying a barracks, killing 15 SS men and injuring 28. A cluster of bombs is also mistakenly dropped farther west at Birkenau, damaging the railroad but missing the crematoria, which would have slowed down the killing. (Apparatus)

1944 WW2: An armistice is signed in Moscow between Romania and the Soviets, three weeks after it had been falsely announced by the King. It is essentially an unconditional capitulation and puts Romania entirely in the hands of the Soviets.




1951 Korea: US Army troops began their assault in Heartbreak Ridge. The month-long struggle will cost 3,700 casualties.

1955 After talks between the Soviet Union and West Germany, the two sides agree to establish diplomatic relations.

1959 The USSR's Luna 2 becomes the first manmade object to make contact with another celestial body.




1961 In a NASA test, an unmanned Mercury capsule is orbited and recovered. Note: This first US spaceship is not at all to the liking of the original Mercury 7 Astronauts, who will insist on such things as a window, and a real ability for the astronaut to actually fly the vehicle. It probably didn't help matters any that many test pilots were snickering about the attention paid to these first astronauts, noting that they didn't have much more to do on their missions than the dogs and cats sent up previously. John Glenn will emerge as spokesman and unofficial leader of the protest, and the Mercury 7 group itself.

1966 Hendrik Verwoerd is assassinated and John Vorster is sworn in as prime minister of South Africa.

1971 Attica State: National Guardsmen, under orders from Governor Rockefeller, storm the Attica Correctional Facility in New York and put an end to the four-day revolt. 32 prisoners and 9 guards are killed in the final assault. A committee will be organized to investigate the riot on September 30, 1971.

1976 The United States announces it will veto Vietnam's UN bid.




1977 The second test of the Space Shuttle Enterprise.

1979 South Africa grants Venda independence, though it is not recognized outside of South Africa.




1983 The US mint strikes the first gold coin in 50 years, the Olympic Eagle.




1985 The World Health Organisation declares Aids a worldwide epidemic.

1988 Carlos Manuel Medina Perez, a Cuban diplomat who shot at a secret service agent in London, and his ambassador, Oscar Fernandez-Mell, are ordered to leave Britain.

1989 In the biggest antiapartheid protest march in South Africa in 30 years, Archbishop Desmond Tutu leads huge crowds of singing and dancing demonstrators through central Cape Town.

1990 Desert Shield: Iraqi troops storm the residence of the French ambassador in Kuwait.

1990 Desrt Shield: The US Senate approves a bill imposing sanctions against Iraq, and requiring a more stringent review of sensitive exports to Iraq, Iran, Syria and Libya.

1991 The Soviet Union and the United States agree to cut off arms supplies to the warring sides in Afghanistan.

1993 The first major agreement between Israel and Palestine is signed at the White House in Washington, DC. Yitzhak Rabin, prime minister of Israel, and Yasir Arafat, Chairman of the Palestine Liberation Organization (PLO), shake hands after signing an accord that grants Palestine limited self-government in the Gaza Strip and in Jericho on the occupied West Bank.

1994 US President Bill Clinton signs a $30 billion crime bill into law.

1994 Former Washington, DC Mayor, Marion Barry, wins the Democratic nomination for mayor.

1994 North Korea allows UN nuclear inspectors into two atomic sites previously off limits to the International Atomic Energy Agency.

1995 A grenade is fired at the US Embassy in Moscow, piercing the wall but causing no injuries.

1997 Bosnians vote in the first postwar municipal election, but the vote is marred by disputes over electoral rules and several explosions.

1998 Death: George Wallace, former Alabama governor and presidential candidate, one of the most controversial politicians in US history, in Montgomery, Alabama, at 79.




2001 British forces could be involved in retaliatory strikes against those responsible for the US terrorist attacks, defense experts say.




2001 Airports closed after the terrorist attacks begin reopening, but Logan Airport in Boston, where two of the hijacked planes took off, and Reagan National in Washington remain closed.

2004


2004


2004

---
^ Top of Page ^
---

Click Here to email the Webmaster of this site.

Web Page Design by Nathan
This page was last updated on September 12, 2005