NAVIGATION COLUMN
Home Page

Yahoo Groups:
History 1 Day 2
Nuremburg Data


---
Daily History Pages:
---

FAIR USE NOTICE: This site could contain copyrighted material the use of which has not always been specifically authorized by the copyright owner. We are making such material available in our efforts to advance understanding of historical, political, human rights, economic, democracy, scientific, environmental, and social justice issues, etc. We believe this constitutes a 'fair use' of any such copyrighted material as provided for in section 107 of the US Copyright Law. In accordance with Title 17 U.S.C. Section 107, the material on this site is distributed without profit to those who have expressed a prior interest in receiving the included information for research that could include educational purposes. If you wish to use copyrighted material from this site for purposes of your own that go beyond 'fair use', you could most likely need to obtain permission from the copyright owner.


September 15




1649 Birth: Titus Oates, English Anglican priest and fabricator of the 'Popish Plot' in 1678.




1775 An early and unofficial American flag (dark blue with the white word "Liberty" spelled on it) is raised by Lieutenant Colonel Isaac Mott after the seizing of Fort Johnson from the British.




1776 US Revolutionary War: British forces occupy New York City (Manhattan).

1788 An alliance between Britain, Prussia and the Netherlands is ratified at the Hague.

1789 The US Department of Foreign Affairs is renamed the Department of State.




1789 Birth: James Fenimore Cooper; The Pioneers, Last of the Mohicans, and 30 other novels.

1821 Costa Rica, Guatemala, Honduras, Nicaragua and El Salvador proclaim their independence.




1857 Birth: William Howard Taft, 27th president of the United States (1909-1913), in Cincinnati, Ohio.




1858 The Butterfield Overland Mail Company begins delivering mail from St. Louis to San Francisco. The company's motto is: "Remember, boys, nothing on God's earth must stop the United States mail!"




1859 Death: Isambard Kingdom Brunel, widely believed to be Britain's greatest engineer.




1862 US Civil War: Confederates capture Harpers Ferry, securing the rear of Robert E. Lee's forces in Maryland.

1877 Birth: Wilhelm Adam, in Anspach, Bavaria. Will serve as a Bavarian officer in WW1 with a reputation for efficiency; become a Major General in 1930; in 1933 become commander of the Munich military area; in 1935 assume command of Berlin's new Armed Forces Academy. Not one of Hitler's favorites, the two will clash over West Wall fortifications and other disputes. Following a few months after the fall of Blomberg and Fritsch, Adams will be relieved of command by Hitler and sit out the war in Garmich, where he will pass away on April 8, 1949.

1891 The Dalton gang holds up a train and takes $2,500 at Wagoner, Oklahoma.




1897 Birth: Kurt Daluege, Commander-in-Chief of the Police of the German Reich and later Deputy Protector of Bohemia and Moravia. Daluege joins the NSDAP in 1922 and in March 1926 founds and leads the first SA group in Berlin and North Germany, a position he holds until 1928, when he transfers to the SS. For the next five years he is Commander of SS units in East Germany, organizing special shock battalions for surprise attacks on opponents. After Hitler comes to power in 1933, he is given the special assignment of purging the police apparatus of Hitler's opponents, and will be largely responsible for turning the police into an instrument of the Nazi regime. Promoted to SS General in 1934, he subsequently becomes the most powerful policeman in the SS, second in rank only to Himmler. After Heydrich's death, he becomes Deputy Protector of Bohemia and Moravia in 1942, and is said to have been responsible for the destruction of the village of Lidice. He will be executed by the Czechs in October 1946.




1901 Birth: Sir Howard Bailey, British engineer who gave his name to a prefabricated bridge used extensively during WW2.




1909 A New York judge rules that Ford Motor Company had infringed on George Seldon's patent for the Road Engine. "Selden applied for a patent on the "Road Engine" in 1879. Sensing that the time was not right for a horseless carriage, he delayed issuance of the patent until 1895, by which time a young automobile industry was growing in the USA. Although he had no interest in manufacturing his invention, he was very interested in benefiting from it. Under threat of suit, almost all of the manufacturers took out licenses from Selden, or from the Association of Licensed Automobile Manufacturers (ALAM), to whom he sold the patent. In fact, on most cars built during the next ten or fifteen years you will find a small brass plaque reading "Manufactured under Selden Patent." There was just one holdout, a young manufacturer named Henry Ford. Selden sued Ford, and the lawsuit dragged on for years. During that time the ALAM took out magazine ads, threatening to sue anyone who bought an unlicensed car - some advised people "don't buy a lawsuit with your new automobile..."

1914 WW1: The first trenches are dug.

1914 WW1: The German victory at Masurian effectively knocks out the Russians as an important consideration in Allied strategy. (Schlesinger I)

1914 President Woodrow Wilson orders the Punitive Expedition back out of Mexico. The Expedition, headed by General John Pershing, had been searching for Pancho Villa, a Mexican revolutionary.




1916 WW1: General Haig, commander of the BEF, launches another major offensive in the Somme. British tanks, designed by Sir Ernest Swinton and secretly shipped to the front, are used in combat for the first time and spearhead the attack. Although a surprise to the Germans, the tanks are underpowered, unreliable, too slow, and too few in number to gain a decisive victory (out of 47 brought up, only 9 complete their assigned tasks). As at Verdun, the casualties are horrendous: British losses are about 420,000; French about 195,000; German nearly 650,000.

1917 Alexander Kerensky proclaims Russia to be a republic. Note: And I proclaim that I'm rich and good looking.

1918 Baku is taken by Turkish troops and Azerbaijanian nationalists. 30,000 civilians are massacred.

1919 Volkishness: Brockhusen writes another letter to Heimerdinger revealing a deep dismay at postwar conditions and a hatred for the Poles. Brockhausen it seems had kept his office as Grand Master of the loyalist Germanenorden. (Bundesarchiv; Roots)

1920 Pope Benedict XV publishes the encyclical Spiritus paraclitus, which restates the Catholic position on Scripture: '...the Bible, composed by men inspired of the Holy Ghost, has God himself as its principal author, the individual authors constituted as his live instruments. Their activity, however, ought not be described as automatic writing.'




1923 The entire state of Oklahoma is placed under martial law by Governor John Calloway Walton due to terrorist activity by the Ku Klux Klan. After this declaration national newspapers begin to expose the Klan and its criminal activities.

1928 Scottish bacteriologist Alexander Fleming discovers, quite by accident, that the mold penicillin has an antibiotic effect.

1930 Hitler testifies before the Supreme Court of Leipzig during the trial of Reichswehr officers Scheringer, Ludin and Wendt. He pledges that his party will respect legality. (See Oct 4) (Maser)

1933 Chancellor Dollfuss, addressing the Austrian Fatherland Front, proposes a "Christian German State on Fascist lines," but without discrimination against Jews.

1934 Poland repudiates the National Minority Treaty.




1935 At the Nazi Party Rally in Nuremberg, Hitler officially proclaims the antisemitic "Nuremberg Laws." These repressive laws are designed to biologically isolate the Jewish people legally, politically, and socially. One law restricts German citizenship to those of "German or related blood," thus stripping the Jews of their few remaining rights as German citizens. Another prohibits marriage and extramarital intercourse between Jews and Germans, making it a crime punishable by imprisonment.

1935 The swastika becomes part of the official flag of the Third Reich. (Edelheit)

1936 Press Reaction to Hitler's September 14 Speech: "As the gathering force of anti-bolshevist invective here had suggested, Herr Hitler's closing speech at the Party Congress tonight was an appeal and a warning to Europe against the bolshevist menace in extremely violent terms....The nearest Herr Hitler came to this point tonight was when he declared passionately that National Socialist Germany could not enter into any kind of bargain with the bolshevist outlook; they could not negotiate with bolshevism. Rhetorically, to judge by the rousing response, the speech was a fitting climax; what it was diplomatically will become clearer through the course of events…"--London Times




1938 Sudeten Crises: Hitler and Neville Chamberlain meet in person for the first time, at Obersalzberg (Berchtesgaden), to discuss the Czechoslovakian crisis.

1939 WW2: Jehovah's Witness August Dickman, a conscientious objector, is executed by firing squad at the Sachsenhausen concentration camp. (Smith)




1939 The Polish submarine Orzel arrives in Tallinn, Estonia, after escaping the German invasion of Poland; her crew itching to fight Nazis.




1940 WW2: The tide begins to turn in the Battle of Britain as the German air force sustains heavy losses inflicted by the Royal Air Force. London endures intensive bombing from the Luftwaffe until a new radar system provides the outnumbered RAF with an edge. On this day, a reported 185 German planes are shot down by the heroic RAF pilots. Loses such as these, over a sustained period, will eventually be enough to force Nazi leader Adolf Hitler to abandon Operation Sealion, as he will be unable to provide essential air superiority for the planned cross-channel invasion.

1942 Holocaust: Polish-born Jews are deported from Lille, France, to Auschwitz. (Atlas)

1943 WW: After six days of savage, armored attacks, General Clark's forces break out of Salerno.

1944 Nuremberg War Crimes Trials: Colonel Murray Bernays, of the US War Department's Special Project Branch, proposes part of the framework that will be used in Nuremburg. Bernays proposes treating the Nazi regime as a criminal plot. William Chanler, a friend of Secretary of War Stinson, suggests another part of the framework: making the waging of a war of aggression a crime.




1950 Korea: UN Forces, spearheaded by the US Marine Corps, invade and occupy Korea at the port of Inchon. Considered by some to be the greatest amphibious attack in history, it certainly is one of the riskiest, and it is the zenith of General Douglas MacArthur's career.

1959 Soviet Premier Nikita Khrushchev arrives in the US to begin a 13-day visit.

1961 The US resumes underground testing of nuclear devices.

1963 A church bombing kills four young girls in Birmingham, AL. Robert Chambliss will eventualy be brought to justice in 1977.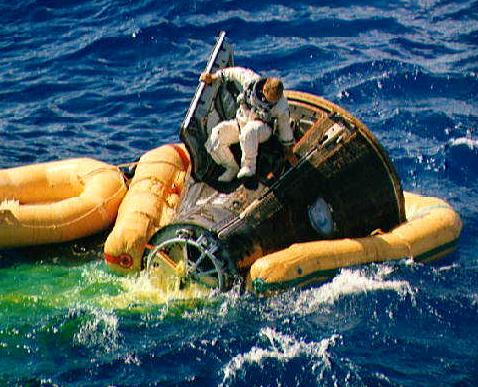 1966 Gemini 11 returns to Earth.




1968 The USSR launches Zond 5 Circumlunar, which will return to Earth in 6 days.

1972 Watergate: Indictments begin to be compiled against seven perpetrators.

1975 Civil war breaks out in Beirut between Christians and Muslims.

1982 Death: Sadegh Ghotbzadeh, Iran's former foreign minister who had been convicted of plotting against the government, by execution.

1983 The US Senate joins the US House of Representatives in their condemning of the Soviet Union for shooting down a Korean jet with 269 people onboard.

1990 France announces that it will send an additional 4,000 soldiers to the Persian Gulf. They also expell Iraqi military attaches in Paris.

1994 US President Clinton tells Haiti's military leaders "Your time is up. Leave now or we will force you from power."

1998 Ayatollah Ali Khamenei orders the Iranian military to be on full alert and masses troops on its border with Afghanistan.




1998 It is announced that 5.9 million people had read the Starr Report on the Internet, but that only 606,000 people had read the White House defense of President Clinton.

1999 The United Nations approves the deployment of a multinational peacekeeping force in East Timor.

2001




2001 President Bush says US troops will hunt down terrorists in a long, unrelenting war; cites desire by American people not only for revenge, but to end "barbaric behavior."




2001 The US State Department warns governments will be isolated if they tolerate or assist terrorist groups.




2001 Afghanistan's Taliban regime threatens war against any nation that helps the United States launch a military assault on its country.

2001 Pakistan agrees to the full list of US demands for a possible attack on neighboring Afghanistan.

2002 Time is running out for Saddam Hussein to rid Iraq of WMDs or face a regime change, UK Defense Minister Jack Straw declares.




2002 US Secretary of State Colin Powell pushes the Bush Administrations line on Iraq on NBC's Meet the Press.

2003


2004


2004

---
^ Top of Page ^
---

Click Here to email the Webmaster of this site.

Web Page Design by Nathan
This page was last updated on September 12, 2005