NAVIGATION COLUMN
Home Page

Yahoo Groups:
History 1 Day 2
Nuremburg Data


---
Daily History Pages:
---

FAIR USE NOTICE: This site could contain copyrighted material the use of which has not always been specifically authorized by the copyright owner. We are making such material available in our efforts to advance understanding of historical, political, human rights, economic, democracy, scientific, environmental, and social justice issues, etc. We believe this constitutes a 'fair use' of any such copyrighted material as provided for in section 107 of the US Copyright Law. In accordance with Title 17 U.S.C. Section 107, the material on this site is distributed without profit to those who have expressed a prior interest in receiving the included information for research that could include educational purposes. If you wish to use copyrighted material from this site for purposes of your own that go beyond 'fair use', you could most likely need to obtain permission from the copyright owner.


September 24







1755 Birth: John Marshall, fourth Chief Justice of the US Supreme Court. An early Federalist, his court is credited with defining the principles of government and the role of the Supreme Court.




1789 In one of its first acts, the US Congress passes, and President George Washington signs, the First Judiciary Act, which provides for an attorney general and a Supreme Court and establishes the Supreme Court of the United States as a tribunal made up of six justices who are to serve on the court until death or retirement. The number of justices will become nine in 1869. Above: The official portrait of Chief Justice of the Supreme Court Oliver Ellsworth and his wife Abigail. Ellsworth is the princile author of the Judiciary Act of 1789, the charter for the federal judiciary system and the Marshals Service.




1846 Mexican-American War: After a four-day siege and a gallant resistance by the Mexicans, General Taylor enters Monterey.




1852 The first hydrogen-filled airship, made by Henri Giffard, a French engineer, makes its maiden flight; 17 miles from Paris to Trappes.




1869 Black Friday: Gold prices plummet, sending the markets into chaos. At the root of the wreckage is an old-fashioned swindle, engineered by flamboyant financier Jay Gould and his robber baron partner, James Fisk. Gould and Fisk conspire to inflate and then corner the gold market, primarily by spreading a rumor that President Grant is about to stop the sale of government gold. Grant, who is better suited to the battlefield than office, initially bought into their logic, due in part, to his belief that the sale of government gold would hurt farmers and smalltime entrepreneurs. The president will eventually see through the scheme and, in response, will put $4 million worth of gold on the market. The price of gold which had previously swelled to $163.50, promptly shrinks to $133. Investors are ruined and the economy goes into a tailspin. The swindle ultimately takes a toll on two of its main players. It blemishes Grant's record, raising suspicions about the war hero's competency. And Gould surreptitiously dumped his share of the gold before the drop in prices, leaving Fisk with a hefty loss on the deal.

1870 Birth: Georges Claude, French chemist, will invent the neon lamp.

1880 Birth: Sarah Knauss. She will die on December 31, 1999. Question: Who can tell me what is noteworthy about her?




1915 WW1: Grand Duke Nikolai is unceremoniously relieved of command in Poland by the Czar and soon takes command in the Caucasus.

1920 Hitler speaks at the German Nazi Party's first mass meeting; denouncing what he calls the "November Criminals" and calling for "vengeance for the perjured deed of November 9, 1918."




1929 The first all-instrument flight takes place in New York when Lieutenant James H. Doolittle guides a Consolidated NY2 Biplane over Mitchell Field. Before the use of instruments, pilots guided themselves using a sophisticated knowledge of astronomy and geography.

1933 Holocaust: Jewish lawyers are banned from the German Bar Congress.

1936 Holocaust: Jewish-owned employment agencies in Germany are ordered to cease operation.

1938 Anti-Jewish riots break out in Strasbourg, France.




1939 WW2: The Luftwaffe firebombs Warsaw. (Edelheit)

1939 Holocaust: Throughout the Jewish Day of Atonement, Jewish prisoners-of-war are forced to clean the latrines with their bare hands and are treated with particular brutality. (Atlas)

1939 Holocaust: German Special Task Force troops execute 800 Polish intellectuals and leaders in Bydgoszcz

1939 Holocaust: Synagogues throughout Poland are burned down by Brenn-kommandos, German arson squads. The Germans accuse Jews of setting the fires and impose huge fines on the Jewish communities. (Edelheit)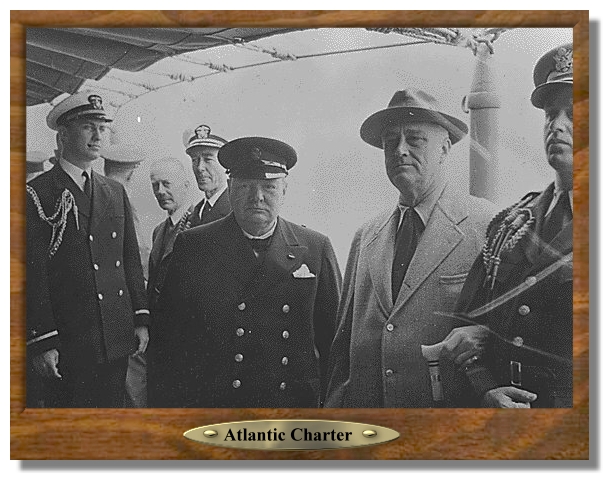 1941 WW2: Nine allied governments meeting in London pledge allegiance to the Atlantic Charter, an eight-point declaration issued by FDR and Churchil. Above: August 12 image. (See August 12)




1941 Holocaust: After a conference with Himmler and Reinhardt Heydrich, Hitler names Heydrich as the new Reich Protector of Bohemia-Moravia. (Architect




1942 WW2: Colonel-General Franz Halder, Chief of the general staff of the army (OKH), is fired by Hitler. (Duffy)

1947 1,200 Muslims fleeing to Pakistan Are massacred by Sikhs in the Punjab.

1948 Mildred Gillars, known as "Axis Sally," pleads innocent to charges of treason.




1955 US President Dwight Eisenhower suffers a heart attack while on vacation in Denver, CO.




1957 Federal troops are sent by President Eisenhower to Little Rock, Arkansas, to protect nine Black students at their newly integrated Central High School. The nine students had been prevented earlier from entering Central High by the Arkansas National Guard. Due to this sort of intense opposition, full integration at public schools in Arkansas is not completed until 1972.




1959 President Eisenhower and Soviet Premier Nikita Khrushchev meet at Camp David, Maryland.




1960 The first nuclear powered aircraft carrier is launched from Newport News: The USS Enterprise.

1963 The US Senate ratifies a treaty that limits nuclear testing. The signatories: The United States, Britain and the Soviet Union.

1965 The constitutional conference on Mauritius ends in London, deciding that the country should become an independent state within the Commonwealth by the end of 1966.

1966 Rioters in the Congo burn and loot the Portuguese embassy in Kinshasa, demanding that relations with Portugal be broken off.




1969 The trial begins for the "Chicago Eight," who are accused of inciting riots at the 1968 Democratic national convention. Note: The riot in question is eventually ruled a 'police riot.'

1971 90 Russian diplomats are expelled from Britain for spying following revelations made by a Soviet defector.

1972 In a referendum, Norwegians vote 53.5 percent to 46.5 percent against joining the European Economic Community.

1976 Newspaper heiress Patricia Hearst is sentenced to seven years in prison for her part in a 1974 bank robbery. An executive clemency order from US President Jimmy Carter will set her free after only 22 months.

1980 Iran-Iraq War: A simmering border war between Iran and Iraq flares into full-scale hostilities when Iraqi troops crossed the border and encircled Abadan, setting fire to the world's biggest oil refinery.

1983 Five business executives receive jail sentences of up to five years for their role in the 1976 environmental disaster in Seveso, Italy, when a cloud of dioxin gas is released after an explosion.

1986 The US Congress adopts the rose as the national flower.

1990 East Germany leaves the Warsaw Pact in anticipation of unification with NATO member West Germany.

1991 Jack Mann, a British hostage, is set free by Lebanese kidnappers after being held captive for more than two years.




1991 Death: Theodor Seuss Geisel, 87; children's author is better known as Dr. Seuss.

1993 Norodom Sihanouk is reinstalled as King of Cambodia after the National Assembly votes to restore the monarchy. Sihanouk is Cambodia's king from 1941 to 1955; thereafter he is prime minister, head of state, and president. He attempts to steer a neutral course in the civil and foreign wars that haunt Cambodia from the 1960s to the 1990s.

1993 Imelda Marcos is convicted of corruption and sentenced to at least 18 years in jail.

1993 In an address at the United Nations (UN), South African black leader Mandela calls for the lifting of remaining international economic sanctions against South Africa.

1994 Ten Haitians are killed when a firefight erupts between US Marines and a group of armed Haitians in Cap-Haitian.




1994 It is reported that CIA turncoat Aldrich Ames had exposed 55 secret US and allied operations to the Soviet Union.

1995 Three decades of Israeli occupation of West Bank cities provisionally ends with the signing of a pact by Israel and the PLO.

1996 The United States and the world's other major nuclear powers sign a Comprehensive Test Ban Treaty to end all testing and development of nuclear weapons.




1996 Israel opens a second entrance to a tunnel used by archeologists at the Temple Mount, sacred to Muslims as well as Jews. The action sparks deadly rioting.

1997 Following the slayings of hundreds of civilians in a series of incidents believed linked to upcoming elections and the long though sporadically fought civil war, the military wing of Algeria's principle Islamic opposition group calls for a truce and orders its guerrillas to 'stop combat operations'.

1998 Iran's foreign minister announces that Iran has dropped its 1989 call for the death of Salman Rushdie, author of The Satanic Verses which many Muslims find 'blasphemous.'

1998 The US Federal Reserve releases into circulation $2 billion in new harder-to-counterfeit $20 bills.


1999 Death: Judith Campbell Exner, at 65; reputed to have been the mistress of both Mafia boss Sam Giancana and President John F. Kennedy.

2001 President Bush signs an order freezing the assets of 27 people and organizations, calling it a strike at financial foundation of terrorists. He demands foreign banks follow the US lead.

2001 The United Nations says the Taliban threaten to kill UN relief workers in Afghanistan.

2001 Osama bin Laden calls on Pakistan's Muslims to fight 'the American crusade.'

2001 Afghanistan's Taliban leader demands the US support Palestinians if it wants to end the terrorism threat, and that they are dispatching 300,000 fighters to defend Afghanistan's borders.

2002 Saddam Hussein's program to develop weapons of mass destruction is 'up and running,' PM Tony Blair declares.

2004


2004


2004

---
^ Top of Page ^
---

Click Here to email the Webmaster of this site.

Web Page Design by Nathan
This page was last updated on September 12, 2005